Unlike yesterday, today the sun was shining brightly. There was plenty of snow on the ground, but it was melting fast even tough it was only 30 degrees. I wanted to take advantage of the snow and get some cross county skiing in close to home, so I drove about five miles to the Coyote Ridge Natural Area just south of Fort Collins.
Heading to the foothills
Coyote Ridge sign at the entrance (left), a bunny in the snow at Coyote Ridge (right)

It was only 10AM and but already the warm spring sun was melting the snow on the trail. There a few sections of the trail that had no snow on it and a few sections with very deep snow drifts.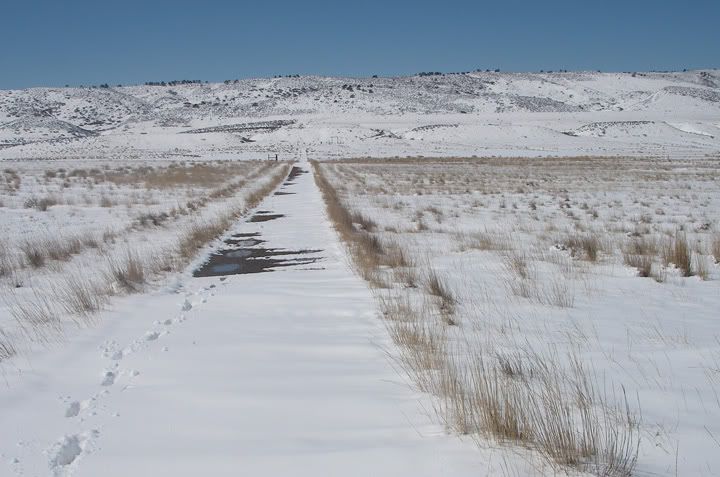 Snow already melting on the trail

Looking back at the trail from the first ridge
Action shot using the timer on my camera
Tracks from climbing a hill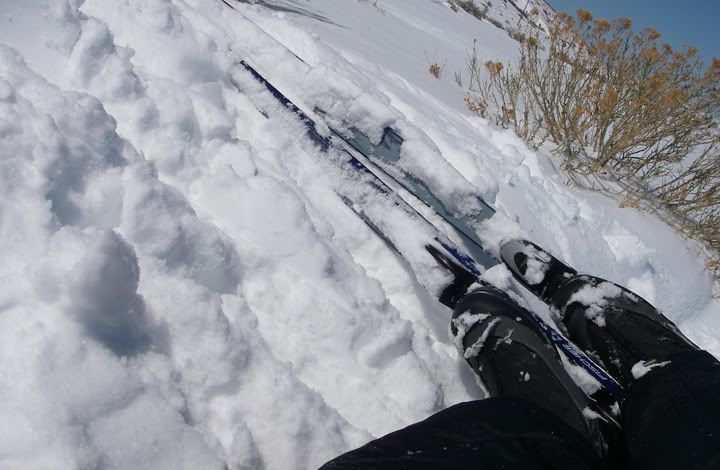 The view from the ground-level
It was definitely harder to ski on an un-groomed trail. I had two falls, one climbing through a snow drift and one coming down a hill. This was the first time I've fallen on skis. Trying to get up is interesting, especially without taking the skis off.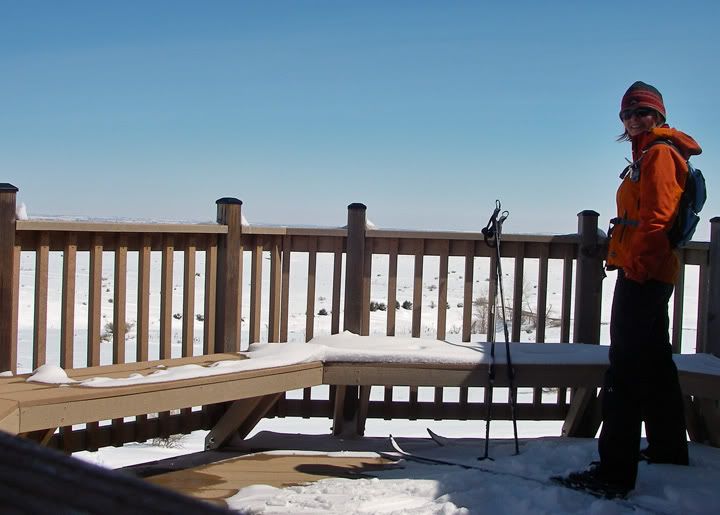 Hanging out on the deck of the cabin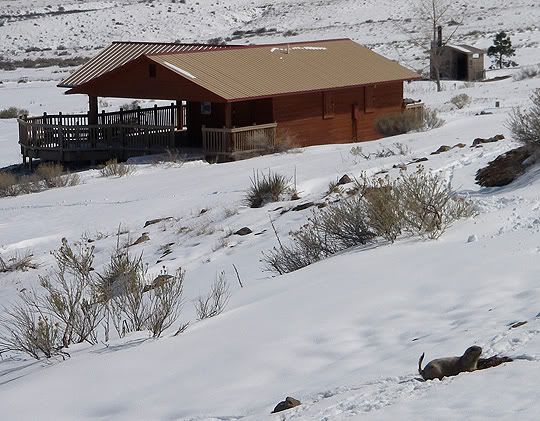 The cabin in the distance and a prairie dog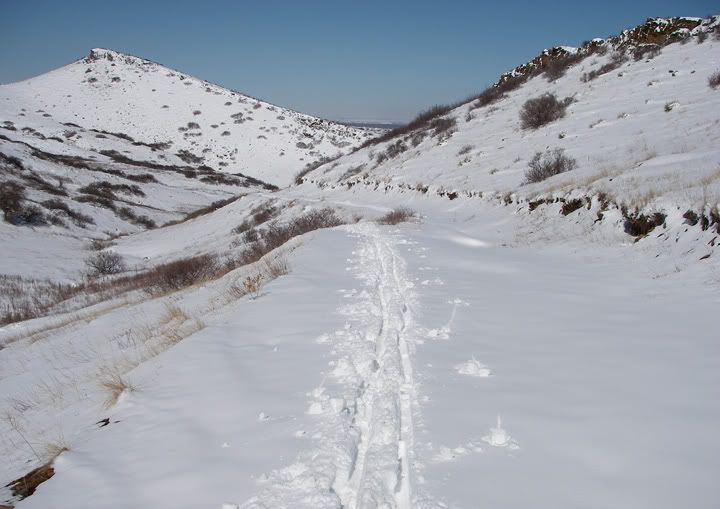 Skiing up the second big ridge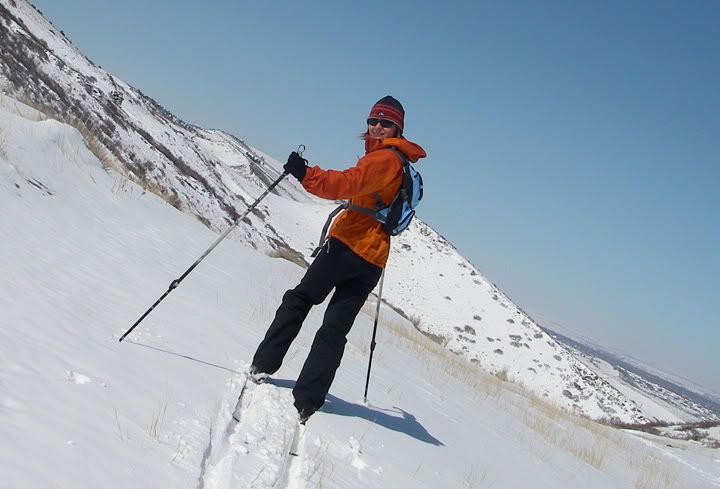 Up on the ridge, that's Fort Collins in the distance on the right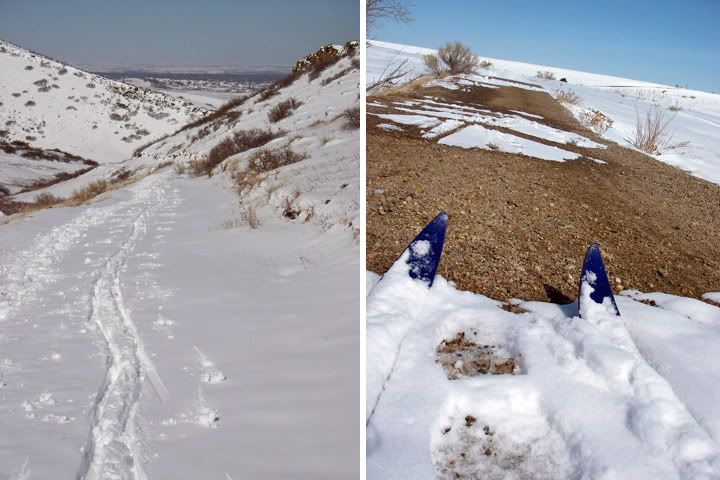 Skiing back down the ridge (left), a lot of snow has melted, you can see my old ski tracks in the middle patch of snow left on the trail (right)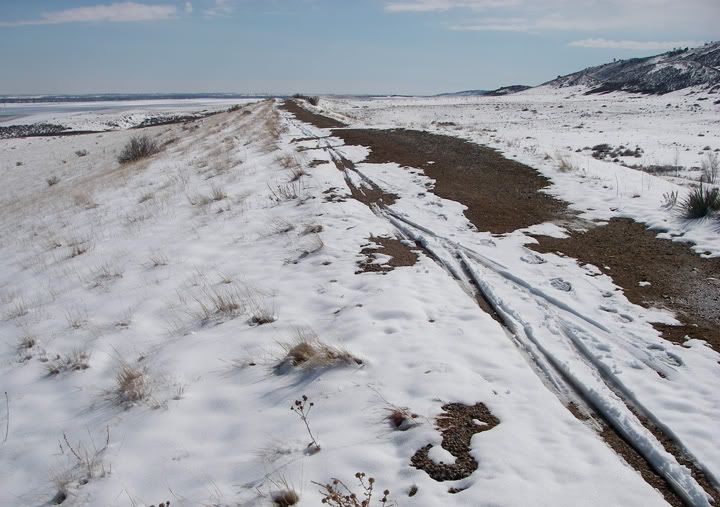 With all the snow melted off the trail, I had to ski on snow on top of the grass
Back at the trailhead, I skied up that second ridge and back
By the time I turned around and headed back to the trailhead, there was a lot of bare trail showing and I had t ski through the grass. It was a good time and I managed to ski about 4 miles.
The trail is 7 miles round trip from the trailhead, about half of the trail is on the Coyote Ridge Natural Area and the other half is in Rimrock Open Space