I was signed up to snowshoe with a group this weekend. We were supposed to head out and snowshoe around Cameron Pass, but as the date approached and the weather was looking iffy at the pass, the location got changed to Red Feather Lakes. I was actually happy about the change since I haven't snowshoed Red Feather Lakes area yet.
When I showed up this morning to snowshoe I found out that since Fort Collins received some snow a few days, we were going to be snowshoeing Young's Gulch trail, just outside of Fort Collins
Young's Gulch trail is located 2 miles up the Poudre Canyon on the south side of Highway 14. This trail was actually on my "to hike" list so I was happy that we were going to snowshoe it today. The trail follows Young Creek and the trail crosses the creek 3 dozen times. There are only a few bridges on this trail, the rest of the water crossings have to be done by just jumping from rock to rock or walking or riding through the creek. This trail is very popular with mountain bikers.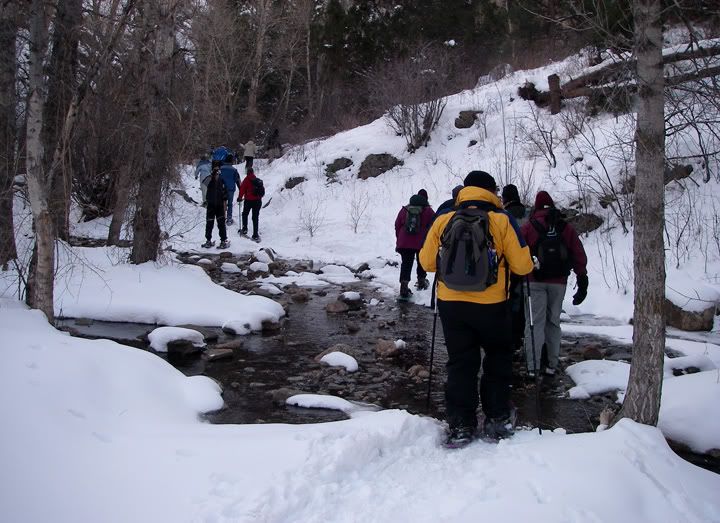 Crossing Young Creek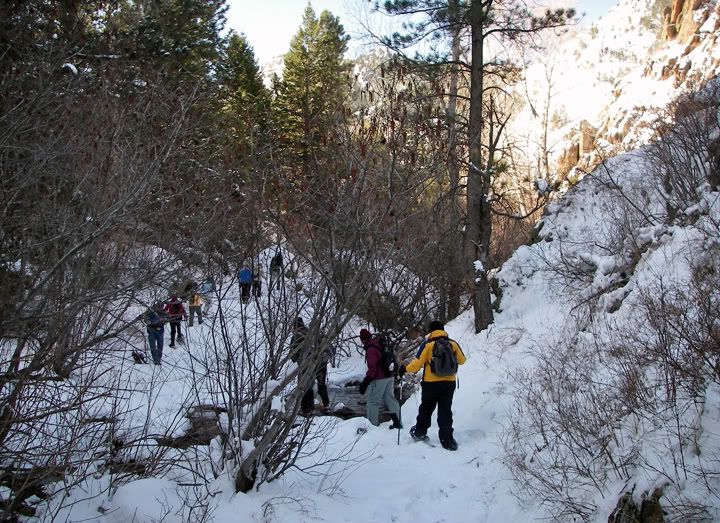 This trail supposedly has 3 dozen water crossings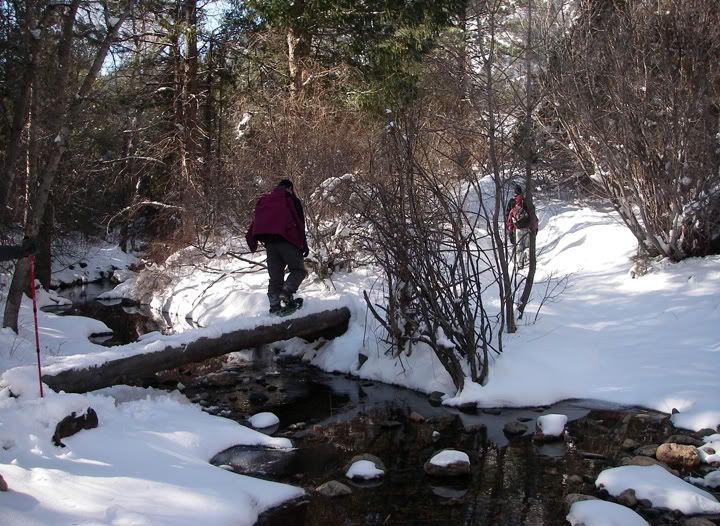 Most of the creek crossings along this trail have no bridges, but a few did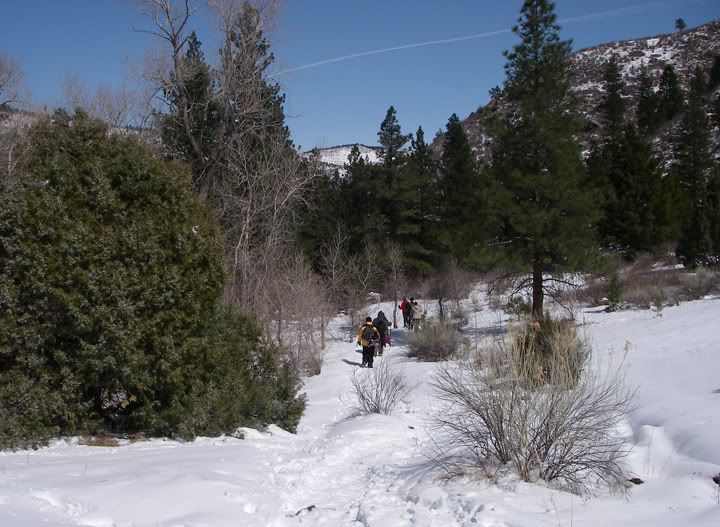 Young's Gulch trail is 4.4 miles one way and climbs 1,300 feet in elevation. I read that the first two miles of the trail are the most technical. Besides the creek, there are rock formations and aspens along the trail. Also bears and mountain lions have been seen in this area.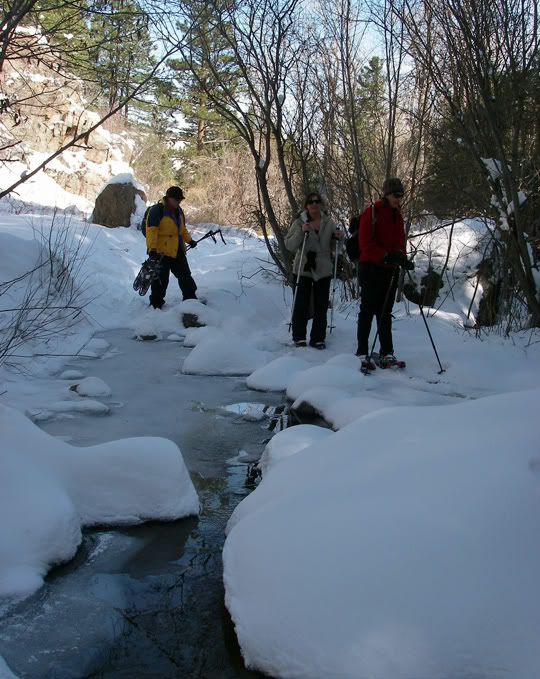 The group and I only snowshoed about 2 miles of the trail before stopping to eat our lunches and turning back around. The temperatures were already in the low 40's by mid morning and the snow was melting off the trail fast. The stream crossings were interesting, especially wearing snowshoes. Many in the group ended up taking their snowshoes off, it was just easier to hike without them.
As for riding mountain bikes on this trail. There is no way I could ride my mountain bike here, I'm such a newbie. At least not the first two miles that I snowshoed today. The trail was very rocky. Comparing this trail to some of the other trails that are used by mountain bikes, I'd say that that Young's Gulch trail is easier than the
Ginny Trail
at Bobcat Ridge but more technical then
Hewlett Gultch
Trail just east of here. To my surprise on a beautiful Saturday like today, there wasn't a lot of other people hiking this trail, besides the group I was with, and no one riding mountain bikes. It was still early, we finished snowshoeing at noon.
And in "it's a small world" category. A fellow blogger and motorcycle rider, among other things, was also snowshoeing with this group. I found
Felix's blog
when I was still living in Chicago researching moving to Fort Collins, and I'm still reading it. After snowshoeing Felix and I compared notes on touring. Although his stories were of touring cross country on a mountain bike. Now that's hard core!
Distance:
4.4 miles one way
Difficulty:
Easy
Elevation gain:
1300 feet
Elevation at Trailhead:
5840 feet