Day 4 - 272 miles through Virginia and North Carolina
We woke up to an amazing view. We didn't know it last night, but we were camping on the edge of a cliff and behind a few trees there was a spectacular vista. As much as we needed to get going, we were able to spend a few minutes admiring our surroundings. Had we arrived here earlier last night, we could have hiked some of the Appalachian Trail, it was mere feet from our campsite. We found out later that out campsite A10A is one of the most reserved tent site out here because of the view. Mike did some research and picked it out because it was close to the edge of the cliff. There were two bathrooms near by with running water and flushing toilets, but no showers.
Loft Mountain site A10A on the edge of the cliff
Behind the trees, this was our view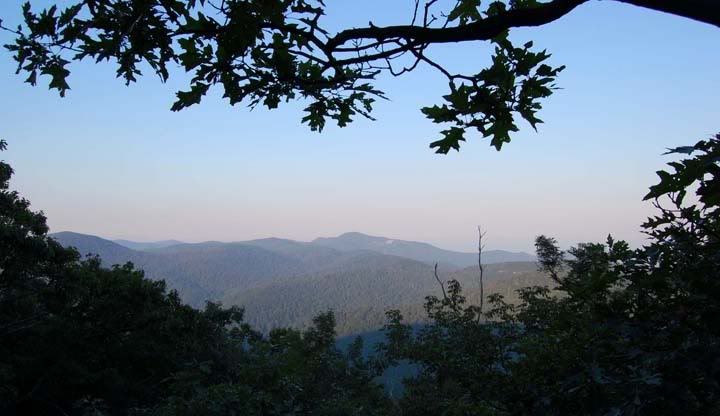 Standing on the ledge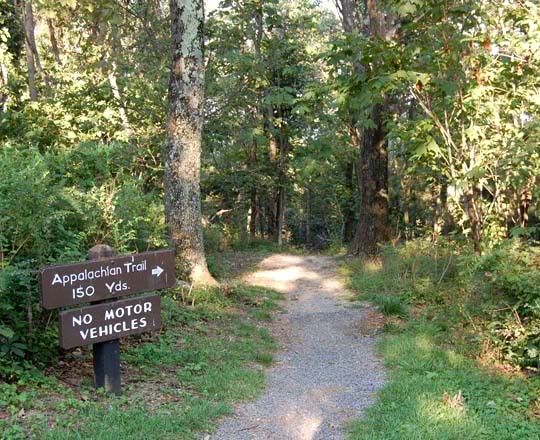 The Appalachian trail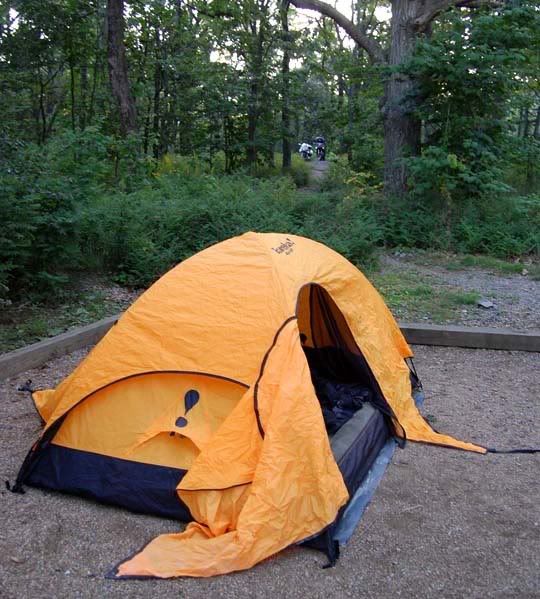 The bikes are parked in the designated spot far away near the road
Across the road from the campsite was a gift shop and restaurant. We were prepared to just have some of the granola bars we brought but eggs, sausage, hash browns and toast sounded so much better. The breakfast was about $5 each, kind of pricey, but it was really good.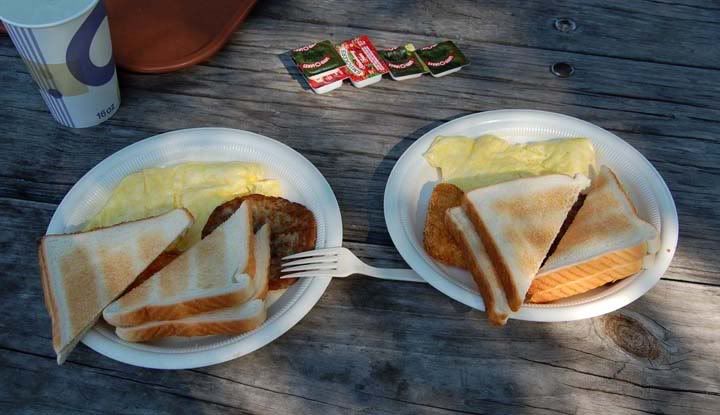 Really good breakfast at the Loft Mountain Restaurant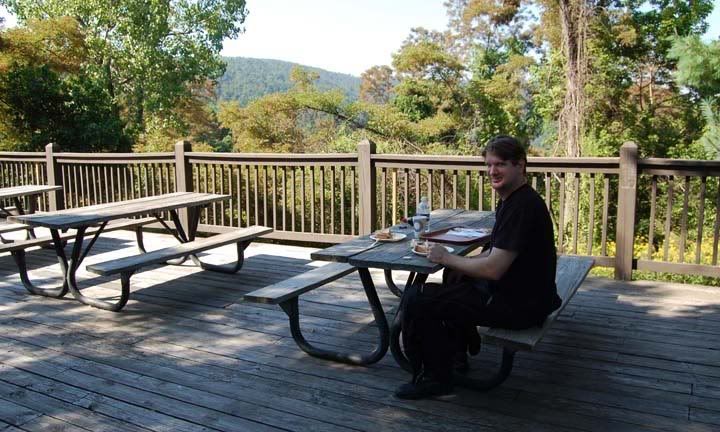 With even better view

Today we spent the whole day riding the end of Skyline Drive and the beginning of Blue Ridge parkway. Even though the skyline Drive has a speed limit of 35MPH and Blue Ridge Parkway is 45MPH, going about 10MPH over the speed limit didn't seem too slow, and the fact that we didn't have to stop for any lights or stop signs and didn't have to slow down and go through any towns was great. Just riding twisties and pulling over at overlooks - all day, it was great.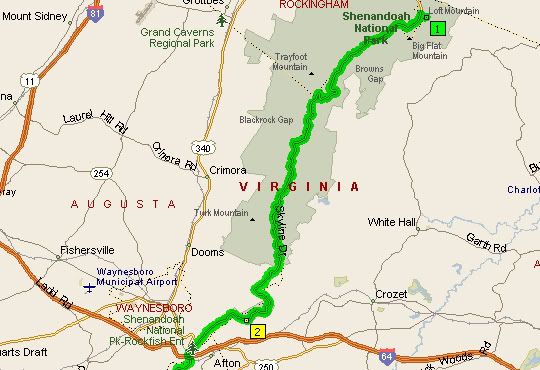 Finishing up Skyline Drive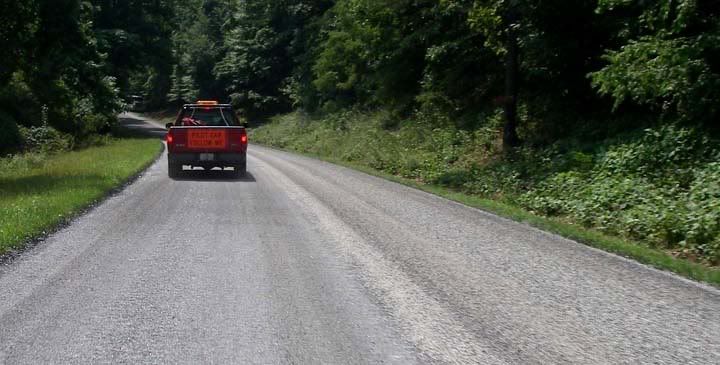 Peagravel on Skyline Drive, riding that last night in the dark was not fun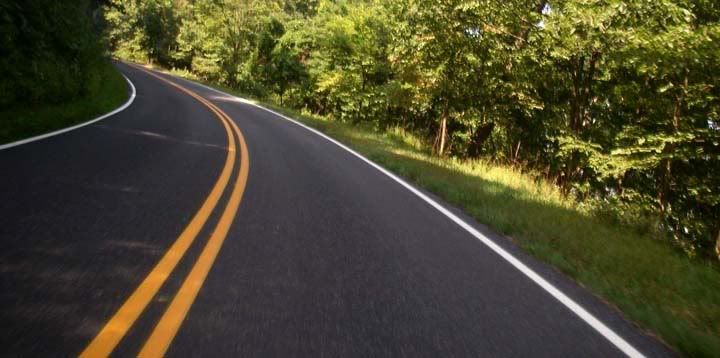 Past the construction zone, fresh pavement was waiting for us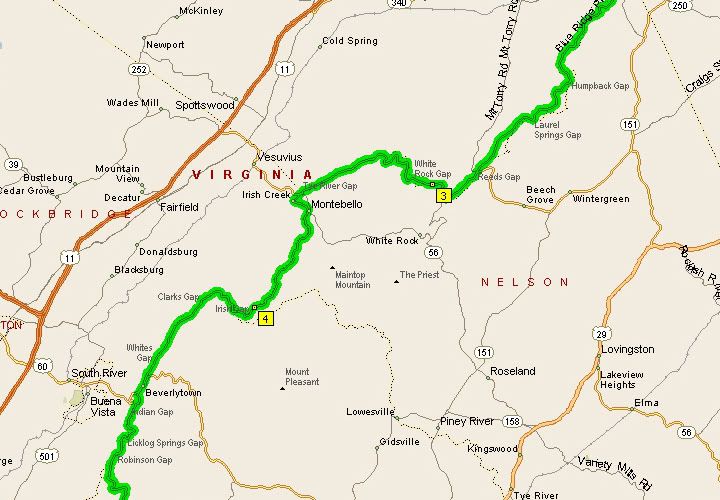 Starting Blue Ridge Parkway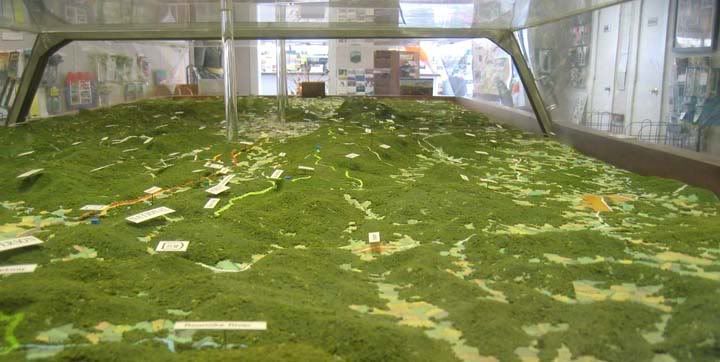 We stopped at the visitor center at the beginning of BRP where there is a model of the land
More twisties
We did leave the Blue Ridge Parkway at lunch time and rode down to Roanoke. It was hot down the mountain and the traffic was bad so we the first thing we saw we stopped at which was Sonic. Gassed up again we headed for the blue Ridge parkway, unlike Skyline Drive which is in a National Park, Blue Ridge has no gas, although there were a couple of places that served food, located next to visitor centers, trading posts and gift shops.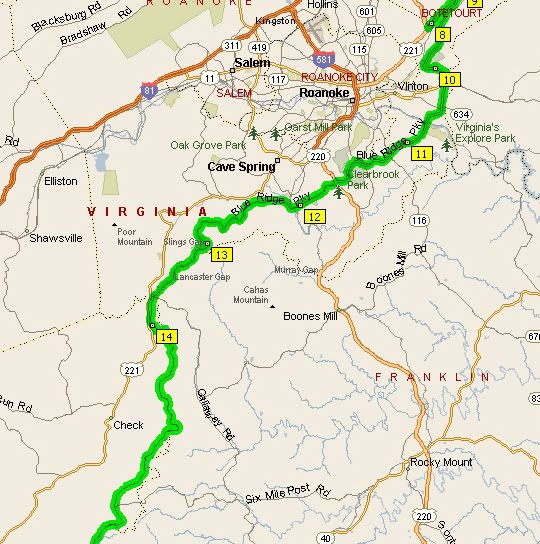 Lunch stop in Roanke, VA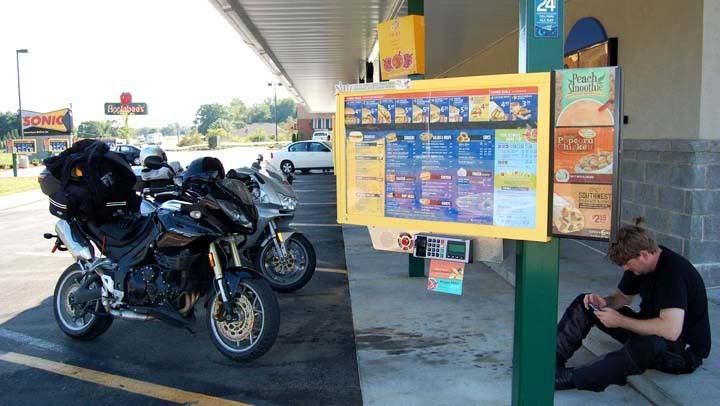 Lunch at Sonic, this was my third time at this chain and now I think I can say that I don't like the food here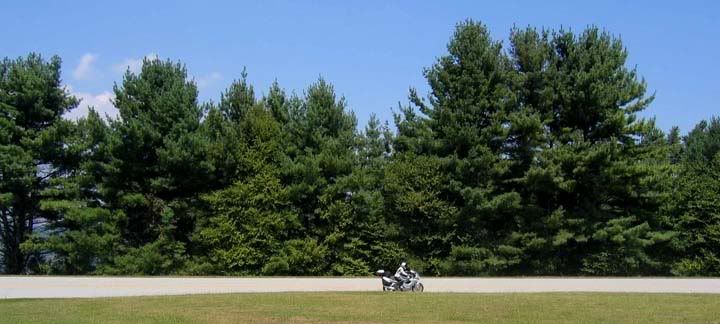 Me on BRP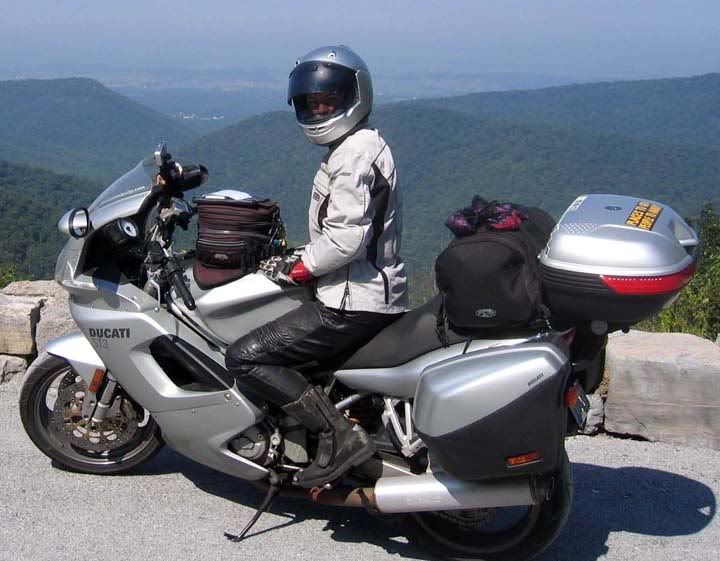 More mountain views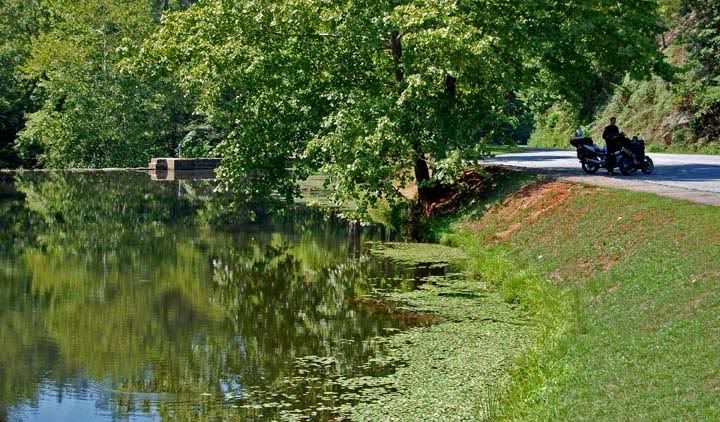 We rode down the mountain and took a break at this lake, it was a lot warmer down here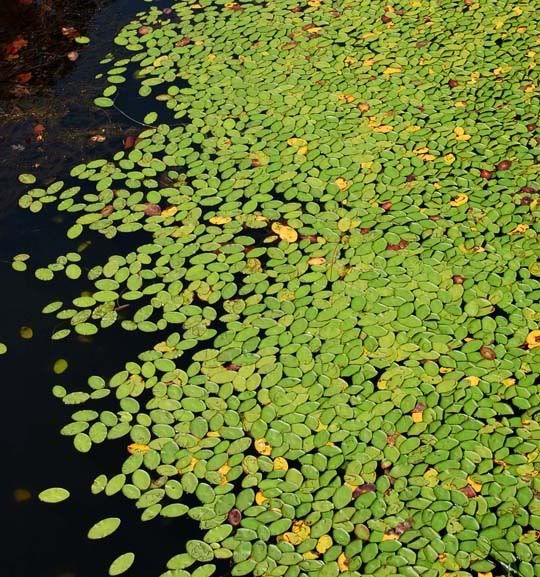 Leafs on the water
Some guy wanted us to take a picture of him and insisted on taking one of us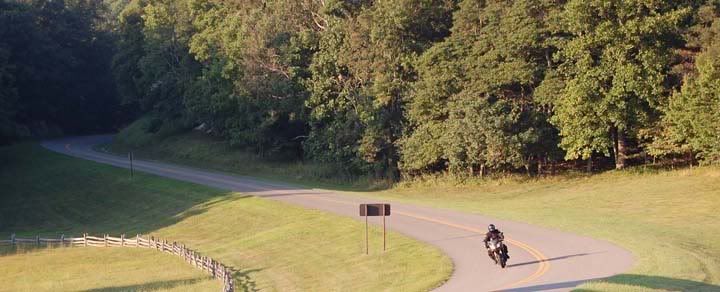 Mike on BRP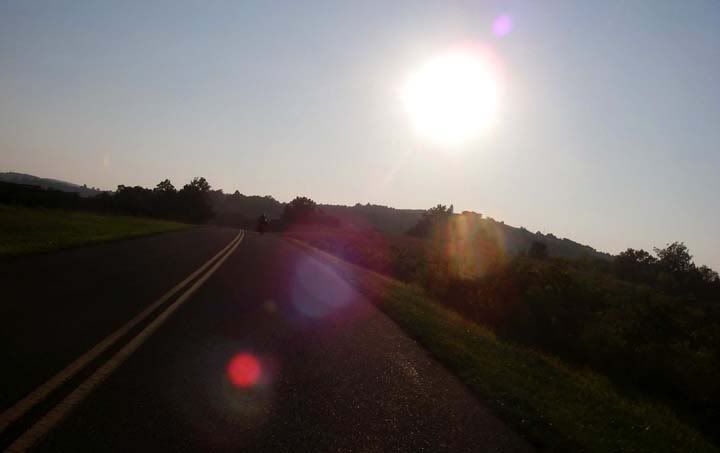 Another day ending
Yet another day we're still riding past sun set
The sun was starting to set as we took the exit for Sparta, NC where we had a motel room reserved for the night with high-speed internet so that Mike could get some work done. The Allegany Inn motel was actually really nice, except for the party that continued above our room for hours, I'd stay there again.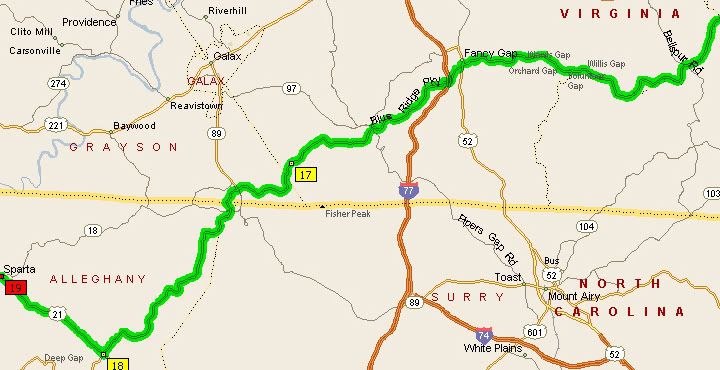 Sparta, NC for the night

Dinner consisted of granola bars since by the time we unpacked and changed out of our gear it was past 9PM and the restaurant next door had just closed. All the other places near by were also closed.