After grabbing some free breakfast treats at the motel, cereal, bagels and muffins, we were off. The sun just came up and the fog was still hanging in the hills as we backtracked to highway 65.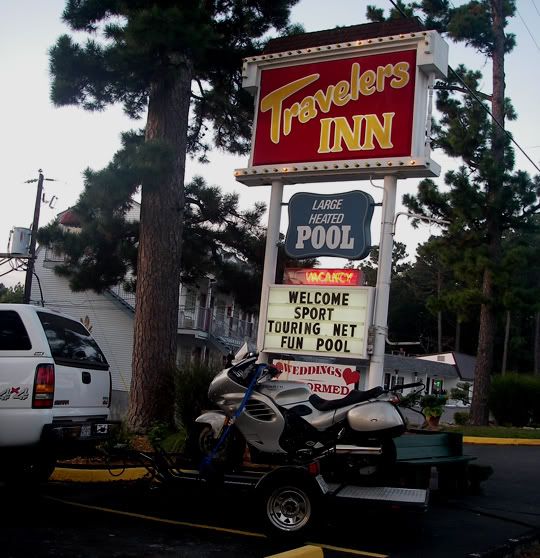 Travellers Inn sign, welcome sport-touring.net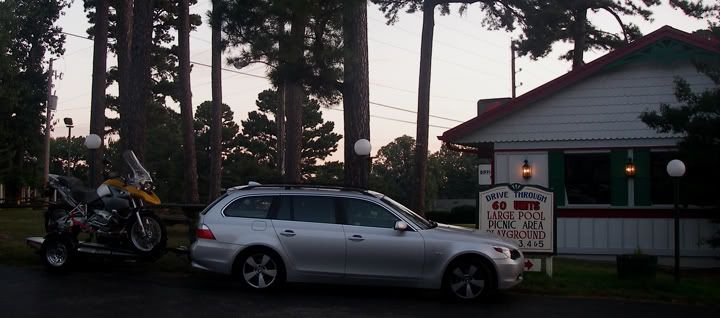 Not everyone likes to slab it with their bikes
We went back that same way we came, 62 east to 221 to 21, crossing in to Missouri and 86, to 65. That is a real nice short cut to Eureka Springs from 65, both 21 and 86 are nice roads with little traffic.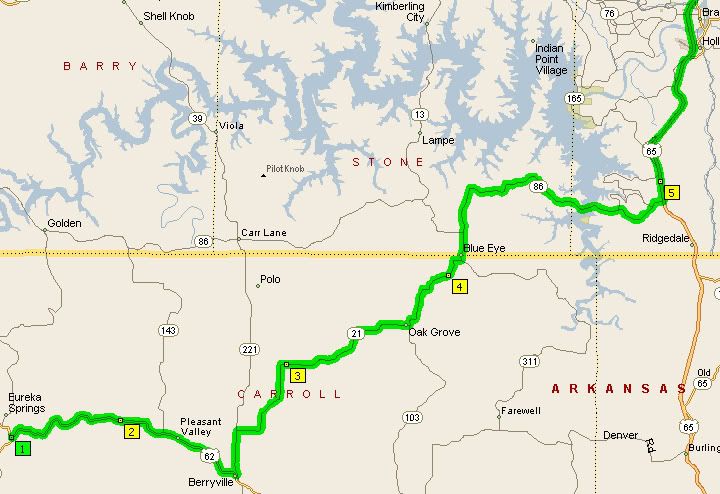 A little bit of twisty in the morning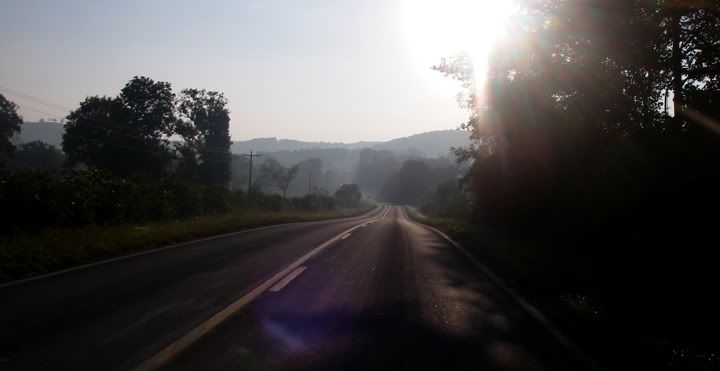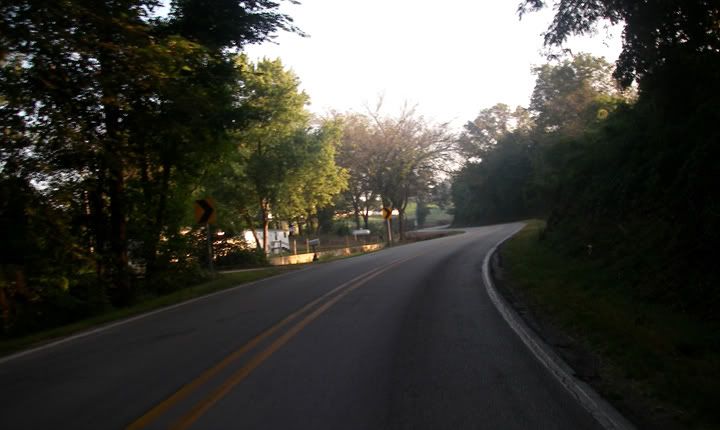 Curves on 21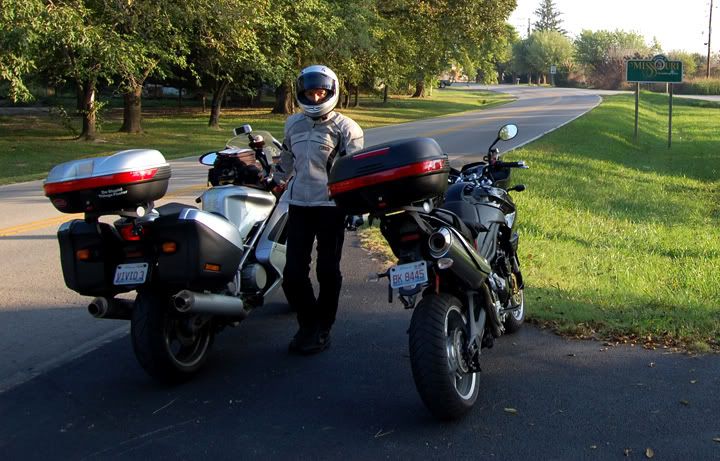 Welcome to Missouri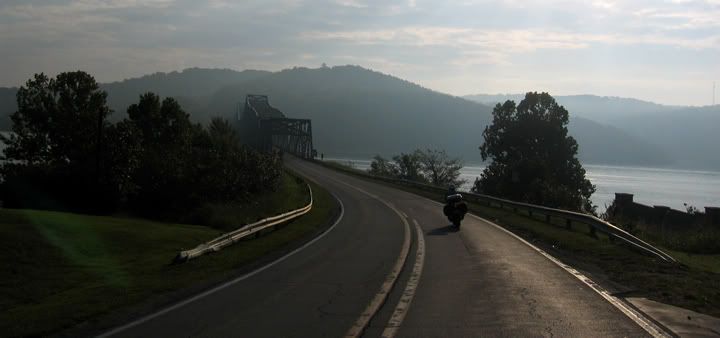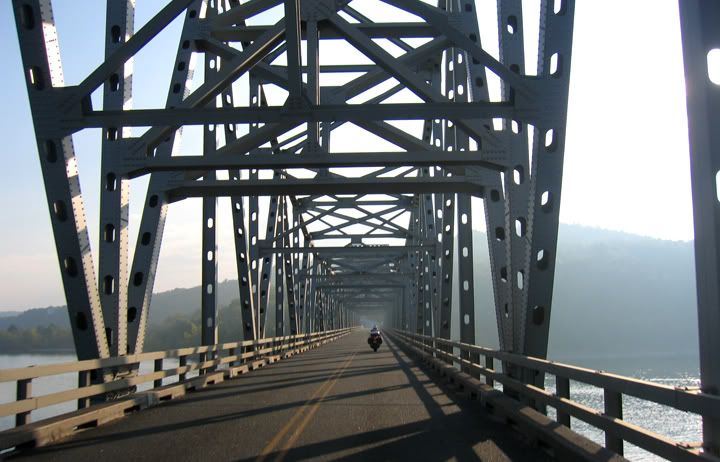 I really like this bridge on 86
Finally reached the slab of highway 65
But this time instead of taking 65 to I-44, we were going to ride some roads for a while, with so many good looking roads in the area it was hard, but I had to pick the less twisty ones, and ones that wouldn't make us go too far out of the way, so we could still get home at a decent hour tonight.
\
14 turned in to a great road towards the end but I have no pictures since my battery died in my camera and I didn't want to waste time to pull over and put a new one in until the next gas stop

Near Ozark, Mo we took the exit for 14 East which for many miles was nothing special of a road, it had a few sweepers on it but for the most part it was kind of straight. But then it got good with a nice mix of sweepers and tighter stuff, and hardly any straight parts, also not a lot of towns to go through, it seemed like it was getting better and better as we headed further east and I wished I could have stayed on it but it would have taken us too much out of the way.
Boring 5 and more boring roads to come after that

We gassed up in Ava and took 5 North, which was just a straight and very wide road that dropped us off at 60 East, this was another 4 lane highway. We took the exit for 63 North and continued North, this road was pretty straight also. We gassed up one more time and arrived in Rolla, MO. Getting though Rolla was slow, we hit every light and it seemed that I-44 was on the other side of town and getting there took forever.
It was hot now, in the mid 90', and my bike was running really hot, 200+ degrees and climbing. I kept watching the temp gage closely. Finally we got on I-44 but there was a lot of traffic today. We pulled over before St. Louis to grab gas and lunch, there was McDonald's there and Taco Bell, we chose McDonald's wanting some salads; but to our surprise the McDonald's dining area was closed, only the drive though was open. So we geared back up in all that heat just to ride one building over to the Taco Bell.
Taking the ramp to I-55 in St. Louis
After lunch we got back on I-44, then took the exit for I-55, still very heavy traffic, still very hot. The next gas stop we saw a McDonald's so we went inside to cool of with a Sunday for Mike and a milkshake for myself. I just don't deal well with heat.
Illinois, here we come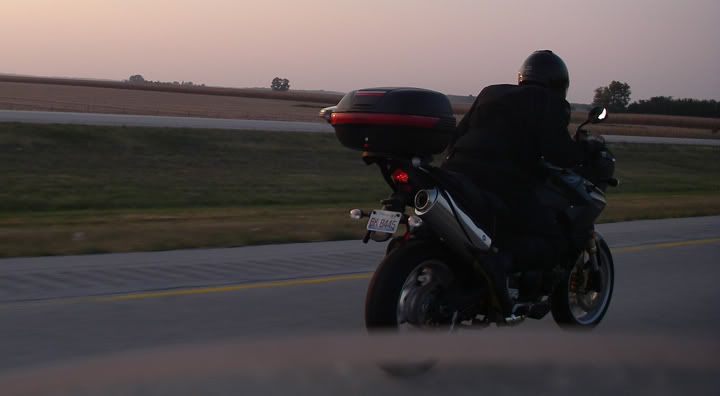 The sun starting to set

Sunset in a cornfield
The traffic never let up and in the burbs I-55 was under construction and the traffic was at times only going 30MPH, we arrived at the house at 8:30PM hot, sweaty and beat, but not regretting that we rode so far for such a short period of time. What else where we going to do this weekend?