Since yesterdays ride was long and hectic, today we were going to take it easy. There were so many great roads to ride in the area but in order to ride the 600 miles back home tomorrow, it was best that we take it easy today.
Our 170 mile route for the day
This morning I noticed a small green puddle underneath my bike - it was antifreeze. The container still had enough in there, although it was now at the low level mark and I'd have to watch it close to make sure it wasn't leaking any more. It's leaked antifreeze before but usually in the Winter when the sat a lot, never in the Summer after a 600 miles ride.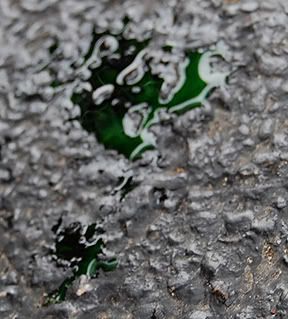 A puddle under my bike... what a great way to start the day
After some decent continental breakfast at the motel, we took off south on 23. This was a nice road with nice curves, although some people here drive very, very slow and a few times we'd get stuck behind there people going 40-45 in a 55MPH zone, it was annoying and especially because there wasn't many places to pass and there were even less places to pull over and let them just get ahead of us.
Hitting some curves on 23
Then we took 16 east, another great road, way less traffic on this one, it was a bit beat up and narrow at times, and other times wider and smoother. So far the curves on both 23 and 16 were just perfect for me, nothing too tight or technical.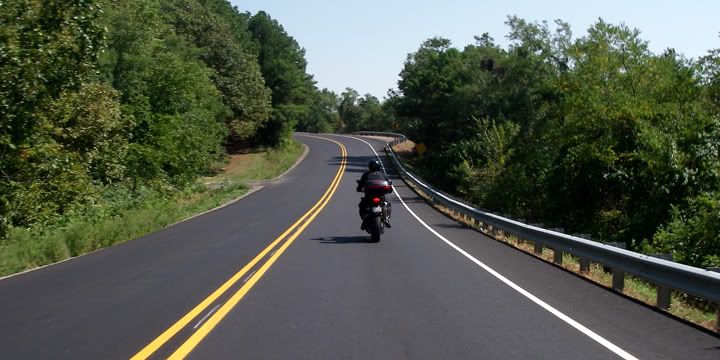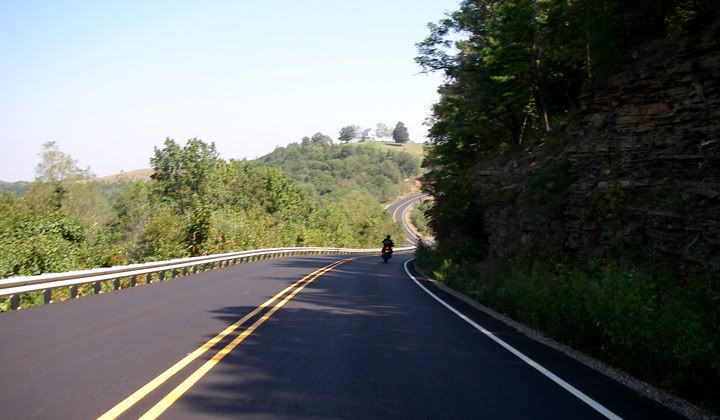 16 was a great road, narrow and beat up at times, wide with new pavement
other times
At one of the scenic pullouts that wasn't very scenic on 16, we ran in to Ken and Pam from the restaurant last night. They were going to turn on route 7 and head north toward Jasper and have lunch at the Cliff House Inn. Mike and I were also hungry and since I've seen gazillion pictures of this place in other people's ride reports it seemed like the perfect place to go and have lunch.

A scenic stop on 7
And here comes Ken and Pam and some cruisers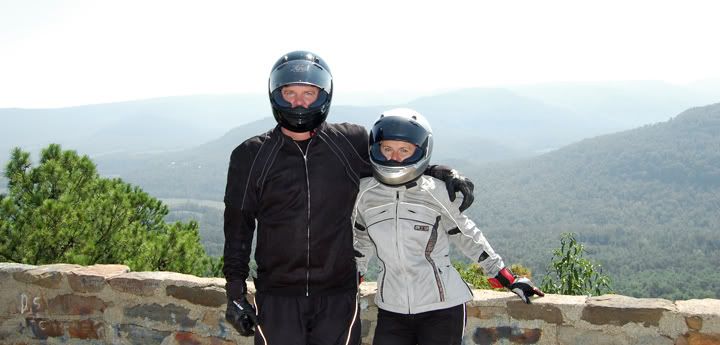 Mike and I with some nice mountains behind us
The Cliff House Inn on Rt 7 in Jasper
The view at the Cliff House Inn was truly amazing and the food was really good too. It made me think of all those really cool restaurants with great views I stopped at before, just to be disappointed with the food and so many places have great food but no views and no atmosphere. It's hard to find a restaurant that has the atmosphere and views and good food and good prices, but this place was had it all.
Pam, Ken, Mike and I got a table, but just minutes later Becca walked in and joined us. Later on more ST.Ners showed up to eat. This place is popular.
Not sure what Mike had, is that a brisket?
My pork tenderloin sandwitch and fries were truly delicious
After lunch relaxing on the deck out back at the Cliff House Inn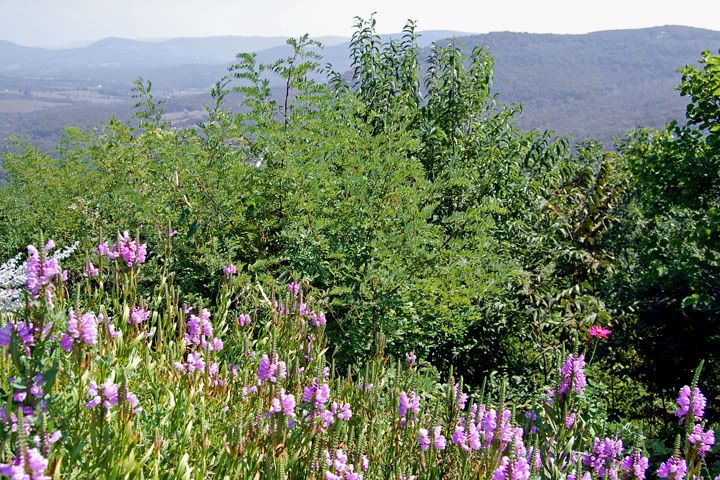 Nice views from the Cliff House Inn's parking lot
Arkansas' Grand Canyon
Becca, Pam and Ken taking off

From there Mike and I decided to take the shortest route back to Eureka Springs, so we shot up route 7, which unfortunately had a lot of traffic because it also had some tight and steep curves.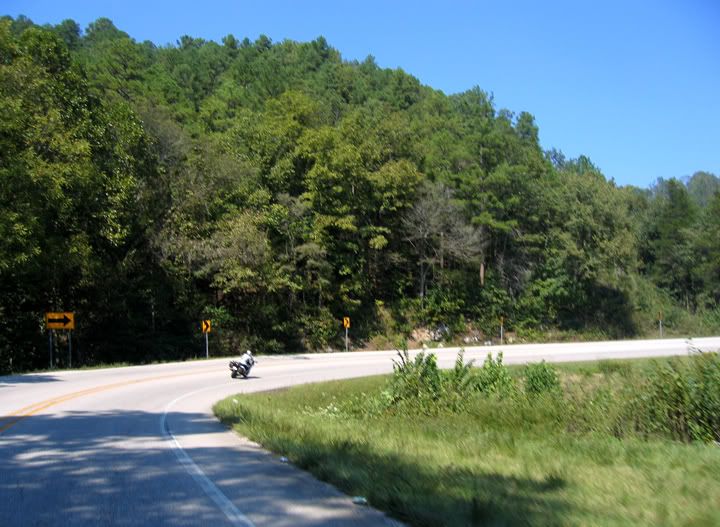 Heading north on 7

The day was warming up slowly, the morning was cool and very pleasant. It wasn't until about 1PM that I started to feel hot. Now heading on 412 to 65 to 62, at lower elevations, it was sweltering and the traffic was pretty dense too.

We arrived at our motel in Eureka Springs around 3:30PM and went to relax at the pool for an hour, then we geared up and headed in to the city – downtown Eureka Springs that is.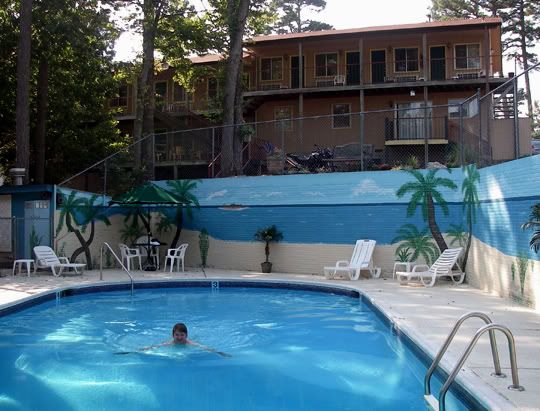 Mike taking a dip