Day 7 - 234 miles through North Carolina, Georgia, South Carolina and Tennessee

Today Mike and I were going to ride different routes. Originally we were supposed to ride same roads together for all the 9 days of the trip, but when I readjusted the route and made each day shorter, we also had to cut a bit out of today's route.
Mike wanted to ride the Dragon and Cherahala Skyway, I've been on those before. I wanted to explore some of South Carolina and Georgia. So this morning I prepared a different route for each of us and figured out a place we could meet up at, at the end of the day. Originally we were going to be camping tonight, but since it might be another long day, we decided to get a motel.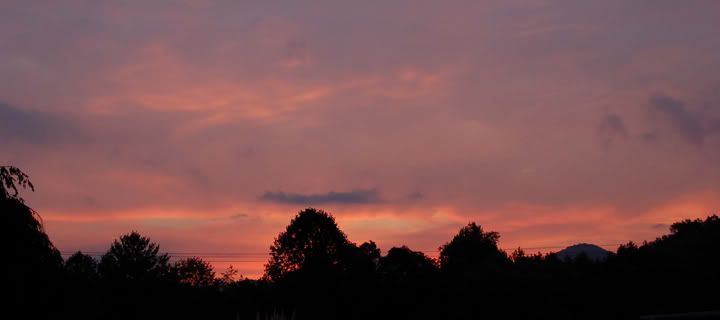 A pretty sunrise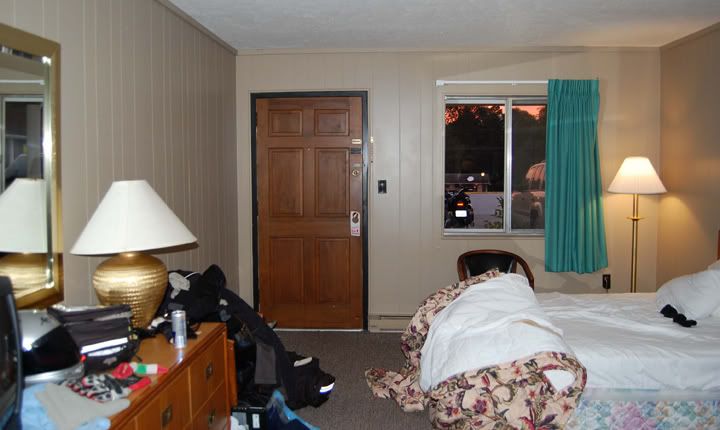 Our room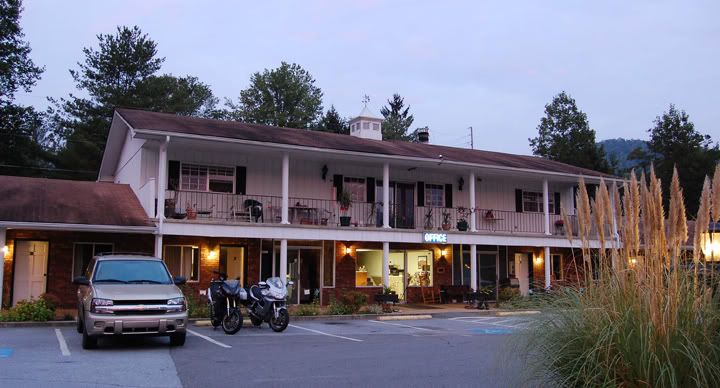 Colonial Inn, Franklin, NC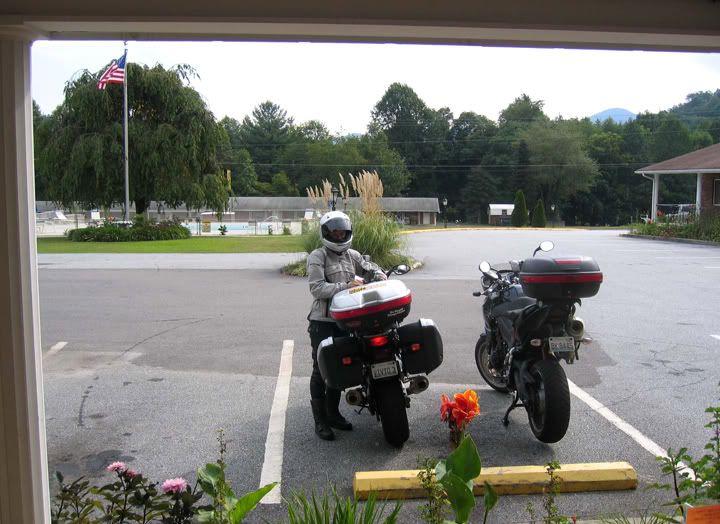 Leaving for my 4 state excursion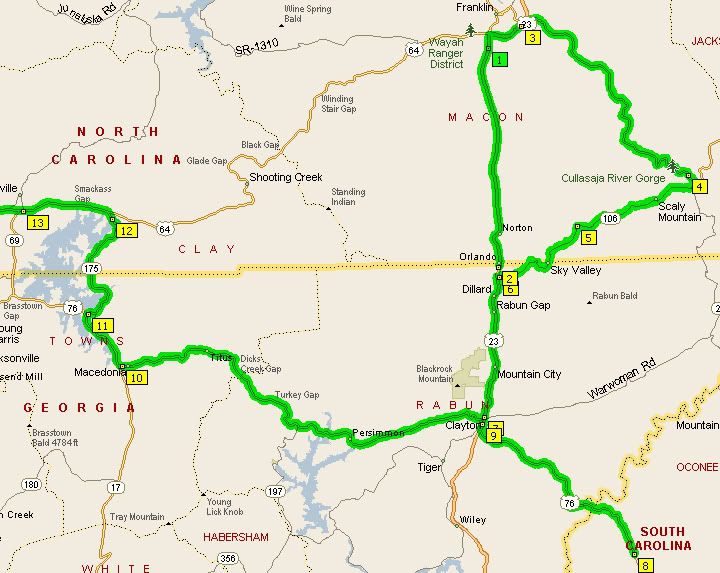 I went the wrong way on 23, so I decided to go all the way to the border to snap a pic of the Georgia sign in case there wasn't any on 106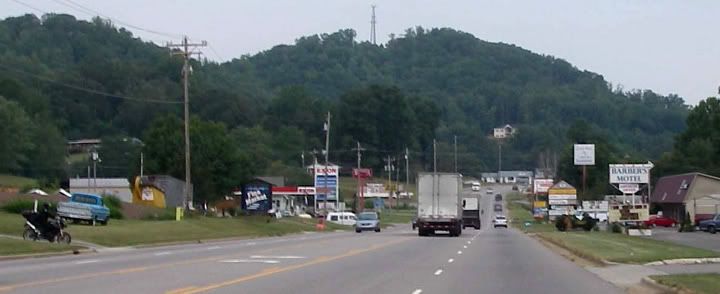 Going back to Franklin to find 28 I saw Mike pulling out of the motel's parking lot

I guess I was confused this morning. This motel wasn't where it was supposed to be, according to
Streets & Trips
. I went the wrong direction and never even thought to look on the GPS. Minutes later I figured something was wrong, I should have seen 28 by now. Duh, I was going the wrong way. I was very close to the Georgia border, so I waited and turned around in Georgia after getting some gas. When I passed by the motel on my way back, Mike was just pulling out of the driveway, we both headed toward 28, he went north and I went south.
Much of these corners of 28 are posted at 20-25MPH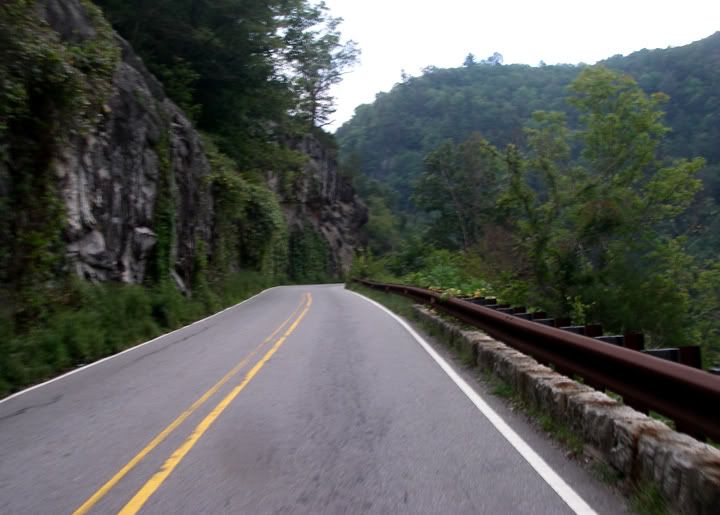 Rock wall on one side and guardrail on the other, can't make any mistakes here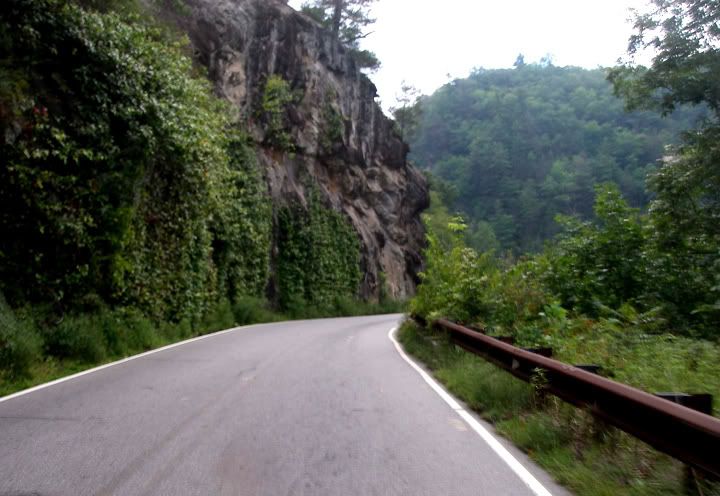 One section of 28 is so narrow, only one car can get through at a time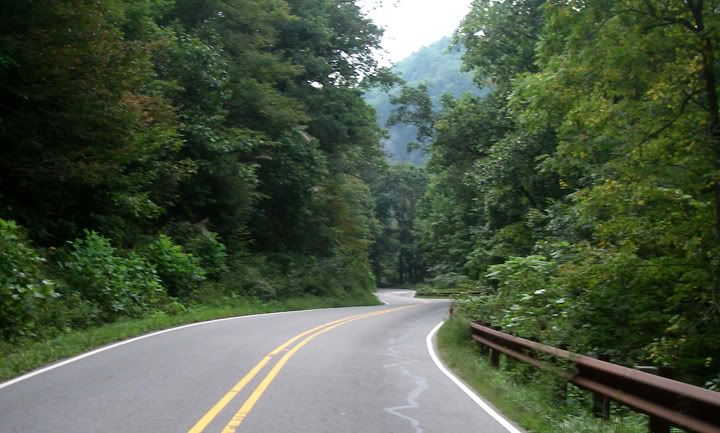 These are some nice twisties and one of my favorite technical roads
This portion of 28 from Franklin to Highlands, NC was even better then the one we rode yesterday. I've been on this road before but going north, heading south you get to see more of the river and I didn't even notice the nice falls before. Very twisty and narrow, one section only wide enough for one car to pass through at a time. The road is very banked and the scenic pullouts are not very level so I didn't want to pull over on those. Further down the road is Bridal Falls, where I have stopped before in the past. I rode underneath the falls and continued to 106 which turn to 249 in Georgia. This road was also twisty but it was much wider.
A river or creek running adjacent to 28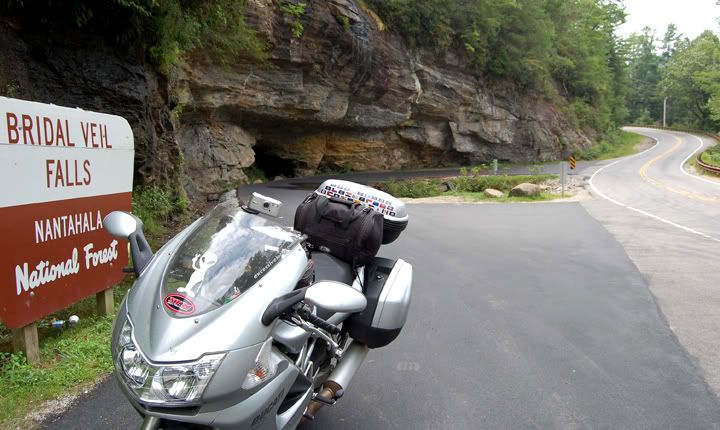 Bridal Veil Falls on 28

You can ride behind the falls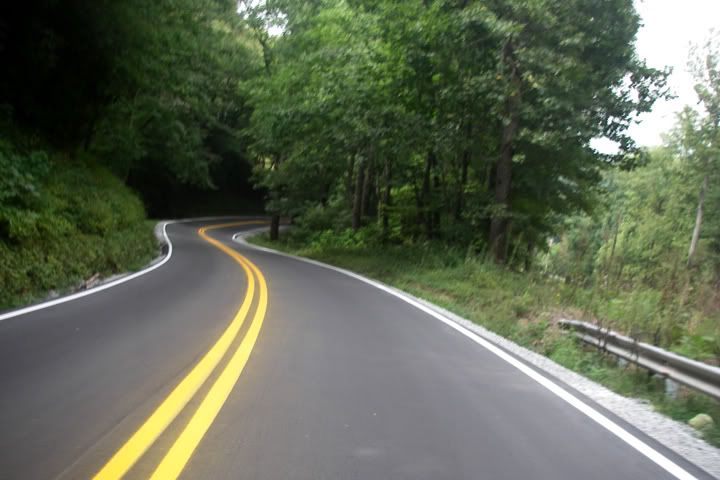 New pavement on 106 heading in to Georgia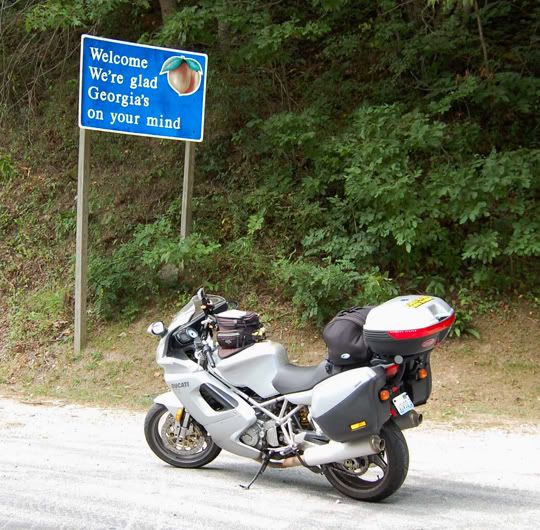 Welcome to Georgia
Leaving North Carolina behind me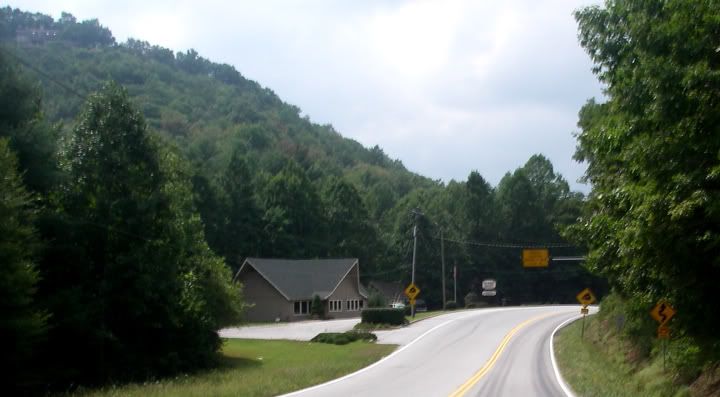 Heading down the mountain on 249 on the
Georgia side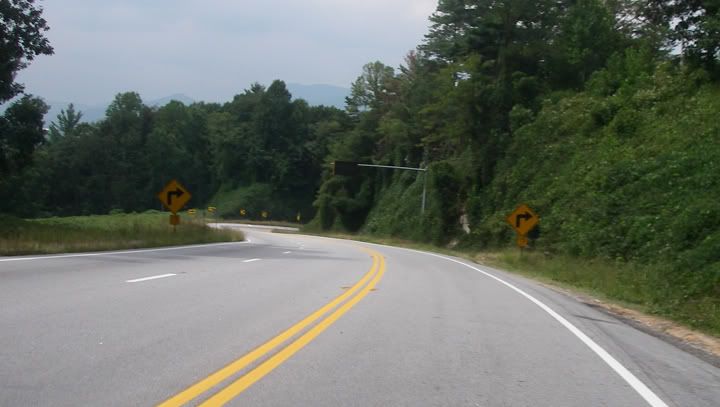 Many warning signs on this road, it was tight amd steep but wide
Leaning on 249 through the twists and turns
After heading down 441/23 south I turned on 76 and headed in to South Carolina. I didn't have enough time to do a loop through South Carolina, so I was just planning on riding down and having some lunch either in Westminster or earlier. 76 had some sweepersand many straight sections but there was a really good section of 35MPH curves around the GA/SC border.
Stopped on the bridge where the Chattooga River seperates South Carolina from Georgia
Welcome to South Carolina
I arrived in Long Creek, SC hoping for a place to grab some lunch but this was a small town and there was nothing really here. Up ahead there was a sign for a detour and since I didn't have too much time to waste today, I decided to turn around and head back to continue the route I had planned.
I stayed on 76 heading west, it was wide road with good pavement and had nice sections with some curves, nothing really tight. There was a scenic pull out there with some really cool flowers and nice views.
Scenic stop on 76 in Georgia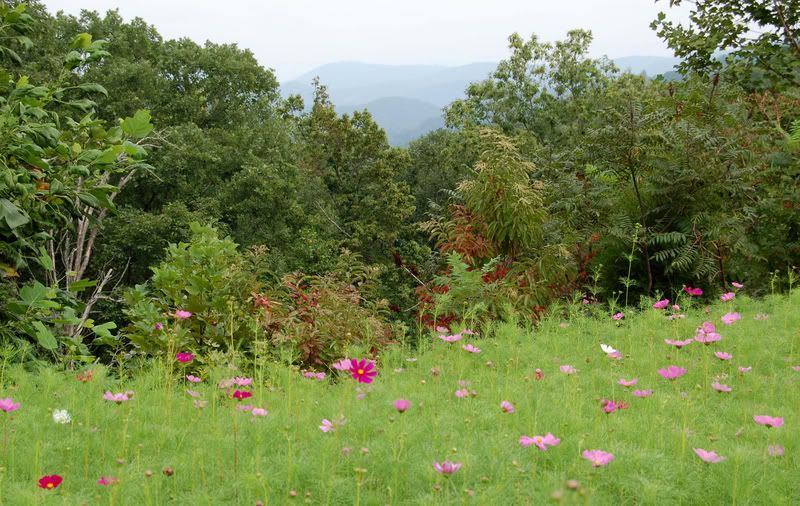 Flowers and mountains, one of my favorite combinations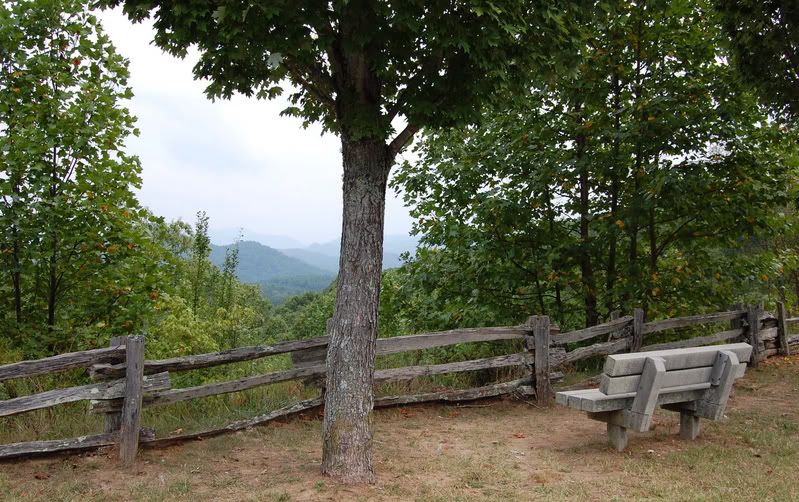 There was a picnic table here and some nice benches to sit on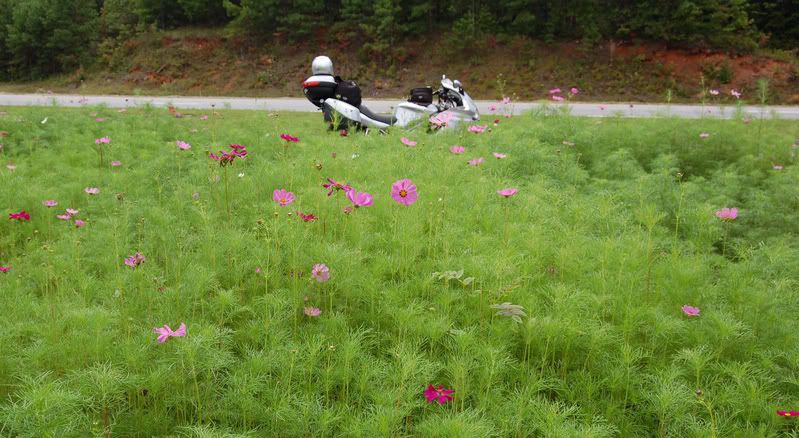 The Duc surrounded by flowers, you don't see this everyday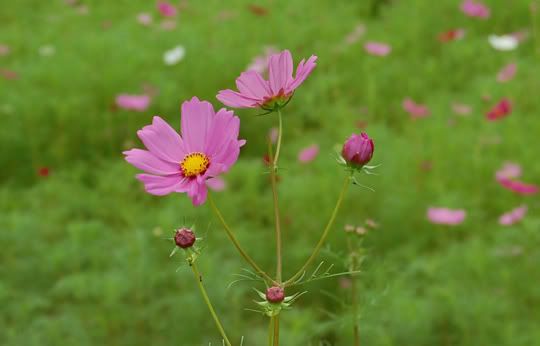 Pretty in pink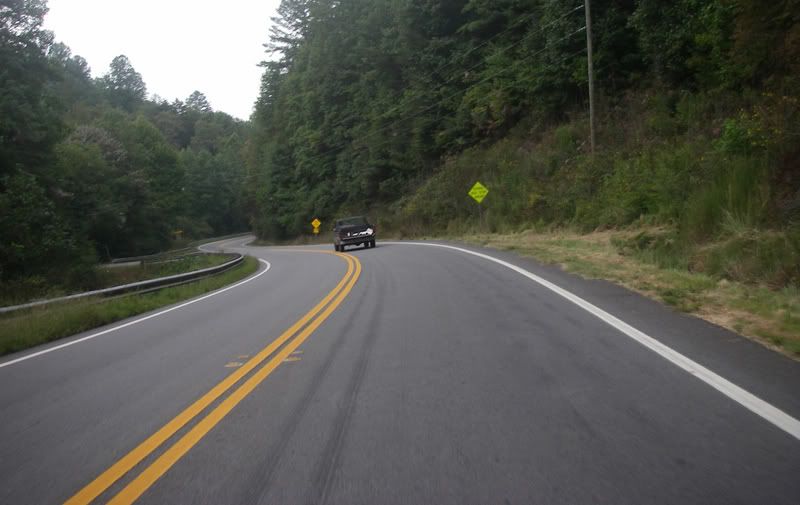 Back on the 76
Just a few minutes later I come around a corner and the traffic is stopped. I turned off my bike and wait. No one is moving. I look at my GPS and I have no where to go unless I want to go way out of the way. The only other way to go is to go back where I came from and I don't won't to do that. So I wait some more, I mean, how long could this take? 15 minutes later a fire engine goes by, 30 minutes later a police car, an hour later a tow truck. Now I'm hopeful that things will start moving but still nothing.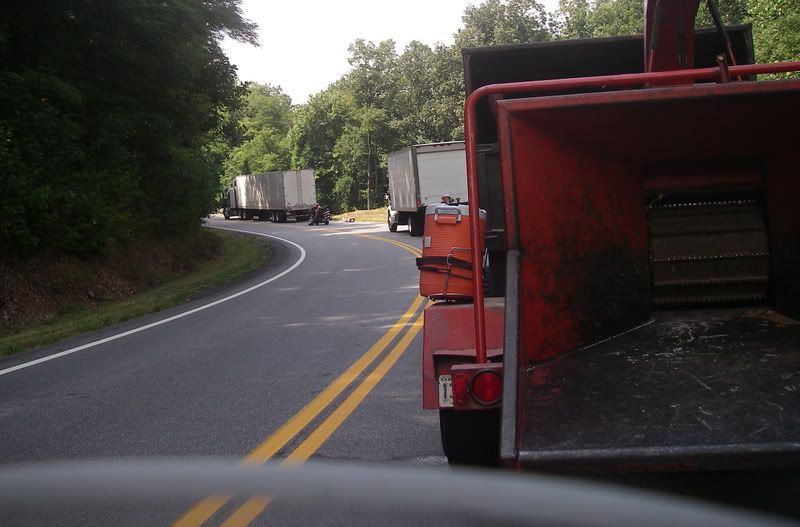 Big delay on 76
Finally an hour and a half later the cars and trucks in front of me start their engines and very slowly we are moving. Two curves later I see a pick up truck on top of the tow truck, burned to a crisp. We were lucky, the eastbound traffic was backed up for miles and only the westbound lane was moving. I rode towards Hiawassee, GA in all that traffic, the town itself looked busy and a place where people come on the weekends. Tired of the traffic I pulled over before the first intersection which was backed up. I was hoping that all the traffic would get through town and then I could jump back on and have an empty road in front of me.
I was hungry now, hoping to grab some food at the strip mall where I stopped, I walked over and realized thre was nothing to eat here, so since I was already stopped I ate the Pringles from last night and drank the water I had with and 30 minutes with the traffic still very heavy through town, I got going again. I was bummed, I lost two hours of riding. I took 69 to 64. The roads were congested all the way to Murphy, but after that 64/74 was smooth sailing, and pretty boring, mostly straight and a four-lane road.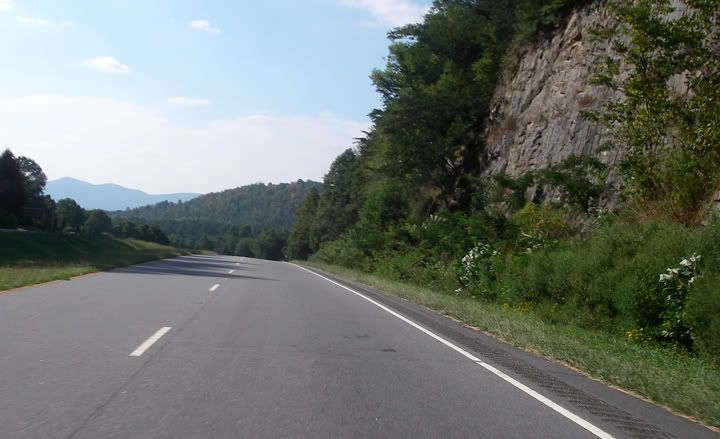 The mostly straight 64 heading toward Tennessee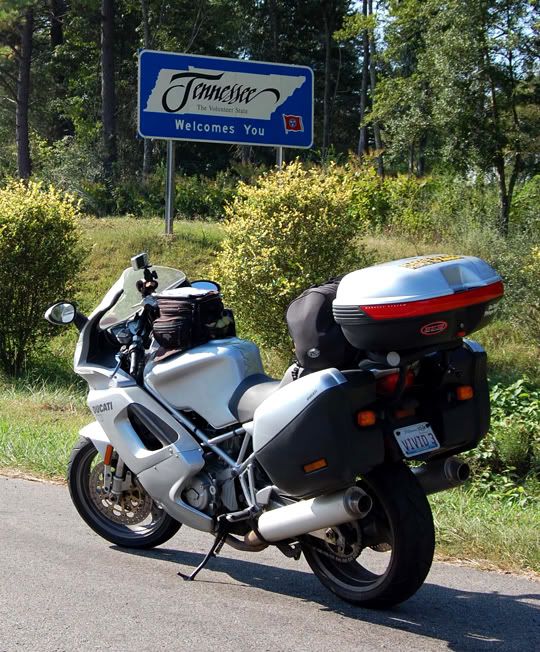 I crossed in to Tennessee and turned on to 68 North. As I was stopped at the red light in Ducktown, TN, I looked down at my odometer, the ST3 had just turned over 20,000 miles. Pretty cool and easy to remember too …Duc.. Ducktown.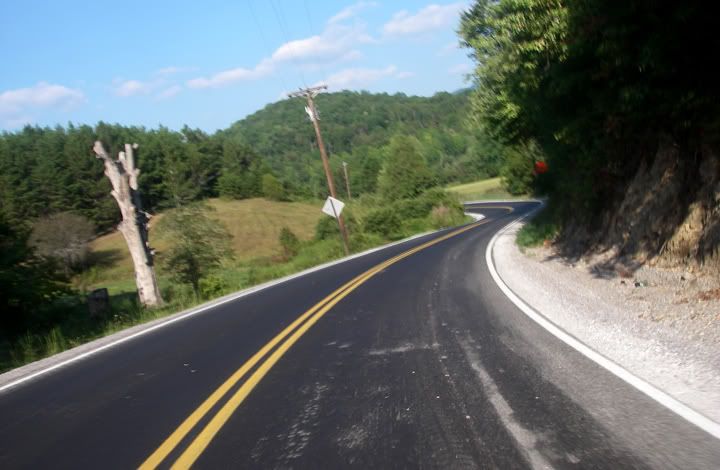 New pavement on 68 in TN

68 was a really nice road, part of it was freshly paved and did have a lot of gravel in some of the corners. There were sweepers here and tight stuff, really nice sections though some wooded areas. I made it to Tellico Plains, gassed up and called Mike. He had already left me a message saying that he left Tellico Plains half an hour ago and should be in Athens, TN around 6PM. Athens was near the interstate and there were many motels there, this was the place we decided this morning where we would meet. It was 6PM right now so I left him a message to let him know where I was and that I was leaving here shortly. Then I took a short break and drank some more water and my phone rang. He had just scored us a cheap room at the Econo Lodge.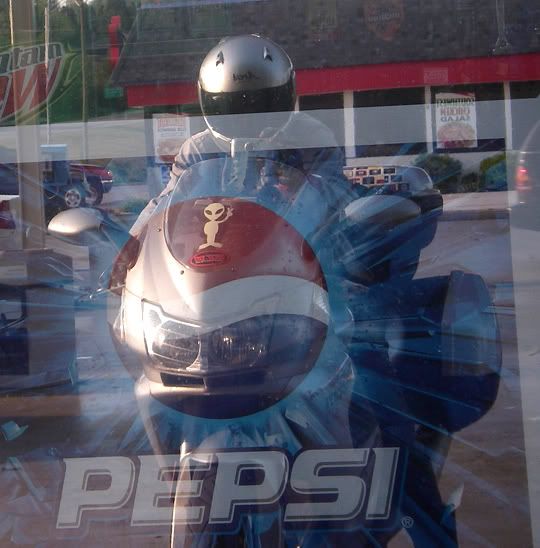 Leaving the gas station, my reflection in the glass window, I thought it was kind of cool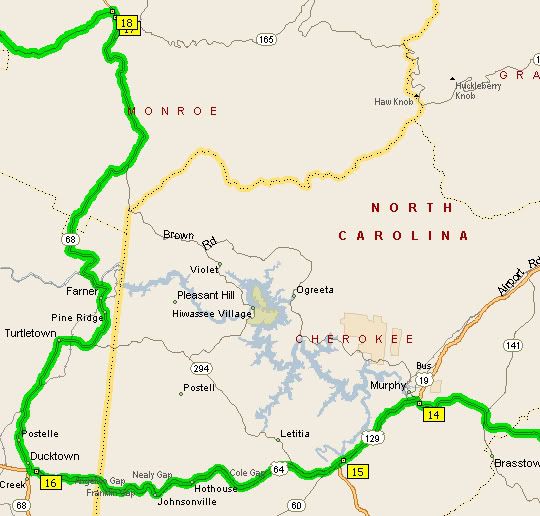 My favorite road of the day is 68, just a bunch of nice curves and nothing technical
I took 39 toward Athens, which was very enjoyable, but the road turned right at some point and someone had removed the actual signs so I continued straight for a bit. I didn't look at my GPS so I didn't know this was 310 until I saw the signs, miles later. 310 was a nice road and I could have continued on this road towards Athens, although a bit longer of a ride. I turned around and made it back to 39.
39 and 310, good roads with nice curves, a bit on the narrow side
Athens was very congested, and it was very hot here too. I was so ready to get off the bike already. Finally I saw the motel and the black Tiger parked outside.
The restaurant next door was recommended to us, so we went. Food was good, prices were reasonable. The Econo Lodge wasn't all that great of a place but at $52 a night we were not complaining.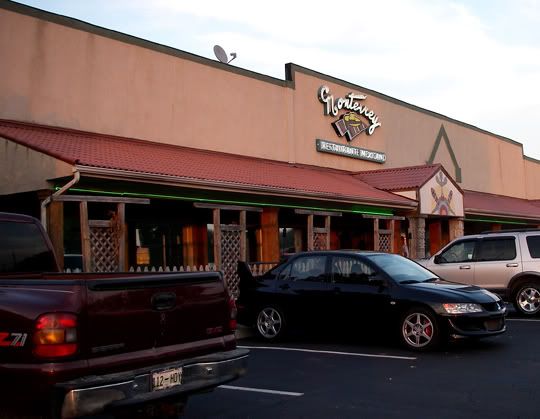 Dinner at Monterrey Mexican Food in Athens, TN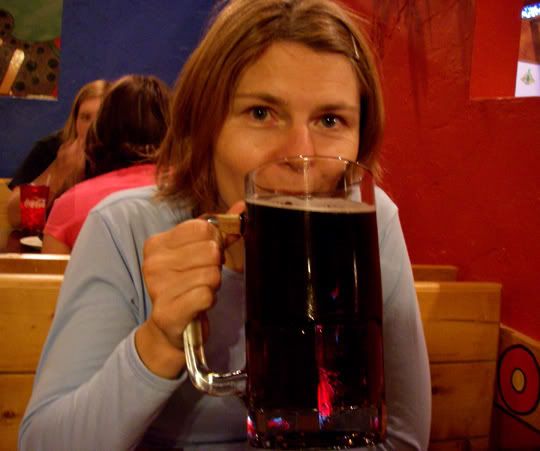 No, I didn't finish my beer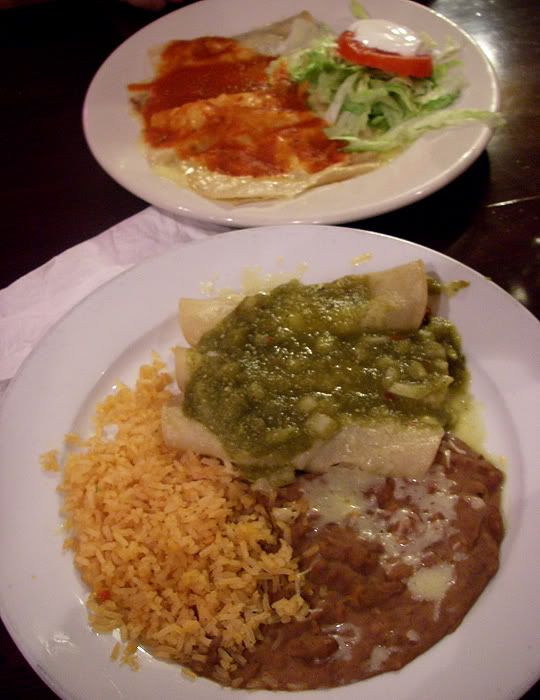 Enchiladas for Mike and I