We woke up to a cloudy morning. We were thinking of finding a ditch to drive the truck and trailer in to so we could get the bikes off since we haven't picked up a ramp yet. But the ditches were all flooded and all the forest roads were probably wet as well.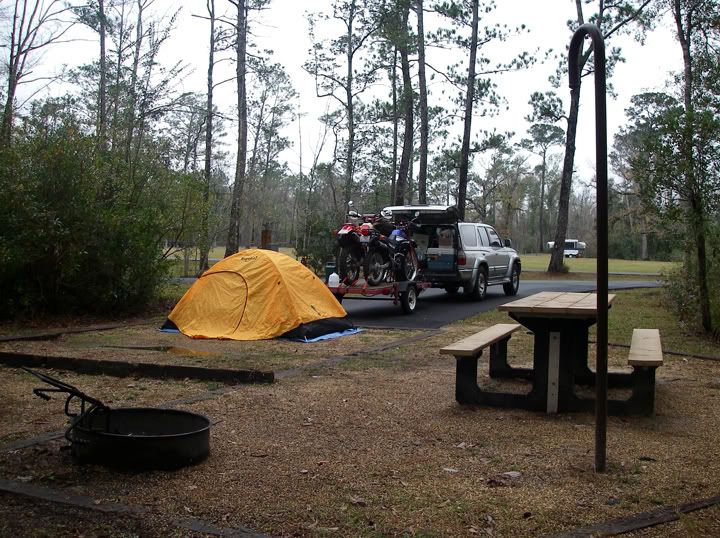 Our camp site at the Big Biloxi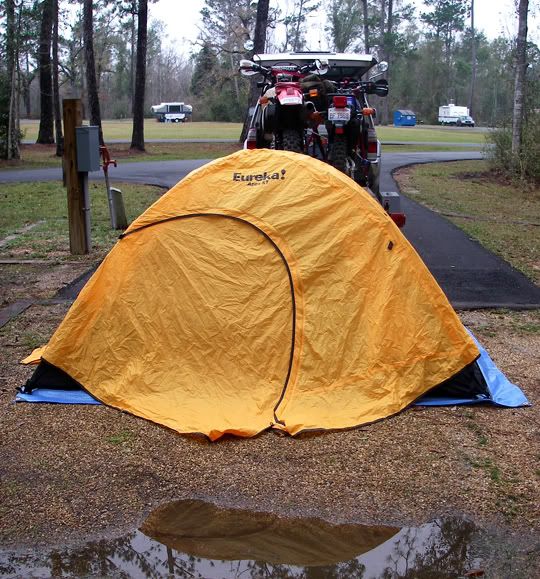 Puddles of water from yesterdays rain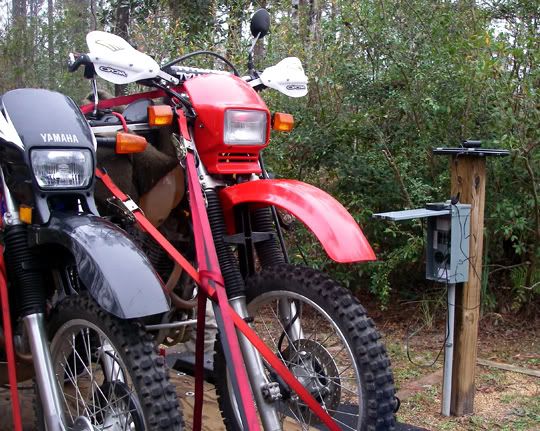 Charging our electronics before we leave
This was probably a good time to drive back in to town and go looking for a ramp, so that's what we did. We checked out two auto parts stores, a motorcycle dealership and a trailer place and found nothing. Now it was time for lunch. We couldn't find a ramp anywhere but we did find a Raising Cane's chicken finger place. This was my third time eating Cane's chicken fingers on this trip – still delicious.
Another stop at Cane's for some amazing chicken fingers
You can almost 'see' that these are the most delicious chicken fingers out there, the bread is yummy also, fries are good too

By now the clouds have totally disappeared, the sun was shining and the temperature was in the mid 60's. We were going to try one more place, if we couldn't find a ramp there, we were going to drive back to the forest and try to unload the bike using the ditch method.
Finally, we found a nice and cheap folding ramp at the Home Depot. But it took forever locating it at the store. The store had 4 motorcycle ramps and they were all located in three different areas of the store. We asked three store employees and each of them brought us to a different ramp. The third time was the charm. This was exactly what we were looking for, unfortunately we wasted almost an hour at the Home Depot.
We were finally on our way to the Del Soto National Forest. We only had a few hours of daylight left so we went looking for a place to park the truck and trailer, hoping for some parking lot, but found nothing. We also found no forest roads to ride. So we gave up.
Today just ended up one of those days where nothing fell in to place. We lost precious daylight hours and warm temperatures looking for a motorcycle ramp. Then looking for a place to park and ride. Now at 3PM we decided to just drive to the next national forest on our list, which was Conecuh National Forest in Alabama. But first, we took a break to enjoy the sunshine and have some King Cake. It wasn't that great. Mike said that the bakeries make really good king cake, this one was from Wal-Mart after all.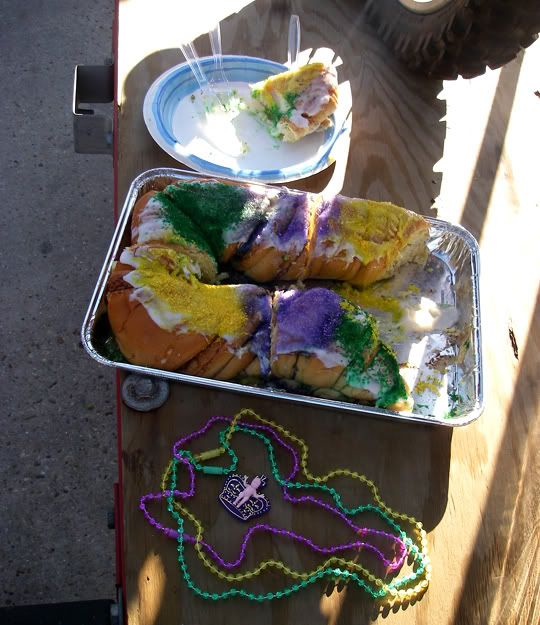 King Cake break
Past Mobile, AL we exited the interstate and continued on smaller roads. A couple hours later the sun had set. We continued, in the dark. There was a lot of fog on the road at times, we had to slow down quite a bit since we have problems seeing road.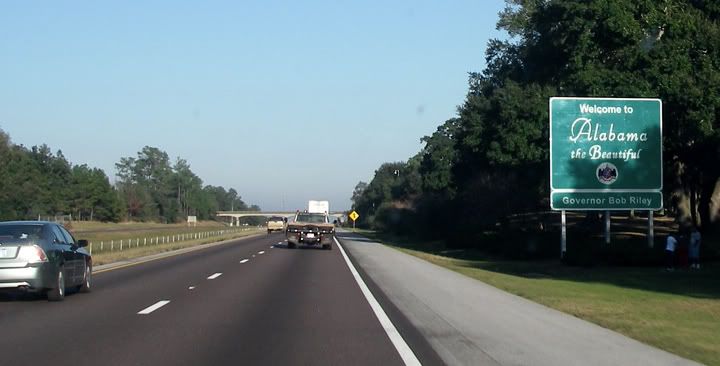 I've driven through Alabama before but I've never had the chance to see any of it up close, I was looking forward to exploring this area

Some nice holiday decorations in Brewton, AL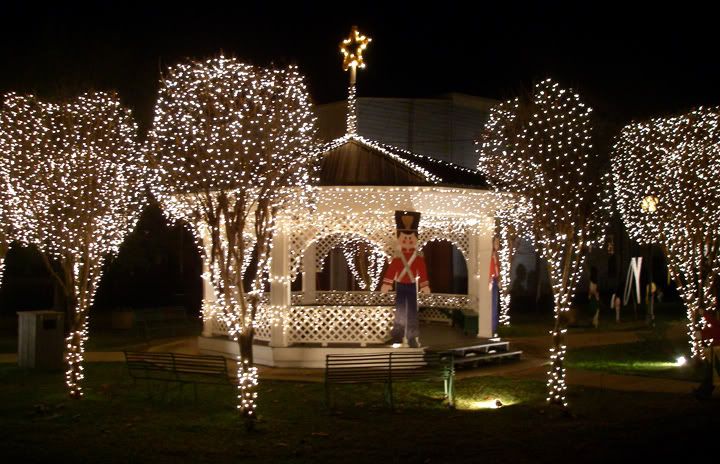 We arrived at the Open Pond camp site after 6:30PM. There were 4 loops, we drove 3 of them. "A" was all primitive sites, "B" was only for boy scouts and group camping, 'C" was electric and "D" was electric.
We chose a camp site toward the end of the "C" loop, from here you couldn't see anyone. It was really a peaceful spot with a lot of room and a very nice layout too.
It was dinner time. I got my left over shrimp from yesterday's dinner out of the cooler, heated them up and made an imitation shrimp po' boy. Mike opted out for a sandwich with turkey and swiss.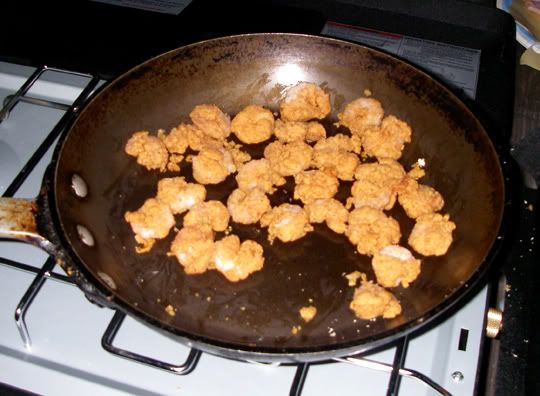 Dinner time

We couldn't find any fire wood for sale so all we had to burn was one of those self starting logs, those are good for at least two hours of light but they don't give out much heat.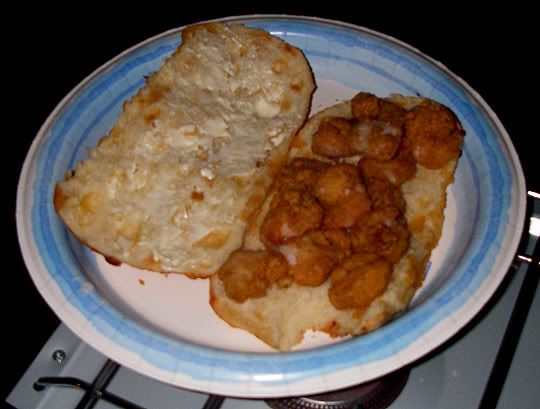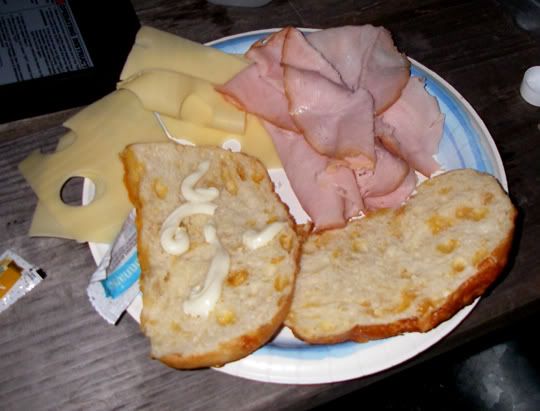 My shrimp and Mike's turkey and swiss sandwich dinner
It was nice to kick back under the starry sky with a cup of hot cocoa. It was a clear night when we zipped our tent up to go to bed. It didn't get really cold either, stayed in the low 50's. But a couple of hours after we went to bed I heard light rain falling on the rain fly, and it fell for a good portion of the night. We stayed dry inside.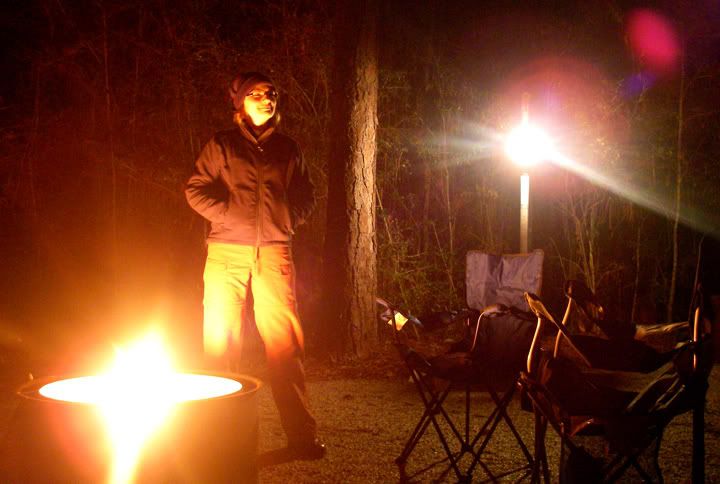 Hanging out by the campfire