It's been 1 month and 4 days since I've ridden my motorcycle and I'm definitely suffering from PMS right now.
(PMS) Parked Motorcycle Syndrome
is a collection of physical, psychological, and emotional symptoms related to a person's lack of motorcycle riding during the winter months. The further north a rider resides the more PMS symptoms a person may exhibits. Temperatures below freezing, ice, snow and salt on the roads may keep motorcycles parked for months on end in the northern climates.
PMS symptoms are usually predictable and occur regularly, starting with the first snowfall or cold spell and continue through the end winter. The symptoms may vanish temporarily if a person is able to get out for a few rides during the Winter months. Rides during Winter months may occur if the weather turns warmer and the temps climb above freezing or if rain washes away the salt and snow from the roads.
Studies have shown, that even a very short cold ride around the block during Winter months helps alleviate many PMS symptoms. The forecast is not showing any warm ups any time soon, as a matter of a fact, more snow is on the way. I don't think there is going to be any riding for us this month.
I guess Winter kind of sneaked up on me. Back in November I for sure thought that I'd be riding at last a couple more times this December, therefore I wasn't concerned about filling up my gas tank before parking the bikes after each ride and now it seems that all of our bikes have to be topped off with gas if they are going to sit for a while plugged in to the trickle chargers. But with so much snow and ice in the driveway, there is no way to ride all the bikes to get them filled up with gas, so gas had to come to the bikes.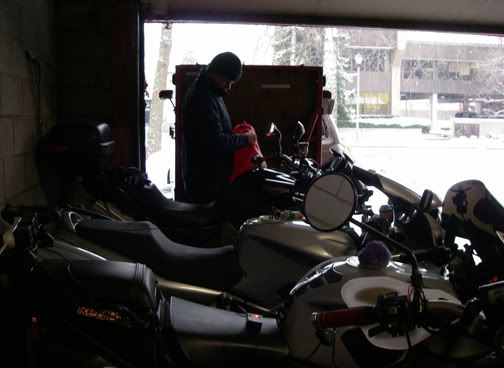 Mike filling up all of the bikes with a gas can, his Tiger is first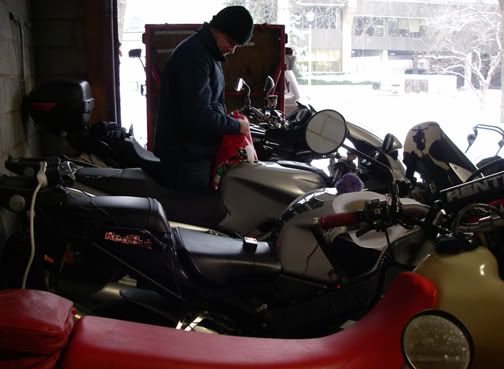 My ST3 is next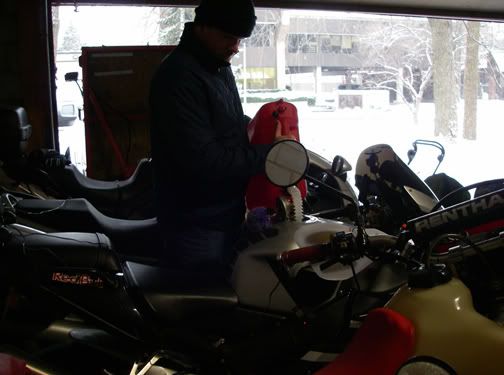 My 954RR also needed some gas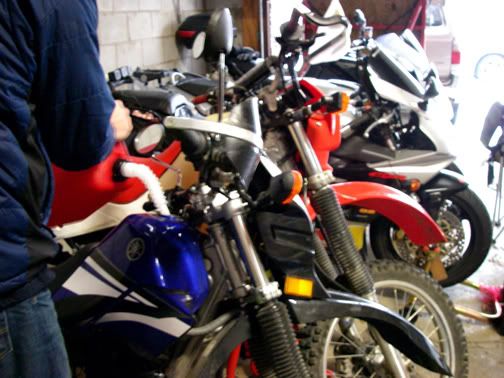 And some gas for my XT225 is also needed
Outside the garage Winter is pushing on in the Midwest with new snow coming down from the sky. This may be a long Winter with very little riding.


More snow on the way today