We woke up to rain - again. The forecast still looked the same just as it did since it had started raining days ago. More rain coming up from the Gulf. But here in central Alabama the rain was finally ending this afternoon. And to think that Alabama and Georgia had been in a drought before this rain came.
Watching the weather channel, more rain
Since it was raining, we were not in any hurry to go any where. The Day's Inn had a decent complimentary breakfast. After we ate we got the laptop out to figure out where we would be camping tonight and tomorrow night. We were going to ride in the Talladega National Forest. The forest roads were supposed to be awesome, but unfortunately the national forest campsites were not open right now. After searching the internet and not finding any other camp sites near Talladega, we almost gave up on riding there. But at the last minute we found a state park near by that had campsites with electricity and water. The Cheaha State Park is located on a mountain, so it was going to be pretty cold at night.
We took off and had to an early lunch at the Olive Garden in Birmingham. Soup, salad and breadstick. And bread pudding. I just discovered bread pudding last week. I'm surprised I've never come across it before.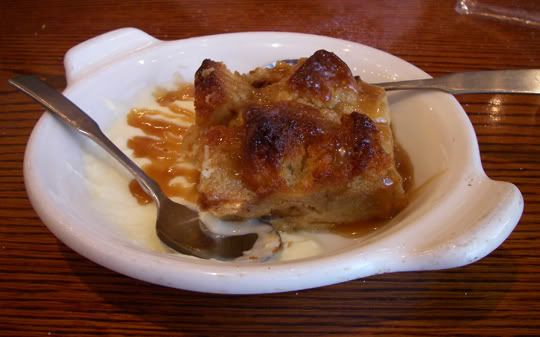 Bread pudding
After lunch we went to check out Ruffner Mountain, which I read about on a website on Alabama's tourism. There was supposed to be some good hiking there and nice views of Birmingham.
The website did say that getting to Ruffner Mountain was kind of difficult, the directions were long and kind of complicated. And it did take us an hour before we found all the streets to take us there. It was totally worth it though, a really nice place to hike with beautiful scenery. And the rain had finally stopped. Yea!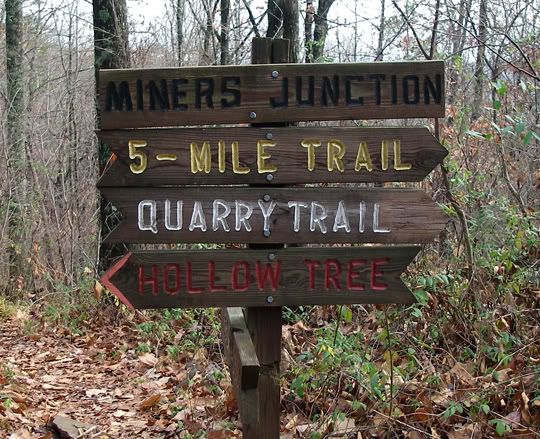 We hiked the Quarry Trail, it went to the scenic overlook of the city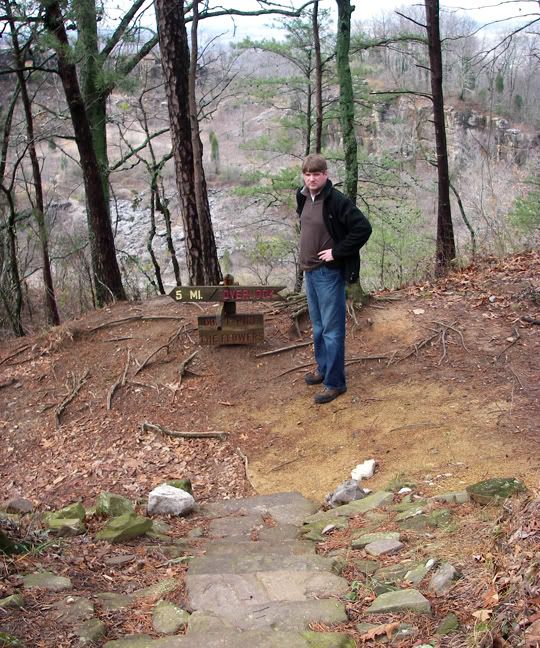 Quarry overlook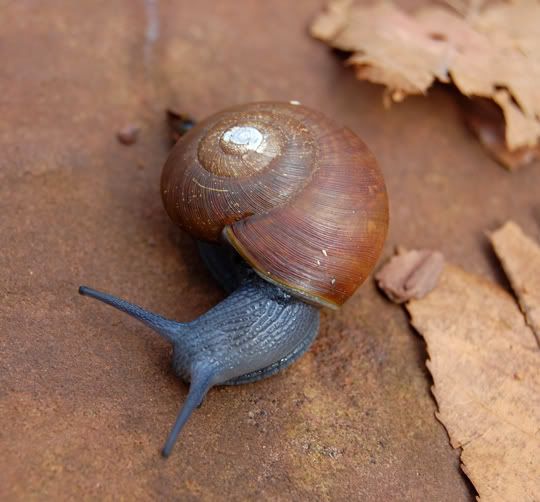 We almost stepped on this little guy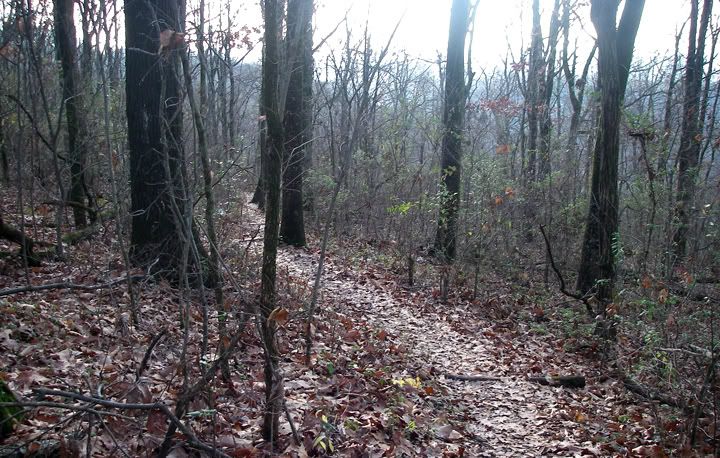 A nice trail through the woods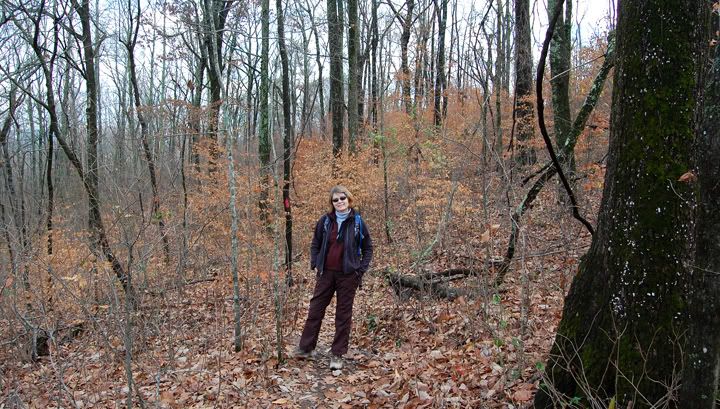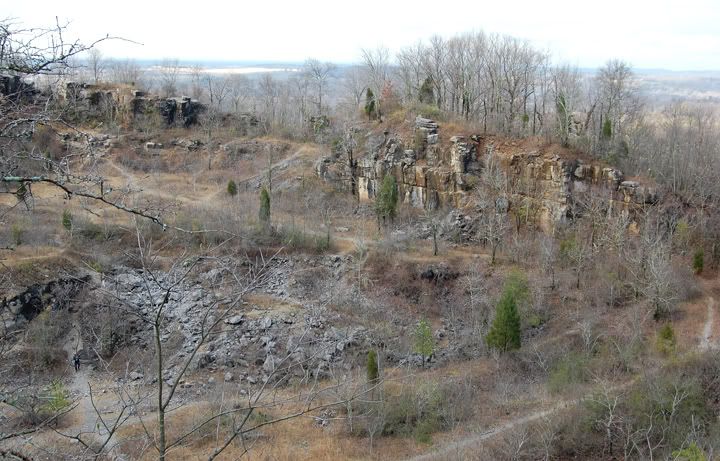 That's the quarry down below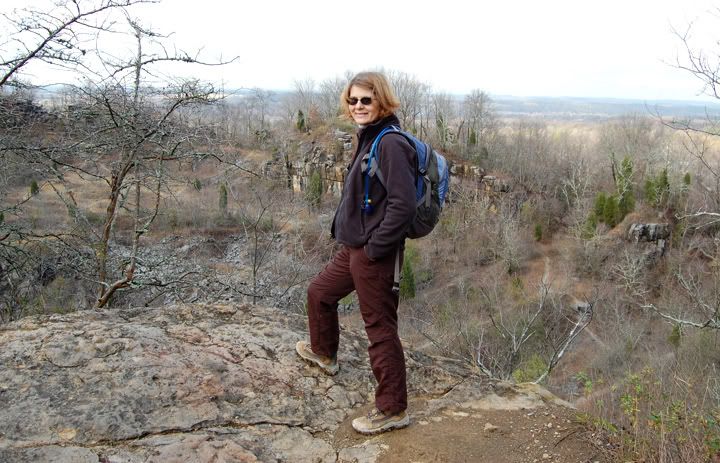 Even with all this cloud cover and very little sunshine, low to mid 50's felt great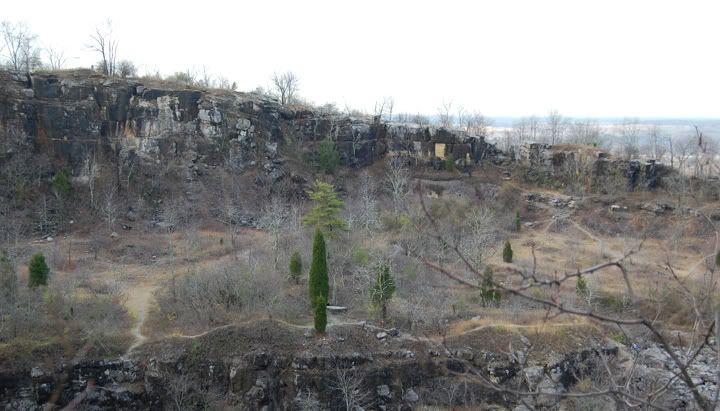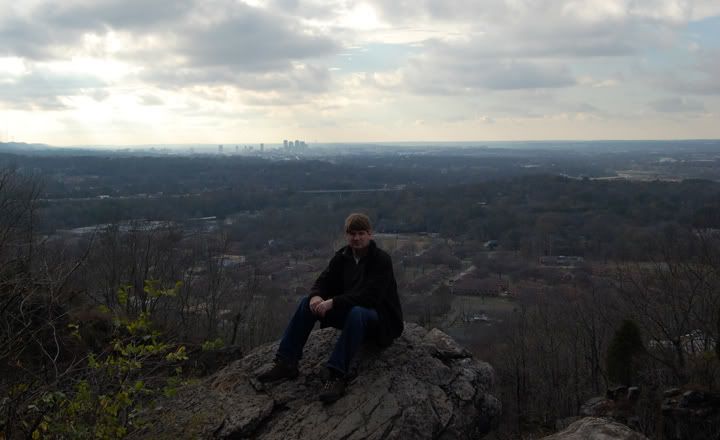 Mike with Birmingham in the distance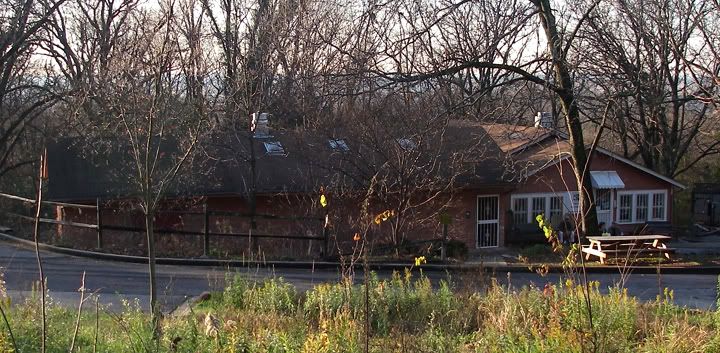 Ruffner Mountain visitor center
After we finished our hike we took off toward Cheaha State Park. It was already later then we thought. Our hike was a long one. We kind of didn't pay attention to the directions that were posted on the website for the state park and we ended up taking the long way there which was the Cheaha Road, a twisty, very narrow, pea-graveled road, which entered the state park from the west. There was a lot of fog on this road and by now it was completely dark. We saw some deer near the road, other than that it was too dark to even read the road signs.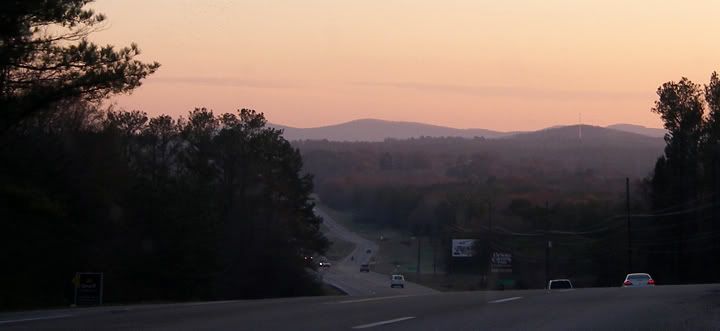 Heading into the Talladega Mountains at sunset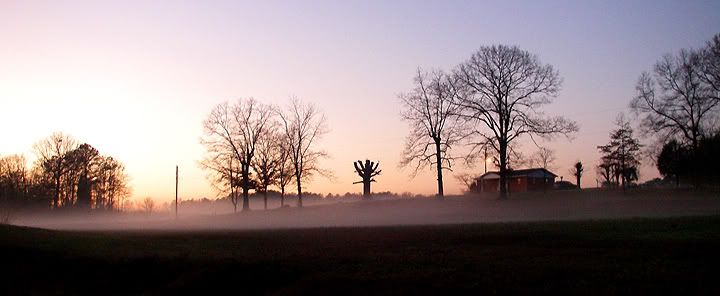 Fog hovering low above the grass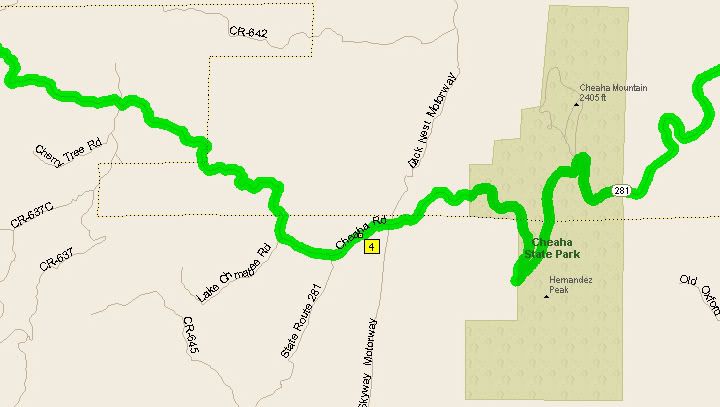 The twisty Cheaha Road going to the state park
Finally we arrived at the Cheha State Park. I read on their website that there was a camp site on top of the mountain and one lower down the mountain. I was hoping to camp at a lower elevation, thinking it would be a bit warmer.
We passed up the lower camp site and but we didn't even know it, too dark and foggy to see anything. The upper camp site had a few RV's camping there, but I went and checked out the bathroom (because I had to go) and for some reason there was no running water. This obviously was not supposed to be, since the facilities had regular toilets and sinks, there was just no water for some reason. It was also pretty cold up on that mountain and someone's dog kept barking non-stop.
We drove back down and finally found the lower camp site, but there was a gate that could only be opened with a entry code of some sort. They probably give you the code when you register to camp, but the registration office was closed already. We were getting pretty tired of driving. The primitive camp site was down the road from the lower full service camp site, so we went to check it out. The road through the camp site was really rough and at some point we couldn't continue on it with the truck and bike trailer. We got out of the truck to think.
It was going to be very cold overnight, in the upper 20's. We wanted to use our electric blanket to stay warm but we just didn't feel like driving back up the mountain to the upper full service camp site. That place was just not very inviting, with the RV's and the barking dog.
Here at the primitive camp site, we were alone. There was no one camping here tonight. It was just us, the trees and the stars, kind of nice. We decided that since it was late now, just for tonight, we'd just stay here.
This camp site was "primitive" just as the sign had said, meaning no water or bathrooms of any kind. To keep warm tonight we got all of our sleeping bags out. I had two zero degree sleeping bags for myself and Mike had a 35 degree and a zero degree bag. Like I've done last year in Big Bend, I'd place one sleeping bag inside the other for extra warmth. It works like a charm.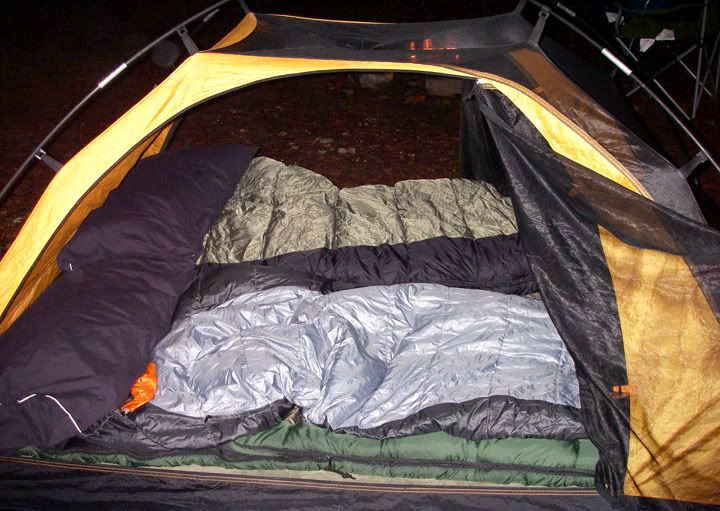 Four sleeping bags for two people, for a cold night camping up on a mountain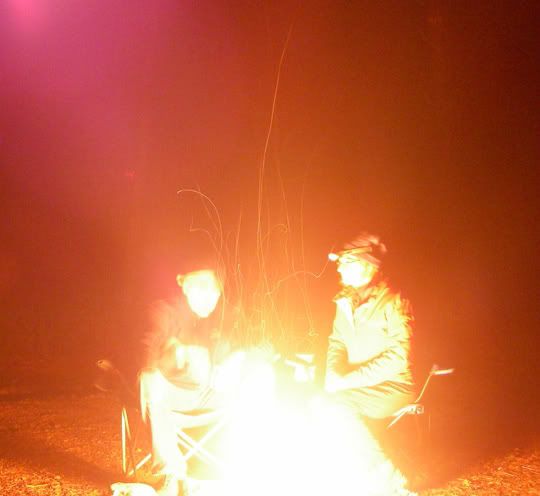 Keeping warm next to the fire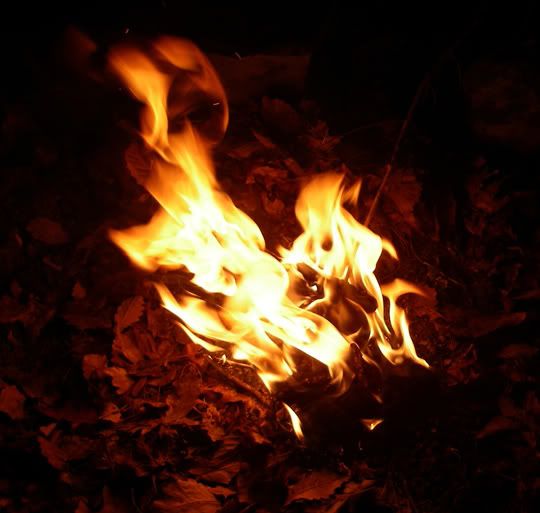 Another self-starting log being used as a camp fire, it was too dark and we couldn't find any other wood to burn nearby

Hot cocoa to stay warm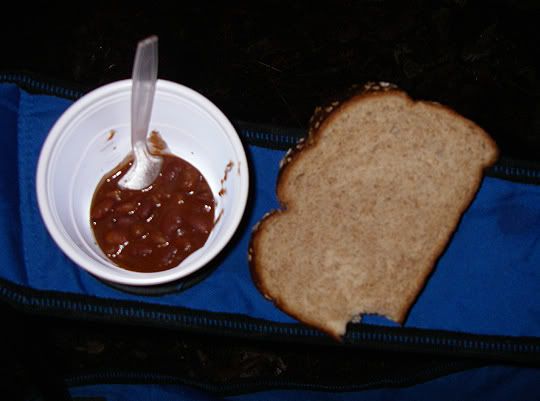 Chili and bread for dinner
The night was pretty cold, and I woke up a few times to zip the sleeping bag up further over my head. My head and my feet were cold most of the night. I even had to put my gloves on, and had kept on all my clothes, including my jacket and hat. I'm sure more expensive gear would work better, but I never intended on camping in such cold temps when I bought the stuff.