Today we towed out bikes to Kisatchie National Forest for the day. It was about a two hour drive from where we were staying with Mike's friends. There are a few Kisatchie forests in Louisiana, and this one was even further away than others but we wanted to ride the Kisatchie district in particular.
Kisatchie Ranger District is locally known as the "Little Grand Canyon" because of the sandstone bluffs and panoramic vistas. Because this district has some elevation changes, it's not only fun to ride but it's also unique for Louisiana, which is mostly flat.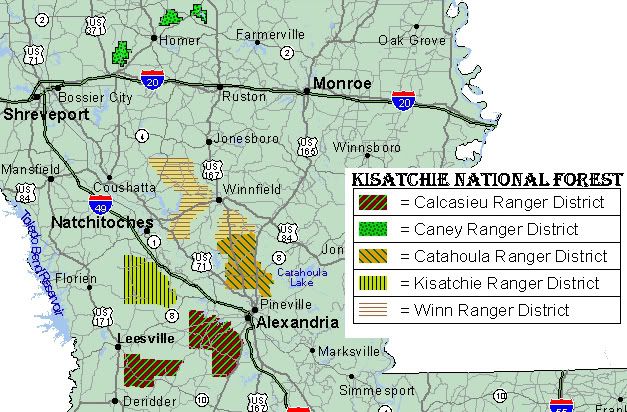 After yesterdays rain, a cold front moved through. Today's high temperature was only going to be 49 degrees. The dirt roads were nicely packed from the rain.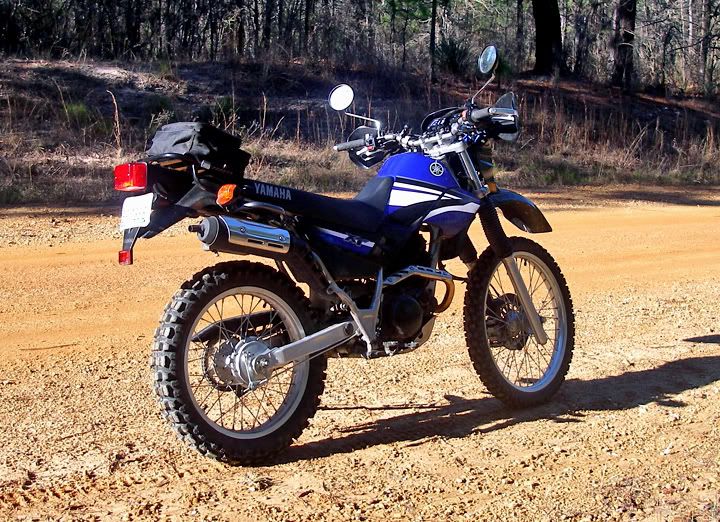 The XT ready to roll with the new M21 rear tire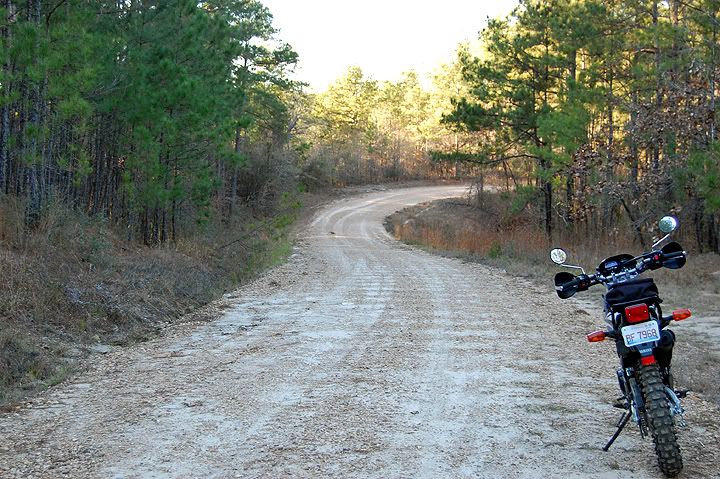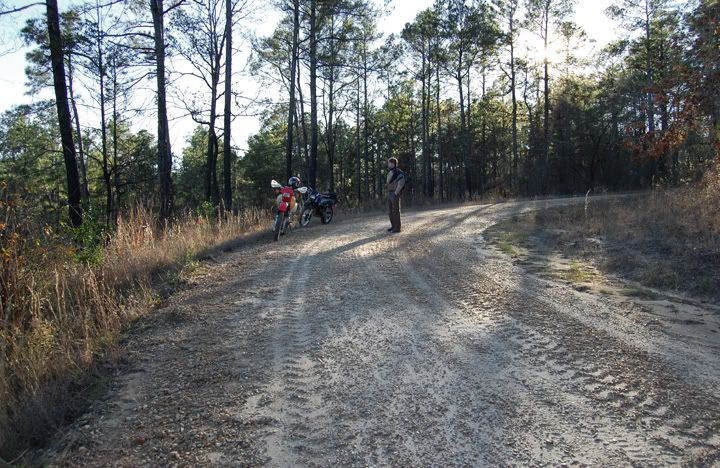 Curves everywhere
Some of these roads had some sand, but today it was moist not dry, so riding was fun even on the sandy portions.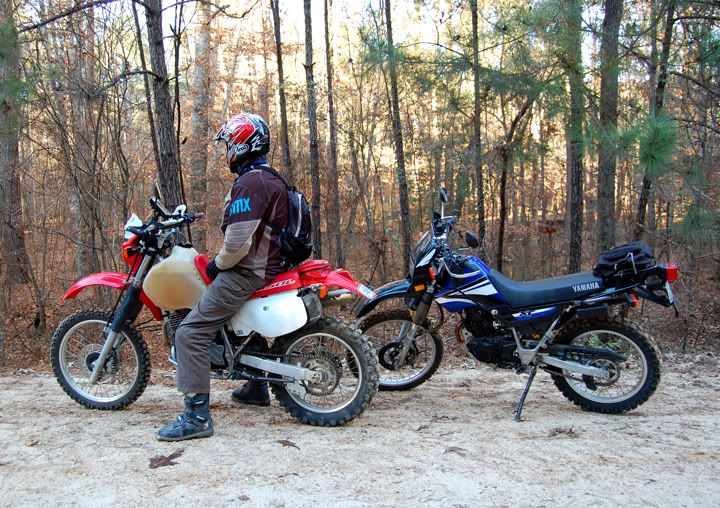 You can't see it through the dense trees, but there is a bayou running next to the road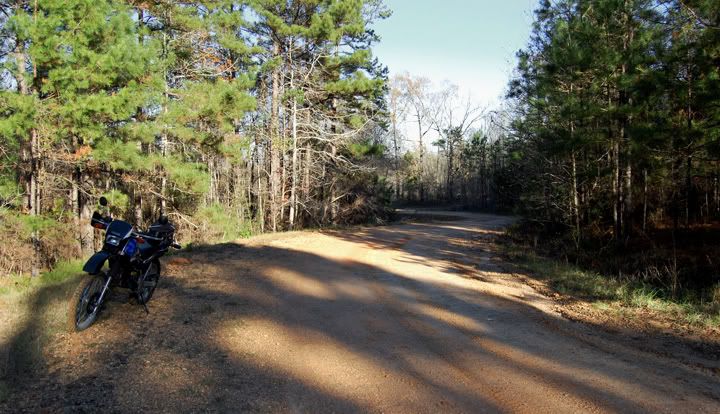 Some of the dirt was wet enough to stick to my tires
Sweet orange dirt
Some of the main dirt roads in the forest were made up of this hard orange dirt. It wasn't clay either, it was pretty loose. This was the best dirt surface I've ever been on (so far) the rain made it just right, tacky but not too sticky. Horses travel these forest roads as well, see the hoof marks?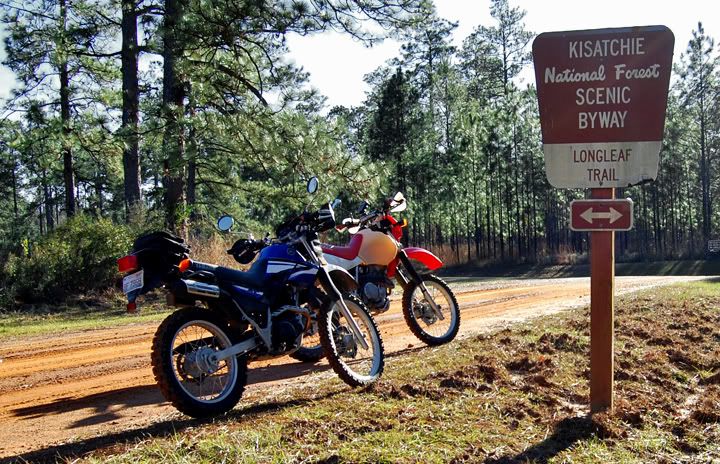 The scenic Longleaf Trail is a paved road, but it had some twisties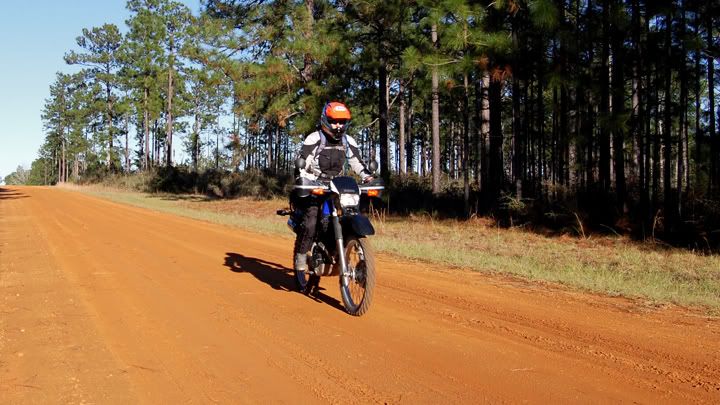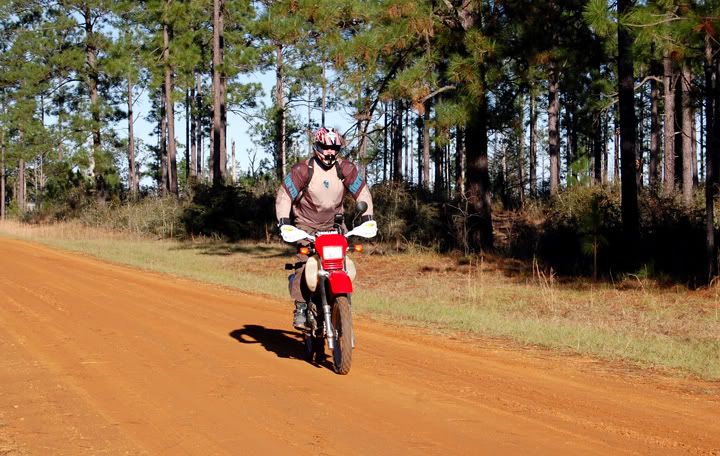 Would you believe there was no one out here on there roads today? We had the whole place to ourselves :)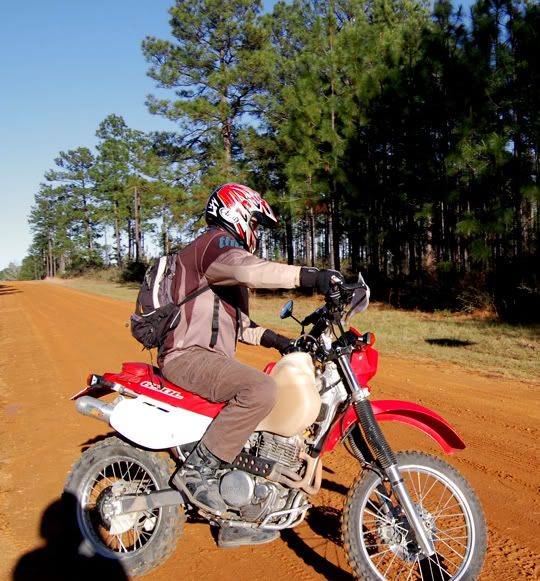 The day started out chilly, but once we got riding it wasn't so bad. I had all liners zipped in but because this bike has no windscreen and I have no hook-up to use my electric gear, I get more cold riding dirt thean I do riding street at the same temperatures.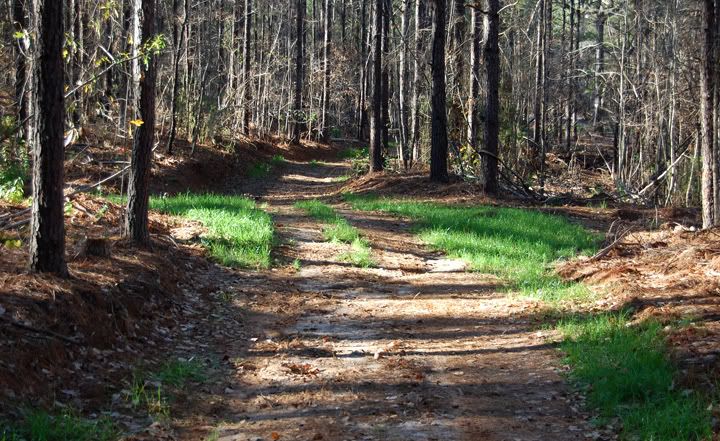 When I get cold, it's usually nice to look for tighter and slower roads, and that's what we did to warm up for a bit.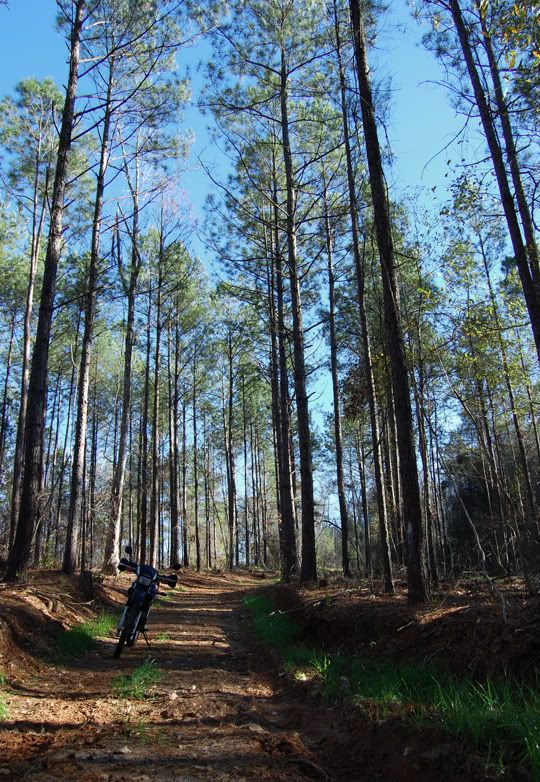 These smaller roads were very fun but not too technical
It's nice to take a break and take a closer look at your surroundings once in a while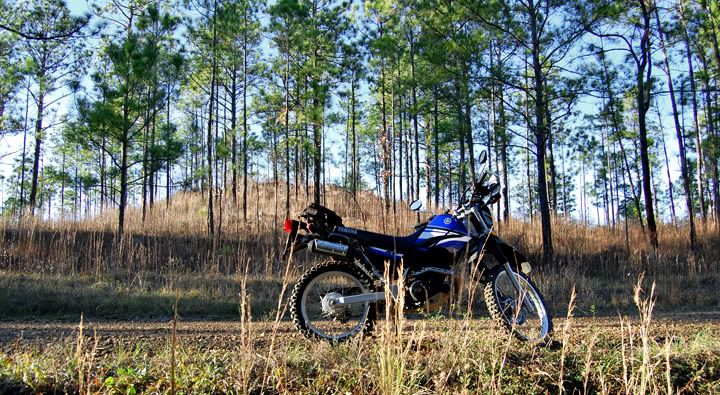 Sun now getting low on the horizon, time to get back to the truck and trailer

The main main parking lot with some nice scenery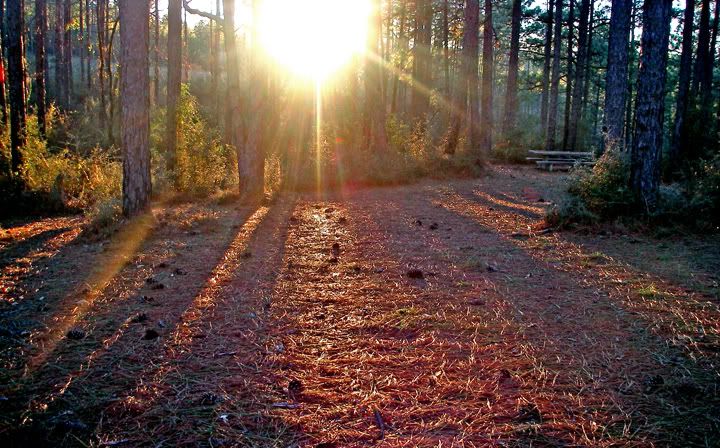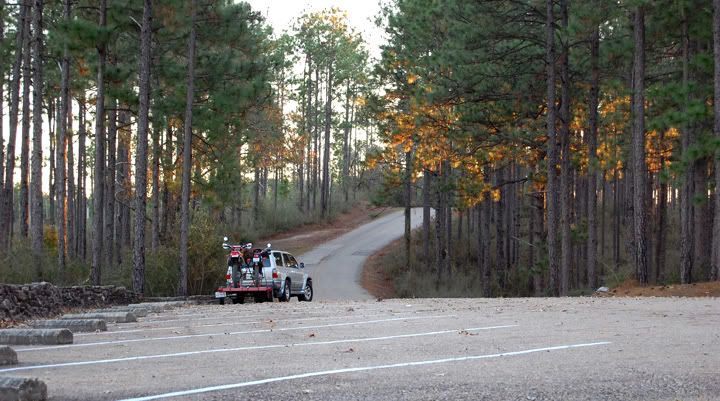 With the bikes back on the trailer we walked to the scenic overlook nearby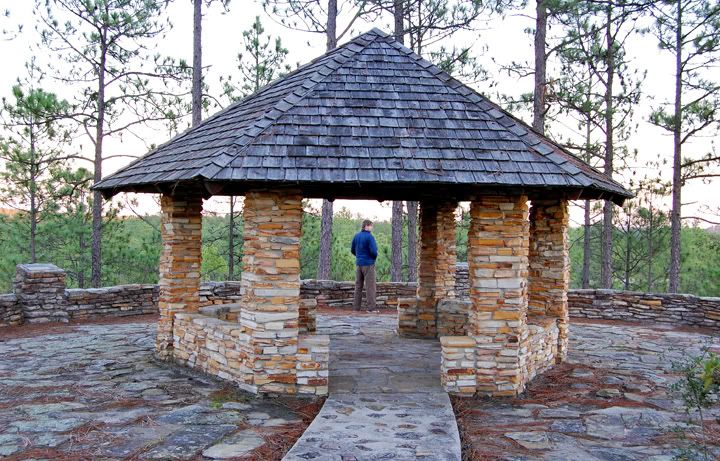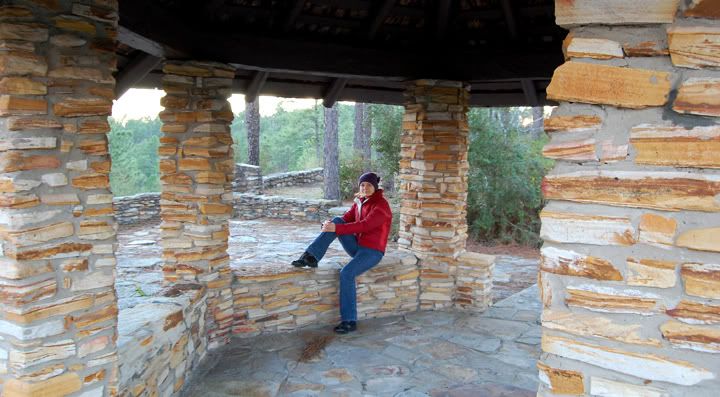 It was chilly now that the sun had almost set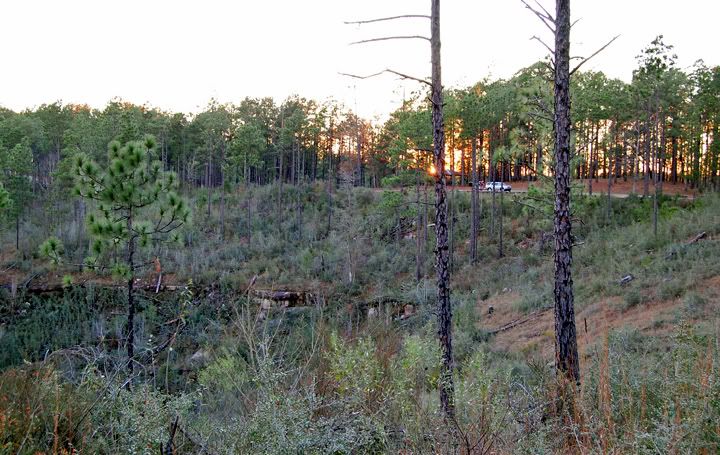 The the scenic over look from the parking lot was a bit of a walk, that's the truck over there

There were a tons of holly shrubs up here in the forest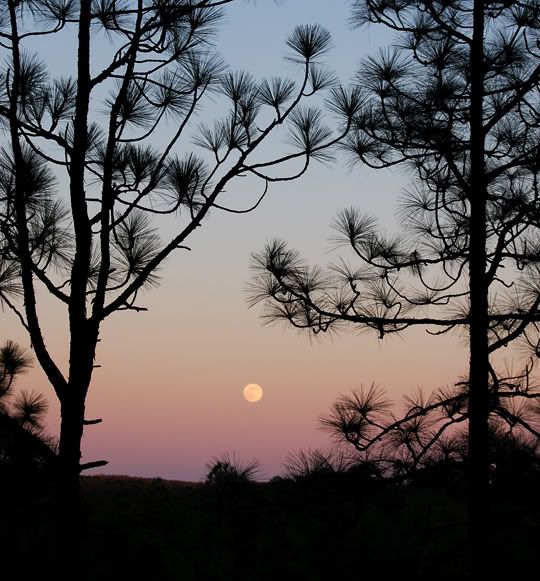 Moon rising over Kisatchie forest
In absolute silence with no one around, we watched the moon rise right over the scenic overlook. We could have sat here for an hour or two, it was so beautiful and peaceful here, but we had to get going to catch dinner with Mike's friends tonight.
Over all it was an absolutely great day for riding. Yea, it was cold but not too bad once we got moving and riding some slower roads. The Kisatchie District is a pretty amazing place for sure. We probably could have camped out here for a few days and not run out of things to see and roads to ride. But that will have to wait for another time, we have many other places to see on this trip.
This was the first ride on my new rear tire. The Pirelli M21 120/80-18 handled way better than the fatter Pirelli M21 120/90R-18 we took off yesterday. The thinner tire was definitely a better choice for this bike. I'm glad I got rid of the fatty. Makes me think of all the times I had problems riding this past summer, maybe it wasn't the roads, maybe it was my fat tire?