Good Friday is a holiday and I have the day off from work. A day off means only one thing. I have to go riding. So with this three-day weekend coming up we planned on taking the sport-touring bikes and doing a nice 1,000+ mile ride going through Southern Illinois and Western Kentucky. We were really looking forward to this ride since our last overnight sport-touring ride was last October… and that was geez, like 5 months ago.
We're supposed to be leaving in 3 days, we have a route planned for our trip and now it really doesn't look like we can do this trip because of the weather.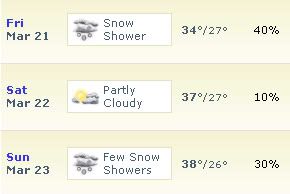 This weekend's cold and wet forecast
I've been monitoring the weather and the forecast has been going downhill since last weekend. Cold is one thing. In short burst it can be doable. But snow/rain in addition to cold temperatures is not the kind of weather I want to ride a motorcycle in.
So now we're going to try and tow the dual-sports somewhere. This weekend is going to be chilly all over, even in Kentucky and Missouri, but of course further down south will be warmer than Chicago by about 10 degrees. We don't have a destination picked out yet, and we probably won't have time to research any dirt roads to ride. Three days is not a very long time when considering towing the bikes 6+ hours away. This means that a large portion of the three days we'll be spending in the truck towing and not riding.
To get more riding time we're going to try and leave after work on Thursday and drive through the night instead of leaving Friday morning. We're also going to be camping, so we have to pack all the camping stuff in addition to the gear and bikes. Once we start the packing process, we're going to be committed to the dual-sport ride, so if a miracle happens in the next day or two and all the sudden the weather improves for this weekend, we won't be able to change plans and take the sport-touring bikes.
The sport-touring bikes might have to sit for a while longer.