This past Sunday the Midwest returned to Daylight Saving Time. I don't mind setting my clock an hour forward each Spring because when I left work this past Monday I saw something I haven't seen since last Fall - the sun was still out. I like having more daylight towards the end of the day. I'm especially enjoying that Daylight Saving Time comes even earlier now, it used to start on the first Sunday of April. With the extra daylight at the end of the day, it seems like Spring is just around the corner. So this past week the ride planning has officially started. First trip is coming up fast. I get Good Friday off, which is
next
week, a three day weekend means we're hoping to be sport-touring somewhere. Thinking of going to Arkansas or maybe Kentucky, I'll know more when I see what the weather is doing next week (crossing fingers for no rain or snow).
Only thing is, Easter is coming way early this year, so no matter where we go, it will be a chilly ride. I don't mind chilly anymore, I bought a Gerbing liner last week and just got it yesterday, so even if it's in the low 40's, I think I should still be warm enough wearing my heated Gerbing liner.
After 4 years my Widder vest finally got upgraded and it had nothing to with my cord breaking or Widder going out of businesses at the end of this year and not being able to get Widder parts and accessories. I've wanted the full sleeve liner for a while now, the vest is good for those chilly mornings or evening, when you want that extra bit of heat, but to ride in cold temperatures all day for multiple days, after so many hours in cool temperatures even with the vest on, I would eventually get cold. And there are other companies making the full sleeve heated liner, but Gerbing is a good brand and I've never heard anyone that was unhappy with the product.
I'm keeping my Widder because it folds down smaller then the Gerbing liner, so when I tour in the summer time, I can bring the Widder vest in case of a cold emergency, but the Gerbing liner will be used on my Spring, Fall and Winter rides when the temperatures are cool all day.
I haven't tried out the Gerbing liner yet, I hope to do that soon, hopefully this weekend, on an actual ride. After I try it out I'll do a write up comparing the Widder vest to the Gerbing liner.
The temperatures are supposed to be falling again this weekend, it will only be in the low 40's, great for seeing how warm the liner is going to keep me on a cold day. Last weekend we had snow, and Monday it was still in the upper 20's and yesterday and today it was in the mid 50's. That's Chicago for you. That's why our saying goes "If you don't like the weather, wait 5 minutes".
While I was stuck at the office on a beautiful day, I received an e-mail from Mike's phone with this attachment. Working from home has some disadvantages, but getting out on a short ride any time you want, is not one of them.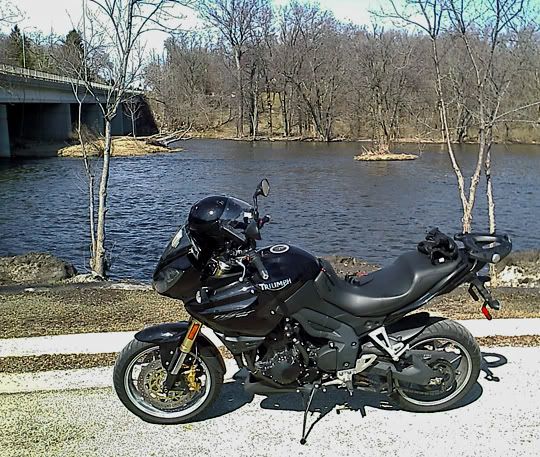 The Tiger in Yorkville next to the Fox River on a sunny 55 degree day