Even though rain was in the forecast today, the temps were finally going to be warm. I don't mean a bit warmer either, I'm talking twice as warm as what we've been having lately, which is the mid to high 20's for the high temps.
Ready to go for a ride
Nope, no cold weather today, it was going to be a balmy 44 degrees. It's these rare warm-ups during winter (usually less than three days a month) that make living in Chicago tolerable for a motorcyclist. The only thing is, we usually don't get this much snow. Usually when the warm up comes I can jump on my bike and go, but the last two winters, with all the snow on the ground, it just doesn't melt quick enough. And if the driveway isn't clear of ice or snow, no matter how warm it is, there is no riding. Today there was still quite a bit of ice in the driveway, but it was melting quick.
Driveway today
Driveway yesterday
Driveway a few days ago
Our last ride was mid January on the bikes so we were itching to ride, if only for an hour or two. We took the dual-sports since the melting snow was going to make a mess of the roads.
The XT225 and XR650L have been sitting in the garage since we came back from Alabama January 1st. It has been too cold to wash the bikes, so they were still dirty from the last dirt ride and from the snow, dirt and salt that may have gotten on them when they were being towed home in that blizzard.
And I still haven't bought a trickle charger for the XT, mostly because I can run it even when it's a bit snowy outside, well, I could last winter, this winter we're getting so much snow that I'm having problems getting out of my driveway with my car. So the XT has sat in the garage for the last two months, in a cold non-heated garage, with single digit overnight temps, and it started right up. On the XT if you empty out the carbs and then park the bike, the bike can sit for a while and will start back up with no problems. But if you leave the gas sitting in the carburetors, even for three days, the XT will not want to start.
So we headed out about noon. The weather channel was saying it was 44 degrees outside but on the bank signs I was reading 49 and 52 degrees. I was actually warm, I bundled up since I have no electrics on this bike and I may have over done it.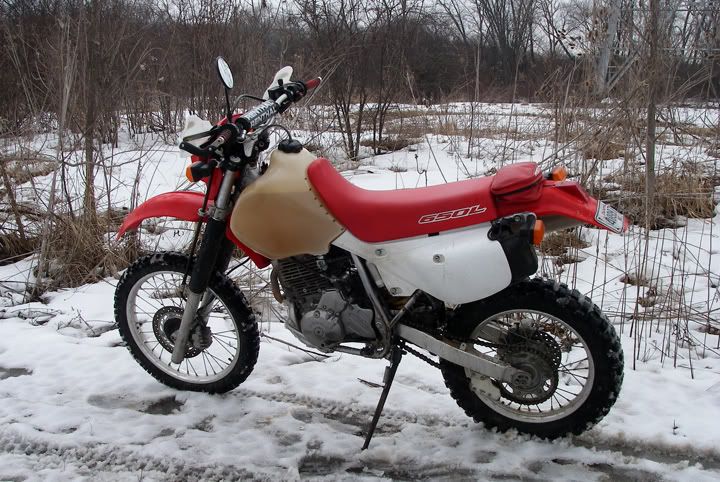 This XR650L has never seen snow before
A bit of nature in the western suburbs of Chicago
This is Chicagoland, there's really is no where to ride dirt here but two suburbs away near my work there are a few short dirt roads that lead to the electric towers, that was our destination today.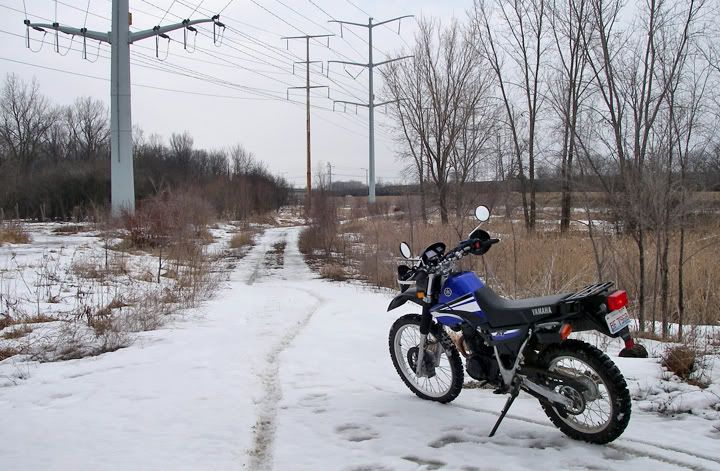 Heading down the electric tower road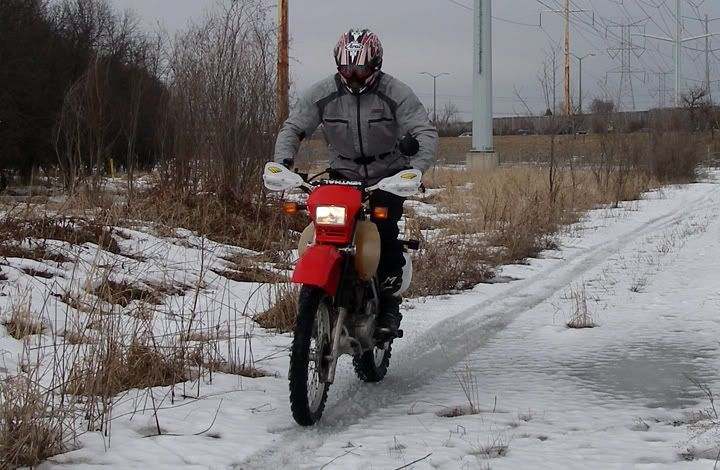 I thought the snow would have melted but when we arrived the dirt roads were still covered by snow and the snow was kind of heavy and hard, since it had melted and froze so many times. It made my front wheel slide out every once in a while, especially on the deeper, slicker snow. Riding in old snow was kind of like riding in deep sand but easier then sand. I have ridden in snow last winter with the XT and it wasn't as hard to ride through, since the snow last year was fresh and dry.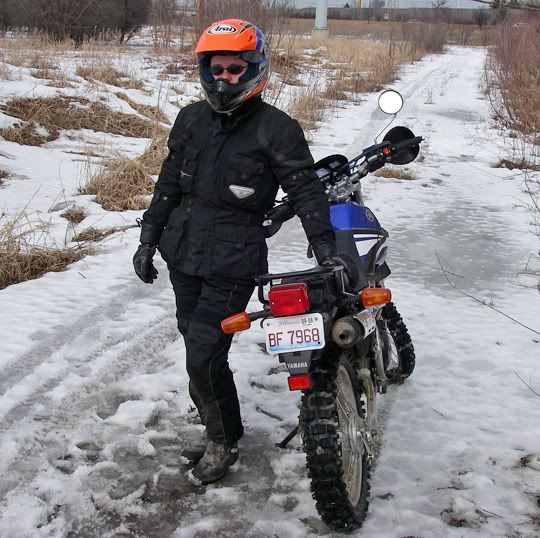 It was already drizzling on and off, so after we did the few short roads we headed about 12 miles north toward Chicago O'Hare Airport where I know of some more dirt to ride. Unfortunately, just as we arrived the rain started and we decided to head home.
This little lake was still frozen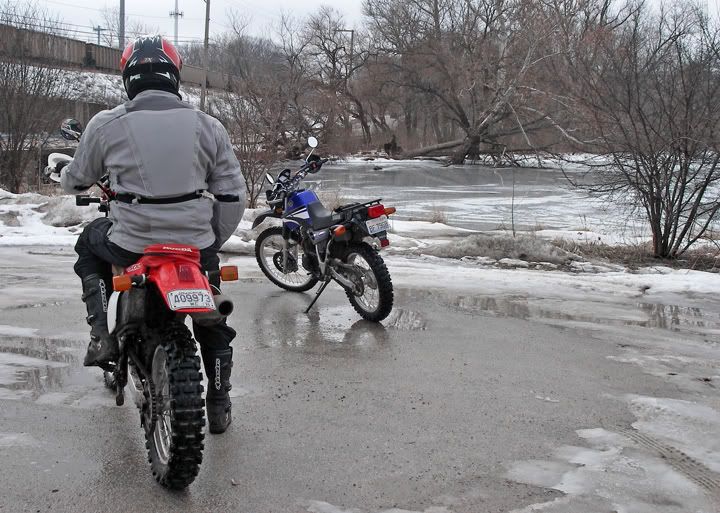 But before going straight home, we topped off the gas tanks in the bikes with fresh gas and hosed the bikes down at a car wash. The sun came out again just as we reached the house, the rain was over, but the bikes were now clean and the roads were wet and dirty, so the bikes had to be put away and the street bikes were still "hibernating", so this is all the riding we were going to do today.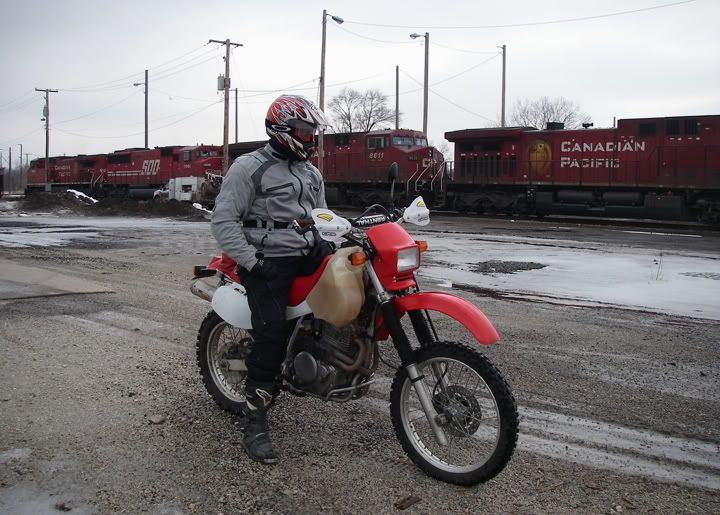 More dirt riding in the suburbs, scenic isn't it?
There is more snow in the forecast for next week, so who knows when we'll get to ride again but since it's already March, I'd imagine that this month there should be less snow days and more riding days - I hope.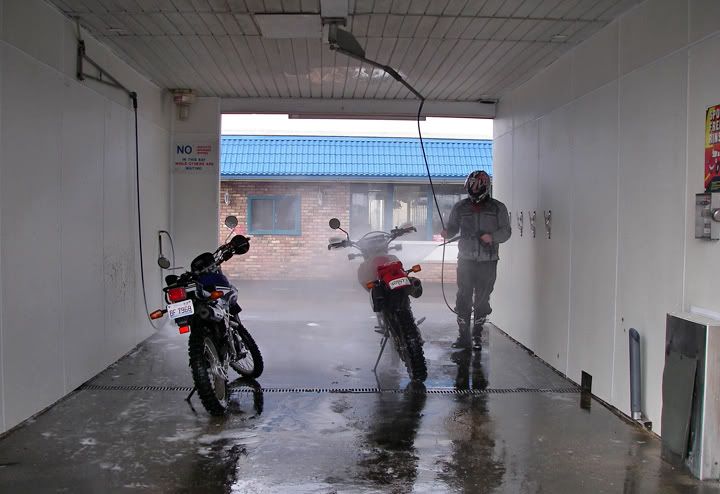 Finally, we have clean bikes