The point of this multi-day ride was to finally ride through Colorado National Monument. I have never been there before and heard the road and views were amazing. I actually was hopping to ride through Colorado National Monument yesterday since it was on the way to Fruita. We had the time to do it too, but yesterday it was just so hot in the afternoon. By the time we finished up with highway 141 and rolled in to Grand Junction, we were boiling and all we could think of was to grab some cold beer and spend a few hours relaxing at the camp site before it got dark. Especially since the last two days we arrived at the camp sites just before dark and had to hurry to set up our tents.
So this morning we decided to backtrack and ride through Colorado National Monument before riding out to Gunnison. Since today was Labor Day I expected the traffic to heavy and slow through the park, and it was.
The campsite at sunrise at Colorado River S.P. at Fruita
Colorado National Monument kind of reminds of Mesa Verde National Park. The steep road takes you up to the top of a mesa and then you ride awesome twisty pavement before heading back down. Colorado National Monument didn't disappoint in any way, my only wish would have been to close the road to all vehicles and let me have a ride through it by myself. OK, I can dream, can't I?
A stop at Colorado National Monument
Up high at the Colorado National Monument - more pictures in the next post
You know what people say, when there is slow traffic in front of you, that just gives you an opportunity to see more since you can't ride fast. Sure, but when the road is as delicious as the road through Colorado National Monument, and the pavement as smooth as butter, its hard to poke along behind slow traffic. I'm really glad I got to ride through the park even though we didn't have much time to stop and see stuff. I can't wait to come here again, but on a week day, and hopefully have the place all the myself.
Highway 65
Highway 65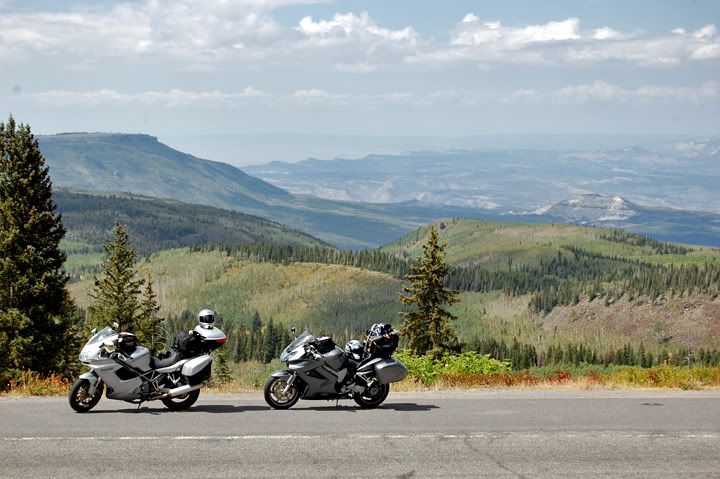 A scenic stop on highway 65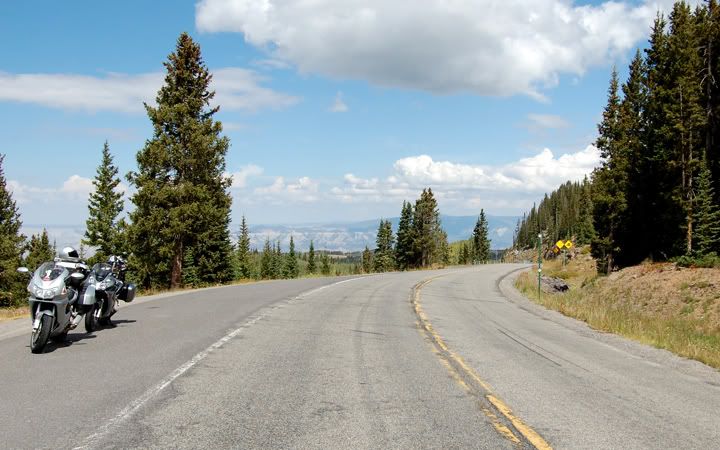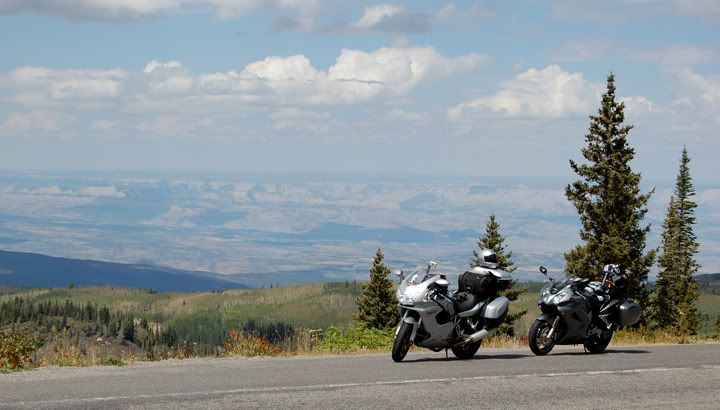 After exiting through the south entrance of the Colorado National Monument, we crossed Grand Junction, got on I-70 heading east and exited for highway 65. My favorite section of highway 65 is the first section when you just get off I-70. It reminds of highway 141, red rocks and awesome sweepers. Unfortunately the road was packed full of cars today and when it did open up for a bit, there was the police looking for speeders.
Highway 92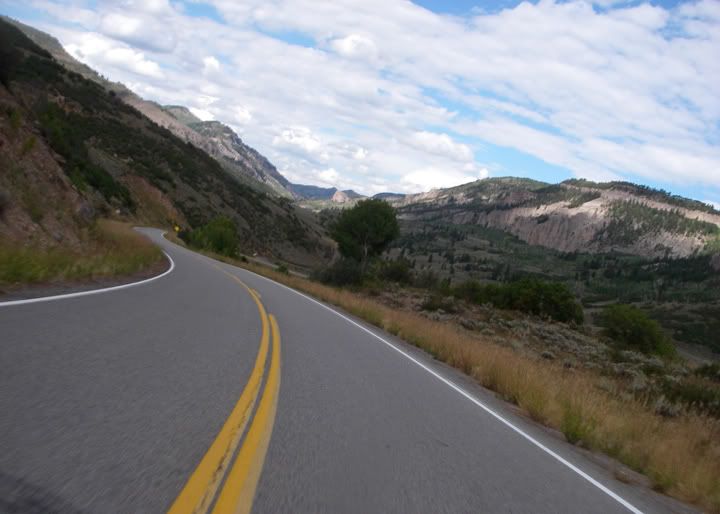 Highway 92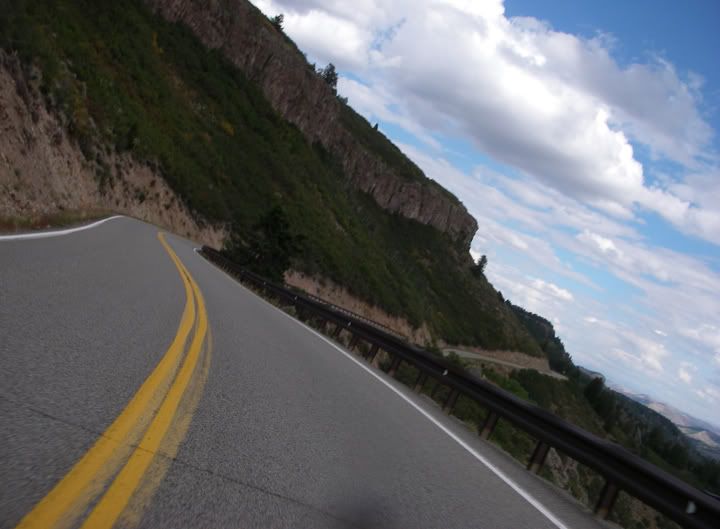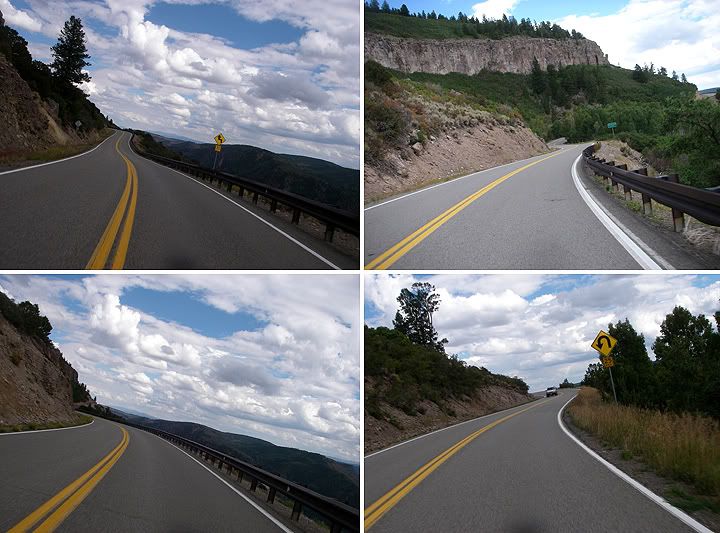 A scenic stop on highway 92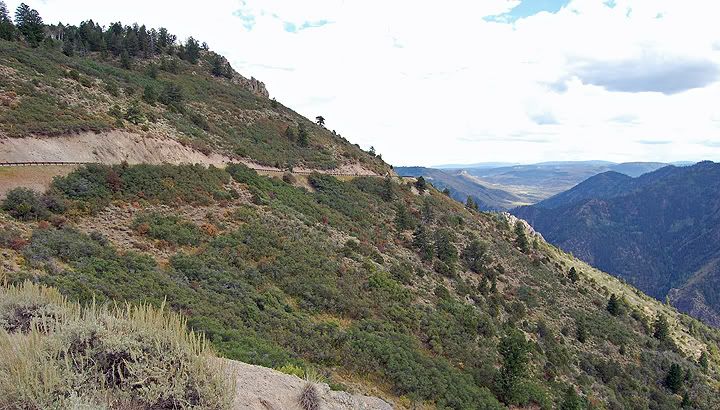 The heat of the day disappeared as we climbed high on highway 65. I was just on this road with my friend Sandy in June, but Dalton has never been on this road, so we pulled over at the same place where I pulled over before, where you can see the lake in the distance. The lake was pretty much dry now.
We had breakfast today, but we didn't stop for lunch. We got on highway 92 and continued south on one of the twistiest roads in Colorado. There was hardly any traffic here. In the afternoon we turned east on highway 50 then north on highway 135 and pulled in to the Tall Texan campground in Gunnison where we had a reservation. Dalton and I stayed here over the 4th of July and I must say I really like this campground.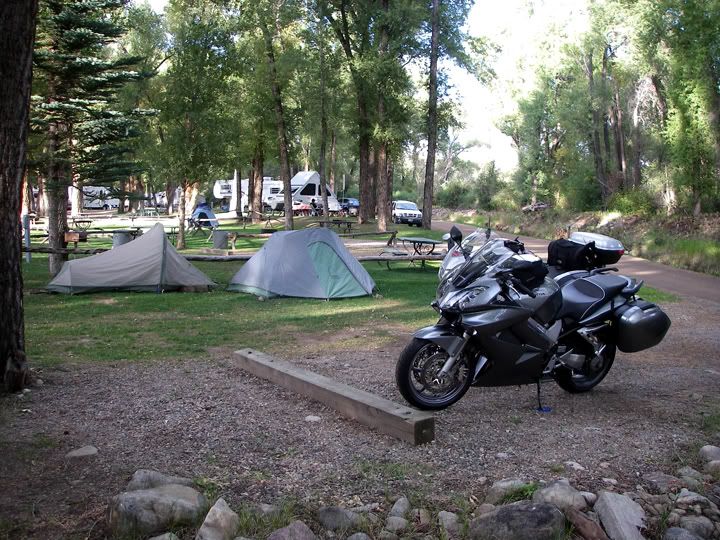 The Tall Texan campground in Gunnison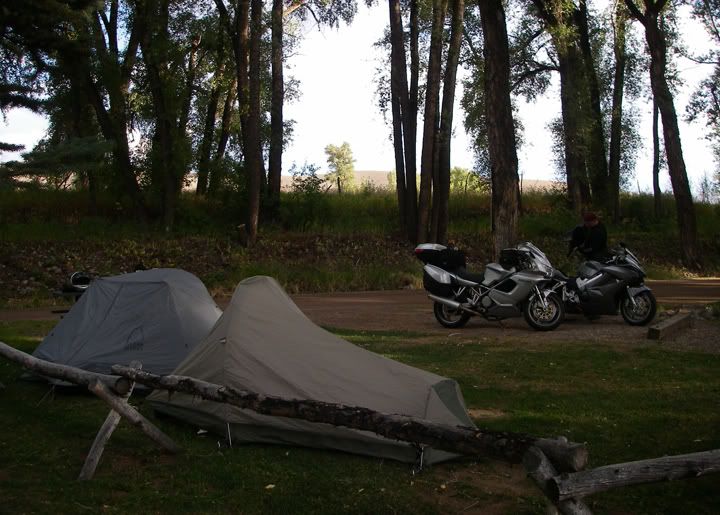 We arrived at the campground, set up our tents, and took off in the direction of Gunnison to eat dinner at The Trough. We were starved. By the time we got back to the campground it was dark. The temps were definitely on the cool side tonight.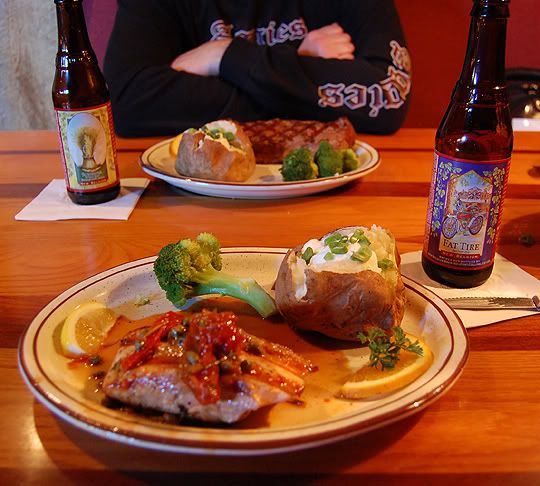 Dinner at The Trough in Gunnison
Today's route - 206 miles: Colorado National Monument, highway 65, 92 and 50