I dropped the Ducati ST3 off in the morning for the 6K mile service and since I was here, of course I had to look around some. Since riding the 996 last week and being amazed at how nice it rode and how comfy it was, I've been thinking if next year the 954RR should be replaced by maybe a Ducati 999?
I think I sat on one two years ago at the motorcycle show but I didn't remember what it felt like and since the Ducatis are always propped up on back stands at the international motorcycle show, I never really know how heavy the bikes are or how far I can reach to the ground on them.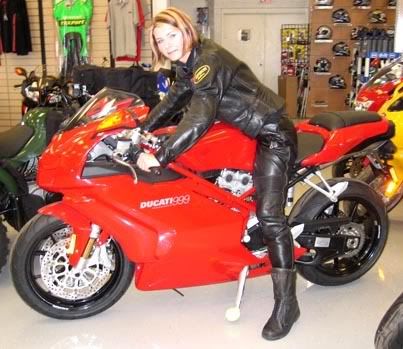 I can reach the ground, awesome!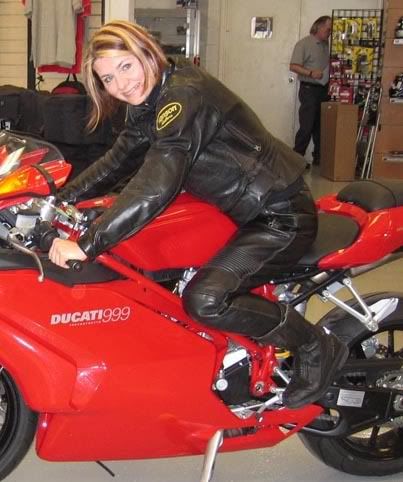 It's comfy, is this my next bike?
All I have t say is WOW! What a great looking bike and not really tall either, with some suspension adjustment I think I could get it at least half inch lower and the guy said there is a lowering option for the 999 too, although I don't think I need it, it's sits very similar to the 996.
I'd need to put Heli bars on the 999, will make the bike way more comfy, the only thing that is not comfy is the pointy gas tank, but once I bring the clip-ons up that shouldn't be a problem, I'm kind of laying on the tank now. Little person = short arms.
And I really thought that my next Ducati was going to be a Mulistada 620. Maybe not. Today was the first day that I sat on one and the bike is so tall. I was barely on my tipie -toes. I'm sure I could soften the suspension some and shave the seat a bit too but it will still be taller then my ST3 and for a dual-sport I'd really like to have the bike as low as possible, I'd like to flat foot it. This sure is a pretty bike and not even that expensive, I'm a bit disappointed, the 620 is almost as tall as the multi 1000.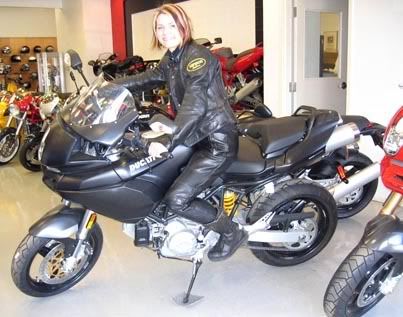 This multistrudel is as tall as a horse
I guess I'll have to get a BMW F650 GS like everyone else that is my height or shorter, which isn't that bad actually since I like that bike also and it has a lower seat option that I have already tired and I like the way the bike sits.
I think I have caught a new bike bug this spring.