It was 30 degrees in the morning. The high for the day was supposed to be 58 in Chicago. I rode out to North Chicago, in the northern suburbs to the Full Moon Café where I met up with some friends. We rode out toward Lake Geneva and hit some rustic twisty roads. Then my friends went back to Chicago to watch the GP races.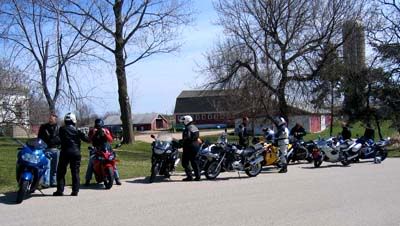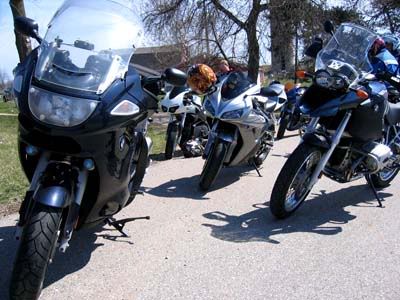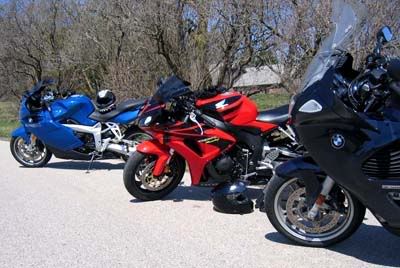 One of Lake Geneva's rustic roads
I continued with the left over group from the Full Moon since they were heading towards Lake Geneva, and I was heading to the West side of Wisconsin, but after running one twisty road I decided to split from them and continue West on 50 stopping in Delavan Lake for gas an green tea with honey. I was determined to get at least 400 miles today so that I could finally bring the Ducati in for a valve check service. To not waste any time, I took boring 11 West to sweeper heaven 81 West. Wisconsin remained a bit chilly and the wispy clouds didn't seem to allow any of the sun's warm rays to penetrate the chilled air. The electric vest and heated grips stayed on for a while but at about 1PM I decided to rough it and turned them off.
By 2PM I was really cold and sitting at the Darlington McDonalds on 23 sipping hot coffee and eating a bad lunch. What was amazing, out of all the cute little places to eat in town, there were like 6 bikers eating at this McDonalds. It was actually too hot inside the restaurant so I finished my coffee outside and then for the first time today, put on my balaclava, then turned on my heated grips and heated vest and took off back the way I came down 81.
The sun was shining now, and what a difference that made, the temperature rose by 6-8 degrees easily. Before the town of Argyle I turned North on "N" made a left on "F" and entered the
Yellowstone Lake State Park
. I parked it by the lake to relax in the sunshine at a picnic table. The park was all empty except for three boats fishing on the lake. I could have set here all afternoon, it was so peaceful and so pretty.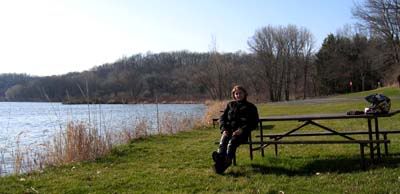 Finally I got up and left, the speed limit around the park was about 25-35mph and there was a few curves in the road and one big hill, from where you can overlook the whole area. At this point I was actually warm.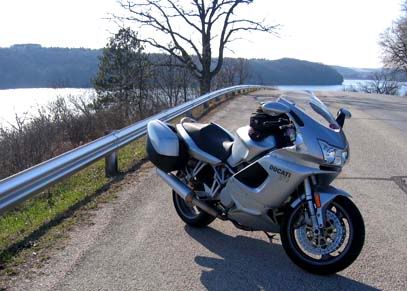 Yellowstone Lake State Park
I took the same way home, enjoying the sweepers on 81 more now with the sun shining and warmer temps. By the time I got to 11 east I was already looking forward to another stop but I pushed on as the sun got closer to the horizon. I always hope that I make it home before it gets dark but it never happens.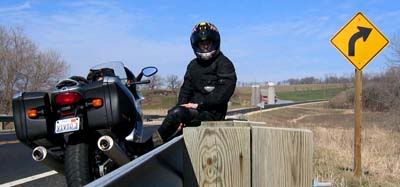 81 West of Argyle, WI

I rode though Janesville, Belvedere finally stopping in Genoa for a break. I had a Red Bull with me that I didn't drink in the morning and I decided to drink it now, I needed the energy for sure. It was getting dark, so I took my clear helmet visor out with the intention of swapping it for the tinted, but I couldn't remove the tinted one. The tabs that are supposed to be pushed to release the visor looked liker they broke. I dropped my helmet yesterday and it landed on the visor. I couldn't change out the visor so I had to ride in the dark with the darkest tinted visor not very pleasant while going though some corn fields where there are no lights what so ever.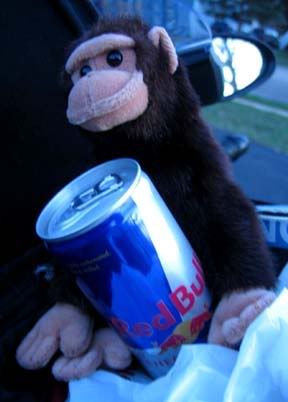 I got home at 9:30PM, the temps were cool again and I was pretty tired riding about 460 miles today.