It was a cold one in Alpine. In the morning, Becca took off for a ride around the Davis mountains. At the end of the day she was going to make it down to the Terlingua campsite and join me and a few dirt riders.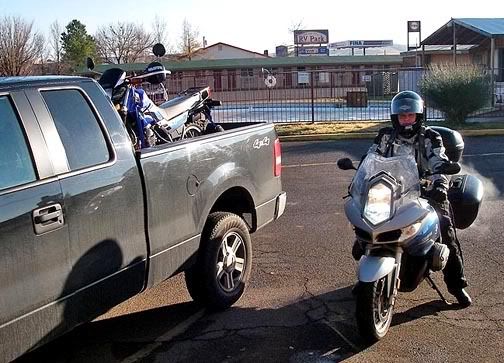 Becca leaving on her BMW ST
Frosty
118 from Alpine to Study Butte has many nice views and twisties

I drove straight from Alpine and arrived in Terlingua in the late morning. There were already a few people there at the Big Bend Motor Inn and RV Park. I unpacked and got the bike ready and a couple of hours later we were having lunch and then we rode out to Big Bend N.P.
Lunch at Kathy's Kosmic Kowgirl Kafe in Terlingua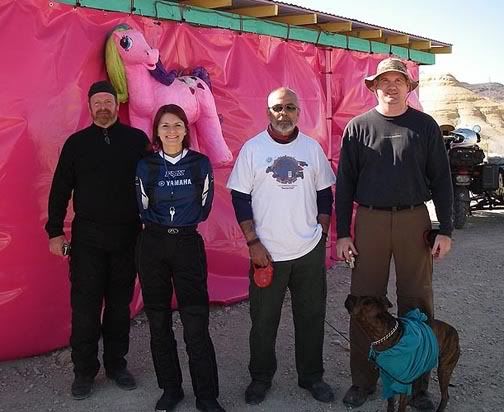 From left to right: John (TX), Anna (IL), Ara (FL), Mike (LA), Spirit, Ara's dog
Today I did the Old Maverick road. This was my first real dirt road experience. It felt really strange at first, the weirdest sensation was the bike shaking, especially while in deep gravel. By the time we got to the Santa Elena Canyon, I was almost used to it, and I started to have fun.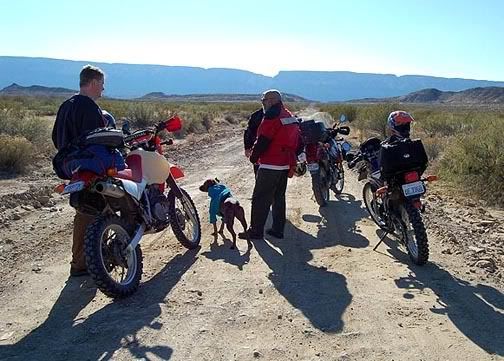 Old Maverick Road

We got of the bikes and explored the Santa Elena Canyon and the Rio Grande. It was a beautiful day, the temperature in the 60's.
The Rio Grande
Heading back to camp on the Ross Maxwell Scenic Drive
When we got back to the camp site, we erected our tents, got dinner going and relaxed around a propane heater.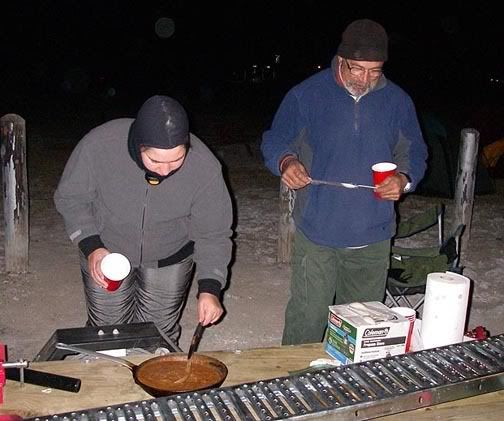 Mike made Chili for dinner
No camp fires allowed at the site. The wind had picked up and the temperatures had dropped. The wind howled all night, reaching speeds of 40MPH or more. I couldn't fall asleep at all, my tent was shaking and there was a lot of dirt blowing inside my tent. At least it wasn't that cold, low to mid 30's and my zero degree sleeping bag was keeping me warm.