I haven't ridden the 954RR since November 5th. Been so busy breaking in the XT lately and there is only so many weekends and so many good weather days in November and December in Chicagoland not to mention, I was in Germany for a week.
And I've been so busy planning my Texas trip lately that I haven't even gotten the trickle chargers out yet, the 954RR has been sitting over a month with so many nights in the single digits last two weeks I was worried the battery would be dead. The garage is only like 5 degrees warmer than outside temps. But it started right up, it's the new battery I got this Spring.
I only had a few hours to ride today, so I decided to stay near the burbs and search for more holidays lights. This heat wave continues here, it was 49 degrees when I left the house and I way over dressed. I was a bit warm at times, with the balaclava on and my Widder vest, which I didn't need to turn on at all. I thought it would be cooler on the outskirt of town, but it wasn't.
The day was so dreary even though the warmer temperatures. The clouds were hanging low and it even sprinkled on me a bit, the roads were wet in places from the melting snow and from the moisture in the air.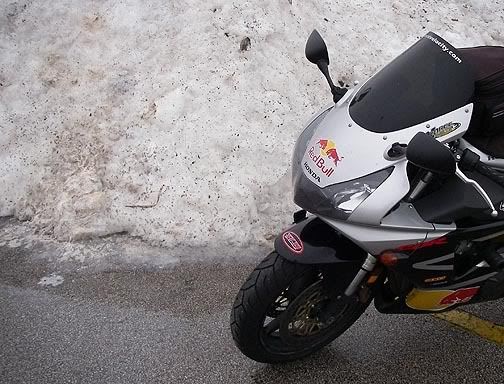 Even though we've had a whole week of above average temperatures, there is still a lot of snow around that hasn't melted.
I took a ride though one of my favorite towns of St. Charles but their holiday lights weren't on in the day time, so I headed down to Geneva.
I didn't find any cool lights in Geneva, there was a tree in the middle of town but I couldn't get my bike close enough to it for pictures and it was too busy in town to even stop and linger, I don't like crowds. I did pass this weird sculpture on RT38 that appeared to look like a moose… a moose in Chicagoland? I had to turn around to investigate.
I really love art, especially really cool outside sculptures. This moose was made from all kinds of bicycle parts.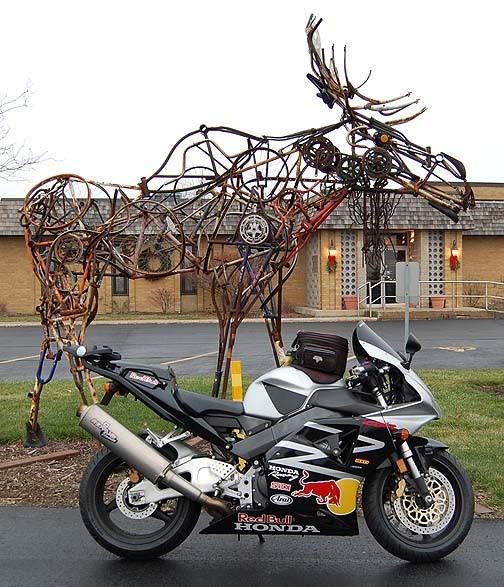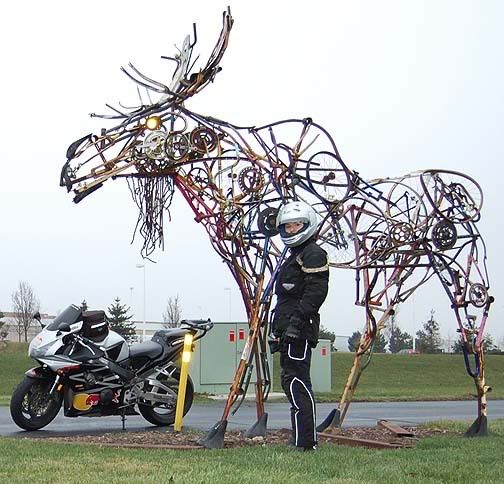 It was getting darker now, I stopped by Fox River for a look-see.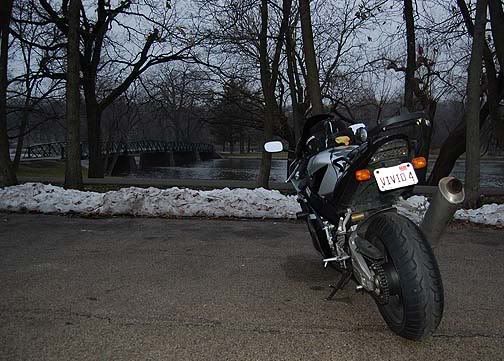 And on the way home I stopped by the same tree I photographed a few nights ago. It was big, bright and totally secluded. Decided to take some more pictures. The air was very misty now and so was the pavement, although the temperatures have climbed to 51 degrees now. When I got home it was warmer than when I left.