Can you believe this amazing weather we're having? It was in the upper 40's yesterday, but I didn't get to ride, too busy working late trying to wrap up some projects. But today it was supposed to be 50 degrees, I wasn't planning on working too late so I made sure to ride the bike to work hoping for a nice lunch ride.
Unfortunately my lunch ride got rained out. I was kind of bummed out when the sun came out at 3:30PM just in time to set. And then when I left work after 7PM the roads were all wet, so it had rained again, but it was warm, still in the upper to mid 40's. Regular high temperature for this time of the year is 35, so this indeed was a heat wave.
My lonely XT225 at work in the parking lot
This was my first ride on knobby tires on wet pavement, the bike did squirm around on the wet pavement a bit but nothing that bad, although I was only going about 35MPH.
Also, this was my first ride with the MSR Dominator deflectors, and I could tell the difference right way, less wind hitting my hands, although it wasn't that cold today, I'd really like to try it out when it's colder.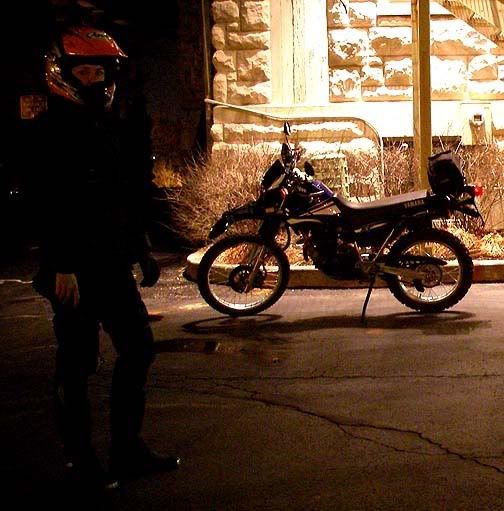 In search of adventure in the western suburbs
The night was so pleasant, that I decided to ride around and look for cool Christmas lights to photograph my bike with. It's not very often that I get to ride around on my bike at night at Christmas time.