With the weather cooperating and my departure for Texas only a week away, I needed to get the XT in for break in service, it has 640 miles on the odometer now. It was 40 degrees this morning when I headed out to the Yamaha/Honda dealer 18 miles away from home. It was a bit windy and overcast but not too bad for mid December.
Posing with the XT and new MSR hand guards
Before I left for the dealership I look some pictures of my new
MSR Dflector
hand guards
http://www.msrhp.com/
. The install was done on Monday with the help of a friend, mostly because I don't own a dremel tool.
It was straight forward install, had to move some wires out of the way, and on the throttle side the throttle plastic has to be shortened in order to clear the metal mounting. Having bar ends on these bikes would eliminate the need to cut the throttle end and cut the grip, this would make it so much easier. From all the research I've done on-line on installing hand guards, most people mount theirs this way. It's not esthetically pleasing but it's quick and easy. An option to move the whole throttle housing a bit inward was presented on the hand guard packaging, but we stripped the screw holding it in place so we couldn't move it.
Why did I choose the MSR hand guards? No real reason, I liked the way they looked, with the metal deflector part wrapped around the outside. I'm actually not sure if that's a better design, it might save the plastic shields in crashes/falls, or maybe not. I'll have to see. I wanted large plastic hand guard shields to keep my hands warm in the cold weather and these covered a large area, but not too large for the little XT.
I'm actually a bit upset with MSR and not sure I'll buy any more hand guards from them, I also won't shop on-line anymore at the place I bought these from. The metal deflectors didn't come with pre-drilled holes, which I thought was weird, since I ordered a set, the metal and plastic parts together. But the metal had no holes on the on the website picture either. And no where did it say t drill the holes in the metal, I guess you can use the metal Dflector without the plastic hand guards so if you want to use the plastic guards you drill the holes for them. That's fine, but my vendor kept saying that the holes should have been pre-drilled for this model that I bought, and I could not get in touch with MSR or Tucker Rocky. Sorry, but I don't want to deal with any manufacturing company that I can't reach by phone and ask questions. My vendor didn't seem to know much about the product and neither did his rep.
I was pressed for time, didn't want to return this set and buy a new set, and since I have access to a machine shop along with a machinist, I asked for a favor, to have the metal Dflectors drilled for me. The holes had to be threaded. After it was all done, he said it was a pain, especially drilling the curved part, and especially since the holes didn't go all the way through. Does MSR really expect consumers to do this at home? I wish I could ask but they don't post their phone number anywhere.
I'll try these out and see what happens. I really do like the way they look on the bike.
I also got after market
Spider Grips
http://www.spidergrips.com/
much thicker then the stock grips the XT came with. And it was an open end design so I didn't have to make a hole for the Dflector end.
Outside left
Outside right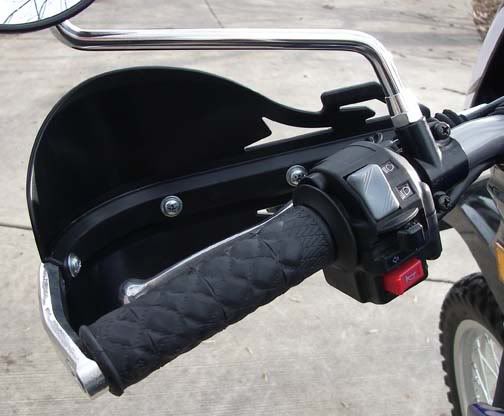 Inside left
Inside right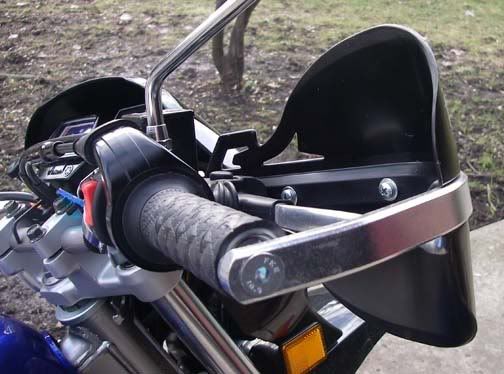 Inside right showing the trimmed throttle and grip end