Day 3
We knew the rain was coming, but we were hoping it wouldn't be that bad. Before the sun even came up, the rain started coming down, light at first, then a little harder. We decided to sleep in, there was no point to hurry now.
At least the temperatures weren't that bad this morning, already in the low's 50's. After some coffee and checking the weather again, we decided to drive the truck to Cooper Harbor for the day. The weather people were telling us that the rain would be falling here all day and in to the night and possibly even tomorrow. There would be no point to go riding today. So we were off to Copper Harbor, which I have wanted to see for the last 4 years. When I was up here 4 years ago sport-touring I was riding to Copper Harbor, but I guess I miscalculated how long it was going to take me to get there and back to Ashland, WI, I got to Houghton and had to turn back around and head back to Wisconsin.
Copper Harbor and the surrounding area, as you would guess by the name, is know for its copper. In 1843 the "copper rush" started, the first to try their luck came to Copper Harbor and shortly after the town became a bustling sea town. There were no roads here, so boats were used to get around, and in the winter they used dog sleds. At the time, the mines in this area produced most of the world's copper.
Exploring Copper Harbor on 4 wheels

Mike and I decided to grab some breakfast on the road. We stopped in L'Anse because of a billboard advertising some unique giant sweet roll. Actually the food was really good at the Hilltop restaurant, we didn't get the sweet roll because it was totally gigantic and it had apples inside, I don't care for apples. We did have some really good breakfast though. My French toast was the best I've had in years, very fluffy thick slices of bread, Mike said his eggs tasted so fresh, he wouldn't be surprised if he saw chickens running out back. The service was also pretty good. I recommend this place.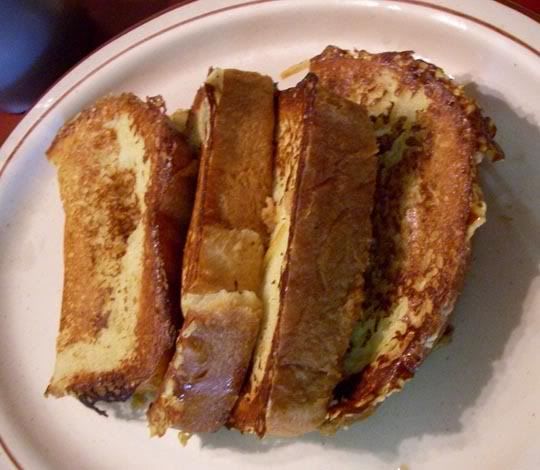 The best French toast in a long time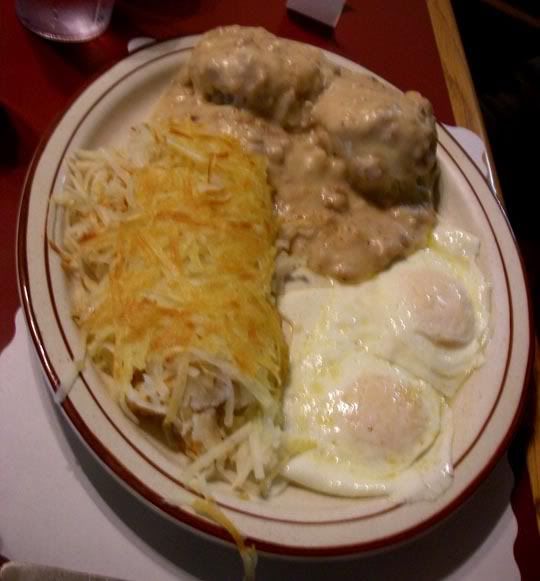 The best fresh eggs, hashbrowns, biscuits and gravy
Look at those huge sweet rolls, they are almost as larage as a human head
We got past Houghton and continued on 26 around the coast to Copper Harbor. Now I realized that 4 years ago I missed the best part of the ride, 26 is a really nice road with some nice twisties and good pavement and some phenomenal scenery too. We stopped a bunch of times like the typical tourist. I have to admit that if I was on the bike I wouldn't have stopped so much and taken so many pictures.
Looking down at Houghton from the road above
Jacob's Falls on MI-26 east of Eagle River
A bridge on MI-26, in Eagle River, the other side of Eagle River Falls
An empty beach along MI-26
A rocky beach along MI-26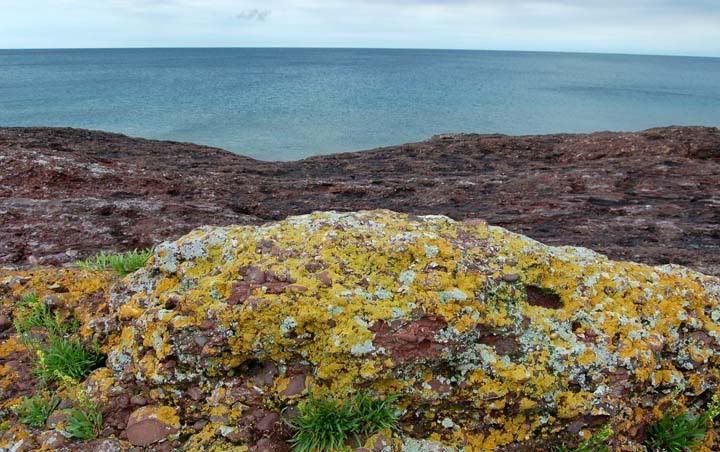 Colorful rocks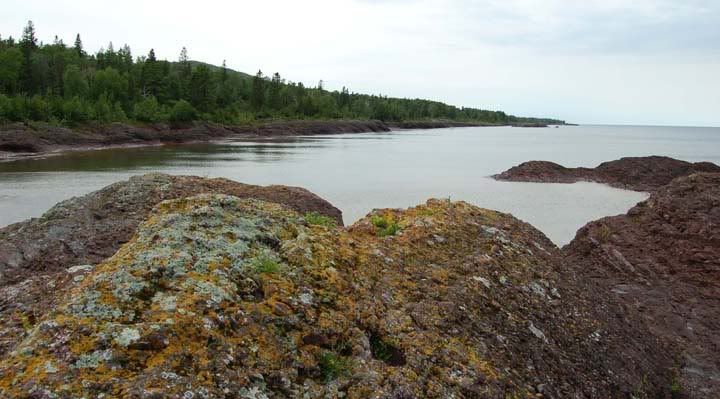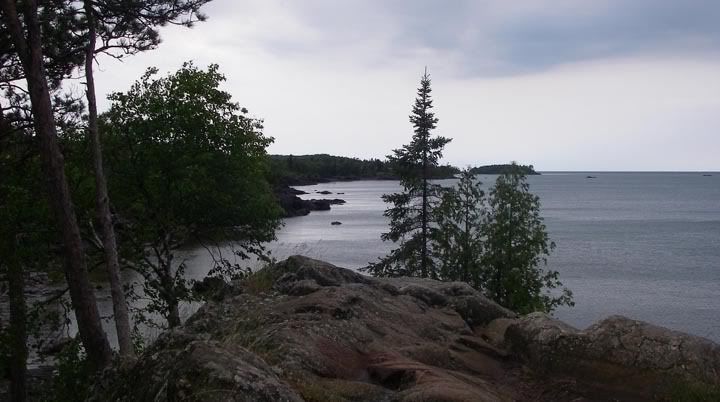 Lake Superior coastline along MI-26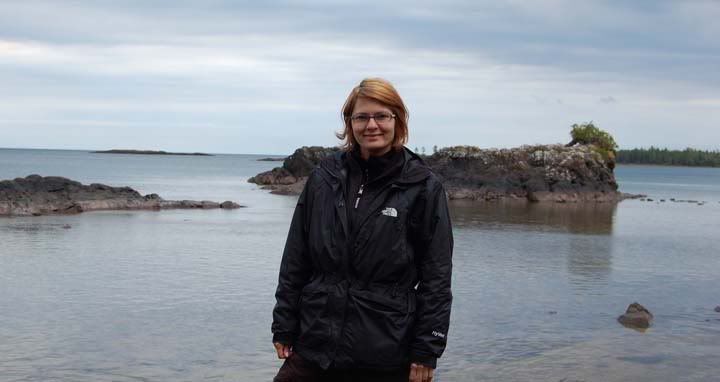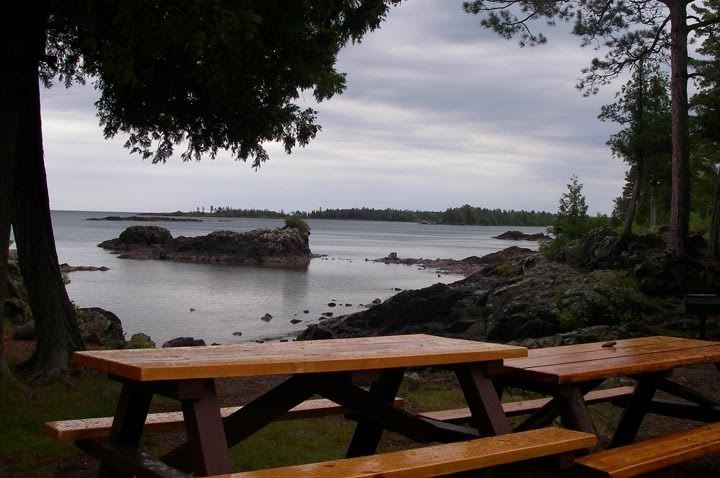 This would be a nice place to have lunch, they also had bathrooms here, this was right on MI-26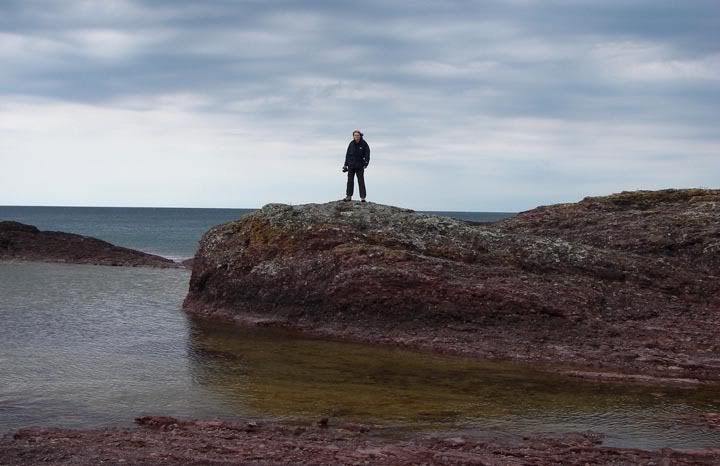 Awesome looking rocks along the Lake Superior, west of Copper Harbor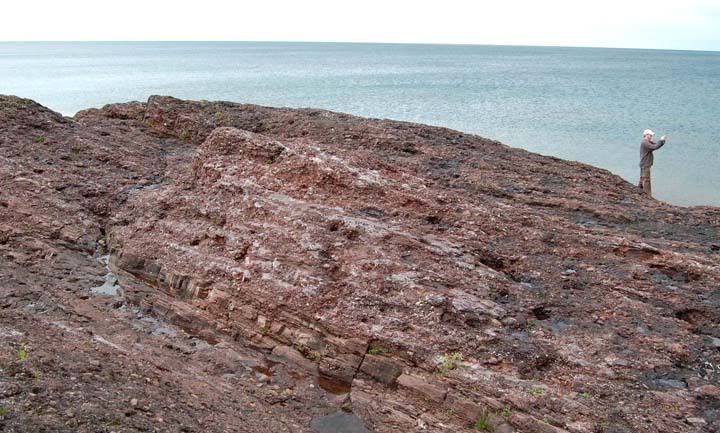 Arriving in Copper Harbor we were ready for lunch and stopped at the Mariner North since it looked like a nice place to eat in town. Inside and outside was really nice, but our waiter was just the worst. We came to the conclusion that maybe it was just the wrong time to eating, it was right between lunch and dinner and our waiter was actually the bartender. Either way, he was so bad, we had to go to the bar and get our own drinks. The food was OK, nothing to write home about.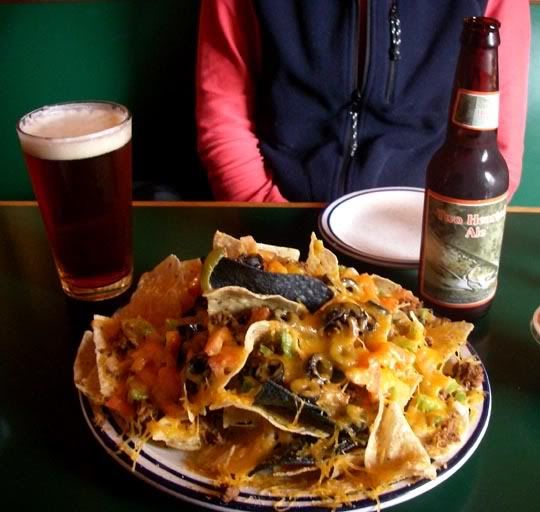 Big nachos at Copper Harbor's Mariner North restaurant, that's my Keweenaw Amber Ale on the left, very good beer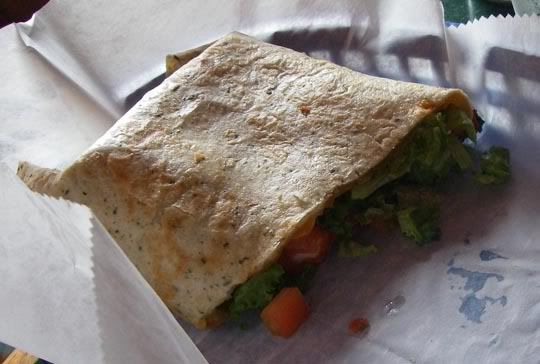 The nachos were so big, we ended up spliting a southwest chicken wrap for lunch




Deer on MI-26




Geese crossing MI-26




Nice, smooth pavement on MI-26
That's MI-26 peeking out from underneath the trees on the righ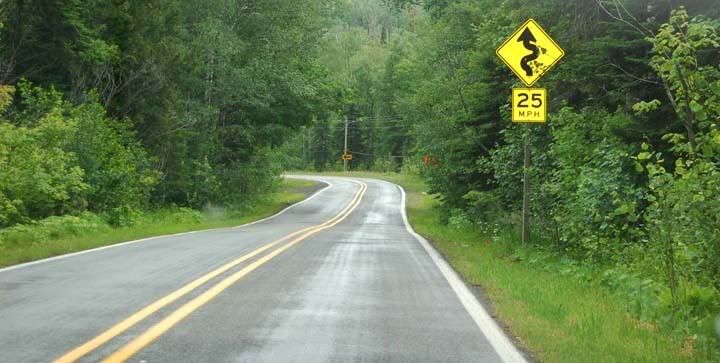 MI-26 is very scenic and curvey


Brockway Mountain Drive - This scenic mountain drive takes you 735 feet above Copper Harbor for a breathtaking view where the mountains meet Lake Superior, we only did a small portion of it

The Copper Harbor Lighthouse is one of Michigan's oldest lighthouses. I wanted to see it, so we pulled in to a parking lot for the lighthouse boat tour, just to park the car so we could walk down to the lakeshore and see the lighthouse, but the parking lot wasn't free, it was like $8 to park there. We drove further, but there was no where to park the truck on the road. I got a glace of the lighthouse from the truck, it was far out on the water, so even from the coast, you couldn't see too much of it.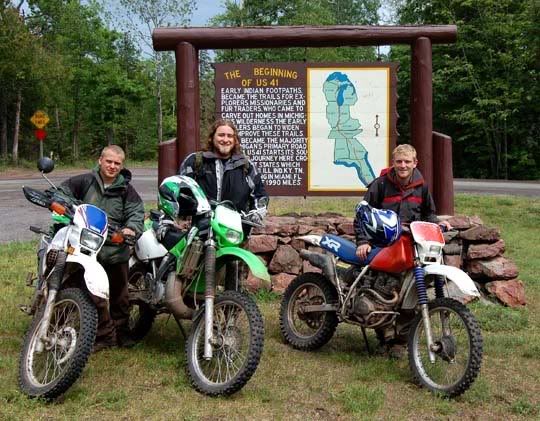 We ran in to some dirt riders from Marquette in Copper Harbor at the beginning of 41, but then the rain had stopped for a while. The guy on the left has an older XT225




We took 41 back, looking at the map, I thought it would be a boring ride compared to 26, but it was great and twisty and fresh new pavement was laid down last week. Next time I will have to come back and bring my street bike.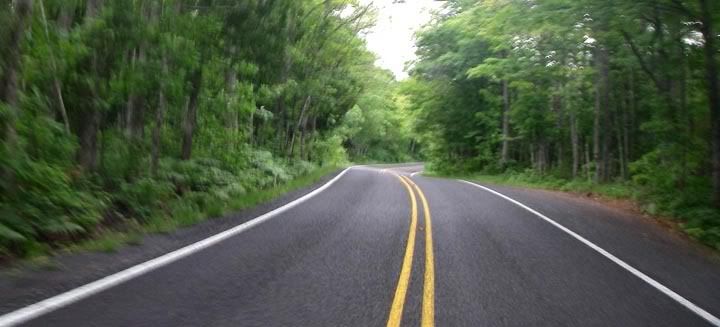 Heading back on MI-41, another nice and curvey road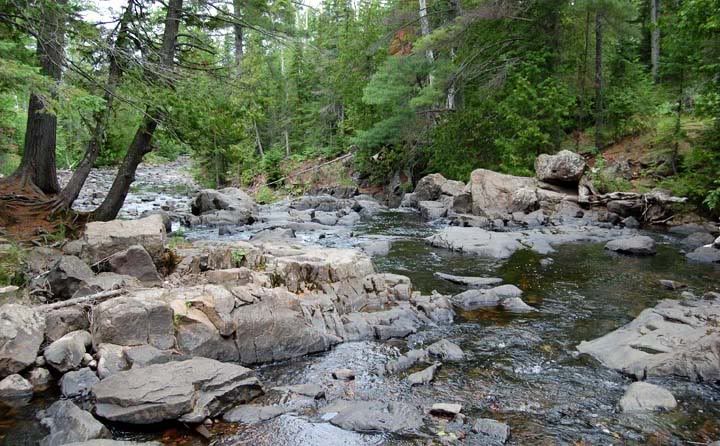 Eagle River near Phoenix




Climbing around a river is always a good time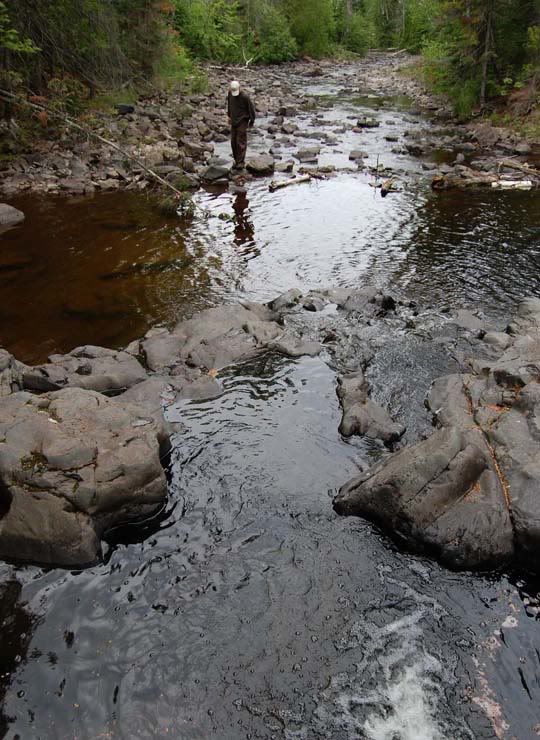 After a whole day out sigh-seeing, we finally rolled back in to the campsite at 10PM. It was still raining east of Copper Harbor, but our tent was dry. There was not much else to do but go to bed and hope that the rain would stop soon. At least it was warmer tonight, the low was going to be in the low 50's.




Where we went today