PIRELLI MT21 are aggressive dual sport tires. It's fast out-selling all our other aggressive tires combined. Specifically designed for dual sport applications, the MT21 has a heavier side carcass for the load of dual sports. Higher grade 10% on and 90% off road use. Have longer life and load over enduro type tires. It's tread pattern is OPTIMIZED FOR USAGE IN DIRT AND GRAVEL ROADS, cross-country racing and desert tours. SPECIAL OFF-ROAD COMPOUND for off-road lasting performances and knobs tearing resistance.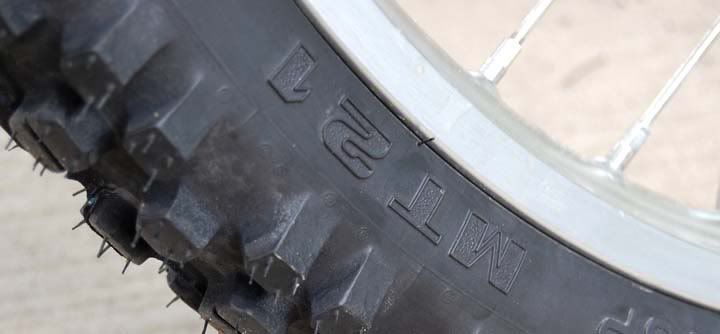 Before heading out to Michigan's UP, Mike installed new M21's on our bikes. We haven't bought a bike stand yet, so the wheels had to be removed using improvised methods, it worked fine.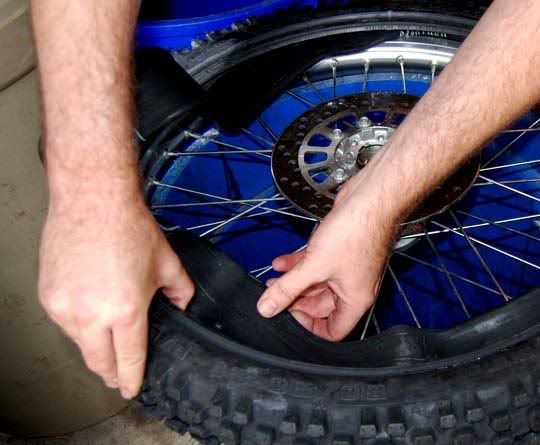 Putting in the inner tube
The XT225 with it's rear wheel off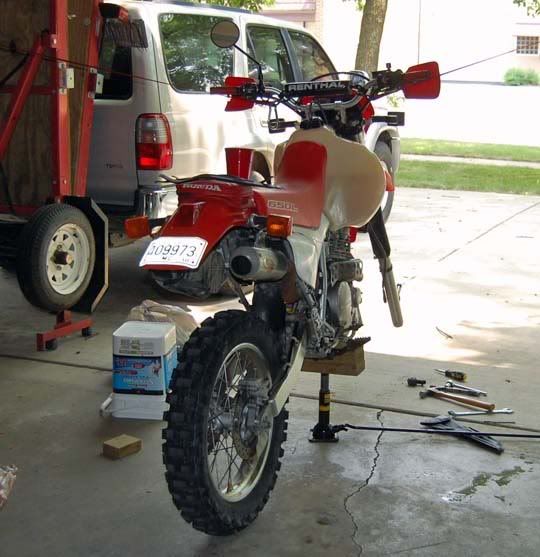 The XR650L with it's front wheel off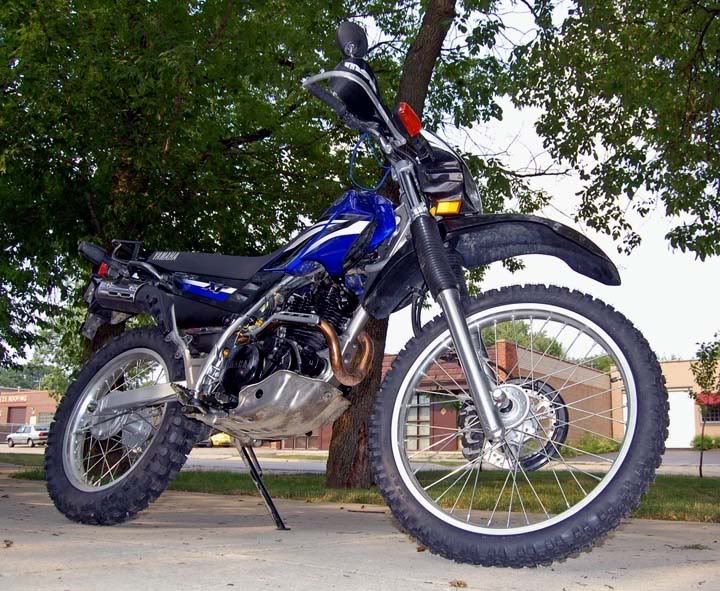 New tires looking good and ready to hit some dirt roads
So after 4 days of riding on these tires, riding on gravel, hard dirt and sand, I have to say that the tires worked pretty well on and off the pavement.
The only difference I noticed on the pavement compared to the stock tires, these were a lot louder at speeds over 50MPH, but still handed really well.
As for dirt riding, hard dirt was great, gravel was good, these tires just sucked in the sand. The back tire was all over the place and the front tire wanted to wash out a lot. These tires gave me no confidence in the sand and made sand riding not much fun. Overall, this is a good tire for the kind of roads that I plan on riding in the future, hard dirt and gravel. I don't plan on riding too much sand.
I was a bit concerned in Michigan, because after the first day of riding, I saw that some of my knobs were damaged, but I soon came to a realization that this 90/90-21 tire is just slightly too big for my bike. It was OK when installed and tried out on pavement with more air, but once I let some air out of it and started riding on it, it rubbed against the frame.
Damaged knobbies