The sky was overcast, threatening to rain on us as we left the house at 7:30AM. It was a cool morning, about 60 degrees. We took the interstate all the way in to Wisconsin. Half an hour in to the ride we experienced a minute or so of rain and it was done. I don't think I've ever seen such a short rain spell before, but I was totally OK with it.
In Brodhead we stopped for breakfast, always looking for a local kind of place to eat at, we didn't see any so we ate at McDonalds. By the time we left it was 70 degrees and sunny, but it was also kind of windy today. We took E in to Albany and then 59 in to Monroe. 59 had better curves, E was a lot of straights with a sharp 90 degree curves. From Monroe to Argyle we took 81, which is hilly and full of sweepers.
The route today was a three leaf clover that had us going though Argyle three times. First Argyle stop, gas and a Red Bull for me, it was time to wake up.
We took 81 west to G, but G was freshly pea-graveled and not a lot of fun to ride. In Fayette we turned on F heading south to Darlington, then K south, this one had a lot of gravel in the corners. From there 78 north back to Argyle, where we topped off our gas tanks in return for using the bathroom.
On G, checking out the scenery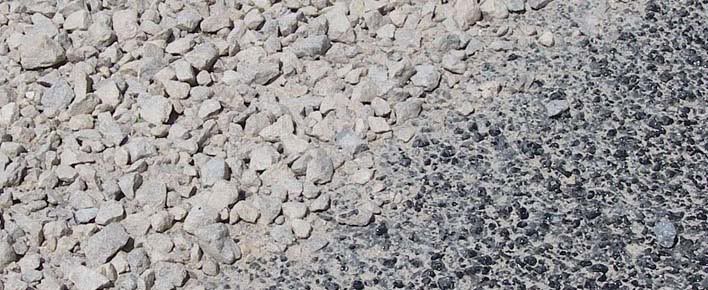 Deep pea-gravel on the left, regular pavement right, what a way to ruin a good road :(
We continued on 78 north and then we turned on A north, that took us to J north that that turned to JG which we took to Mount Horeb.
So far this A, to J to JG was the best of the ride. There were plenty of curves and some elevation changes, the pavement was pretty smooth and there was no traffic.
A to J to JG, nice roads
From Mount Horeb back on 78 heading west, we were trying for E but instead turned on Erbe Road, a small, narrow road that twisted down a hill, too bad it was so narrow, the curves were good. We turned on Blue Mounds Road and found E and headed south. E was another of those fun roads, but short. From there we turned on Z north, which would have been pretty good also, since it had the curves like the other roads, but the pavement was pretty beat up. From there we rode F south, which is one of my favorite of the alphabet roads, although I usually ride the section starting at 39 heading south, the north part was good as well.
E and F were winners in this combo
We headed east on 39, one of my favorite roads, which is getting kind of beat up but is still very enjoyable, turned on J heading south, back to A again and from there west on H. I've been on H before heading east from Blanchardville, and I liked that direction better, since you could see more of the road, heading west there seems to be a bit more blind turns. H is the twistiest from all the alphabet roads we rode today, with brand new pavement but also a lot of gravel in the turns. We arrived in Blanchardville and then proceeded to F heading west and then N heading north, back to the pea-graveled G and back to Argyle again. F and especially N were fun.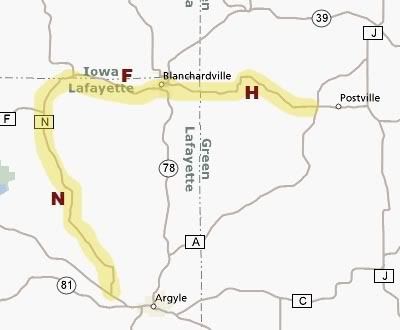 H to F to N, good stuff, maybe even better in the other directon N to F to H
It was getting late and we still haven't eaten anything since breakfast, so for the third time we stopped in at the Cenex gas station in Argyle, but this time to eat, since they have a small kitchen and some warm food. We didn't want to eat a lot since we had still a long way to ride home, so we grabbed some mini corn dogs, which they burned, and cheese curds, which were yummy. Then for dessert a cherry turnover.
A fine meal at the gas station consisting of burnt corn dogs and yummy cheese curds
Dessert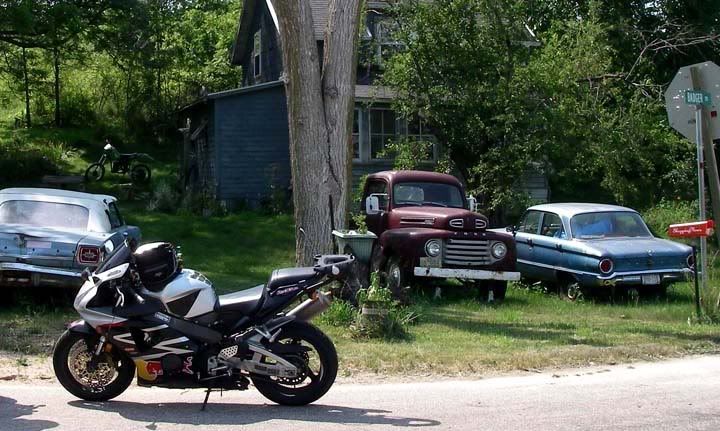 Someone's front yard looking like a car museum
Wisconsin roads and scenery
It was time to head back home, so we jumped on 81 east to 11 east to the interstate. 450 miles later, just before it got dark, we arrived at the house. The weather was fantastic today, in the upper 70's but the wind did wear me out a bit.