Day 5
At 7:30AM we were driving east on 41, still drinking the coffee we made at our camp site looking for a place to grab some breakfast. McDonald's drive-thru it was. The total came out to $6.66. How bizarre.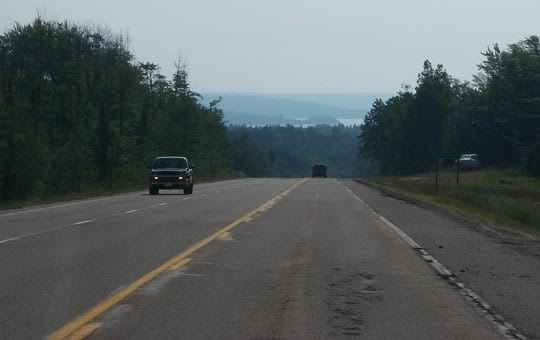 Towing the bikes toward Munising
In Munising, MI, we stopped at the Munising Waterfall and further down on H58, at the Pictured Rock cliffs.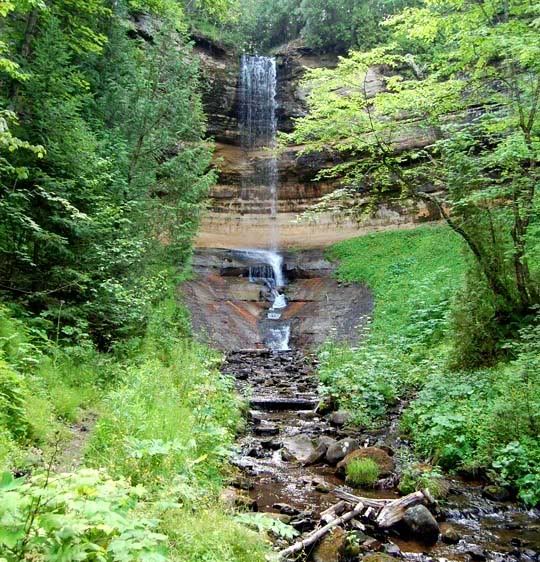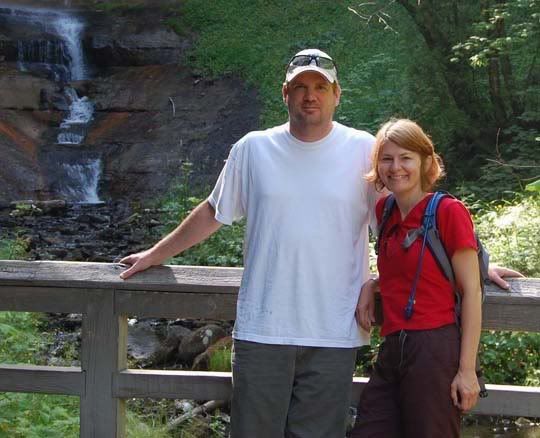 Munising Waterfall
Miners Castle on Lake Superior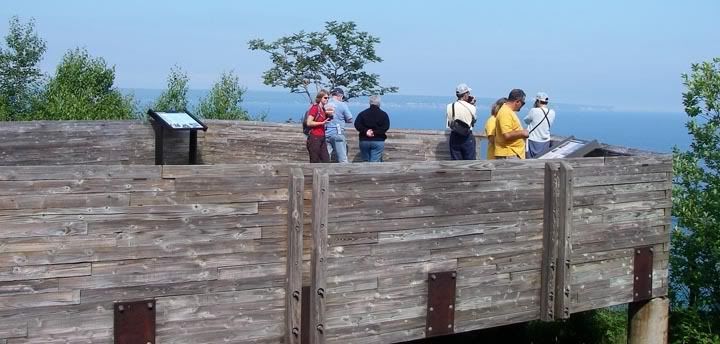 Look at that clean water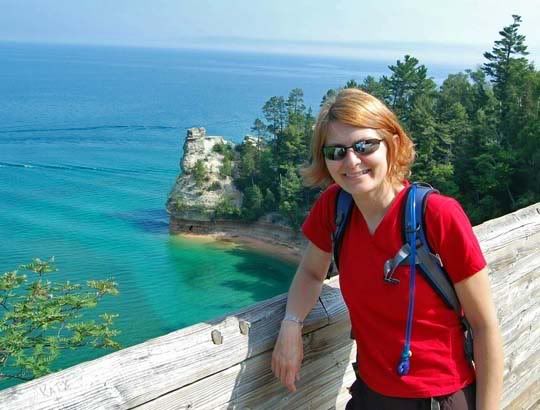 Pictured Rocks National Lakeshore
By 10AM we parked at the Melstrand General Store and we were unloading the bikes off the trailer and gearing up. The owner said it was OK to leave the truck there. H58, which runs through the Pictured Rocks park, is not paved and I've head some call this park "Pictured Rocks dual-sport park". I was pretty excited to see sandstone cliffs, beaches, sand dunes, waterfalls, Lake Superior's shoreline and more lighthouses without having to ride on any pavement.
Melstrand General Store
Unfortunately as the pavement ended on H58 and I started to ride the dirt road, I realized the day would not go as I had imagined. The road had many ruts in it and it was made of a layer of sand covered by gravel. Very much like the beginning of 510, but more ruts, more sand, and way more traffic. I was not having any fun riding this road. The front kept diving in on me and wanting to wash out, the back tire was all over the place. And it was hot today, and I was riding way slower then I wanted to.
H-58 through Pictured Rocks National Lakeshore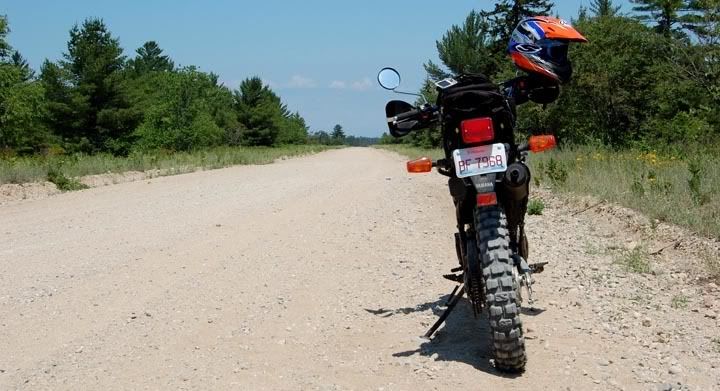 We turned left and continued on H58 towards the lake shore and immediately the road surface turned to deep sand. I really wanted to see all the sights that the park had to offer, but in this deep sand, riding slow, it would take me hours to get anywhere, and today we didn't have all day to ride, we had to be home in Chicago tonight, I had to work tomorrow morning.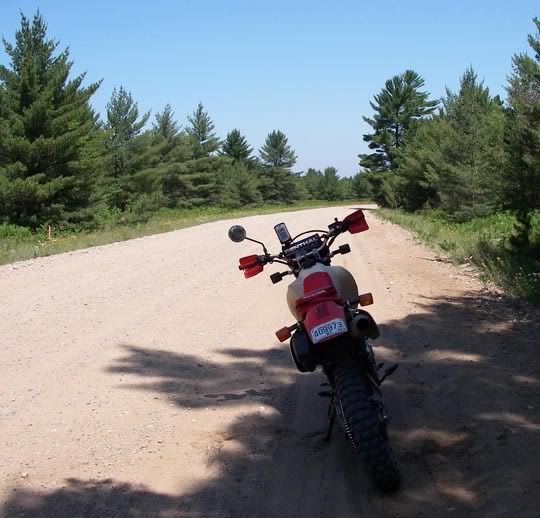 We around and turned off on Adams Trail figuring less cars go in that direction, so maybe the road would be easier to ride for me, it was for a bit and then again it turned to sand and I gave up. So we rode back, rode one of the truck roads, which was dirt for a little before it also turned to sand, but the time I turned around and got back to H58, it was time to head to the trailer and head home. The ride back on H58 wasn't any better and what made no sense to me what so ever, I saw a Sprint ST, a Goldwing and some Harley ride this road.
Truck Road was a bit better, not that much sand
Ready to head home
Got the bikes on the trailer and by 2PM we pulled over for a snack. There was no way we were going to leave the UP without trying one of these "pasties" advertised all over the place. Actually the correct spelling for one of those is "pasty", which is a Cornish type of pie which is filled with diced potatoes, hamburger meat and carrots. Miners who immigrated to this area to work in the mines brought the pasty tradition with them. Around the UP you can get pasties filled with many different things. The pasty we had was a hamburger, potato and carrot kind, it was good snack. We hit the road shortly after, hours later, we had a real meal in Green Bay, WI at a Perkins's Restaurant. We ran in to some rain but it cleared up just in time for the 4th of July fireworks. As we passed each suburb on the interstate, we watched the sparkling colors in the sky dancing around us. We arrived at the house after 10PM tired from the trip.
Bear Trap in just west of Melstrand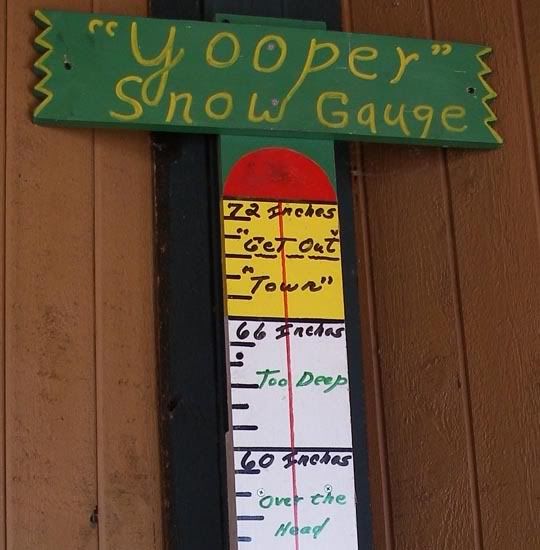 Look at those big teeth I have to eat you with
Inside the Bear Trap there were a lot of bears, at least 4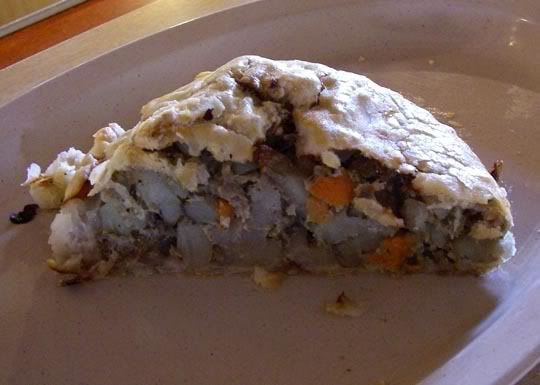 Half a pasty
It was a fun 4 days of riding and I'm glad the weather cooperated, it only rained one day. Michigan's Up is definitely the place to bring a dual-sport bike, there are so many dirt roads and trails out there, the only problem is trying to figure out where the roads go and if they connect to any other roads. We were both equipped with Garmin GPS's and time and time again, the GPS would be showing us a road continuing to another road, but in reality the road would come to an end and we constantly had to turn around and look for other roads. That's fun when you have all day to just explore and don't want to ride anyplace particular.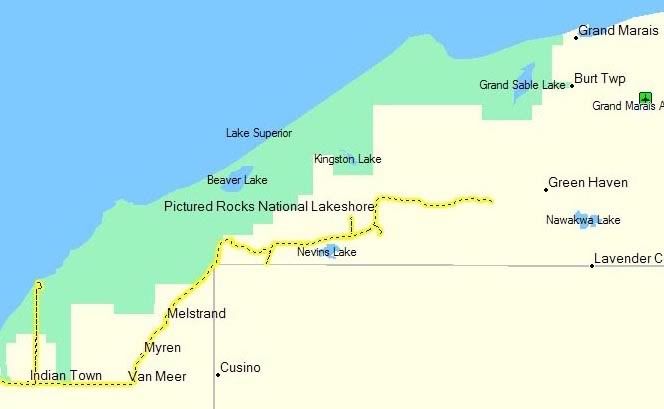 Where we went today