I dusted off my XT225, which hasn't been on a decent ride lately. Now that the weather is warmer the street bikes are getting more use than the dual-sport. My tires were a bit low on air, cool thing about the dual-sport tires, I was able to fill them up using my bicycle air pump.
At 12:30PM Jen arrived at my house on a brand spanking new Kawasaki KLX250. She just got the bike this week and was looking forward to taking her first ever dirt ride. I must say, those bikes are sharp looking, way cooler than my XT but also taller than my XT225. Jen is no newbie rider though, she rides a 600RR and takes it to the track a few times a year.
Jen on her new KLX250
I just love the scenery on the road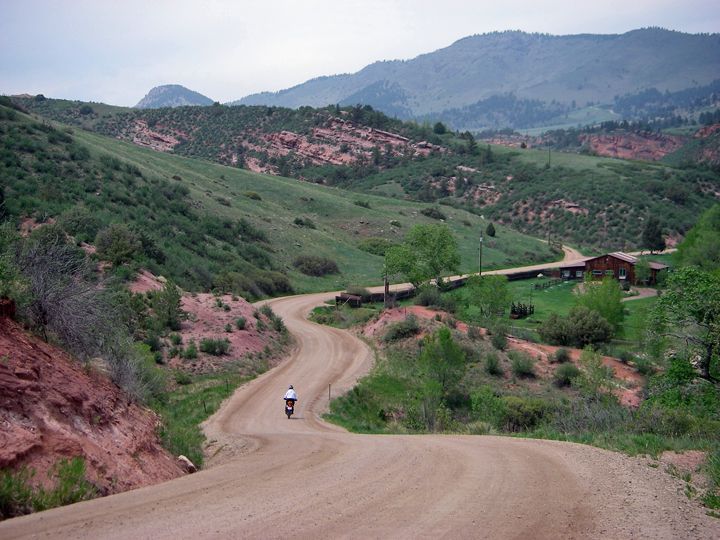 Jen heading down the big hill on 25E
We took off towards the Horsetooth Reservoir and took Stove Prairie Road to the first dirt road, 25E, AKA the
Redstone Canyon
. It was so beautiful here now, so green. I've only been here in the winter when it's just different shades of brown. The road is not a long one, about 9 miles one way. At the end we turned around and headed back. There are always deer on this road, and today was no different. They like hanging out near the stream and cross the road often to head for the hills. 25E is smooth dirt, parts of it are so smooth it almost feels like it's paved.
Smooth dirt on 25E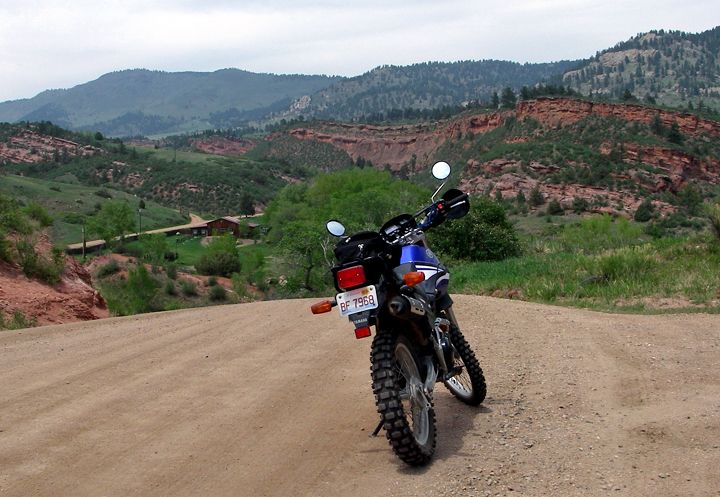 This is my favorite spot on 25E, the big hill

Same spot as in the above picture, but zoomed out

That white spec on the road in the right of the picture is Jen on 25E
In the distance to the right, the back of Horsetooth Mountain
We reached Stove Prairie Road and continued north with a slight detour to Bobcat Ridge Natural Area since there is a bathroom there and the road to Bobcat Ridge is dirt. Then back on Stove Prairie, with the next stop being 44H, AKA
Buckhorn Canyon
.
On 44H near the Ranger's Station
The road to White Pine Saddle, we only rode it to this sign, it's supposed to be rocky and steep

Jen on the road to White Pine Saddle
The road to White Pine Saddle
44H has some smooth sections but it also has lots of gravel and one section that is kind of rocky. We rode up all the way to Monument Gulch Road, but the gate was still closed. It was getting late, so we rode back down to Stove Prairie and headed back to town. This was a fun 90 mile loop, with beautiful weather in the low 70's and hardly any traffic.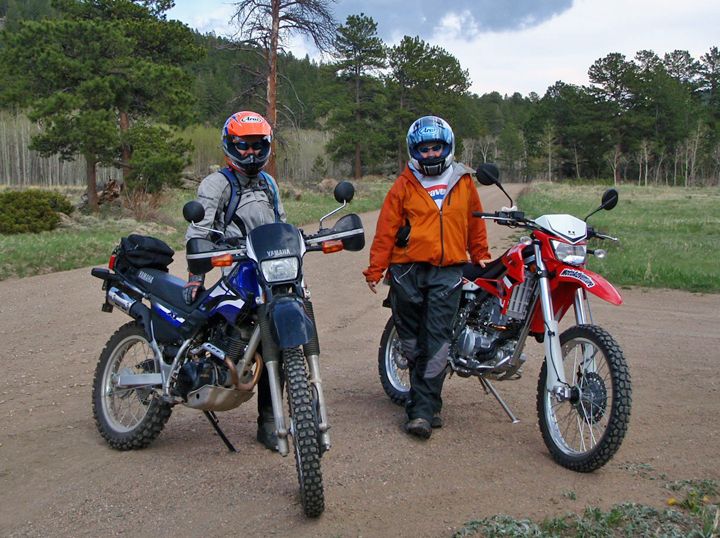 Jen took this one with her camera
Jen also took some pictures off me - Buckhorn Road
Riding the road to White Pine Saddle - see the sign "caution steep"
As for Jen, she is a natural on dirt. By the time we hit Buckhorn Canyon she pulled away from me and I didn't see her until she pulled over at the rangers station.