In the early afternoon I left
White Sands National Monument in New Mexico
and headed toward Valley of Fires Recreation Area where I was planning to camp tonight.
From White Sands it was a mostly straight shot north, and about 90 miles via highways 70, 54 and 380. I passed through the town of Alamogordo, again very surprised by the large size of it. The majority of the ride took place on Highway 54 where the speed limit was only 55MPH. I have no idea why he speed limit was so low. Hardly any traffic, hardly any curves, only three, two of which were very small. Most of the time there was nothing but the road and me. All the other roads had speed limits at least of 60MPH, Colorado and Arizona roads had on the average higher speed limits then New Mexico roads.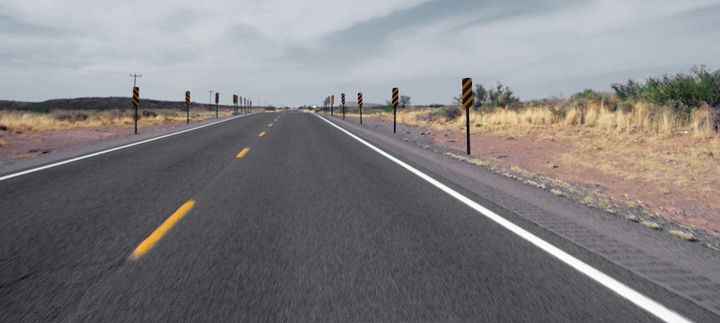 Highway 54 in between Tularosa and Carrizozo is not a very exciting motorcycle road
I arrived at the Valley of Fire Recreational Area around 5PM. I rode past all the RVs to the tent camping on the opposite side from the entrance. The whole recreation area was covered in glorious smooth pavement. There were quite a few RV's here even though this park is in the middle of no where. The tent camping section was empty except for one popup camper trailer. Funny, the sign specifically said no trailers or motor homes in the tent camping - only tents. I looped around the tent camping once, there were only like 6-8 sites. I picked the best site and parked my bike. Before I could even get my motorcycle gear off, the guy from the popup camper trailer was already walking toward my site.
You can see some lava rock from highway 380, but you can see a lot more at the Valley of Fire Rec. Area
He spoke with urgency, as if what he was talking about was a life and death situation. Basically, he told me that before I unpack I should go and check out the last camping spot, he though it was particularly nice. Really? If it was so nice why didn't he take it? Hmmm. He was just pissed because I took the campsite next to him. I told him I saw the all of the camping sites but I liked this one because it had a lot of lave rock and not a lot of trees. I wasn't particularly happy to be camping next to the only people here in the tent camping area. I did want the best camoing site though.
My campsite #22 with cool black lava rock at the Valley of Fire Recreational Area

A cool lizard at my camp site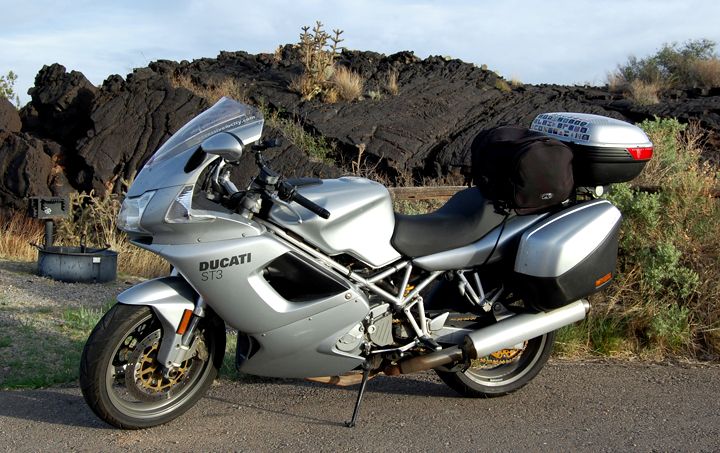 My ST3 and lava rock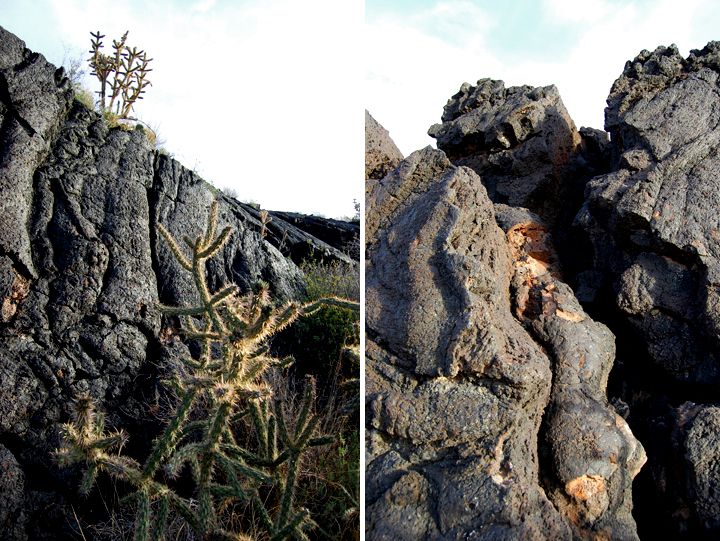 Cool lava rocks at my camp site
His camping site, even though was the next one over to mine, was tucked in, so I couldn't even see them from my site. And he couldn't see me from his either. Although I could his popup camper trailer which he wasn't even supposed to have here. The nerve of some people. As we talked he kept looking around like he was expecting someone. It wasn't until the end of our conversation that I realized, he thought I was here with someone. Probably the guy that rode the bike here. When I told him it was just me, his tone changed immediately, I guess he realized there wasn't going to be people talking all night at my campsite.
After I got unpacked, I went to check out the place. This was a great find. $7 for tent camping, a really nice huge modern bathroom with flushing toilets, running water and like 3 free showers. The best part, the building was open all day and all night. There was also a pit toilet not too far from my campsite. The modern bathroom building was a bit of walk from the tent sites, up a hill, but I enjoy the exercise.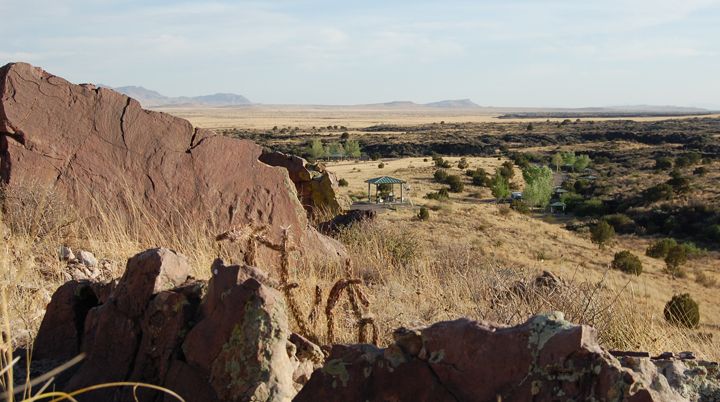 The view of the tent camp sites from the observation hill

After setting up my tent, I decided to grab some dinner. There were some very annoying flies buzzing by my campsite, I think they were thee because there was trash inside my garbage can which was located next to the picnic table. Because the sun was going to be setting behind the lava rocks that were located just behind my camp site, it was going to be dark here pretty soon. For dinner I had tuna and crackers again, with peanut butter and crackers for dessert. I wanted to go up the hill again and catch the sunset, but I missed it eating dinner and getting everything I needed from my bike in to the tent.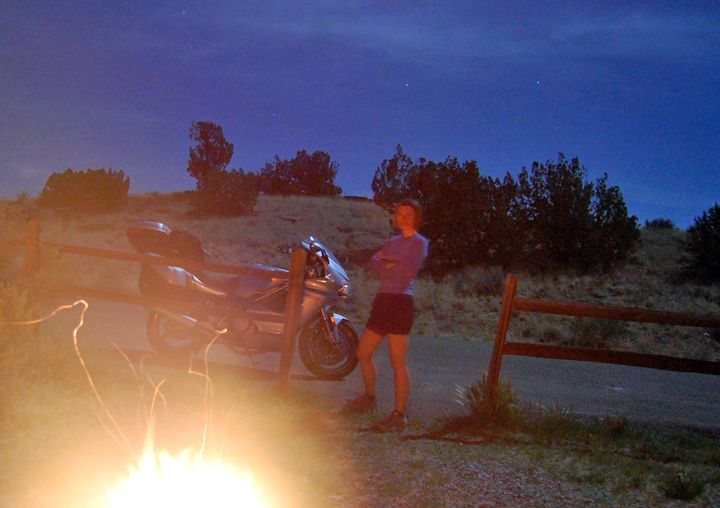 Some blurry night pictures from my camp site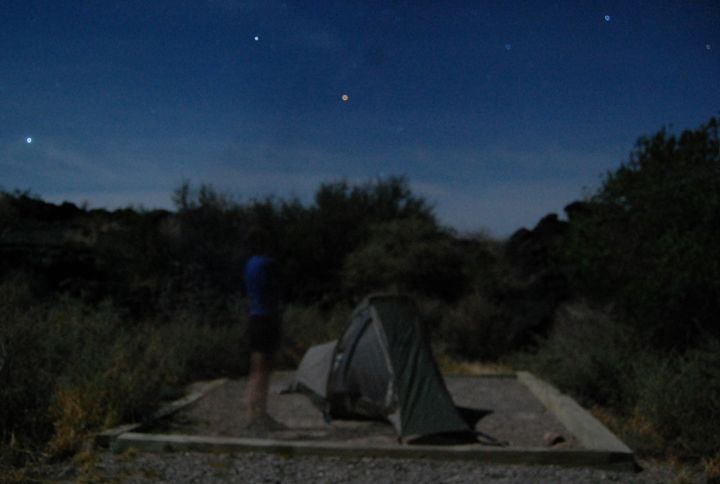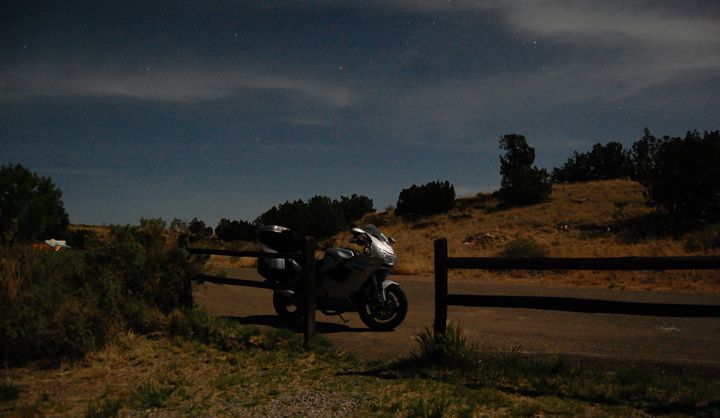 My camp fire
Just before it got totally dark I went looking for any left over fire wood inside the fire rings of the other empty tent camp sites. I found some, enough for about an hour and a half of light and warmth. Actually I didn't need the light or the warmth. The temp was still the 70's even after the sun had gone down and the moon was even fuller and brighter tonight. There was no wind here either because of the rocks. Up where the RV's were, it was quite breezy earlier. I made once more trip up to the modern bathroom building, you could see the lights of Carrizozo in the distance
I got my camp fire going and spend the rest of the night gazing at the starts. The night sky was beautiful. I tried to take some pictures of the night sky with the night mode on my camera, but the pictures didn't turn out as good as I have hoped. Maybe I should read the manual for my camera one of these days. The night temps were mild. I slept in my shorts and long sleeve wicking shirt inside my sleepingbag liner, on top of my sleeping bag. The moon was so bright again, I could see it through the tent's rain fly.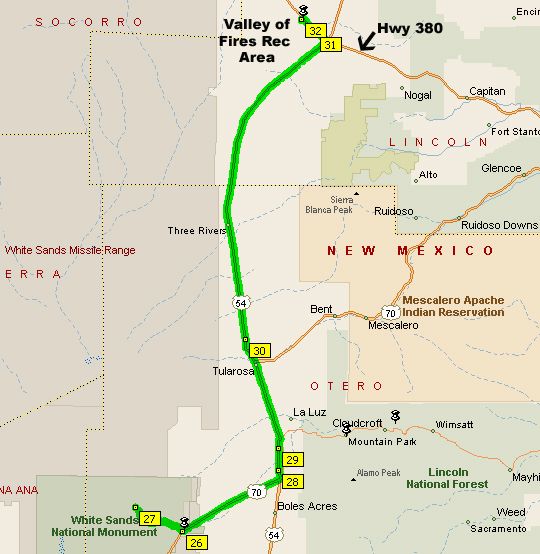 My 90 mile route from White Sands N.M. to Valley of Fires Rec. Area via Hwy 70, 54 and 380