Record breaking heat wave is coming this way - yikes! Tomorrow could be in the 90's. This afternoon I decided to head out in to the mountains on my 954RR. It was still hot in the mid 80's when I left the house at 4:30PM. This was my first time this season wearing my perforated warm weather gear.
I've driven highway 34 so many times this past fall and during winter for hiking, but I have not ridden my bike on this road since last summer when I was here just
visiting
.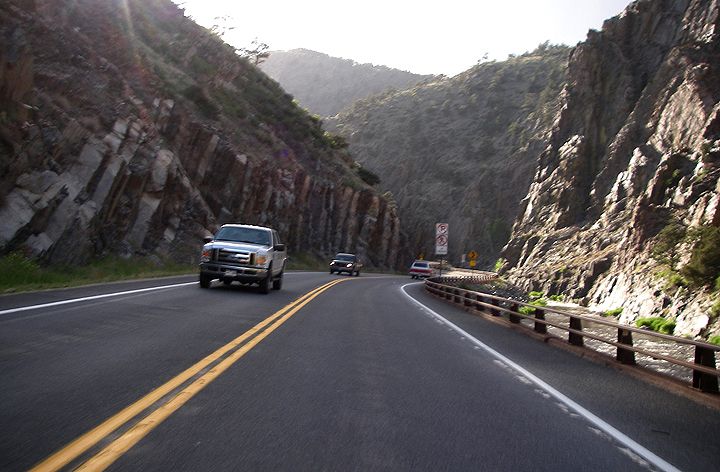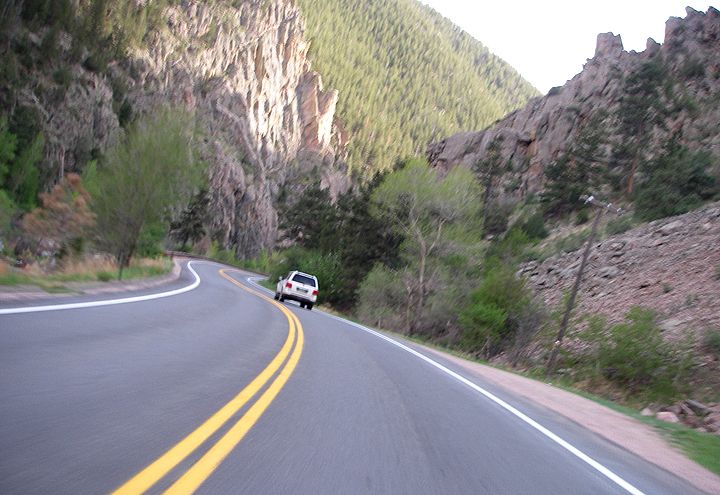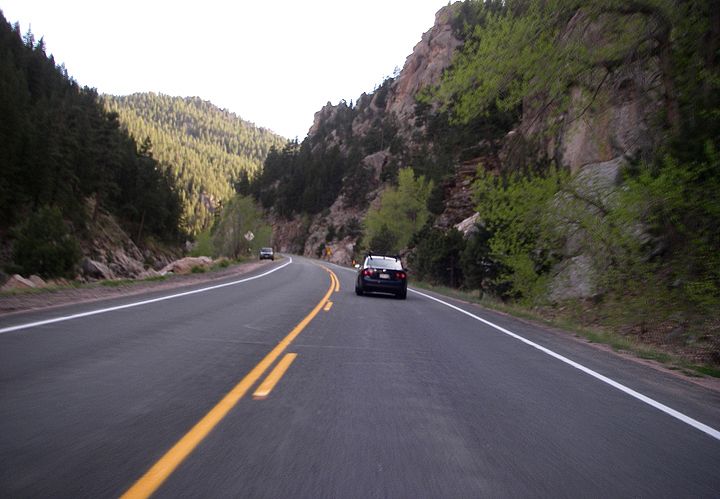 Highway 34
This is a very fun road to drive in the car, so all hiking trips in this direction started with a twisty drive and ended with a twisty drive, which is awesome. But of course highway 34 is way more fun on a motorcycle. Although this road does get quite a bit of traffic on it since it goes to Estes Park and Rocky Mountain National Park. When traffic gets thick I just pull over and wait until I see no one coming, then I get to continue until I encounter another moving road block.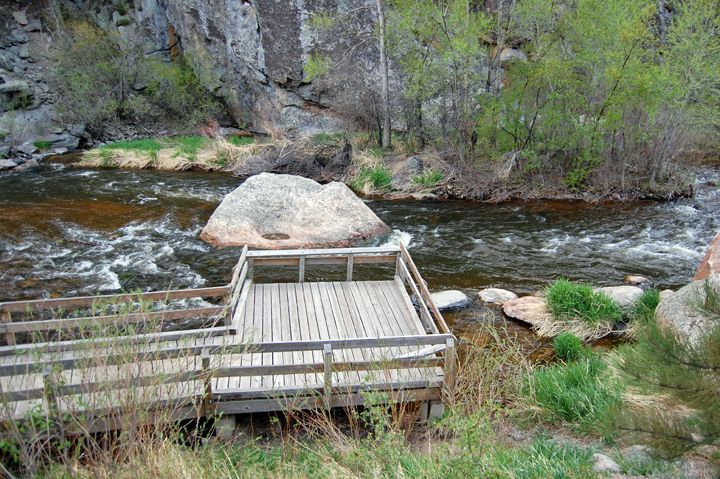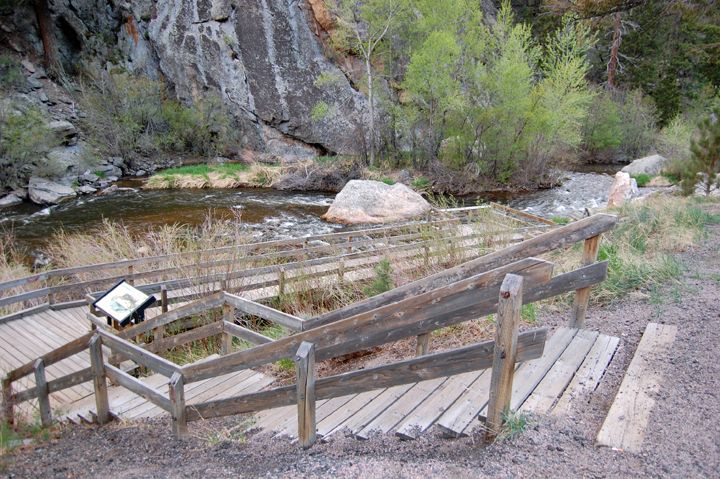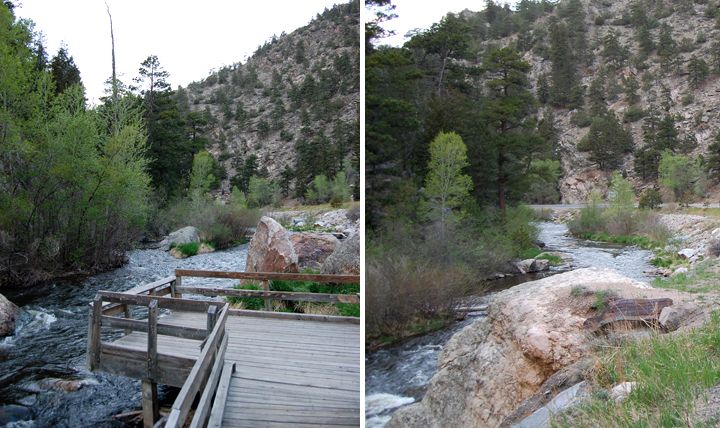 There are many scenic pull out on highway 34, even opportunities that allow a closer look at the Big Thompson River

Highway 34 from Loveland to Estes Park is called the Big Thompson Canyon Road. The road follows the Big Thompson River as it curves in between the jagged mountains that form a canyon. Since moving to Colorado I have driven this road more then any other road and I'm still not tired of it. There is an abundance of wildlife in this area, you can see mountain sheep and elk near this road, and sometimes in the road too.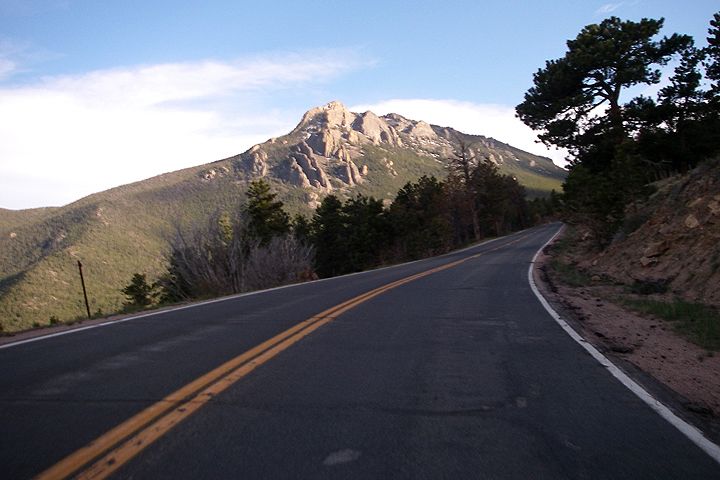 Highway 7 heading south to Lily Lake
From Estes Park I took Highway 7 south, also called the Peak to Peak highway, or scenic byway. There is some beautiful mountain scenery along this road. Highway 7 travels by two of the summits I've climbed; Mount Lady Washington, which is next to Longs Peak, and on the other side of the road are the Twin Sister Peaks. This road also provides a close-up of the Continental Divide.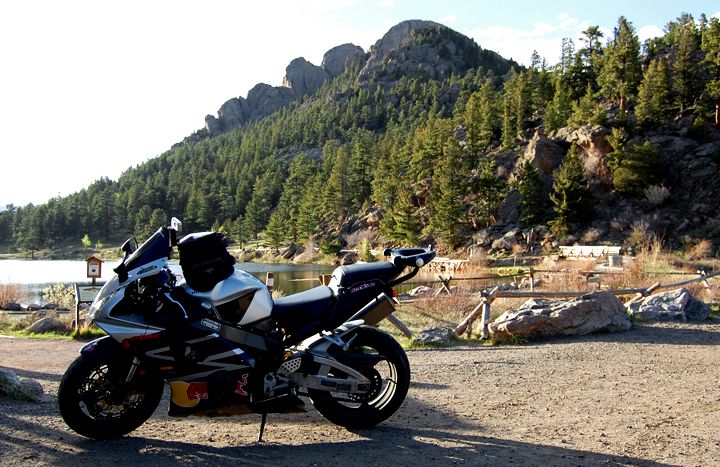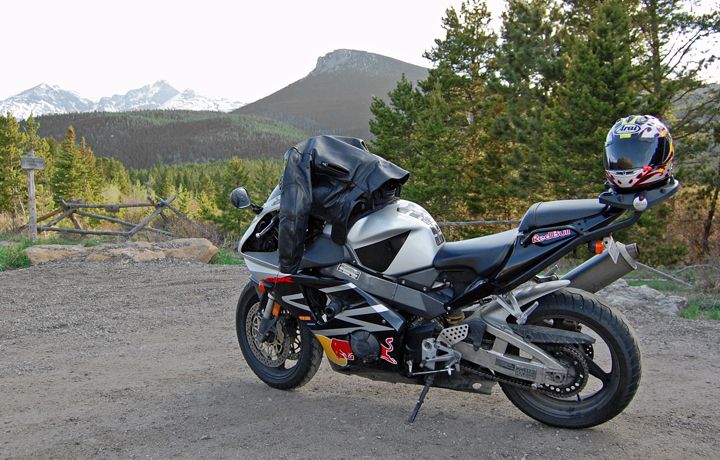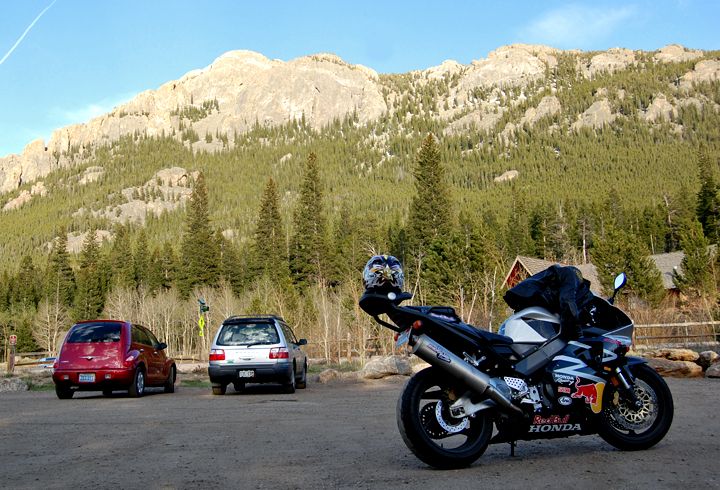 Lily Lake parking lot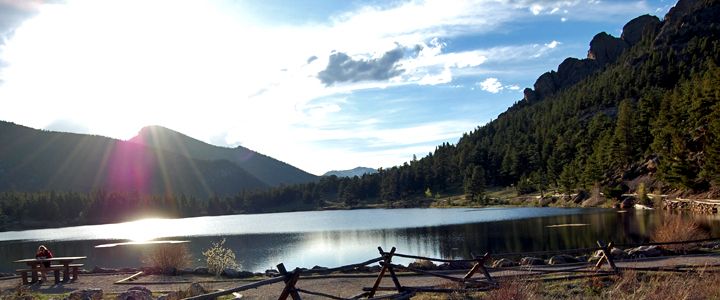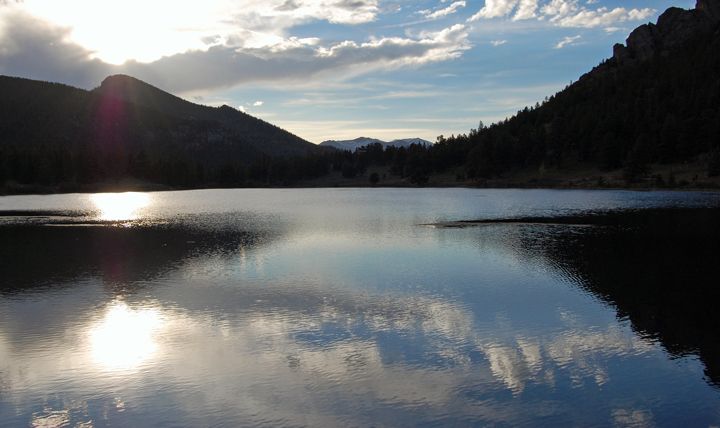 Lily Lake
The trail around Lily Lake
I didn't have enough time to ride the whole Peak to Peak highway today, I was just riding out to the Lily Lake Trailhead. It was nice to sit at the lake and watch the sun disappear behind the mountains. There is a trail that goes around the lake here and I did some of it, then hopped back on the bike and rode the same way home. The total mileage for this ride was 90 miles, 70 of those miles were spent on twisty and scenic roads.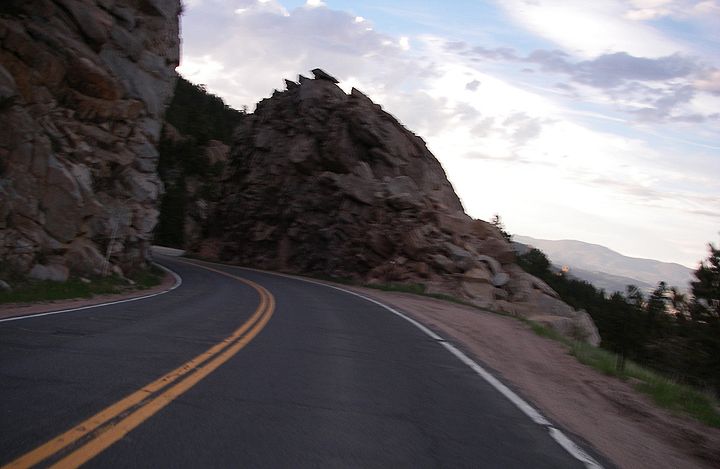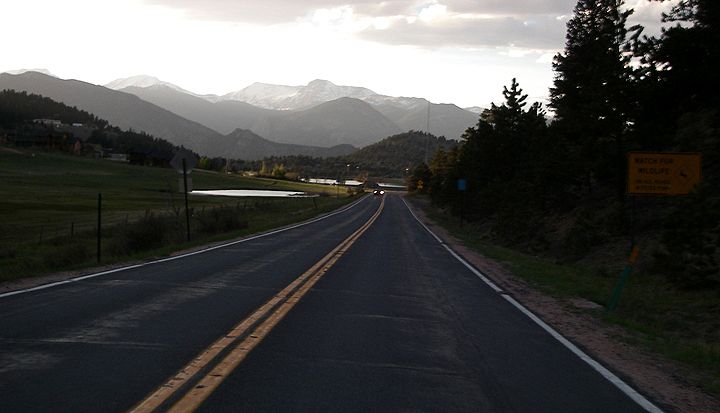 Highway 7 heading north to Estes Park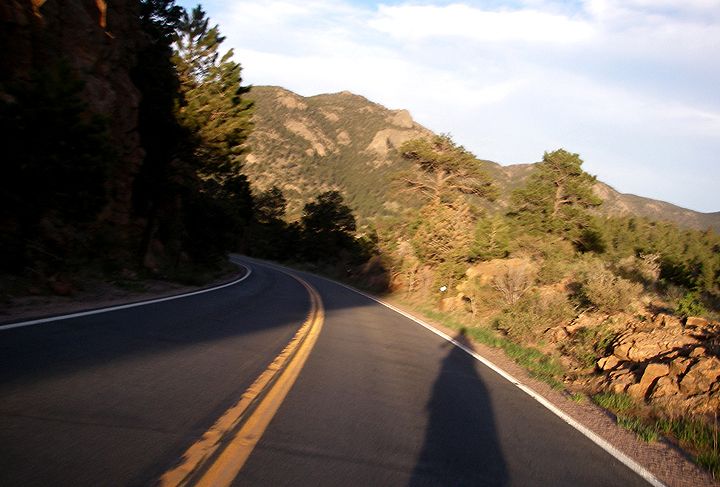 Chasing my shadow on 34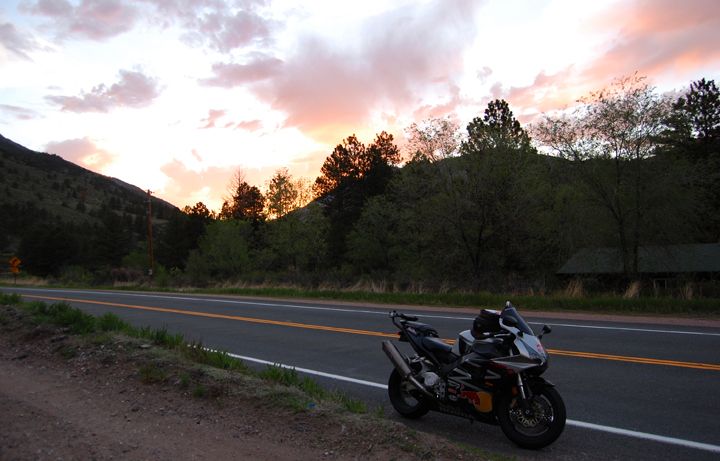 I had to stop for the sunset, it was much niceer then this picture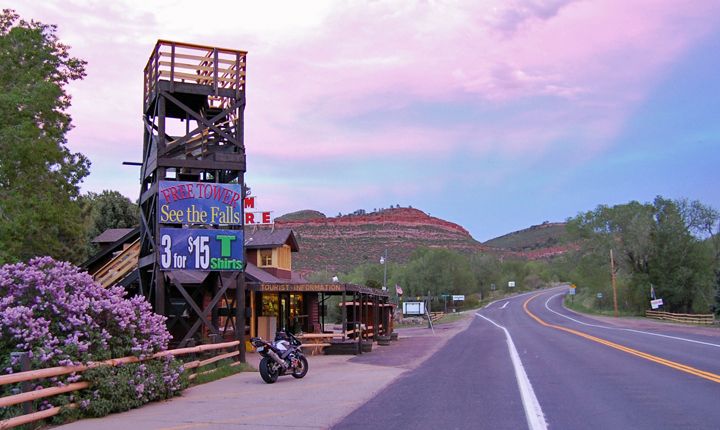 A tourist trap and a tower on highway 34
By the way, my Pirelli Diablo Stradas now have 11,250 miles on them. The tires still look and feel pretty good. I am quickly falling in love with this tire. Unlike the other tires I have used in he past, this one feels great all the way to the end. It doesn't feel like a high mileage tire. I hope these tires will last me another 1,000+ miles so I can continue to take the 954Rr on short day rides. Since I blew all my money on getting the ST3 fixed, I will not be able to afford to put new tires on the 954RR this year, I will excursively ride the ST3 after the tires are shot on the 954RR.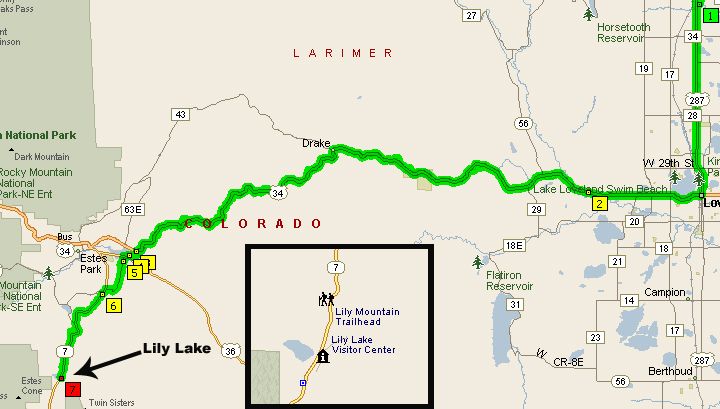 My 90 mile route highways 34 and 7