It was a chilly night, I forgot to bring my altimeter which has a thermometer so I don't know how low the temp dropped over night, but there was frost on the picnic table in the morning, so the overnight temps did get below freezing.
Al getting the "bear proofed" food out of the tree
Breakfast: a Red Bull and a swooshed banana nut muffin

This whole ride was an experiment since I've never done an overnight camping trip on the XT before that didn't involve towing the bike. Today was the second part of experiment, a ride and hike. There were lots of hiking trails out here and lots of dirt roads. Today we were going to ride out to one of the trailheads and do a hike from there.
But how do you ride a motorcycle to a trailhead and hike from there? That's what I wanted to find out. The trail we were going to hike today was the Flowers Trail located just a few miles from Jack's Gulch Campground.
I struggled making up my mind on how to prepare for the ride to the trailhead. Should I ride in all my dirt riding gear, some how secure all of it to the bike with a cable and padlock? The only thing that I couldn't secure to my bike with a cable and lock were my motorcycle boots. I thought of carrying them in my pack on the hike, but unfortunately they wouldn't fit inside my small Camelbak daypack. After doing some thinking I decided to leave my motorcycle boots inside my tent. I figured they would be safer out of sight, and ride with my hiking boots, which had some ankle protection but obviously not as much as my awesome BMW Santiago boots.
If Old Flowers Road was like some of the roads we rode yesterday that would be fine. Unfortunately Old Flowers Road was not like the roads we were on yesterday. I've only been on the section of Old Flowers Road near Stove Prairie Road, where it's just a mellow dirt road. I knew Old Flowers is a local favorite for the dual-sport riders, so I figured that further down up it probably got more rugged and technical.
We geared up and took off from our campsite. A mile or some behind Jack's Gulch Campground there are a few trailheads and Old Flowers Road. At first the road was narrow but not technical, a mile further we started to encounter rocks, small hills, some sand. We weren't actually sure how far we had to ride Old Flowers before getting to the trailhead. We thought it was about 2 miles but after about a mile and half of riding we saw a sign posted that said "2 miles to Flowers Trailhead".
Old Flowers Road

A meadow on Old Flowers Road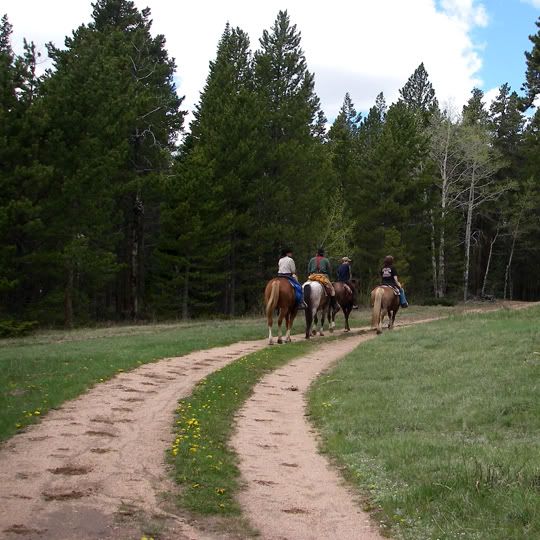 Horses on Old Flowers Road
The road got a bit rougher with large rocks in the road and tree roots sticking out, all I kept thinking was, were my hiking boots going to protect my ankles if I dropped the bike on my foot. Not a good thing to think about while you are riding a bumpy and rocky road trying to navigate between ruts, rocks and tree roots.
A rocky section on Old Flowers Road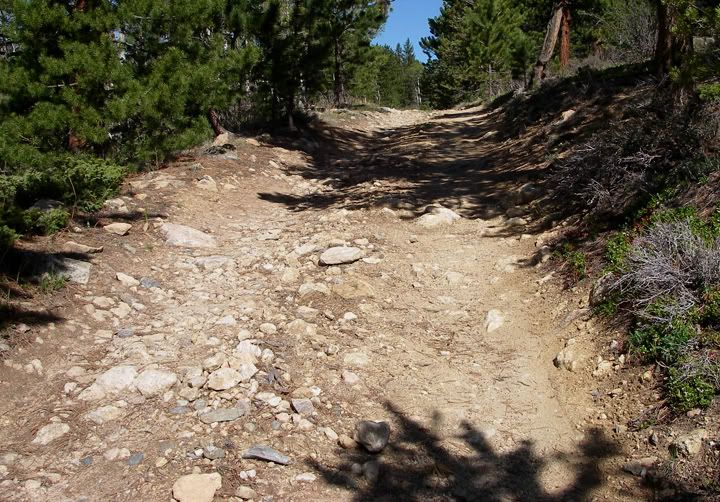 Al chekcing out a fork in the road that went no where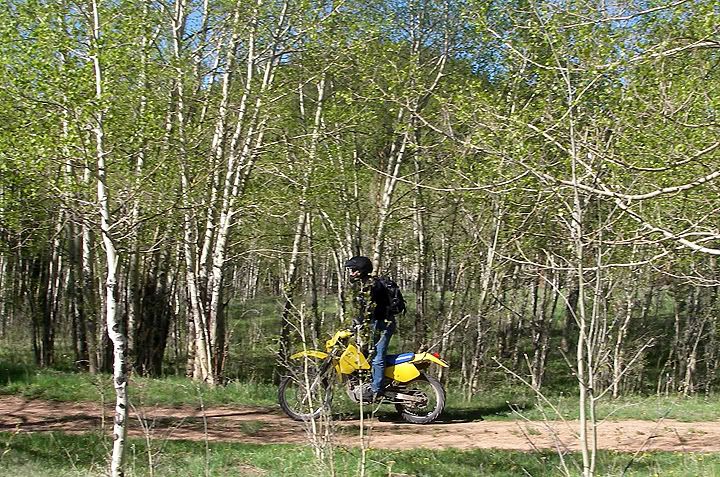 Leaving the bike behind and starting the hike
We arrived at a meadow and decided to leave the bikes here and hike to the trailhead. We wanted the exercise anyway. And we already knew we couldn't be hiking for too long, because we had to vacate the campsite in a few hours anyway.
The sky is so blue in the mountains
Flowers Trail Trailhead sign

Commemorative plaque at the Flowers Trailhead
Hiking the Flowers Trail

It was very sunny and warm now, about 45 minutes later we arrived at the Flowers Trailhead. The trail entered the forest and we started to hike among the trees, where it was much cooler. The trail gently was climbing but was mostly straight. This trail is rated as "difficult" and it's 18.4 miles long and travels all the way to the junction of the Big South Trail, gaining an additional 1,184 feet of elevation from the 8,159 foot elevation start at the trailhead. We didn't see anyone else on the trail except for two horses and their riders. Not sure how far we hiked, but after 45 minutes we decided to turn around. We passed a few more horses and their rides and arrived at the bikes.
The ride on Old Flowers Road back to Jack's Gulch Campground was just a bit rougher, then when we rode it a few hours ago. The soil had dried out in the sun, the puddles shark and there was a lot more sandy areas.
I really did enjoy the ride and hike, but next time I want to ride out to the trailhead in my motorcycle boots, so I have to figure out what to do with them while I'm hiking. Maybe I'll have to bring my larger pack so I can carry them since hiking in my dual-sport boots is not an option.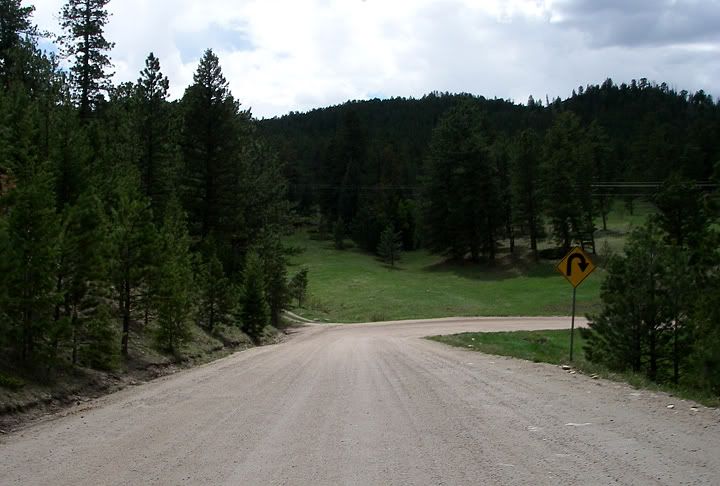 Heading toward highway 14 on Pingree Park Road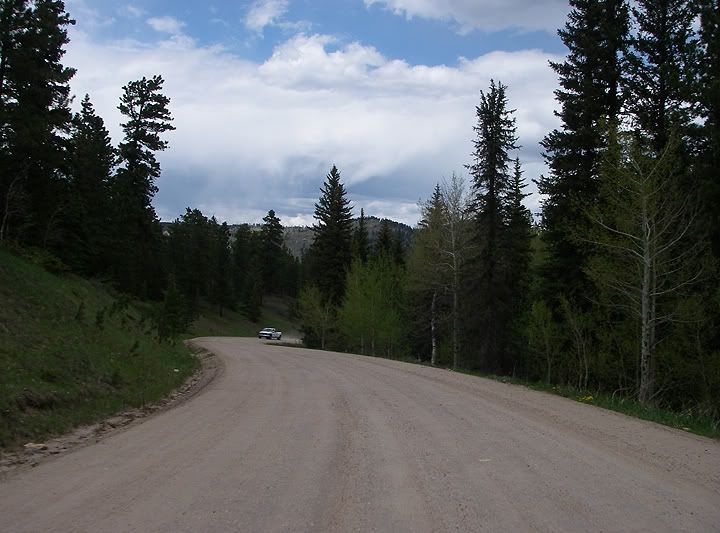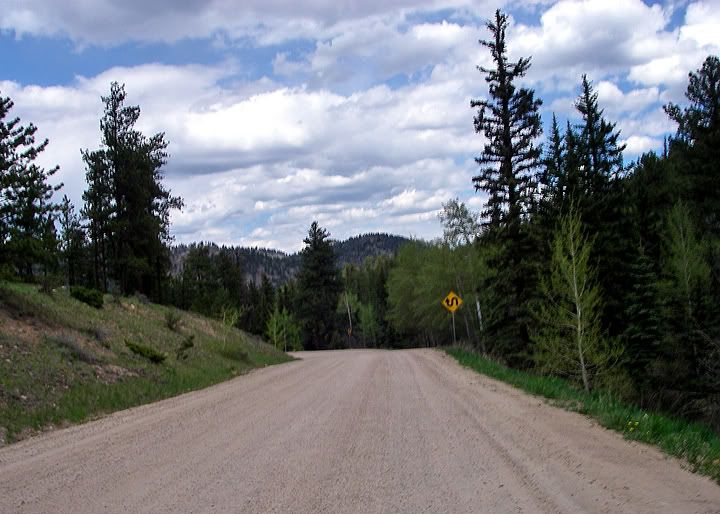 Lots of curves on Pingree Park Road
Back at the campsite, we had lunch, packed up and headed out. I ended up pouring all the gas that Al's had in the MSR bottle in to my tank, figuring with the extra gas in my tank now, I was just going to make it to the gas station on highway 14 at 287 near Ted's Place.
Getting chased by some dark clouds, no rain today though
Some nice views of the mountains from Pingree Park Road
The clouds started to roll in as we headed out. Descending down the curves on Pingree Park Road, the road appeared much steeper than when we rode up yesterday. Most of the traffic was heading out of Fort Collins, as we were riding into town, so that was nice.
This was a very fun two daysand I'm glad I didn't have to ride out here alone. I definitely have to do some more rides like this and I'll definitely be coming back to Jack's Gulch area and do some more riding, camping and hiking here. The total mileage for the two days was 140 miles. The only items I forgot to bring were the altimeter, rain pants, pen and knife. I didn't actually need the knife but I like to have it on all my camping trips just in case.