There are places that sit along boring and straight roads that are worth seeing even though the ride there on a motorcycle is not very exciting. White Sands National Monument has been one of those places. Every time I ride or drive through New Mexico I look and see if somehow I can squeeze in a visit, but up to now, I've never been able to.
I left City of Rocks State Park and took the fastest route (and most boring) to White Sands National Monument, which was south on 180, then east on I-10 and 70 to White Sands. Sometimes in order to see "more" things, you just have to get there quicker. White Sands was only about 150 miles from City of Rocks - a three hours ride with a gas and lunch stop.
I debated on taking the fun route, riding north on 61 and then east on 152 again, but White Sands was only going to be a short stop for me, the camp ground I wanted to be at this afternoon was a bit north of White Sands and I do like to arrive early at the parks when I'm camping, so that I can enjoy the place and see everything there is to see.
I needed to stop in Las Cruces for gas. Even though I took the exit off I-10 for what looked like a highway 70 route that by-passed the city, I still had to ride through part of Las Cruces. I was surprised how large Las Cruces was. I was looking for a gas station that had a Subway next to it, or same other fast food restaurant. I wanted some real food for lunch. I really didn't feel like stopping once for gas and again for food. It was hot and at least while I was moving, it wasn't that bad. After not seeing anything of interest for about 3-4 miles I finally decided on a Circle K gas station. They usually have some kind of food inside. Well, after checking out their offerings and debating if I really wanted to spend $2.25 on one of those pre-packaged nasty sandwiches or look for a McDonalds down the road, I just got the sandwich to be done with it.
After my lame lunch I continued on 70 toward White Sands. I read that sometimes they close highway 70 up to three hours for missile testing at the nearby White Sands Missile Range. Today was not one of those days, but just before getting to White Sands there was a border patrol check station. You know the one. Pull in, they ask you if you are an American citizen, you say yes and keep going.
Just past Las Cruces on Highway 70
From Las Cruces highway 70 descends in to the desert. It was noticeably warmer here. White Sands National Monument is located in the Tularosa Basin and is one of the world's great natural wonders. White dunes of gypsum sand cover approximately 275 square miles of desert. This is the world's largest gypsum dune field.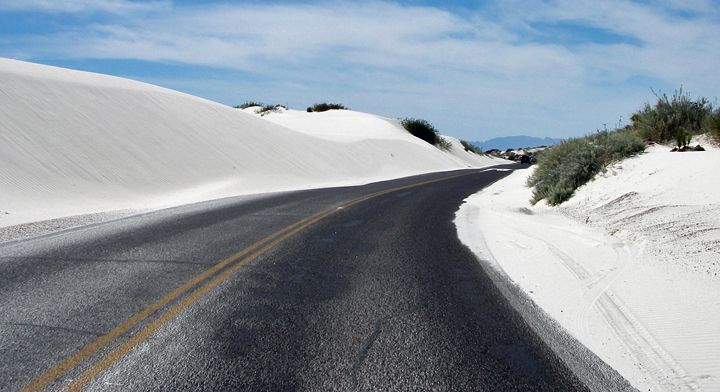 The Dunes Drive through White Sands National Monument
There were many spots with sand on the road, not a big deal for cars - I rode around the sand, sometimes going in to the other lane for a bit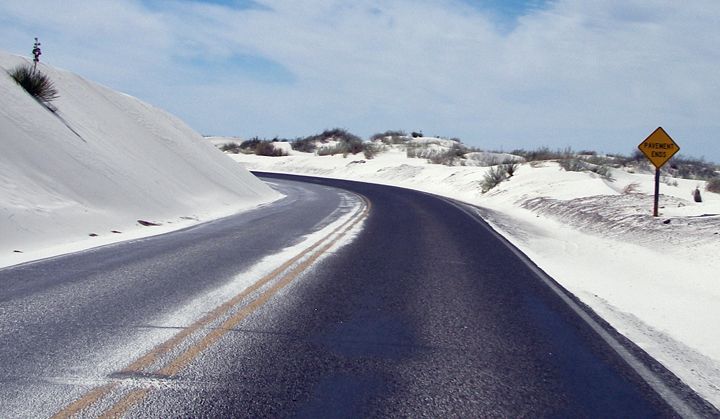 Pavement ends? I do not like seeing those signs when I'm on a street bike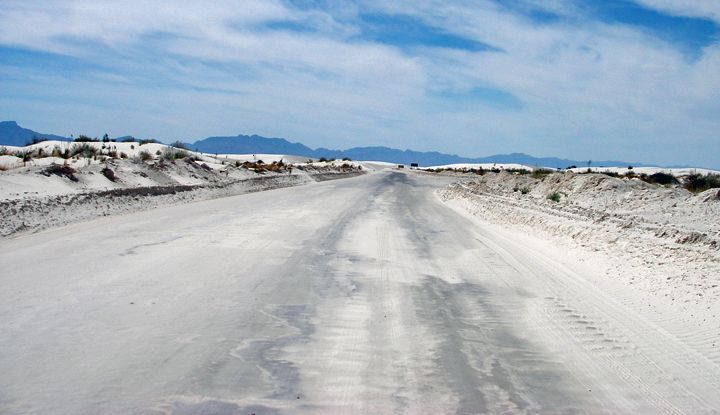 Riding on sand

The sand was very well packed and hard
I pulled in to the parking lot at the White Sands National Monument and went inside the visitor center. I was glad to see a water fountain, by then I had already drank most of the water I got at City of Rocks State Park. I filled up my bottles and went to get some info on the place I wanted to camp at tonight. I only had one question "Was the road through the camp ground paved?". It looked like it was so my destination for tonight would be the Valley of Fires Recreation Area just a bit north of here.
The surface looks hard, but it is sand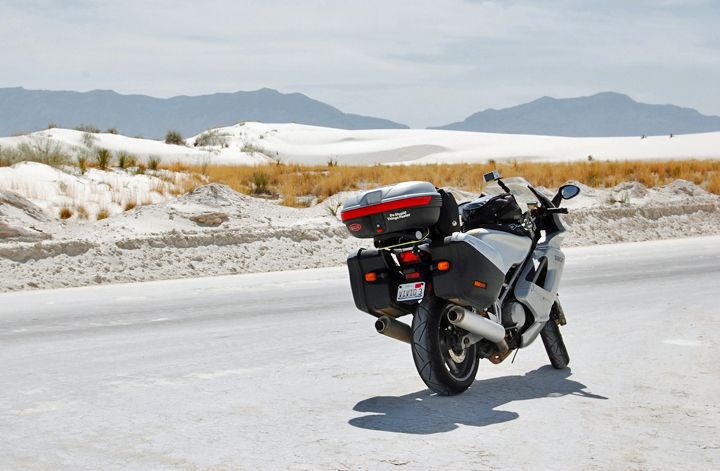 What an amazing - out of this world - scenery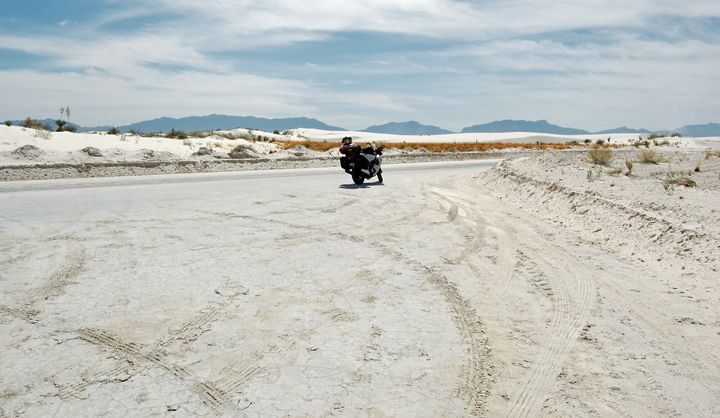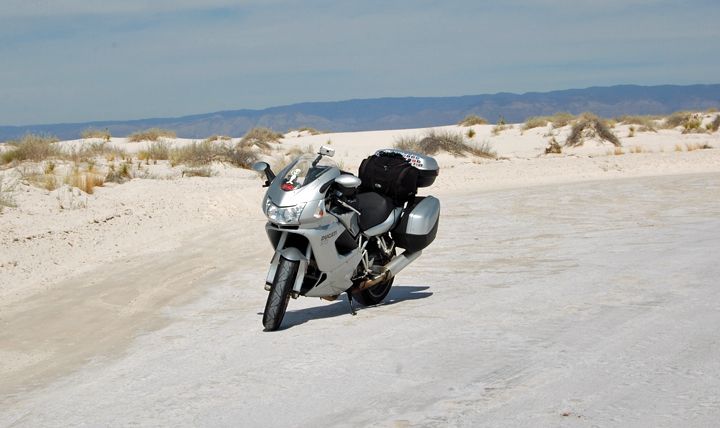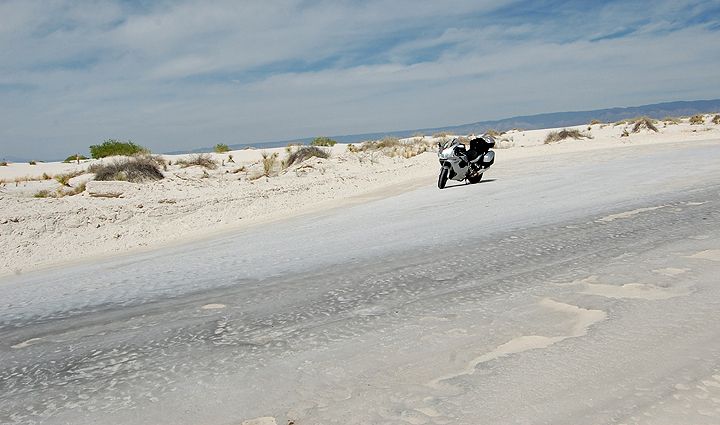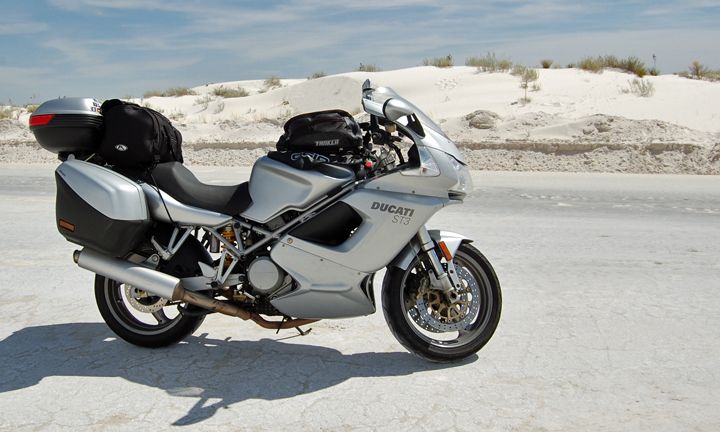 I got back on my bike and headed for the Dunes Drive. It's $3 to enter the White Sands National Monument, a National Park's Pass also works, which I was using to enter. I can't even describe how hot it was here at White Sands. I had this idea of doing a short hike before I got here but that wasn't going to happen in the middle of the day. It felt like 100 degrees.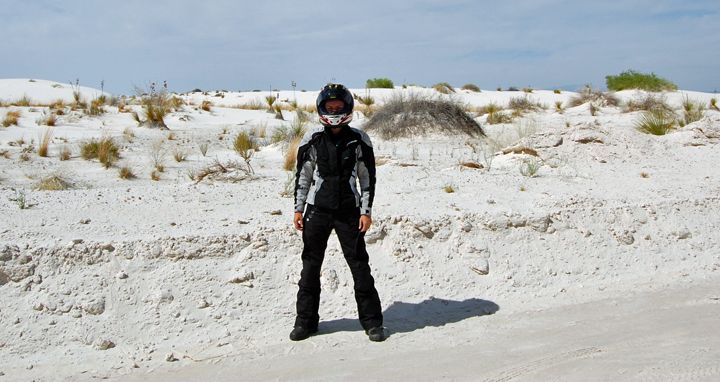 Posing with the sand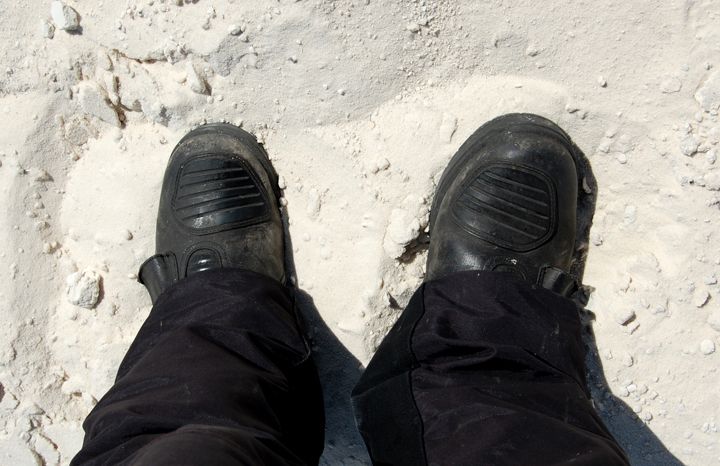 White, clean, soft sand - some one give me a beach ball
The blue ocean is just behind this dune right?
I could have sworn that I read that the Dunes Drive was paved for 8 miles. It was paved for a bit but then I go around a curve and I'm looking at a "Pavement Ends" sign. At first I start looking for a place to stop and turn around. I don't ride off-road on my heavy and loaded to gills ST3. But, as I look at the cars in front of me transition form the pavement to what appears to be sand, I notice that the sand is somewhat hard. I continue thinking it will either be OK, or I will just crash. Thankfully there was a lot of people here, so I should have had no problems getting someone to help me pick the bike up.
It was so hot here but I kept my jacket on, the sweat felt really good once I started riding again
The pavement ended and the sand road begun. There were ruts in the road, not so fun and I did slow down. But other then that not too bad. As I was riding on this road I was almost thinking that it has to be some kind of hard dirt, the way it felt under my wheels. Finally I saw a large pullout to park at so I did. As I put my kickstand down and got off the bike I examined the road surface closer and sure enough it was sand. Very packed but still sand. The layer of sand that was on top wasn't as hard packed as the stuff underneath. My kickstand broke through the top surface and I though it would sink in, but as I pressed on the bike, it wasn't going anywhere. I immediately got my water out and drank a whole bottle. I couldn't believe all the beautiful white sand around me. I was almost looking for that ocean in the distance but there was no water out here, just sand.
Another motorcyclist enjoying White Sands
Heading back out of the park
Since I was already almost at the end of the Dunes Drive I decide to turn around here, since there was plenty of space to do that. Who knows what the road looked like further up. I rode back through the White Sands National Monument, exited out of the park and continued to my next destination - Valley of Fires Recreation Area.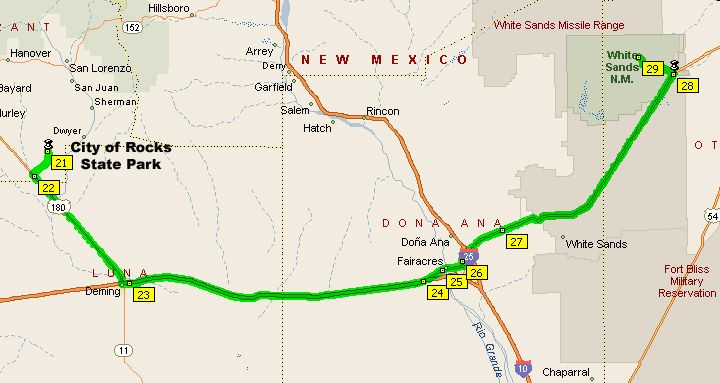 I rode about 150 miles from City of Rocks to White Sands - Hwy 180 to I-10 to Hwy 70