Jack's Gulch Campground is located just a bit over 6 miles from highway 14 on the dirt road called Pingree Park. By the time we got there, the rain had stopped. It was definitely cooler up here, the campground sits at 8,100 feet in elevation. The camping fee for a non-electric site was $18.
All the roads through the campground were dirt. We choose campsite #43 in the Yarrow loop. You could almost see the top of the nearby mountain from behind the trees from this camp site. The vault toilet was just two campsites away, and there was only a few other campers in the Yarrow Loop, but all of them were far away, so we couldn't even see them. The camp sites here are spaced far apart, which is very nice.
Jack's Gulch Campground, site #43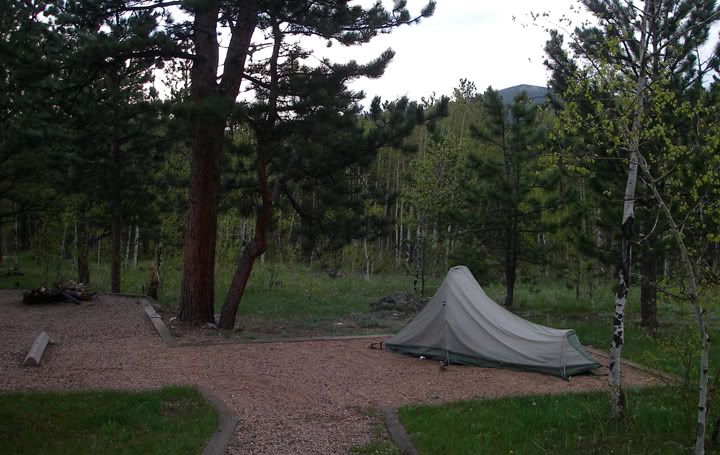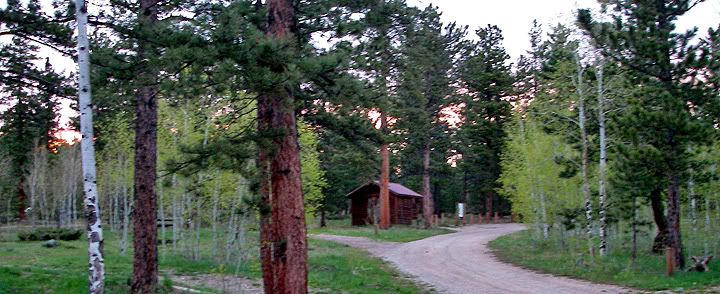 Restroom
Neither one of us had a pen to register the campsite, but the camp host was in and had a pen. Funny, I don't have a pen listed on my "packing list" because I always have one in my tank bag. Although I don't ride with a tank bag on the XT, so no pen.
After my tent was up, it was time for lunch. Then we headed for a
ride
. It must have rained pretty good at the campground while we were out riding all those hours, the picnic table was wet, as was my tent's rain fly. I also somehow forgot my rain pants today, which would have been nice to have.
Thankfully the rain was done for the day, although the air felt moist all evening. After some dinner we started to collect some wood for a campfire. Most of the wood was soaking wet but we did find some that was just damp. I brought the matches and Al had a MSR bottle full of gasoline, a few drops of that and before the sun completely diapered behind the trees, we had a camp fire.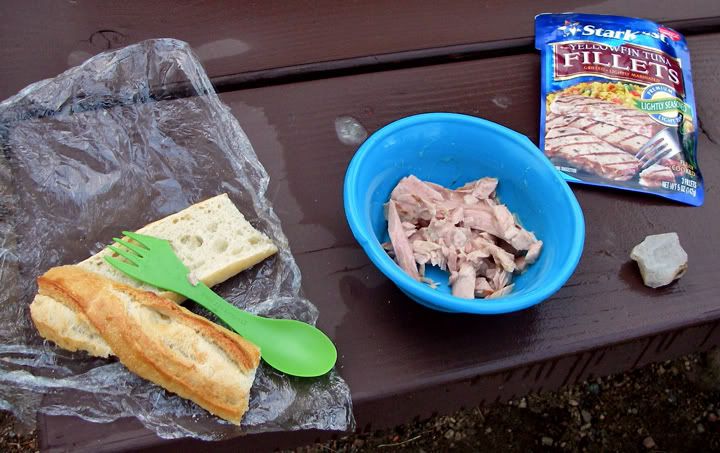 Dinner: bread and tune
The moon was just a sliver, the stars were out shining brightly in the dark sky. Since this is bear country, we consolidated all our food and toiletries in to one bag, which Al climbed a tree with, then hung the bag on a high branch.
After warming up near the fire and swapping motorcycle stories, it was time for bed. I climbed in to the comforts of my Sierra Design Light Year 1 tent, wiggled inside the sleeping bag liner, and then inside my super soft goose down +15 degree sleeping bag. Laid my head on my goose down camping pillow and set the alarm on my travel alarm clock. I still had on my goose down puffy jacket, fleece gloves and a hat. In the tent I put on my fleece leggings and my goose down camping booties. It was still in the mid or upper 30's but the temperature was dropping and who knows how low it would get. All these items I camp with bring me warmth and comfort, and are all very light, and pack small. Why not be comfortable.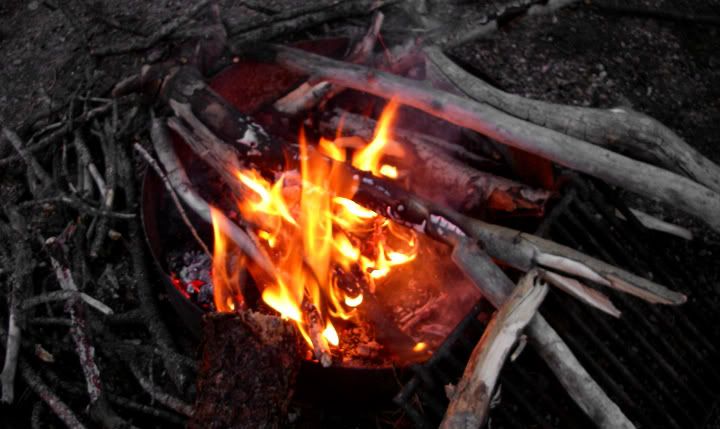 Campfire
Meanwhile Al situated himself around the campfire, where he was warming up some rocks to sleep with for warmth just like I've seen on those shows like "Survivorman" or "Man vs. Wild". I guess when one spends months in the trenches in Africa, one night in the Colorado mountains sleeping under the sky is no big deal.