This weekend the plan was to ride out to Eastern Utah, specifically the Flaming Gorge National Recreation Area for some camping and hiking. The roads are awesome around the Flaming Gorge, but to get there we will have to cross the flat portion of western Colorado.
Mike was trying to wrap up with work early, at 1PM I was already ready to go so I left Fort Collins. Mike was going to leave around 1:30PM. We were planning on meeting up in Walden. Even though I was going to leave first, I was stopping for pictures and Mike was going to leave later but just ride straight through, so we were hoping that we would arrive in Walden at the same time.
I took 14 out to Walden. There was a bit of traffic on 14 coming out of Fort Collins, but about 45 minutes later there weren't that many cars on the road. 14 is called Poudre Canyon, the first canyon near Fort Collins is fun, but the second one further west is even better. And even further west the road climbs over Cameron Pass and reaches 10,276 feet in elevation.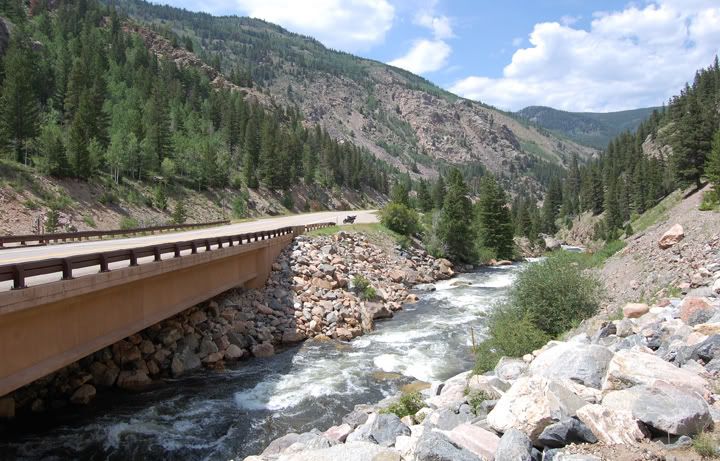 Poudre River crossing 14, my bike looks so little on the other side
14 through the forest
14 through the mountains
Amazing mountain scenery on 14
I arrived in Walden, gassed up, grabbed some soft serve ice cream to cool off since today was another hot day in the mid 90's. I checked the phone but there was no voice messages so I waited and waited and waited, around 4PM Mike pulled up. I guess he left me a text message saying that I should continue to Steamboat Springs because he wasn't leaving Fort Collins until 2PM. For some weird reason my phone didn't indicate that I had a new text message, and I didn't think to check.
In Walden Mike turned off his Tiger and again a puddle of antifreeze started to form under his bike, this time we were not even that high in elevation, Walden is located at 8,099 feet in elevation.
Mike's Tiger looses some antifreeze again, this time at 8,000 feet in elevation

Together we headed to Steamboat Springs continuing on 14 west, which gets a little flat past Walden, then taking 40 west to Steamboat Springs. Right before getting to Steamboat springs 40 gets interesting as it climbs through some mountains and then down in to town. There are two passes to go through, Muddy Pass at 8772 feet in elevation and Rabbit Ears Pass at 9426 feet in elevation. 40 has some passing lanes, so there is no need to sit behind slow cars, which is nice.
Bikes at the gas station in Walden, CO

14 not so twisty West of Walden, CO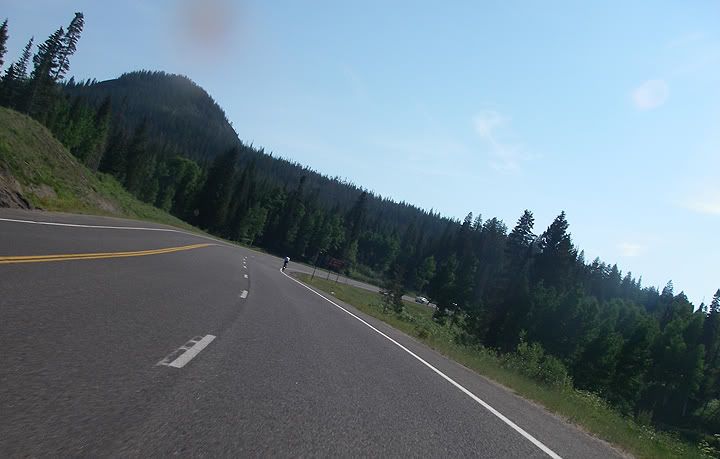 Passing lanes and curves on 40 East of Steamboat Springs

40 near Steamboat Springs

Heading in to the setting sun on 40 west of Craig, CO
Past Steamboat Springs the road straightens out. We grabbed some fast dinner at the McDonald's in Craig. It was getting late already and we still had a bit to go. Back on the road riding into the setting sun. The plan was to grab a camp site at the Dinosaur National Monument, we really didn't do a whole bunch of research about the park so when a sign came up for Dinosaur National Monument and camping we turned thinking this was it. At the time we didn't know that there were three entrances for Dinosaur National Monument, two in Colorado and one in Utah. The one we turned in to was 53 miles east of the main headquarters.
The 12 mile road through Dinosaur National Monument to Deerlodge Park Campground
A short dirt road that goes to the Deerlodge Park campground

Deerlodge Park Campground was located here. $8.00 per night and only 8 sites available. No showers and only vault toilets were available but these were really nice vault toilets. With hand sanitizer and a sensor so at night if someone opens the door the light comes on. And Deerlodge Park is located along the Yampa River. From the main road you have to take a hard packed dirt and gravel road, I don't really enjoy riding dirt/gravel on my street bikes, but this wasn't bad at all.
Yampa river running through the Deerlodge Park Campground

This dirt was hard packed and easy to ride on

Yampa River
Our camp site
Deerlodge Park Campground

In the spring and early summer the boat ramp and campground are very busy since this is the main launch point for river trips on the Yampa River. After mid-July, Deerlodge Park is a quiet, out of the way retreat.
Bikes parked for the night

Well, it would have been quiet except for that rowdy bunch that were inflating their rafts until 10PM and drinking, eating and talking until 11PM. The temperature was still very comfortable in the 60's as we went to bed. Too bad about the group of 9 that just couldn't keep it quiet, the full moon rose over the river but it was hard to enjoy it with people yelling back and forth and the sound of air pumps inflating rafts near the river. During the night the temps dropped another 20 degrees, I was wishing I brought all my clothes in to the tent but they were on the bike and I wasn't getting up in the middle of the night getting them.
When we pulled in to the campground there were signs everywhere to watch for rattlesnakes and there was a whole area closed off. The grass at the remaining camp sites was cut very short, probably so the snakes could be seen easier. I only saw one snake today, the one Mike also ran over while turning from RT 40 to the Dinosaur National Monument.
We rode 260 miles today; simple route for today 14 to 40