Today after Mike got done with work we did a popular Fort Collins, Colorado motorcycle loop. Within minutes of leaving Jim's house we were riding a road and looking at a 20MPH curve sign. The road climbed up high and we rode around the Horsetooth reservoir and then continued on Stove Prairie Road or 27, that's what my mapping software calls it. Stove Prairie is a tight little road, narrow at times, with some really tight and fun curves. The speed limit on this road varies at times I've seen it posted as low as 20MPH and as fast as 45MPH. I've noticed that the locals tend to drive fast on it. My favorite feature of this road is the immaculate pavement. At the end it dumps you on to another great road, 14, or the Poudre Canyon as the locals call it.
Horsetooth Reservoir
20MPH speed limit on Stove Prairie Road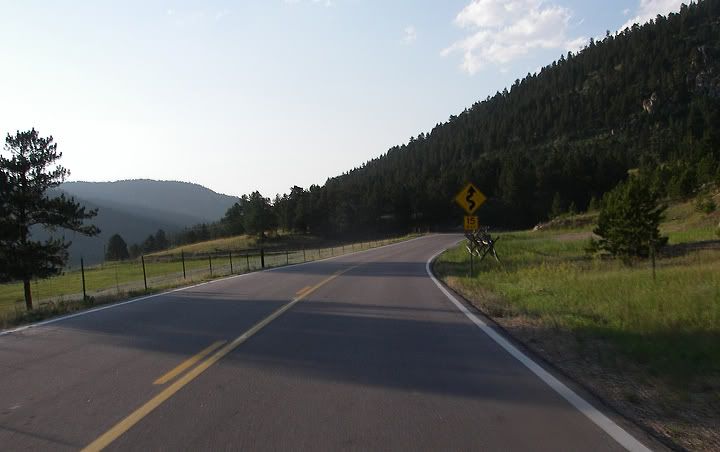 Tight stuff Stove Prairie Road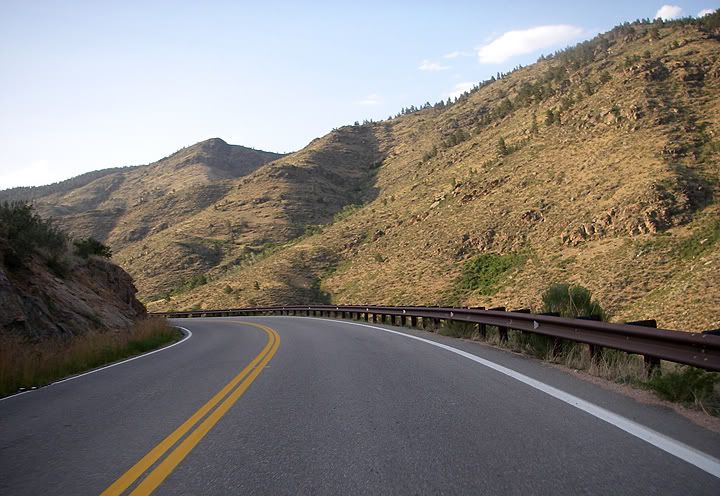 Some nice hills on Stove Prairie Road
The Poudre Canyon runs along the Poudre River short for Cache la Poudre River which is French for "hiding place of the powder".
Poudre River running next to Poudre Canyon, AKA 14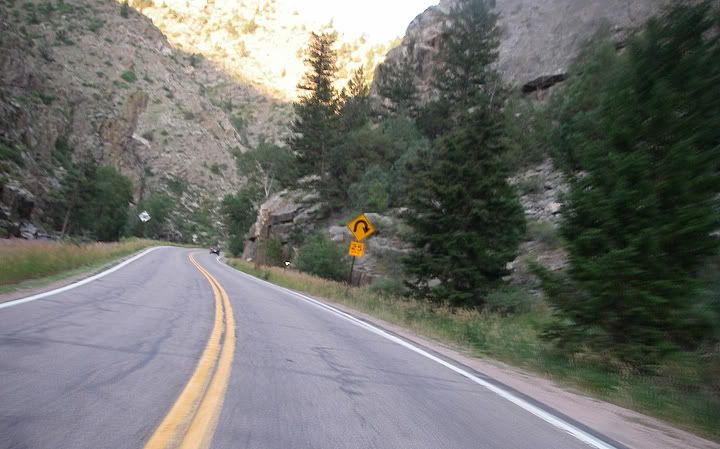 Tight curves through the canyon on 14
After that we were supposed to turn on 54G but by mistake I turned on 54E. This was definitely not the road we were supposed to be on, it was only paved for a bit. Mike went and checked it out, it was dirt for a while. Too bad my XT225 was in Illinois, this road looked like a lot of fun.
The moon was already out and it was starting to get dark so we decided to head back to the house and finish the route some other time, we only skipped the last good road that makes this a loop.
So far we really like the town of Fort Collins. The people here are really laid back, down to earth and nice and having these roads within minutes of the house isn't bad either.
Posing in front of the cool rock formation

We seen this rock formation from 287 the other day, it's way cooler here on 54E
54E is paved a bit then becomes dirt
A really cool 70 miles route: 38E to 27 (Stove Prairie Rd) to 14 (Poudre Canyon)