After some fun at the Rocky Mountain National Park it was time to head to Colorado Springs. We were going to stay there until Friday with my friends Paul and Deb. I wanted to head to Colorado Springs via a mountain route, Mike was concerned that the PT Cruiser would guzzle too much gas and have problems on the steep roads. We agreed on a 160 mile route around Denver. Taking RT 36 to Lyons, then through Boulder, then 93 through Golden to 6 to 470 to I-25.
That's a lot of stuff
Hitting the road
The route looked good on the map but in actuality, most of these roads were jammed packed on this Sunday afternoon, especially 7 and 36. With the temperatures again in the upper 90's sitting in traffic was very unpleasant. The fan on the 954RR was running constantly, the engine's temp readout displaying 216 degrees while sitting at every red light.

Riding 93
Near Golden, Colorado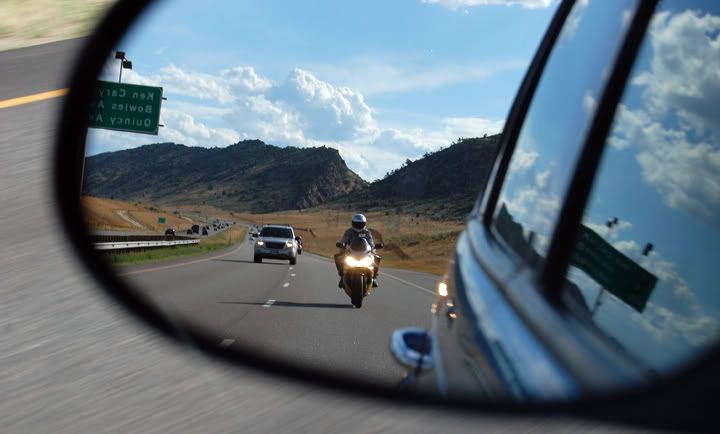 I think this was 470
On I-25 with Castle Rock behind us
Finally on 470 we started moving as this was the highway that went around Denver. I-25 south was a bit busy also but not too bad. The 170 mile trip took over 4 hours. We skipped lunch so by the time we got to Colorado Springs we were ready for an early dinner. It was 7PM already.
We arrived at my friends house around 8PM. I stayed here one night in September of 2006 when my friend Sandy and I were riding back from Utah. back then this neighborhood was on the edge of town with nothing much around it. Now there were more houses in the distance, the sprawl was in full force here in Colorado Springs.
160 miles later we were in Colorado Springs