After 5 wonderful days we are leaving Broomfield behind. Rita and Carl had been great hosts and we really appreciate letting us stay with them. By 2PM we were all packed and on our bikes heading north.
It was 97 degrees today. Yea, it's dry heat here in the high desert with very low humidity but when you're on a bike that is running at 215 degrees and you're not moving fast its really, really hot. This was our first taste of the awful I-25 here around the Denver area. I've heard stories before, now I believe them. We got on to the slab and I -25 was a complete mess, not only was there a lot of traffic even at this early hour but there was also construction and an accident.
We inched along painfully while sweating profusely. After about 15 minutes of that my clutch hand felt like it was going to fall off. We decided to ride shoulder for a while, not totally legal but at this point totally necessary. But this was only temporary since through the construction zone there was no shoulder open and we had to merge again and creep along with all the semis and cages. Finally the traffic started moving along and we were making some progress northward. From Broomfield to Fort Collins is only about 55 miles, what should have taken one hour took two on this highway.
There was also a bit of traffic in in Fort Collins as well as it was nearing the rush hour. We arrived at Jim's house just around 4PM. Jim moved up here from Illinois last year. Although we have never met him in real life, I've been reading his ride reports for years. He is an avid tourer who also posts on the same message board as Carl and Rita and myself.
The plan was just to dump off some of our things here so we didn't have to lug them with us up to Wyoming this weekend. We were planning on spending the week here with Jim and would be returning here Sunday night.
Within 30 minutes we were on our way north. 287 was a wide road with many passing opportunities and some nice scenery. We got in to Laramie, Wyoming which was 20 degrees cooler then Fort Collins and most of the ride up. There might have been a storm brewing near by or something. We fueled up, grabbed some dinner at the Qdoba, layered up and hit I-80 heading west.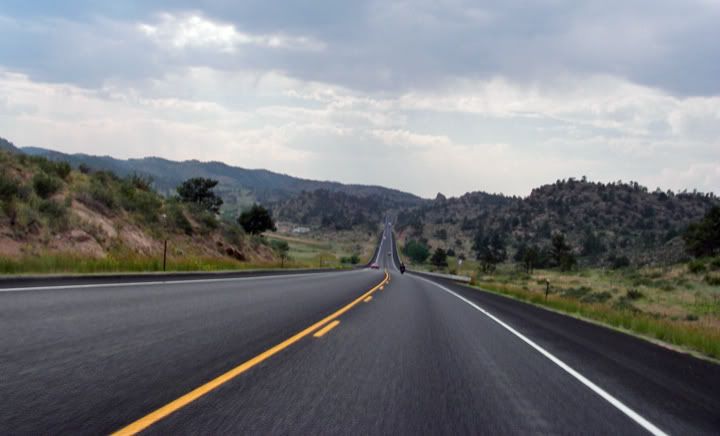 287 heading North from Fort Collins, Colorado to Laramie, Wyoming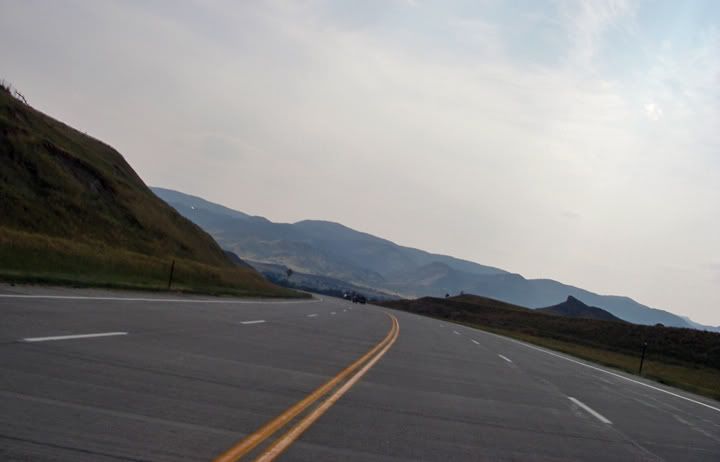 Many passing opportunities on 287 as two lanes became four
We didn't know how many miles we were going to able to put on today but the plan was to ride until an hour or so before sun set and camp. Tomorrow we were going to ride out to the Grand Teton National Park and we wanted to be able to have lots of time to see the sights, the only way to do that was to leave today and get lots of miles in. The Grand Tetons after all were located in Wyoming close to the Idaho and Montana borderes, quite a bit of miles from Northern Colorado.
Empty I-80 through Wyoming
We were making some good time on the interstate, but all the sudden I saw Mike pulling over in my mirrors. I thought he was pulling over because he was cold and wanted to put more layers on. The temperature was in the upper 60's now.
After what felt like a long time I started to worry though because I still didn't see his bike. When he pulls over to do something he usually catches up to me. I had dropped my cruising speed so there was no reason for him not to catch up.
Finally I arrived at our exit. This is where 287 continued north to the Grand Tetons and Yellowstone National Parks. I parked my bike near the exit so he could see me but after half an hour I became concerned. I haven't seen him for over an hour and half now.
The scenery from the 287 exit
Wyoming is pretty flat through here but the elevation at this exit is 6,755 feet above sea level
Just as I was trying to figure out what to do, I couldn't sit here any longer, I saw Mike's bike in the distance. He told me he had bike problems. He wasn't puling over, his bike just decided to die on him and he coasted to the shoulder. After taking stuff apart to see what might have happened he realized that the connector that holds the fuel hose to the fuel tank popped off. He connected it back up and was on his way.
It was going to be dark in less then an hour and if we took 287 North we might not find any camping right away. There were many motels at this exit and the next exit but we didn't want a motel room. As for camping, there was KOA Kampground at the next exit in Rawlins and a state park one exit back but it was way off the interstate and it would for sure be dark by the time we got there. We rode over to the KOA in Rawlins. The parking lot and road around the campground was made out of big gravel. All the tent campsites were taken, we got a RV site at the back of the campground, there were only two sites left when we got here. The site was really close to the main entrance and right next to the interstate, not a great location, but at $24 it was way better then a motel room. Unfortunately there was not good place to set up the tent, so we had to do it on the gravel. The bathrooms were really nice and clean though. After we set the tent up we went straight to bed to get an early start tomorrow.
Broomfield, CO to Rawlins, WY... we did 223 miles today