It was a another really cold night. Actually the only body part that was really cold throughout the whole night and never warmed up - my feet. Even though I had two layers on my legs and two pairs of socks on my feet, the sleeping bag liner and my 40 degree sleeping bag, it just wasnot enough. If it wasn't that they were locked up on the bike and I didn't feel like getting up in the middle of the night, I would have wanted to put on my liners from my riding pants for that extra warmth.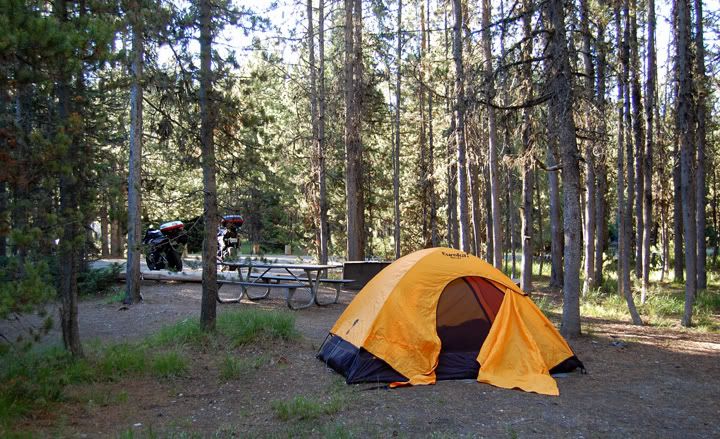 Our camp site at Colter Bay, Grand Teton National Park
My alarm went off this morning but I stayed in the tent for a while, it was just too cold outside. Finally, moving at the speed of a sloth I crawled out, walked to the bathroom, flushing toilets, running water but no showers. Then I started on my breakfast. Mike was still sleeping.
I was still wearing my fleece balaclava rolled up like a hat and my silk glove liners. I slep in them to keep warm, it helps to have something on your head in cold temps. I tried to take off my glove liners this morning but it was just too cold, had to leave them on. The sun was already up but the dense trees were preventing the sun beams from penetrating through the dense foliage. It had to be in the low to mid 40's this morning. The Colter Bay campsite sits at 6,800 feet in elevation, I wouldn't want to be camping any higher than that without a zero degree sleeping bag.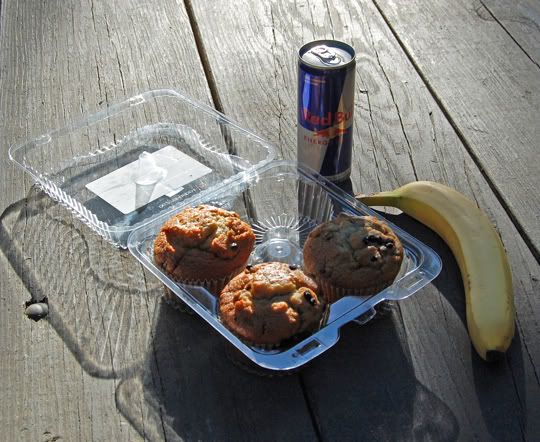 Since there is a grocery store in the park, we made sure yesterday that we would have a good breakfast today
Finally we got everything packed up and headed to one more place in the park before hitting the road back to Colorado. I really wanted to see Jenny Lake. When I was here in 2002, this was the one place I spend any decent amount of time at in this park and I wanted to see if it was still the same as I remembered it. The road to Jenny Lake is narrow, not very twisty, mostly flat one way loop. The parking lot was busy. This seems to be one of the more popular places in the park.
Heading south on Teton Park Road
We walked down to the water, took some pictures of the lake but couldn't hang out too long. We had a large amount of miles to get through today before arriving in Fort Collins, Colorado. By the time we got to the park's entrance, it was already noon. From here we continued on 191 heading south, riding through Jackson, Wyoming. I think the town has grown since the last time I've been here but it's still a pretty cool town.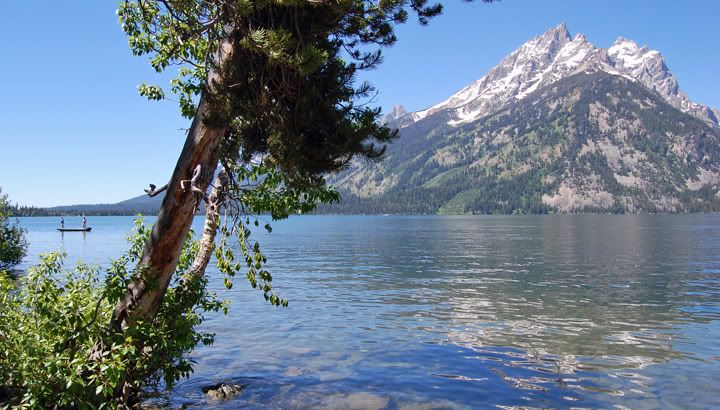 Jenny Lake
Posing in front of Jenny Lake
191 south past Jackson had some amazing curves and scenery as it ran adjacent to the Snake River. But further down the road straightened and became flat.
Jackson, Wyoming - a really cool town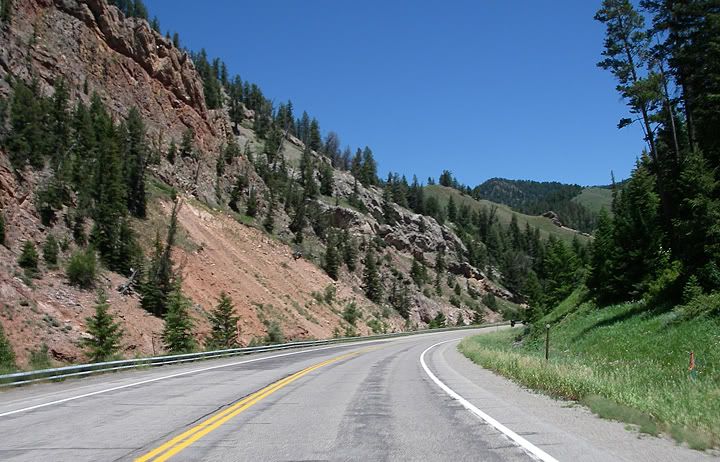 The folowing pictures are of RT 191 south of Jackson, WY - we had fun on this road
191 and Snake River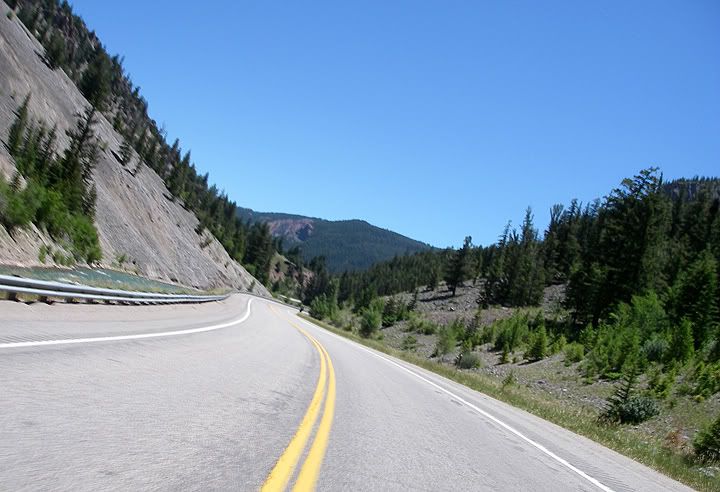 One of the gas stops was in Pindale, Wyoming. The gas station was right next to a store and deli, a quick lunch is all we had time for today. Obo's Market and & Deli had a lot of good stuff and pre-made sandwiches. It was a really neat store. The sandwiches were not cheap, around $6-7 and we didn't want to get too stuffed, so we split one turkey sandwich and some potato wedges. The tables and chairs outside were great since it another beautiful day.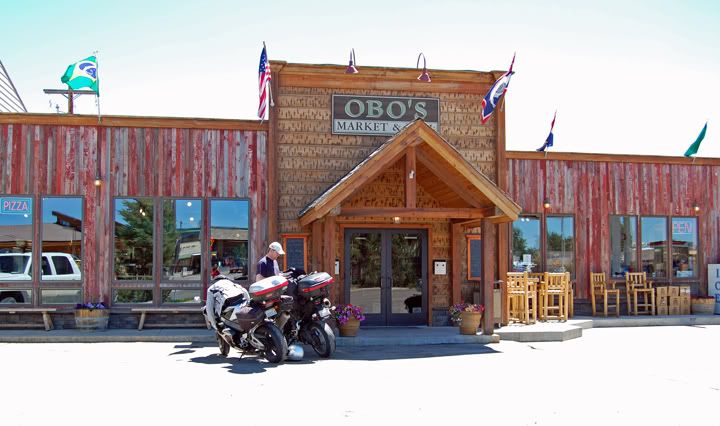 Lunch at Obo's Market & Deli in Pindale, Wyoming

Lunch: splitting a turkey sandwich and potato wedges
The rest of 191 seemed to drag on. Finally we made it to I-80. Originally I had us routed on I-80 for a bit and then were supposed to take some other back roads all the way to Fort Collins, riding through the Medicine Bow Mountains of Wyoming but my GPS was telling me that if we took this route we wouldn't make it to Fort Collins until 11PM. We left the park too late to take back roads, we would have to stay on I-80 and take 287 south back again. As much as I try to ride different roads to the destinations and back, riding on 287 back to Fort Collins wasn't boring at all. The road looked totally different going the other direction plus the sun was low on the horizon and all the rocks were glowing amber from the setting sun. Too bad the battery died on my bike mounted camera and I didn't want to waste any time to pulling over to put a fresh one in. 287 heading south from Laramie to Fort Collins is definitely the better direction to ride, you are heading downhill and you can see all the mountains in the distance. There was a bit of traffic on this roads but there are enough passing lanes that you don't have to endure sitting behind the slow car caravans too much.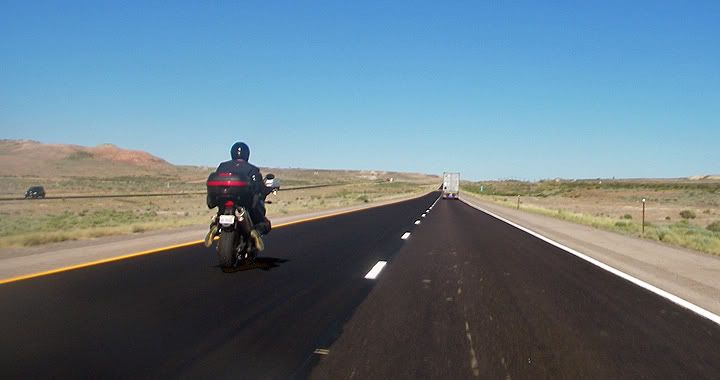 I-80 heading East to Laramie, Wyoming
In Fort Collins we grabbed a quick dinner at Wendy's and we were at Jim's house just a bit after 9PM. Not too bad for leaving Grand Teton National Park at noon.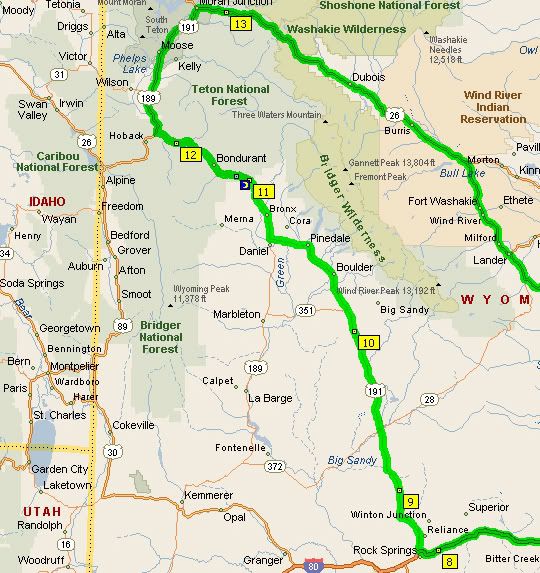 Todays route starting at the Colter Bay campsite at the Grand Teton N.P. to Fort Collins, CO was 478 miles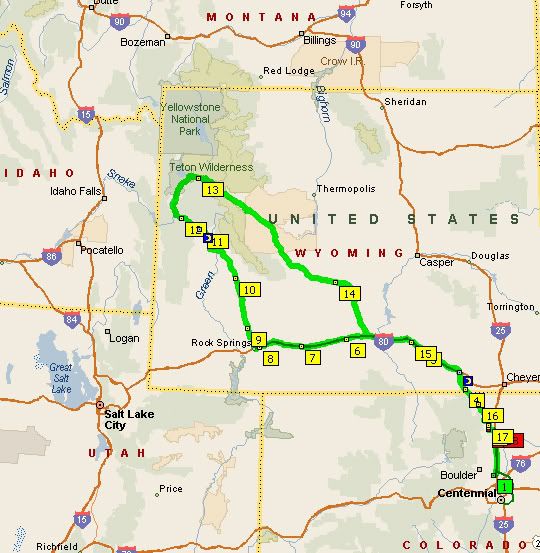 This whole weekend's trip was 1,005 miles total