We wanted to arrive in Sedona on Sunday in the early afternoon. So we left Fort Collins at around 1PM on Saturday. The plan was to take a nap in the car when we got tired, but pretty much drive straight through.
Weather was nice and sunny when we left. Traffic was good all the way down I-25. Having eaten only breakfast we made some sandwiches to take with us which we ate in the car while driving through Colorado Springs. By the time we got to Springer, NM we started looking for some food places, unfortunately we didn't bring any snacks with us to hold us over until early evening.
We have a rule for road trips and the rule is we only exit the interstate if we see the place right off the interstate. If we don't see it from the interstate, we keep driving. That saves some time and a few miles.
Too many times we've exited the interstate because the big blue sign said there was a McDonalds at that exit. Then we get down to the end of the ramp and the little blue sign informs us that the McDonalds is actually 2 or 3 miles away.
So on this trip we didn't see any restaurants off the interstate. Not passing through Las Vegas, NM or even Santa FE. It wasn't until Albuquerque where we saw a few lit up signs indicating fast food places right off interstate. And from all the choices that were presented to us - well, there actually weren't as many choices as you would think there should have been in a big city as this - we chose McDonalds. The other places weren't even busy - which is not a good sign for a fast food restaurant on a Saturday night. Anyway, you can never go wrong with chicken McNuggets with BBQ sauce.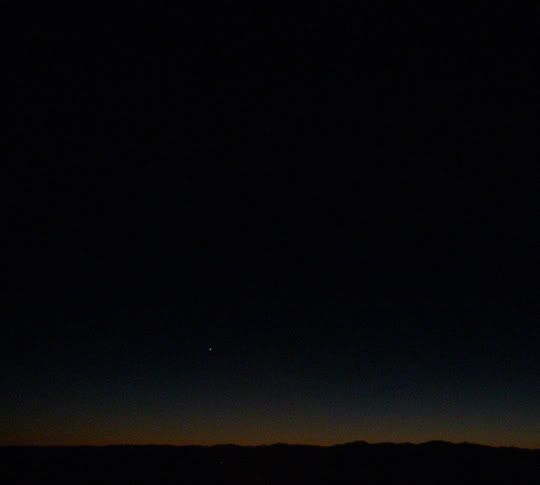 Saturday night sunset in New Mexico: That dot in the sky I think is the planet Venus

Snow? There was barely any snow on the shoulder of the road near Fort Collins, but none in Denver or Colorado Springs. None in the whole state of New Mexico even. We finally started seeing snow in Arizona just after crossing the state line. Needless to say we spent a very, very cold few hours sleeping in the car. Arizona should be warm right? The overnight temps were only in the teens.. brrr. I was inside both of the zero degree sleeping bags, my head totally covered by one of them. It was doable, but not enjoyable.
As usual we pulled over to sleep at an interstate rest stop. I think it was the first Arizona welcome center rest stop. This being a weekend and it being still close to the holiday travel time, there was lots of cars in the parking lot. Lots of motorists taking a break from driving. Well, the Acura RSX-S is not as comfortable to sleep in compared to the Toyota 4Runner but we didn't plan on sleeping very long. We pulled in there after midnight or so and were back on the road before 6AM. First stop of the day, you guessed it, McDonalds. Sausage egg McMuffin anyone?

Sunday morning driving through Arizona, some power plant ahead of us

East of Flagstaff, Arizona approaching the San Francisco Peaks
We had some time to kill and stopped at the Petrified Forest National Park but they didn't open until 8AM, the gate was closed, it was only 6:30. So we kept driving. We arrived in Flagstaff around 9AM. Flagstaff had so much snow, it was unreal.
Lots of snow in Flagstaff, turning on to 89A heading south to Sedona
Since we were arriving early in Sedona we decided to stretch our legs with a short hike. It was really cold in Flagstaff, and cold on 89A when we stopped a few times. By the time we got closer to Sedona it wasn't cold at all, maybe upper 30's. It was still early in the day.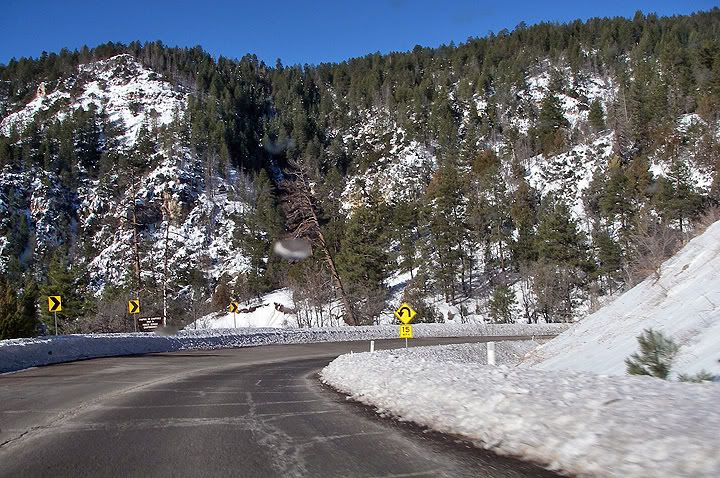 Super tight curves on 89A
Catching a glimpse of the red rocks through the trees on 89A
The hike was super short, but it felt good to get out of the car. I hiked some of this trail when I was here in December of 2005, I was curious to see it again. Back in the car continuing on the twisty 89A in to town. We found the timeshare and checked in.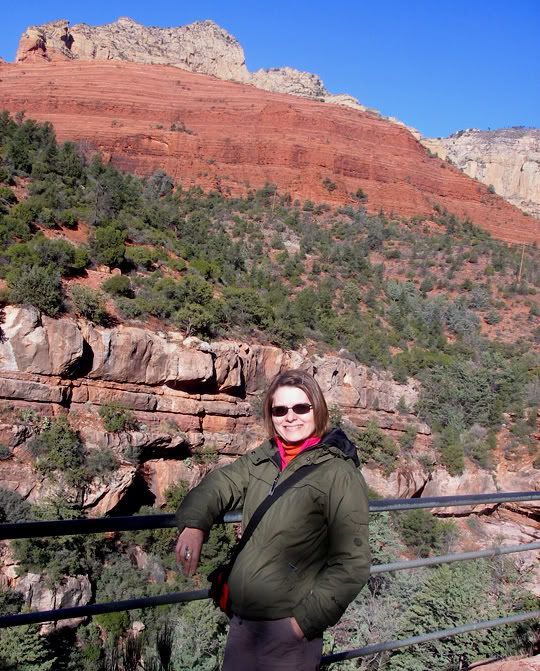 Posing with the Sedona red rocks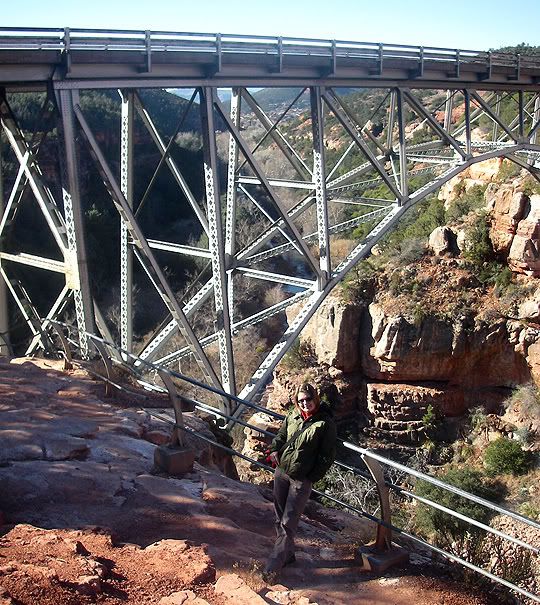 At the bridge overlook off 89A
Huckaby Trail starts at the bridge overlook - this is a bit down the trail where the bridge comes in to view again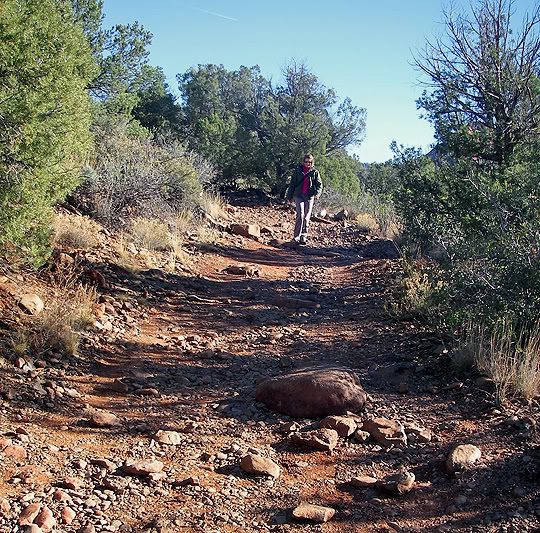 On the Huckaby Trail - after so many hours in the car it was good to stretch the legs for a bit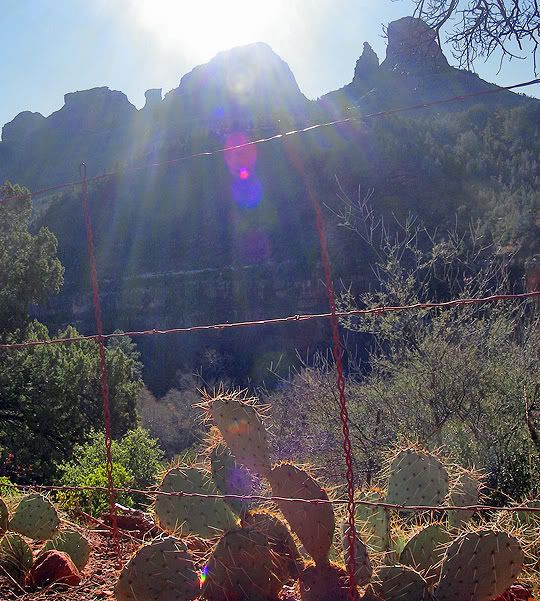 Cactus and the bright Arizona morning sun
Today was a recovery day, we had no plans other then to relax and then relax some more. Tomorrow was going to be a very long day.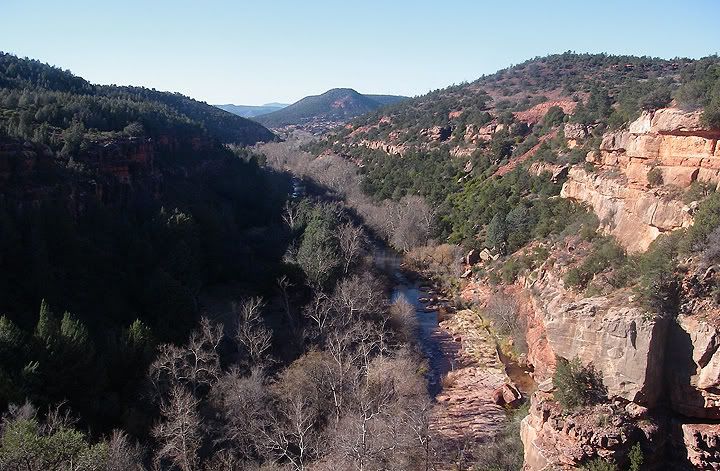 Oak Creek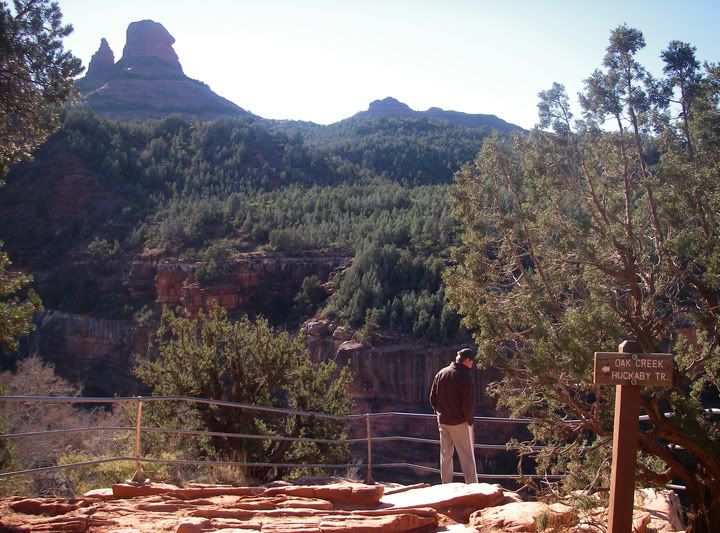 Mike at the overlook, this is where the Huckaby Trail starts
In Sedona we settled in to our room, then we did some grocery shopping, had some home made turkey sandwiches for lunch. Mike decided to say in and relax and I went for a walk around town. The high temperatures of the day were only in the upper 40's today but the sun felt very warm. No heavy jacket needed, just a thick fleece.
The weather must have turned cold recently, there was lots of ice on the sidewalks in the shadows and I almost fell a couple of times not paying attention where I was stepping. It was nice being back in Sedona. I've been coming here since the early 90's. I can't believe how much this town had grown over the years.