If you're already into hiking, getting in to snowshoeing is easy… you basically just need to pick up a pair of snowshoes. There are many different styles of snowshoes in every price range. Any why not just continue hiking in the snow, why does one need snowshoes? In the mountains there are trails where so much snow falls, the only way to get through those trails is with snowshoes or cross-country skis. The snowshoes allow you to basically walk on top of the snow whether there is a foot of snow or six feet of snow on the ground.
We've been looking for some snowshoes and gear since November. Always on a look out for a good deal to save some money. A few weeks ago Mike found a sweet deal on a brand new pair of last year's model 2007 Atlas 9 snowshoes at half price. I couldn't find any sweet deals like that, I looked on line and in the stores and even last years models were going for almost the same price as this years models of snowshoes so I picked up a pair of 2008 Atlas Electra 9 using a 20% off store coupon. We both ended up with the Atlas brand of snowshoes. We were told they have really good bindings, are comfortable and light and not too expensive. They are a well known brand and have a good reputation.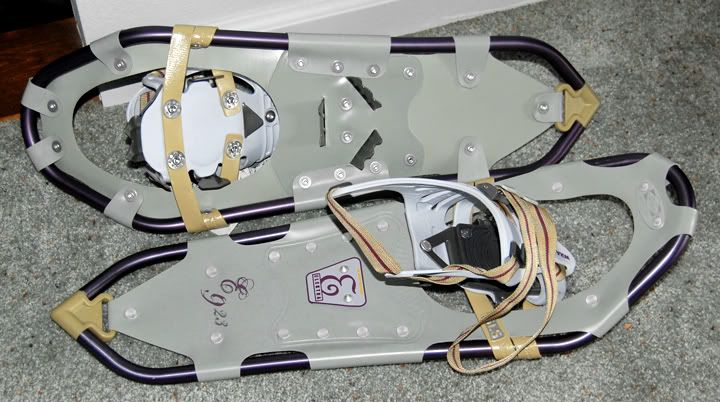 My Atlas Electra 9 women's snowshoes

Mike's Atlas 9 men's snowshoes
We also needed gaiters, they keep the snow out of your boots an keep the bottom of the pants dry. You can find a good pair of gaiters for around $20-$40. We both ended up buying REI gaiters. Instead of getting dedicated snowshoeing poles, which run at least $30 for a set we ended up getting snow baskets for our trekking poles. Mike found some snow baskets for his Black Diamond trekking poles right away for about $5. I had to go looking around for snow baskets for my Leki trekking poles, finally picking some up for $7 just a couple of days ago.
Mike still needed some warmer and better quality hiking boots. He's been getting by with his old boots but those weren't really made for serious hiking. He was slowly doing his research on which boots to get. There are many types out there, I should know, I have vented hiking boots, backpacking hiking boots, trail running hiking boots and snow hiking boots.
Mike wanted one pair of boots to do everything, and just as we started to think about heading out for our first snowshoeing experience he received a gift certificate for the holidays. That same day before the store closed he went and picked up his Vasque hiking boots, same brand that I have used for hiking since 2002 for most of my hiking. Although I have a pair of Salomon snow boots for winter and I'll be using those to snowshoe with.
Having all the necessary stuff now we knew that we would be jumping on the first opportunity to go snowshoeing and that was going to be tomorrow. The weather for this weekend was supposed to be very cold, highs only in the teens but tomorrow was going to be 40 degrees and sunny. 40 in town probably meant only about 20 degrees in the mountains. This first snowshoeing trip was just to check out our gear, it was going to be a short one. We wanted to make sure we were comfortable snowshoeing before tackling any long trails.
We also attended a presentation on snowshoeing last week by Alan Apt, a local hiker and author of the book
Snowshoe Routes: Colorado's Front Range
. We got a good idea now on where to start our snowshoeing adventures.