The day before Thanksgiving we were driving through Louisiana on I-49. As we got closer to Natchitoches (pronounced NACK-uh-tush) which was also the location the movie "Steel Magnolias" was filmed, I remembered that years ago I stayed in this town while on a motorcycle trip. I did a short ride through town back then and really enjoyed the cobble stone roads through town and the wrought-iron balconies that reminded me of New Orleans. Or should that be the other way around since Natchitoches was founded in 1714, a few years before New Orleans. Natchitoches is famous of Meat Pies, but I didn't know that when I was there years ago and since have thought I missed out on something special.
As we got closer to Natchitoches we realized that we had no clue where to get the famous meat pies was and we didn't have time to get off the interstate and drive in the town hoping for a sign or billboard directing us to the meat pie place. We figured that going out of the way would waste too much time and the odds on finding the place was slim. So the meat pies would have to wait for another trip, but when that trip does come at least next time I know where to go. 622 Second Street at Lasyone's Meat Pie Kitchen. Famous for like their fried meat pies, dirty rice, hushpuppies the size of tennis balls, and Cane River cream pie, named for the stream that meanders through town.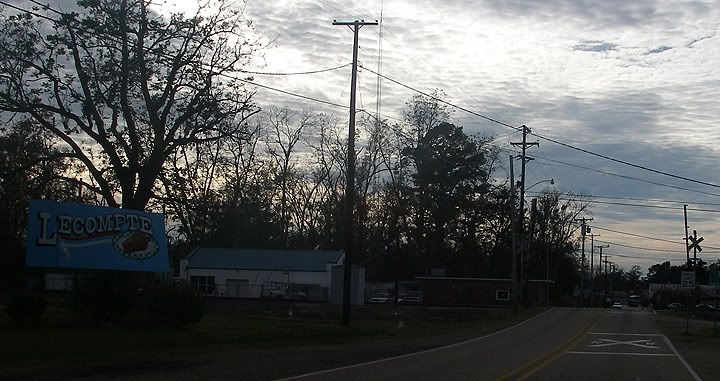 As you enter the town of Lecompte, you see this sign with a single slice of pie on it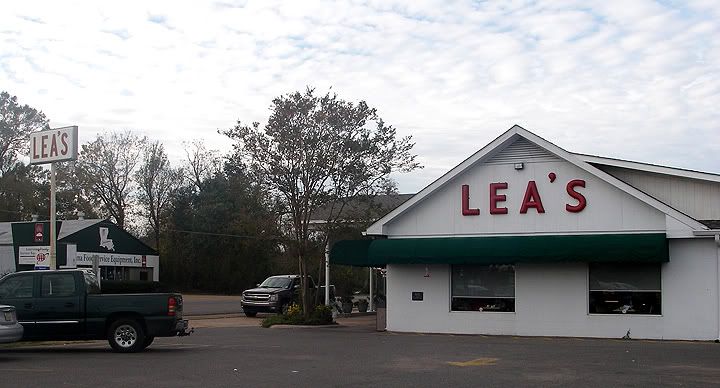 Lea's Lunch Room in Lecompte, Louisiana
Continuing south on I-49, now really getting hungry since it was way past lunch time already, Mike remembered another place right off the interstate that he hasn't been to in years; Lea's Lunch room in Lecompte located on US Highway 71. Since 2001 the town of Lecompte has been named as the "Pie Capital" of Louisiana and it's all because of Lea's scrumptious pies. The restaurant is so famous for its homemade pies that it was even featured on "The Tonight Show " in 1989 and the owner Lea Johnson was interviewed by Johnny Carson.
Free samples of chocolate crème pie arrived with our drinks

Lea's Lunch Room was established in 1928, lots of history here. As we sat down we noticed a huge line of people waiting for their pies. We just came here to have some lunch but since tomorrow was Thanksgiving we decide to also buy a pie. In 45 minutes the next batch of pecan pies were coming out of oven. Mike placed an order for a pecan pie and then we ordered lunch as we watched people coming in and waited in line to get their pies.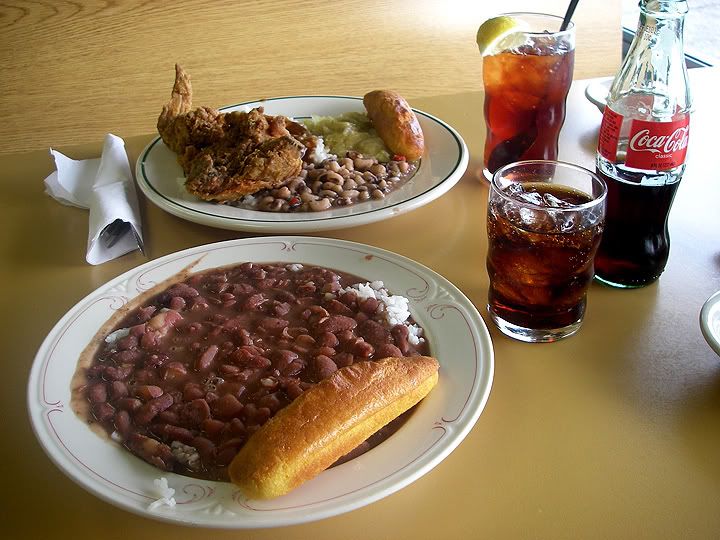 Mike ordered friend chicken with cabbage and blacked eyed peas, I had the beans and rice plate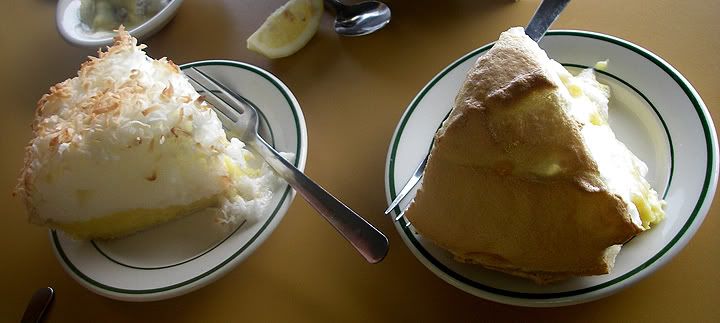 Coconut crème banana crème pies
We didn't do any research prior to going to Lea's so we didn't know that other then pies, Lea's was also famous for their ham sandwiches. Mike ordered the fried chicken plate and I got the beans and rice. Unfortunately, I have to report that neither of us thought our food was all that wonderful and cheap it was not. Don't get me wrong, the food wasn't bad, I just think that Mike's beans and rice is better. We had to wait a bit longer for our pecan pie to come out of the over, so while we were waiting we ordered a slice of pie each. Mike had the coconut crème and I had banana crème. We also got samplers of the chocolate crème pie, I liked this one better then the banana I ordered.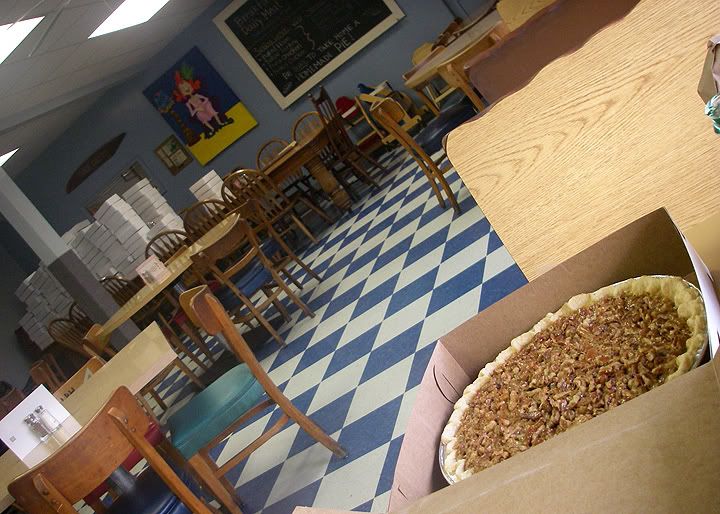 Our pecan pie, notice the stack of empty pie boxes waiting for their pies on the table in the back
All in all a great experience, and I still can't believe how many pies they sold just in the short time we ate our lunch, I'm guessing at 60 or 80, maybe more, some people were walking out with three or more.
We ate the pecan pie from Lea's the next day at thanksgiving, it was delicious. But at $20+ each, not cheap but worth every penny.