That title pretty much sums up our Thanksgiving trip to Louisiana and Illinois. With no bikes and no riding on this trip, this post is a "food report". Louisiana is known for great food, so is Chicago. And of course Thanksgiving day was spent eating turkey, stuffing, yams (what we call sweet potatoes in the north), green bean casserole, pumpkin pie and much more. But Thanksgiving was only one day of the eleven days on the road.
The other days were a mix of fast food and good food. The fast food was eaten while driving. We don't stop much while driving, we eat many meals in motion, or stop briefly to eat. I guess you could say we just want to get where we're going.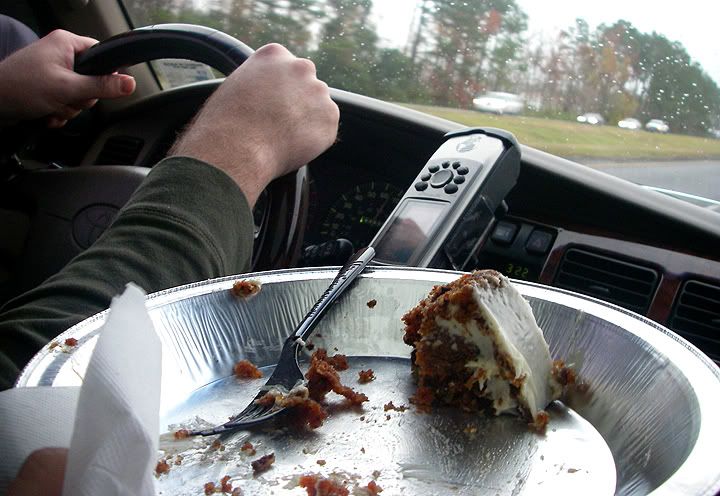 On the way to Chicago finishing Mike's brother's amazing carrot cake with cream cheese frosting - we need this recipe for sure
The fast food places we at ate on this trip were McDonalds - not because be like McDonald's food but because they are everywhere. Also Dairy Queen, Sonic, Taco Bell and one of my favorite fast food places - Jack in the Box. I only get to eat at Jack in the Box a few times a year, there aren't any restaurants in Northern Illinois, and the ones in Colorado are around Denver.
I was bummed to find out they have discontinued the Blueberry French Toast Sticks, those were so good. They still have the regular French Toast Sticks, so I will survive I guess, not as good as the blueberry ones but still pretty good. And they are served all day so that's nice.
A fresh donut for breakfast somewhere in Texas
Besides the fast food, which we like because it's fast and cheap - we only eat fast food when traveling - we also had lots of great food on this trip starting with really good Mexican food outside of Fort Worth, Texas with Mike's friend Heather and her husband David. We ate at Esparza's Mexican restaurant in Grapevine, TX which they like a lot - "Famous for Tex Mex - Notorious for Margaritas" is their slogan. Unfortunately I didn't bring my camera to dinner so no food pictures for this one. Imagine a large plate with three beef and mushroom enchiladas accompanied by rice and refried beans. I definitely recommend this place, the food was great. After two days in the truck, including sleeping in the truck the night before it was also nice to have a real bed to sleep in. Thanks Heather and David!
The following day we got in to Louisiana and stopped in at Lea's Lunch Room in Lecompte - pie capital of Louisiana. I will cover this in a separate post since Lea's is a famous place with lots of history.
In Lafayette we ate at Sonja's Cajun Deli, still owned by the same lady when Mike lived in Lafayette but back then when he used to eat there it was called Comeaux's. The restaurant known for their "lunch plates" is located in what used to be a gas station, the pumps are still there but there is no gasoline being sold. Inside there is a kitchen and a few tables, although most people take their food to go. I had a shrimp po'boy and Mike had crawfish etouffee. There were a few more places that we wanted to eat at on this trip but since it was the holidays many of the small family restaurants were closed.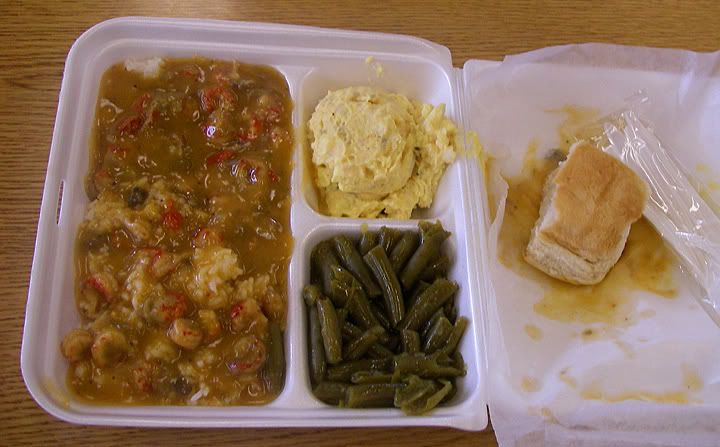 Crawfish etouffee lunch plate at Sonja's Cajun Deli in Lafayette, LA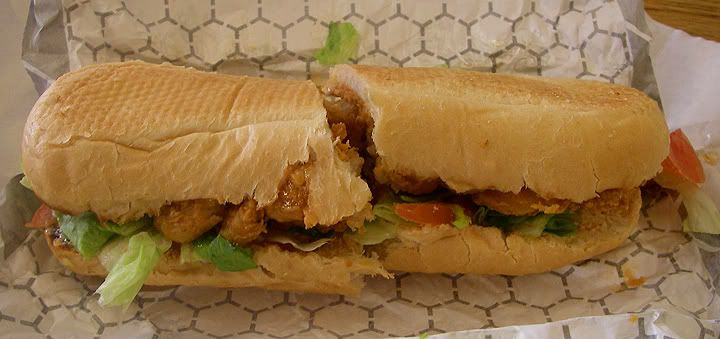 Shrimp po'boy at Sonja's Cajun Deli
The following day we were ready for lunch again, we stopped in at Louisiana Po'boys. Mike has never been there before and he was surprised that he knew the owner. The food was great, we both had shrimp po'boys. The po'boy was a lot better then the one I had the day before at Sonja's Cajun Deli. What makes a good po'boy is the bread, and the bread was much better here. No trip to Lafayette would be complete without eating some of Meche's donuts. And on this trip I even had a daiquiri. In Louisiana you can get a daiquiri at a drive-through since the passengers of a vehicle can drink. The daiquiri was awesome, just like the ones on Bourbon Street in New Orleans. And there was more good food in Opelousas, where we stayed one night with Mike's friend Chris and his wife Karrie. When we stayed there last year around Christmas time Karrie made some awesome bread pudding, we liked it so much that she made it again. Yummy!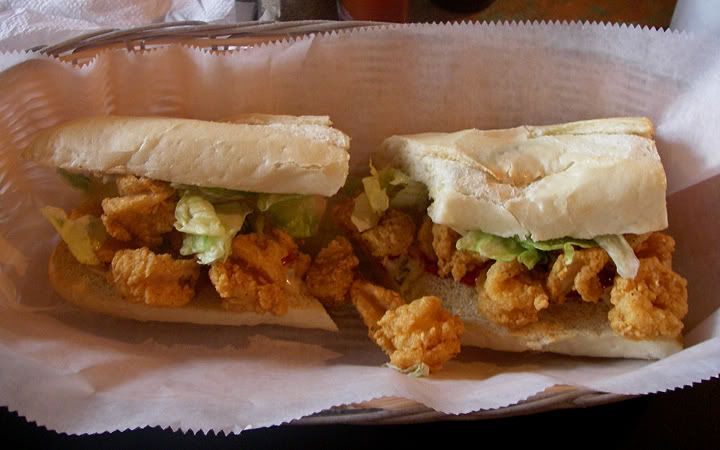 Shrimp po'boy at Louisiana Po'boys in Lafayette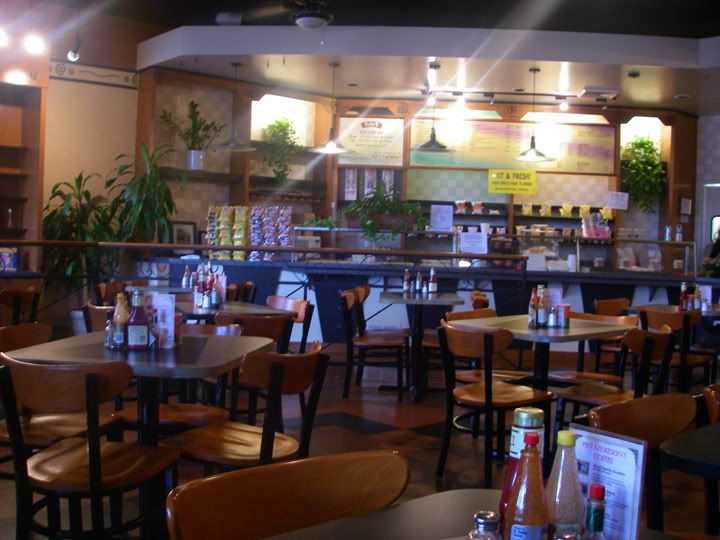 Inside Louisiana Po'boys - this is a nice place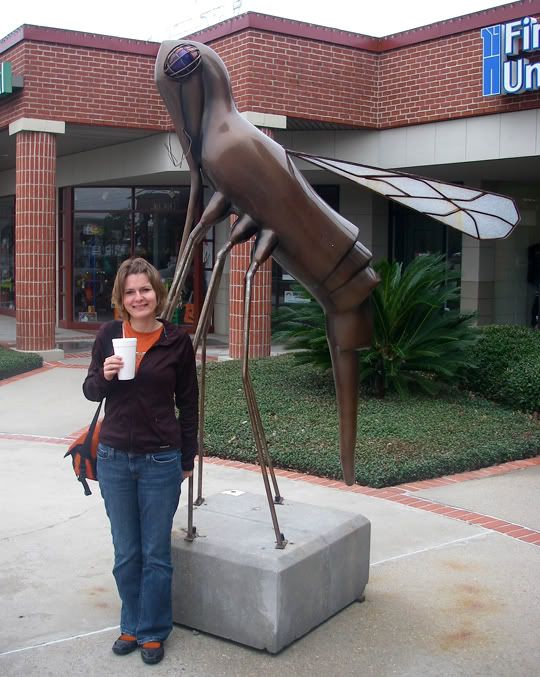 A huge mosquito outside of Louisiana Po'boys - the mosquito is the 'unofficial' Louisiana state bird, just like in Alaska and Minnesota

Daiquiris place in Lafayette
After so much great food we headed to Chicago and no trip to the "Windy City" would be complete without some Chicago stuffed pizza. We ordered a Giordano's pizza - it's one of my favorites - with sausage, mushrooms and onions. Also a stop at Portillo's is in order for a Chicago style hot dog. And probably unknown to most but I highly recommend it for authentic Mexican food is Rosticeria los Fernandez in Elmhurst. The chicken tacos and guacamole are just scrumptious. When we lived there we would buy the guacamole from them weekly, it's made fresh daily with lots of cilantro and onions.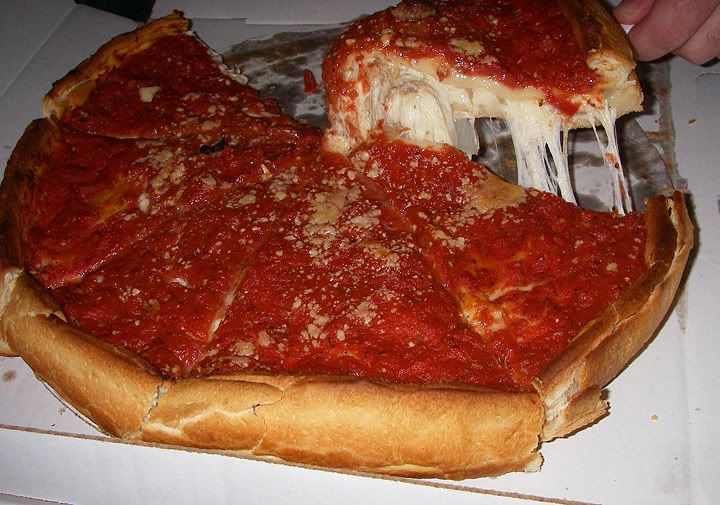 Giordano's stuffed Chicago style pizza available all over Chicagoland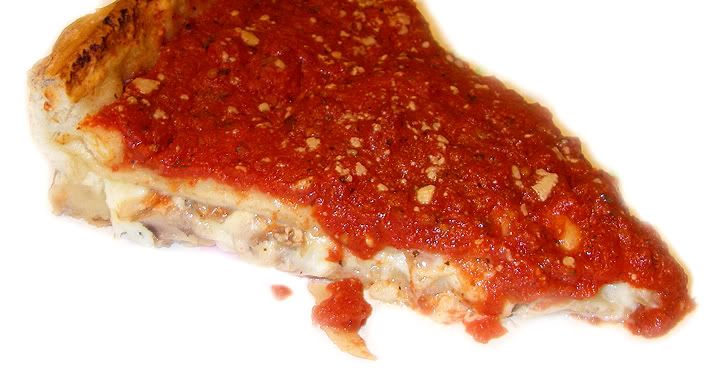 My mouth waters just looking at this picture - this was my slice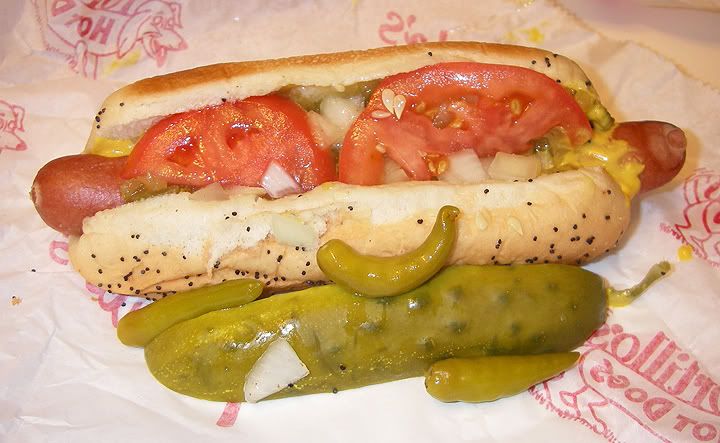 Portillo's Chicago hot dog available all over Chicagoland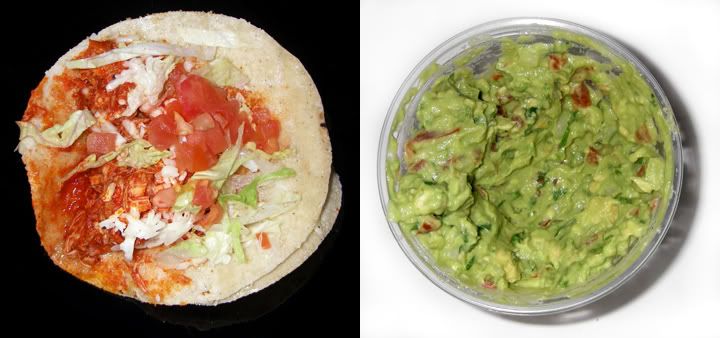 Chicken taco and guacamole from Rosticeria los Fernandez in Elmhurst, IL
Food, food and more food. Besides all the food we ate, we also got some food to bring back with us in coolers. In Louisiana we stopped at the grocery store to get some Boudin (pronounced boudan - the "n" at the end is almost silent) and Andouille sausage, some Pork Tasso that Mike will add to his rice and beans and Mike wanted to try a few different brands of roux (pronounced ru) for making his Gumbo. We also picked up some Abida beer from Louisiana and Shiner from Texas. Mike says bringing beer from other states to Colorado is like "bringing sand to the beech". It's true, Colorado is the "napa valley" of beer, thre is more micro breweries here then in other state and the beer is so good. But I also enjoy beers from other places, so we got three six packs to take with.
Unloading Boudin and Andouille Sausage from the cooler full of Chicago snow, cools better than ice and it's free
Jars of roux and Mike's favorite mayo
Last year we discovered this amazing beer brewed in Mississippi called Lazy Magnolia Southern Pecan. We only bought a six pack and it turned out to be one of the best beers I've ever had. We couldn't find any on this trip and we stopped twice in Mississippi looking for it. This year we came home with Abita Pecan Harvest, Abita Purple Haze and Shiner Munich Helles Lager special 99 year anniversary special brew. Last year we brought home the Abita Amber and Abita Turbo Dog and the delicious Lazy Magnolia Southern Pecan Ale. I think binging three six packs back with us is now a yearly tradition.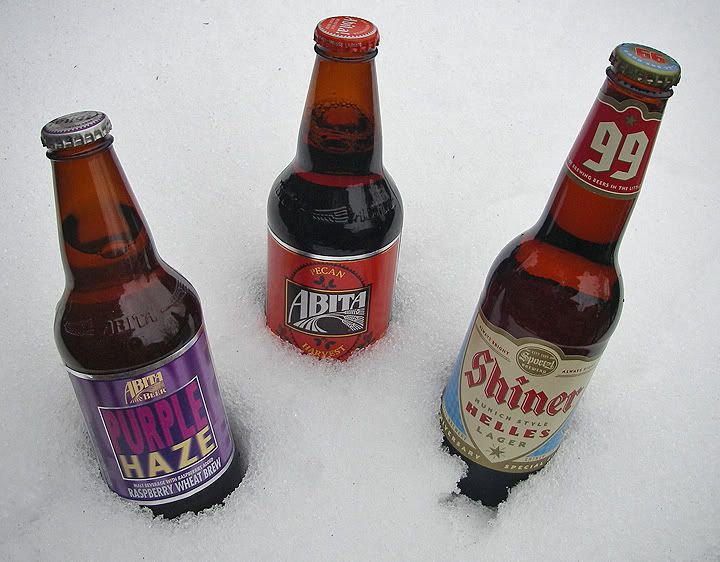 Abita Purple Haze, Abita Pecan Harvest and Shiner Munich Helles Lager
We were going to get more food in Chicagoland to bring with us, stuff we can't get in Colorado, but we ran out of room. I did bring back with me some of mom's home cooking, like her Polish cabbage, some goat and sheep cheeses (I love cheese and for whatever reason cheese in Colorado seems very expensive). Also brought back some Polish pork liver pate, Polish cookies, Kabanosy a type of Polish sausage and two frozen Gino's East stuffed Pizzas. We moved to Colorado with 4 of these frozen pizzas, we only had one left when we left on this trip, they are quite good. We're still looking for authentic Chicago style pizza here in Colorado but I doubt will find anything that tastes like a Giono's East, Lou Malnati's, Giordano's or Connie's.
As much as I miss some of the regional foods from other places - not having them here makes these dishes taste even better after not having them for a while.