It's amazing to think that in three days it is going to be a month since we've left Illinois. It doesn't feel like we've been out here that long. Having the opportunity to spend a week in Broomfield, two weeks in Fort Collins and a week in Colorado Springs, we felt that we've seen enough of the Front Range to make the decision of where we'd like to live.
This weekend just like the other weekends, we were planning on getting on our bikes and leaving Friday afternoon and doing some hiking and camping over the weekend. But this time we weren't just going away for the weekend. We knew our trip was possibly coming to end soon and we wanted to spend a week somewhere away from traffic, away from cities and suburbs, but we also had to watch our budget.
After a couple of days or searching the internet Mike found a motel room with in room wireless internet, a refrigerator and microwave all for only $44 a day. This place also had some good reviews, unlike the other places we found that seemed OK until we read some bad reviews. The location was also good, so unless this turned out to be a complete dump, this would be our home all next week.
Mike still needed to finish up with work, so I left Colorado Springs first since I still needed to get gas. He was going to leave about thirty minutes later. It was about 3:30PM traffic was heavy and the temperature was in the upper 90's in Colorado Springs. I took 115 south to highway 50 heading west, there were quite a bit of cars on the road until I got past Canon City.
In Salida I stopped to grab some quick dinner and get something to drink and to text Mike my location. The plan was if I didn't run into him in route I'd wait for him in Gunnison. After a 30 minute break I took off and continued west on 50. It's funny how the temperatures changes out here. It hot all day and all the sudden 7PM comes around and it's like someone turns on a switch and the temps get very pleasant.
Highway 50 west of Canon City, CO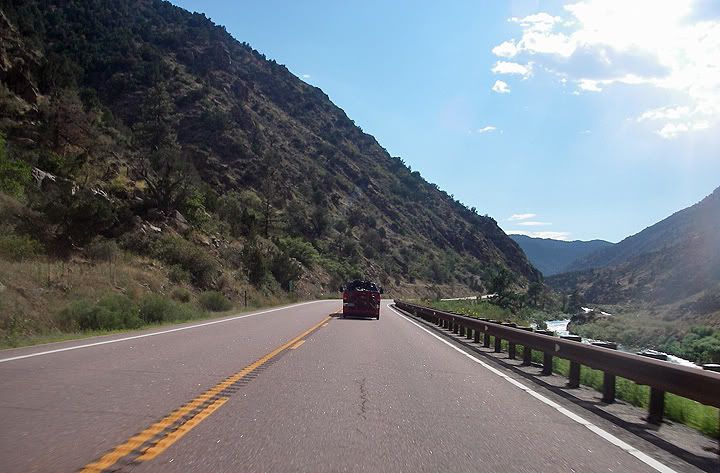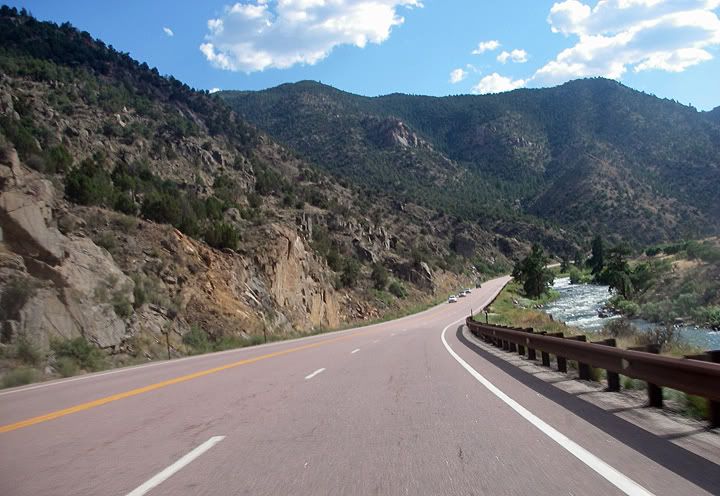 Highway 50 along the Arkansas River
I stopped for a picture at Monarch Pass, it was chilly at the top and I needed to put on an additional layer. The road around Monarch pass is amazingly fun even though there are no tight hair pins here. The last time I was through here it was barely 40 degrees, raining and very foggy and I still managed to have a blast.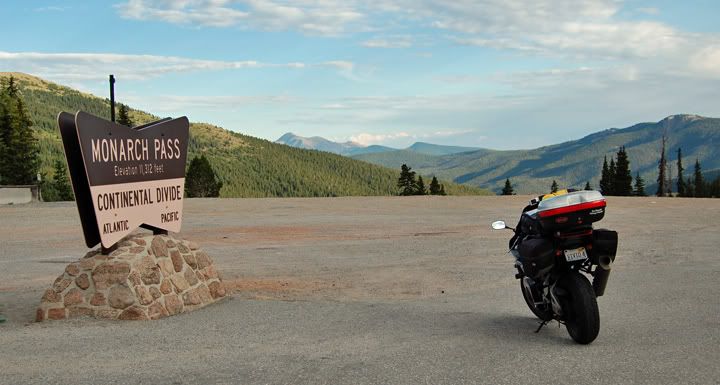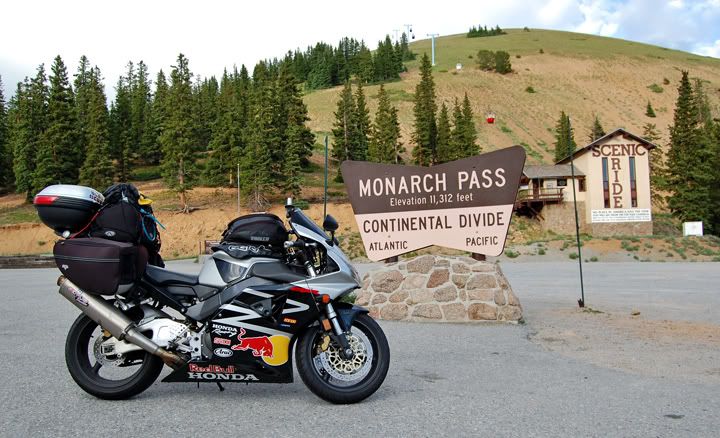 Monarch Pass at 11, 312 feet in elevation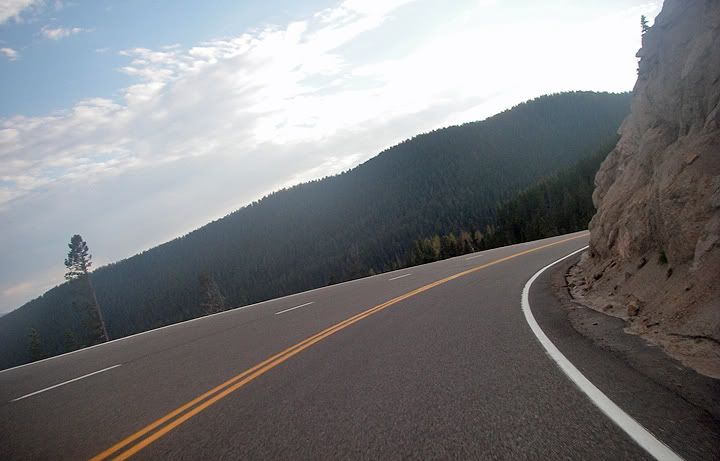 Highway 50 west of Monarch Pass
I arrived in Gunnison but still no sign of Mike. There was a text message from him though and it looked like he was about 45 minutes behind me. By the time he got into town it was time to change from our tinted shields to our clear shields and find a camp site.
Curecanti National Recreational Area located around the Blue Mesa Reservoir had a lot of campgrounds. Since it was getting dark already we pulled in to the first one that we saw The Stevens Creek campground is located 12 miles west of Gunnison and costs $12 per night. The campground catered to boaters and fishermen, all the sites near the reservoir were already taken but we found a few empty sites near the back of the campground. There were no showers here and only vault toilets.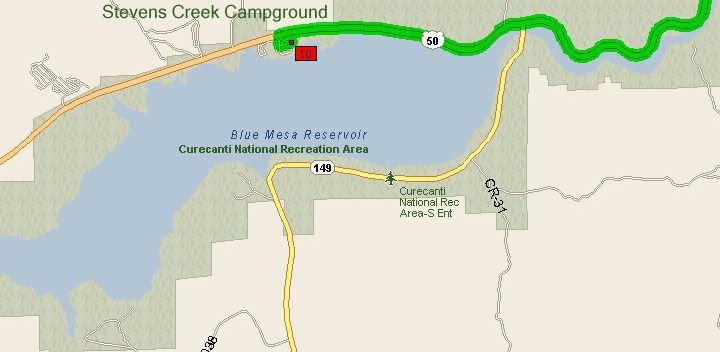 Stevens Creek Campground on Blue Mesa Reservoir

By the time we set the tent up it was completely dark. There was some fire wood left in our fire ring so we lit it but the fire ring was kind of far away from the picnic table and the tent so it didn't illuminate our camp site. The temperatures were pleasant and in the mid 60's and the sky was full of stars.
We rode 200 miles today: Colorado Springs to Curecanti Rec Area