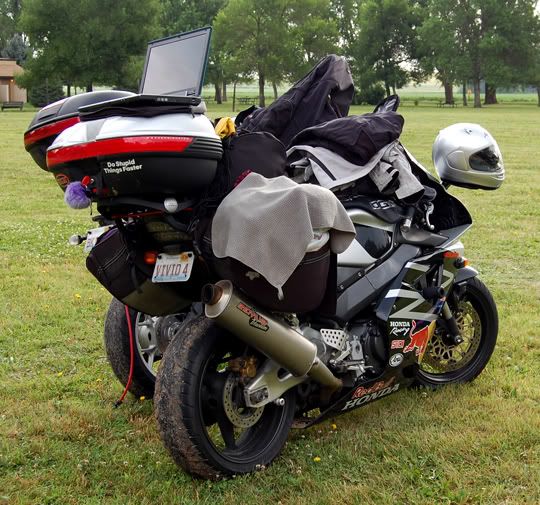 Moto-camping July 2008 - Nebraska
Back on July 4th I was packing the ST3 for the trip out west. I thought I was going to be on the road for 7.5 weeks and I was bringing all the things I might need during this time. Once the bike was packed I realized the ST3 was the heaviest it's ever been.
The ST3 has been very heavy two times before, the time I rode with my Friend Sandy out west in 2006 for 10 days (I brought lots of camping stuff and clothes) and it was even heavier when I did the 9 day southeast ride with Mike in 2007 (I brought my lop top).
While finishing packing I actually ended up taking some things out to lighten up the bike, but in the end the ST3 would not even be making this trip since it still wasn't running right the day of the departure. The broken valve spring which was fixed a few days may have been fixed but now the bike kept stalling.
We really wanted to leave on time and in a few hours I had all the items that were packed on the ST3 off the bike and I was trying to fit them on all on to the 954RR. Not everything would fit on the smaller bike with soft luggage so I had to leave a whole pile of stuff behind, basically clothes and luxury items.
I learned from this experience that very little can get me by on a trip. I have always packed light for trips regarding clothes but this trip would qualify as "ultra" light. All I can say is that I never missed the extra clothes I would have brought, well… there were only two things I wished I had brought.
Below is my detailed packing list with pictures.
Clothes
I brought
5 hot weather synthetic fiber, moisture wicking shirts
(there are only 3 in the picture because I'm wearing one of them and I'm washing the other at the time of the picture), two long sleeve, one short sleeve and two sleeveless. The benefit of these type of shirts is three-fold. They dry quickly so you can wash a shirt like that at night in the sink and it will be dry in the morning. They pack really small and don't wrinkle. And when you sweat the moisture wicks away from your body. 5 shirts was an ideal number for riding on this trip. I'd wash some in the sink if I needed and always made it to laundry day with no problems, which was once a week.
But when I was packing I forgot about something very important. What was I going to wear off the bike? I originally had a couple of cotton t-shirts packed but when I had to re-pack the bike I left them at home. This was a mistake since I didn't want to wear my wicking stuff on the bike and off the bike. I ended up purchasing two cotton t-shirts during the trip.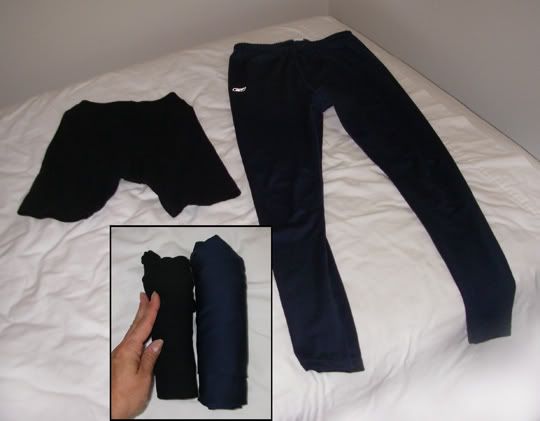 I also brought
moisture wicking layers for the legs
. When it's hot I wear short bicycle type moisture wicking shorts, when it's cooler I wear the long moisture wicking leggings which are made of a thicker material. I should have brought two pairs of the short ones, I wear those more often in the summer, That way I didn't have to keep washing the one pair over and over, sometimes daily. I also brought a pair of regular non-cotton shorts (not in the picture because I was wearing them at the time of the picture). Good for sitting around and sleeping.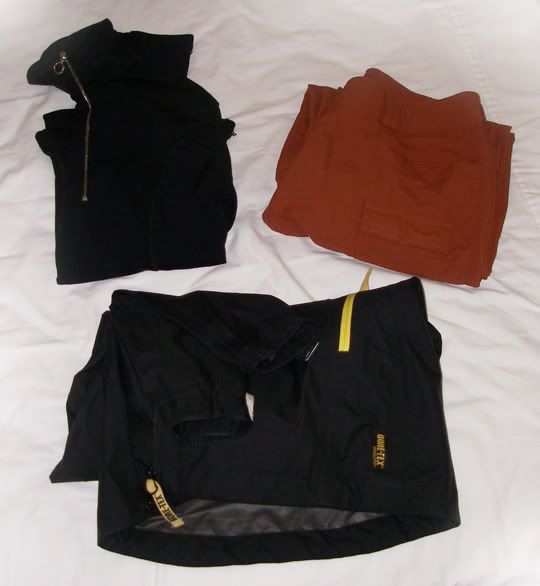 On this trip I brought
one pair of convertable pants
. These pants have zippers on the pant legs and convert to shorts in seconds - great for hiking. If you only bring one pair of pants these are the ones to bring. During this trip I never felt I needed a second pair of pants, even though originally I had packed two pairs, but left one pair behind.
For an extra warm layer, I had my
black thinsulated long sleeve pullover
with fleece on the inside.
And for off the bike and also used as a warmer layer under my riding jacket, my black
Gortex waterproof windbreaker jacket with a hood
.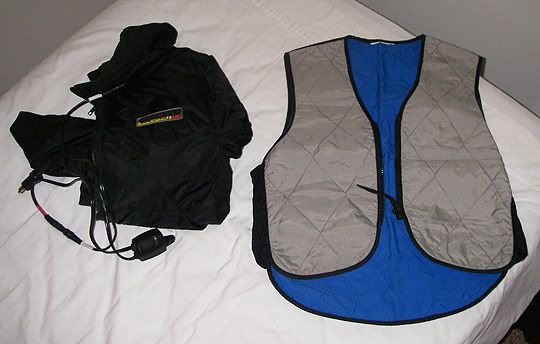 When it was really cold I would wear my
Gerbings heated liner
, when it was really hot I could wear my
cooling vest
. I ended up not wearing the cooling vest on this trip at all. I should have worn it on the ride through Arches National Park, it was so hot there, but I didn't bring it with me on this day ride, I left it at the motel - duh.
The one thing that I originally packed that I ended up leaving at home was the liner from my Fieldsheer jacket. I didn't have the space for two jacket liners and I couldn't wear them both at the same time anyway. On those really cold nights when we were camping, it would have been nice to have the Fieldsheer jacket liner to wear around the camp ground (it doubles as a jacket) and to sleep in. I wore the Gerbing liner instead as a warm layer but when the Gerbing is not plugged in it's not that warm, since it's not thick. I made do with it but thought the Fieldsheer liner would have came in handy a few times and it weighs hardy anything although it's thick and does take up some space.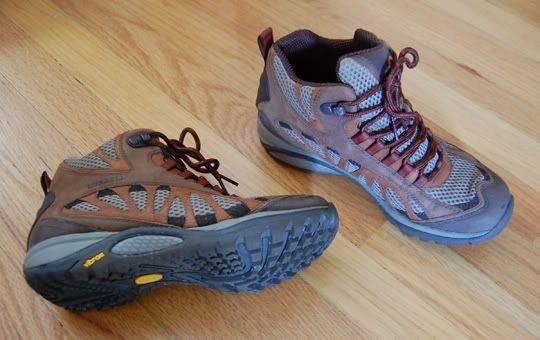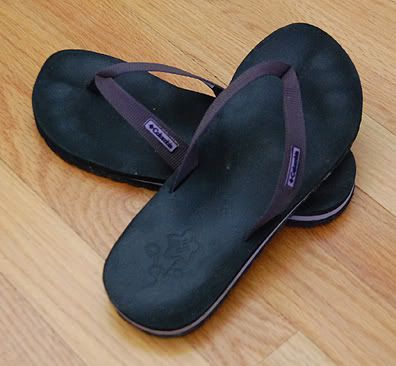 Besides my motorcycle boots I brought two other pairs of shoes. A pair of hiking boots and a pair of flip-flops. I always tour with my
flip-flops
. They are great for wearing in the showers at the campgrounds so that you don't catch some foot fungus. And they can be used around the camp site to air out your feet after a long ride. And as slippers in someone's home. They are small and weigh nothing.
The Merrill
hiking boots
above, I bought them just for motorcycle trips. I have a pair of Vasque hiking boots to wear for serious hiking, but they are big, bulky and heavy and much better for cooler temps. I needed smaller and lighter boots… lighter as in weight but also lighter as in for hot weather... and for bringing on the bike. These vented hiking boots are awesome for summer bike trips. They actually fit in my tank bag.
Motorcycle Gear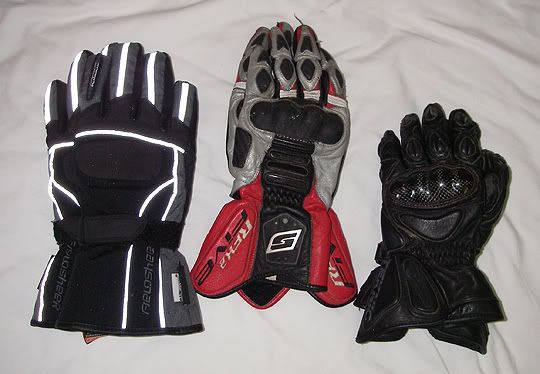 I usually tour with three pairs of riding gloves.
Rain gloves
and
two pairs of riding gloves
. The reason for two pairs is simple. If I lost a glove on a ride I would be out of luck. No MC dealer carries small gloves like the ones I wear. I like to carry two pairs just in case I loose a glove, which hasn't happened yet. It's also nice to have two pairs in case one gets wet in the rain. In light rain I wear regular MC gloves, it really has to be pouring for me to put on rain gloves.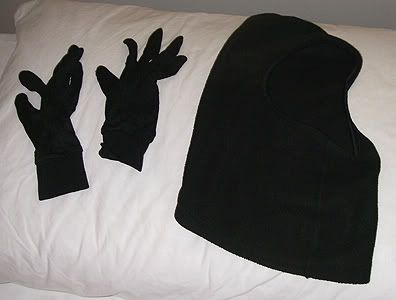 A
thin fleece balaclava
and
silk glove liners
can be used to wear under the helmet and under gloves when it's cold. While camping in cold weather I wear the balaclava rolled up as a hat and the glove liners serve well as gloves. The thin silk keep hands very warm and both these items weight practically nothing and take up hardly any space, so I take them along even on days rides.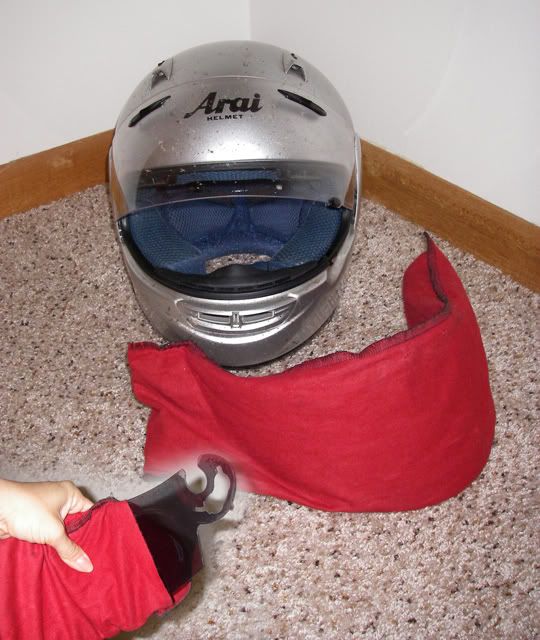 I always have
two helmet visors
with me, a tinted one and a clear one. The one I'm not using fits nicely in my tank bag. I have it inside a protective cloth so it doesn't scratch. A worn out long sock works just as well.
Electronics
Electronics weigh a lot. It's not just the items that you have to lug, you also need the power cords and the chargers. Unfortunately I need them. On this trip I ended up leaving my iPod and charger behind. I needed space for the lap top and other things.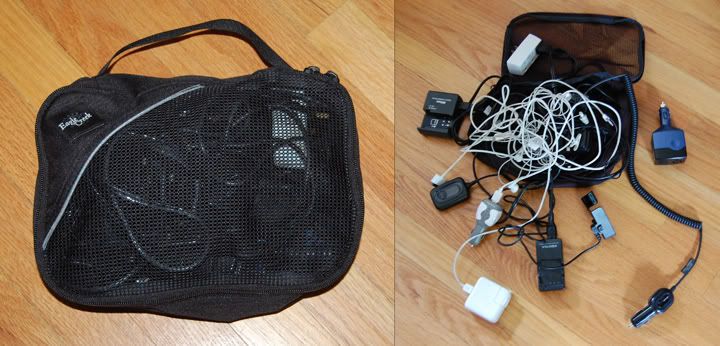 Electronics weigh a lot. It's not just the actuall items that you have to lug, you also need the power cords and the chargers. On this trip I ended up leaving my iPod and charger behind. I needed space for the lap top and other things.
I usually keep all my cords and chargers in this mesh Eagle Creek bag, on this trip all the stuff I brought barely fit in to this bag. I brought two cameras on this trip so I needed the two camera battery chargers. I brought two chargers for my cell phone, the one you plug in to the wall outlet and the cigarette lighter charger to use on the bike. And the GPS charger.
Also pictured but left at home, iPod chargers and one of those small portable power inverters (blue thing to the right of the bag).
The heaviest and biggest of them all, my lap top power cord. can't they make these things any smaller?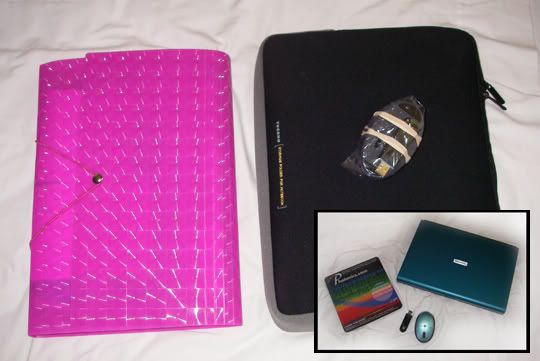 My
lap top, wireless mouse and mouse pad
, shown packed in the larger picture. I have this ultra soft, thick but light lap top case which I love. Besides bringing the lap top, I also needed to bring some paper work on this trip. The pink plastic envelope worked out nicely although paper does tend to weigh a bit.
Since I was bringing this pink envelope I also used it to carry all my paper maps, receipts, documents and notes. It kept everything very organized.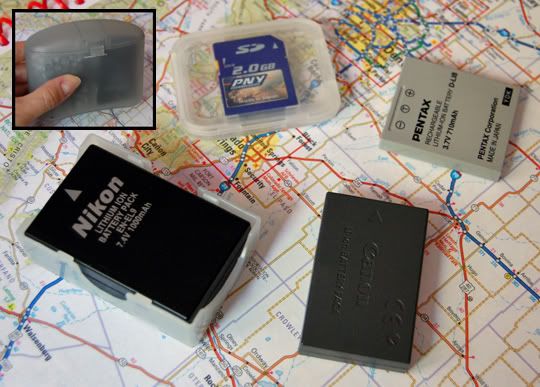 I have
two batteries for each of my cameras
. Pictures are very important to me. This way I don't have to worry about running out of juice in the middle of the day and I don't have to charge my batteries every day. My Pentax and Nikon batteries last 1-3 days and I take lots of pictures. The old Canon battery for my old Canon Elph Powershot only lasts a day sometimes less. I always buy cameras with rechargeable batteries, I like them best. On this trip I only took the Nikon and Pentax cameras, I also have an extra SD (Secure Digital) card incase I fill the other two. All my new cameras use SD cards now which is nice, the extra one can be used in either camera. The old Canon uses a CF (Compact Flash) card. I'm trying to faze out old technology.
I found a plastic soap dish (see insert in the above picture). The spare camera batteries and the spare SD cards fit in there and since everything is now protected from water, I can keep this container in the tank bag.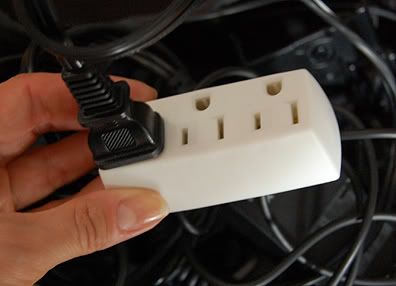 And lastly, I don't leave home without one of these multiple outlet plug thingies. It's great for charging all the stuff simultaneously at a camp site where they usually only give you two outlets and that's if you're lucky to have electricity, or in a motel room (there never seems to be enough outlets in motel rooms).
Camping
From left to right: my
Northface 40 degree sleeping bag, Big Agnes sleeping pad and a mummy sleeping bag liner
. All light items, the sleeping bag is the largest but all three items actually fit inside one of my soft saddle bags.
The sleeping bag liner is a new item bought just before this trip, I'm glad I got it. It adds extra warmth, depending on the type of liner you get, you could be adding as much as 9 extra degrees of warmth to you sleeping bag. But that's not all it does, it keeps your sleeping bag cleaner. This way you just have to wash the liner once in a while and the sleeping bags stays clean for years.
I've been using my Big Agnes insulated air core pad since 2006 and I like it a lot. Having to blow it up is a drag, but because it's filled with air it keeps you insulated from the cold ground. There is an inflating device that will blow this pad up but we can't seem to find it in any of the stores, we'd have to order it on line and it just hasn't happened yet.
Even though I've used my Northface Wasatch 40 degree sleeping bag since 2005 without any problems, I found that many nights while camping on this trip I was cold. My Northface Wasatch was my the first and still my only mummy sleeping bag that I bought specially for motorcycle trips. It packed small and it didn't weight much and it was under $70. On the past trips around the midwest, southeast and southwest trips, the night time temps during summer tend to stay warm, between 70 and 50 degrees. Before this trip the coldest night that I've endured in my Northface sleeping bag was in 2006 while camping in New Mexico at around 6-7,000 feet in elevation, it dropped to around 45 degrees and I remember being cold that night.
On this trip even with the sleeping bag liner, I was cold a few nights when the temperatures dropped in to the mid 30's overnight in the mountains. I will need a warmer sleeping bag for camping at higher elevations. I have two zero degree sleeping bags which are warmer but they are not good for bike travels since they pack large and are heavy. I use them when we're camping with the truck.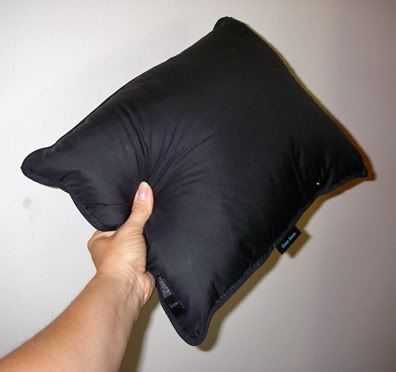 Camping pillow
is a must for me.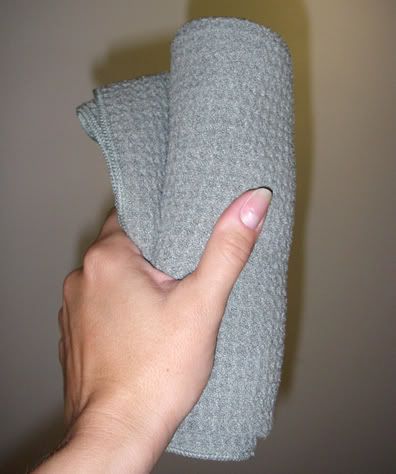 Camping towel
, I use a small one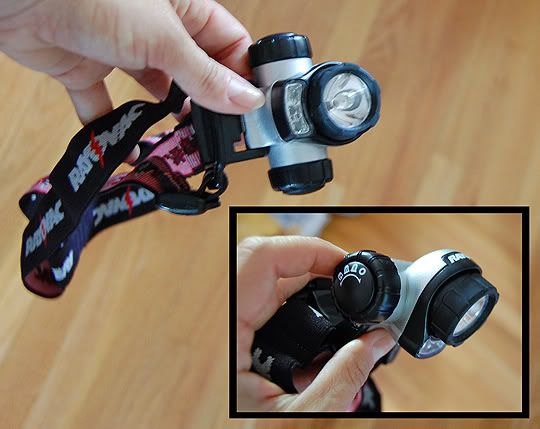 A
headlamp
is a necessity while camping. This is a discontinued Rayovac light that is superior to all others. I used to have another headlamp but the power button was located on top of the light and many times while I was unpacking the headlamp at my destination I would find that the headlamp was on wasting the batteries. Something had pressed on the button while the lamp was packed away.
After a few trips I decided to put the headlamp in to a small box, this way nothing could rub against the button and turn it on, but that was crazy to carry a special box for a headlamp. Mike had this Rayovac light and I liked it. There was no button here, to turn this headlamp on you have to turn the dial. It's very hard for this dial to turn by itself so the batteries don't get wasted. This headlamp also has three types of lights, a bright LED white, a regular white bulb and a red light. The red light is great because it doesn't attract bugs like the white light. All the newer headlamp designs use buttons and it's hard to find a headlamp that had three lights in one. I wish they would still make this headlamp, it's great for moto-camping.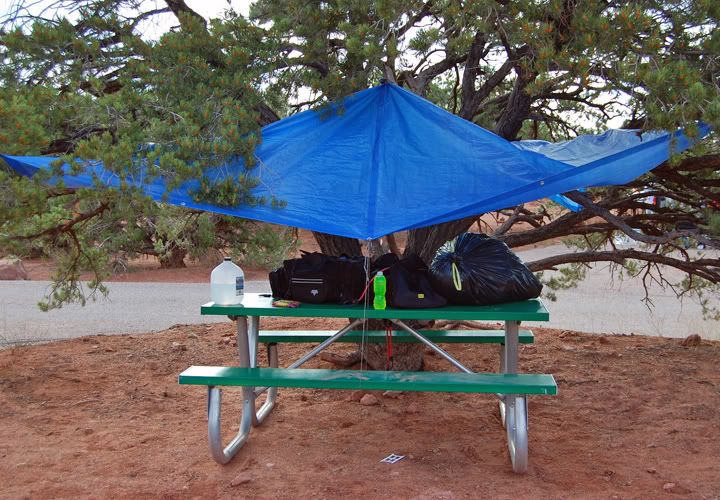 We have a Eureka Apex two person tent. We also have a tent liner that protects the floor of the tent from rips. We also now bring a regular
blue tarp
that can be used for various things like extra shelter from the rain, or an extra floor liner when camping on rough rocky terrain. It can also be used as a picnic blanket, a table cloth or a clean surface to step on when you need to change your clothes or place your gear on while packing the bikes. We also use it to cover our gear while camping to keep it dry from the rain or morning dew. The tarp is great. Mike carries all these things on his bike.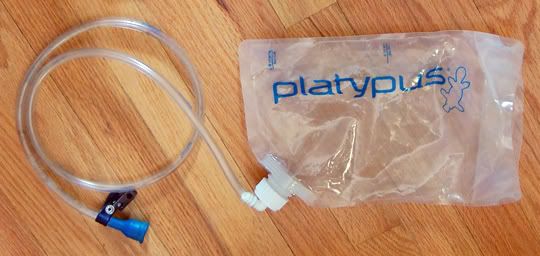 I carry my water in a
Platypus
type system. This is my old Platypus in the picture, it's 1.8 L, the new Platypus that I brought on this trip holds 3 L of liquid. At first I was like wow, this thing is big, this thing is heavy when filled with water, but it worked out great especially while camping. At times when it was hot 3 L of water wasn't even enough. While riding I'd have the Platypus strapped to the top of my tail bag, easily accessible for a drink. I like the Platypus better then the Camelbak (which I also have) because it's easier to fill, since the opening is like an opening from a plastic bottle. On this trip we had even used my Platypus to take a shower with.
For this trip I had to buy a
large brimmed hat
. The sun is very strong at higher elevations. Since I like to hike I have to protect my head from heat and my face from the sun. I picked up this hat at Jax in Fort Collins and would keep it on top of all the other stuff in the top case. I've never had a hat like this before, it really does work, I'm glad I got it.
Packing it all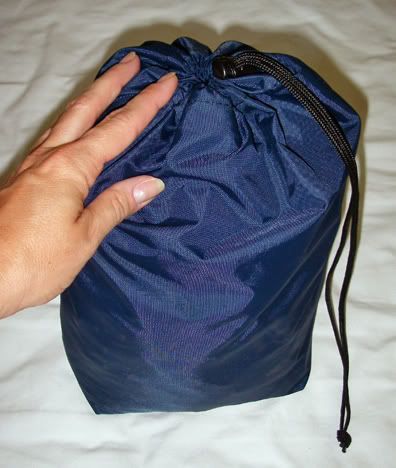 To pack loose items like clothes, especially socks and underwear I use these
cinch sacks
. On this trip I had two of these cinch sack filled with clothes.
Miscellaneous stuff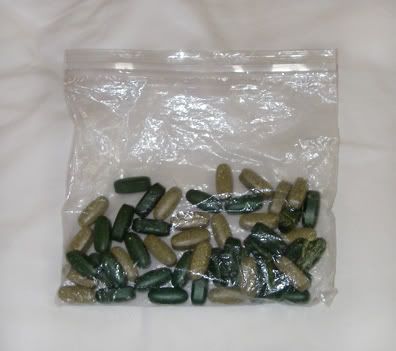 Bottles are too bulky so my vitamins were kept in a zip-lock bag.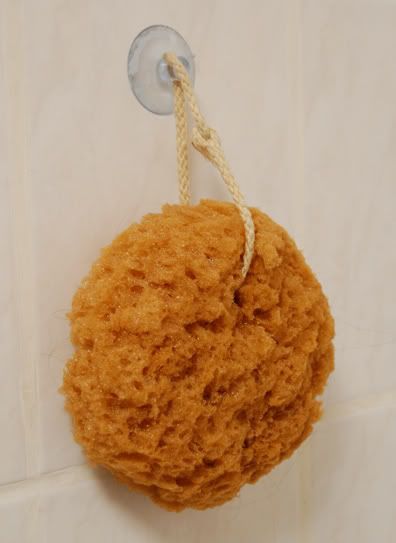 I like to use a sponge in the shower instead of a Loofah. This one is great for camping because you can hang it on the wall, instead of setting it down on the yukky shower floor.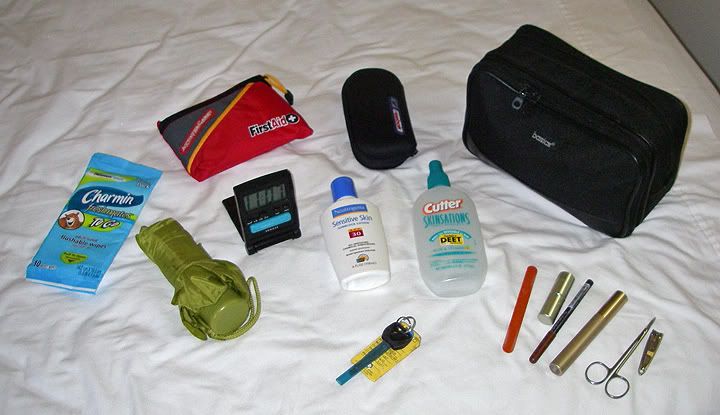 Some other things that I bring on long trips:
Travel wippes - great for cleaning up while camping when there is no water near by
A small folding rain umbrella - I've used this umbrella many times, it's small and light so I keep bringing it. I've used it to keep the contents of my luggage try while packing in the rian. It can also be used for shade
A first aid kit
Sunglasses and case
Extra key for motorcycle
Travel alarm clock
Bug spray
Sun screen
Nail file, clippers, small scissors and makeup (mascara, eye liner and lip stick)
In the black case are my regular toiletries:
Lip balm
Tissues
Contact lenses
Contact lens Solution
Eye Drops
Headache Medicine
Shampoo
Conditioner
Lotion
Tooth paste
Toothbrush
Listerine
Floss
Hand Sanitizer
Deodorant
Razor
Q-tips
In addition to all this stuff, the things that come very handy on rides are plastic shopping bags, actually the more bags the better. We use then to carry dirty laundry, use them to put stuff you want to keep dry when it rains and you can use them as garbage bags when camping.