Riding home in the middle of the week was going to be tricky since Mike couldn't take any time off work. He still needed to work and put in at least 6-7 hours a day in front of the computer during the office hours. We would have to ride after he got done with work each day and since we didn't want to ride late at night, we really couldn't do more than 300 miles a day.
We left Highlands Ranch in the early afternoon. We got on the E-470, the East Denver toll way, heading East toward I-76. We had to stop a few times to pay tolls and the toll was a hefty one too. We paid $7.75 each to travel some 35 miles. At least the traffic was moving on this road and it wasn't too crowded, but having to pull over and pay with cash so many times was making this section of the road take way longer than it should.
Once we got on I-76 there was hardly any traffic heading east, so it was smooth sailing until we ran in to some very dark clouds. There was a huge storm building in the distance, the wind was picking up as well but we kept going and we were prepared to get wet until the lightening started but now we needed to pull over and wait out the storm. It was dinner time anyway, but we really didn't want to waste too much time sitting around. We needed to ride 283 miles today and we weren't exactly thrilled to have to ride in the dark but we had a reservation at a motel in North Platte, Nebraska tonight. Since Mike needed internet to work and we needed a late checkout for tomorrow and as always price was an issue, I shopped around to find the best deal on a motel room. We needed to get to North Platte tonight, no matter what.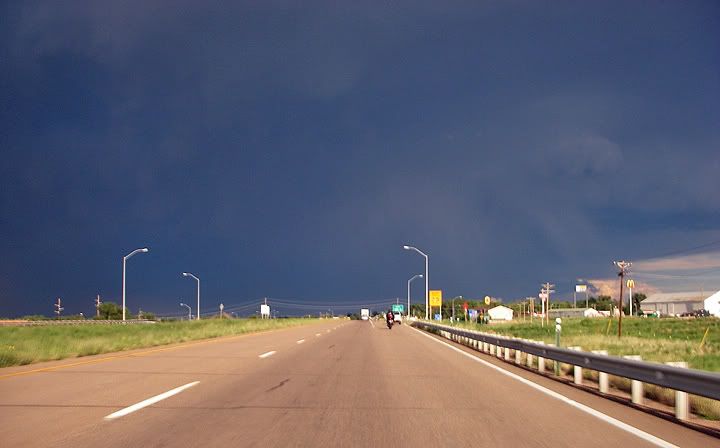 Heading in to the first storm on I-76
By the time we got back on the bikes again the storm was totally gone and I was so glad we had pulled over to wait for it to pass. About an hour later the winds picked up again and I started to see dark clouds on the horizon again. Then the sun was replaced by darkness with the occasional lightening on the horizon.
Unfortunately with each mile we were getting closer to the lightening which illuminated the whole sky now every few minutes. The wind was picking up and after a while the road appeared to be wet, meaning we were following the storm, probably heading straight into it since we were traveling much faster than the storm. The winds were strong now, blowing me all over my lane and at times debris would blow across the road and startle me.
We were on I-80 now, which is a heavily traveled interstate with super cool high tech rest areas along the way that even have live weather updates displayed on monitors. We pulled over to check the weather at one of them. Then we got our rain gear on. The storm was currently over North Platte and since we were not that far away from there, we were definitely going to get wet.
Back on the road the raindrops started, the strong gusts of wind continued and I couldn't wait for this ride to be over. There is nothing more un-fun as riding the interstate in the rain in the dark with gusty winds. The rain was now coming down hard but we were almost there. After about 30 minutes of riding in the rain, at around 11PM we finally got off the interstate and found the Ramada. At $69.95 + tax per night this place was great and our room was really nice and big.