Now that the trip is over, it time to reflect on this amazing experience. This was the longest motorcycle trip I've been on. Actually, this was the longest trip I've ever been on. For 50 wonderful days we were away from the Midwest. I ended up riding 6,864 miles during the 50 days, Mike's mileage was a little less than mine since his bike was the dealers getting fixed and I got to do a few rides while he had to work.
Location, location, location and lodging
Besides riding some awesome roads and seeing some amazing places, this trip had a purpose. The purpose was to take a close look at three locations in Colorado and to see where we would like to live. Now that I no longer had a job in Chicagoland, we were thinking of moving away from Illinois. This was not a new thought, it's something we've been talking about for about a year. Colorado seemed like a nice place to live but before moving there we wanted to take a closer look. The three areas we wanted to look at was Denver and the surrounding suburbs, Fort Collins and Colorado Springs.
During our trip we spent a total of a month in Colorado. A week in Broomfield, two weeks in Fort Collins, a week in Colorado Springs and three days in Highlands Ranch. We also spent a week in Monticello, Utah. The week we spend in Utah was just for fun.
Our Friends in Colorado
But this trip wouldn't have happened without some help. We have to give thanks to some special people who we now call friends, who took us in to their homes. If we had to stay in motels the entire duration of this trip, this trip would have been a short one since motel stay can get expensive and we couldn't camp since Mike worked Monday through Friday during this entire trip and he needed high speed internet to do his work and a quiet work area to do his phone calls.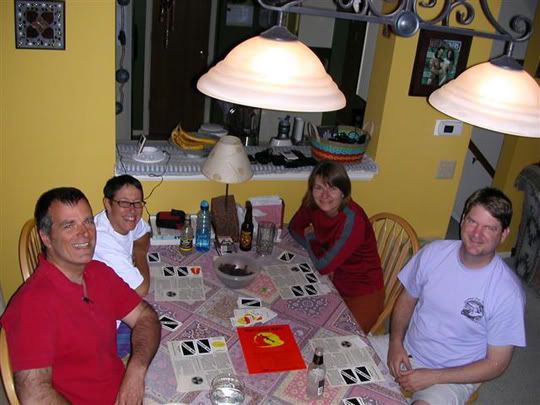 In Broomfield with Rita and Carl (Carl took this picture)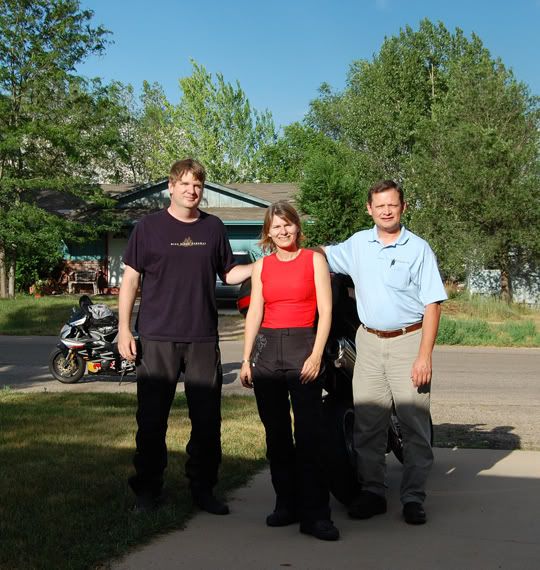 In Fort Collins with Jim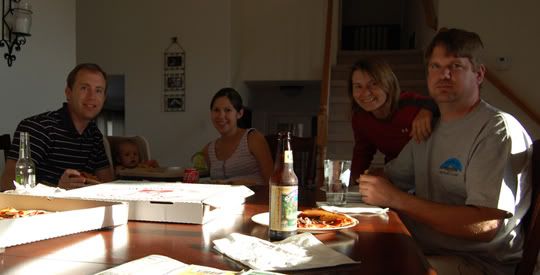 In Colorado Springs with Paul, Deb and baby Daniella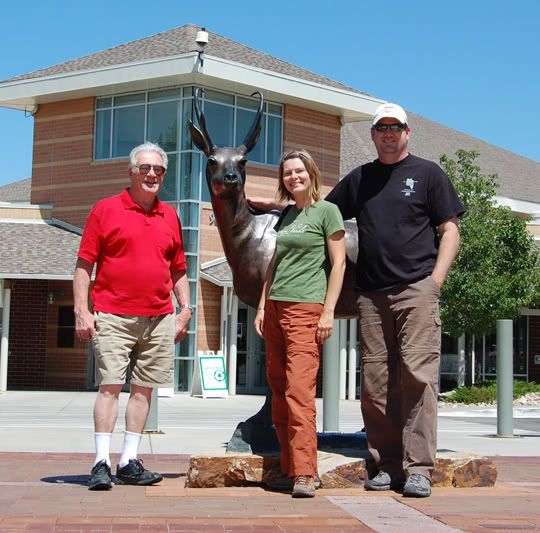 In Highlands Ranch with Mike's uncle Larry
Food
One of the advantages of staying with people is having a real kitchen. A Kitchen = home cooked meals, which also saves a bunch of money, since eating out gets expensive. Mike is good cook so whenever possible he would cook something good.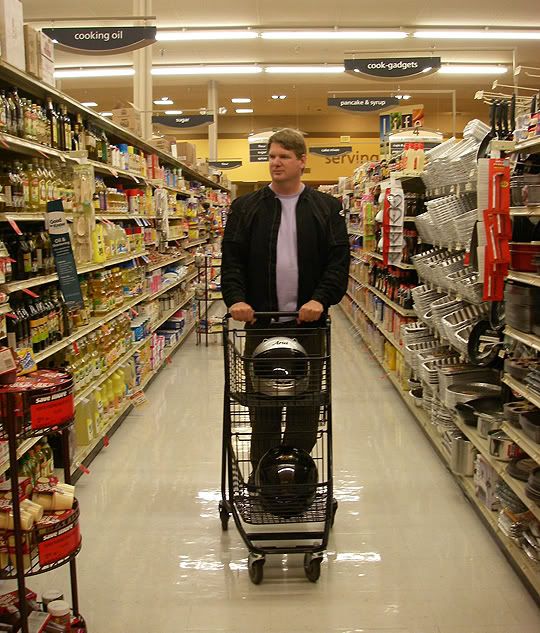 Mike and I grocery shopping at Safeway

Mike's scrumptious shrimp etoufee in Broomfield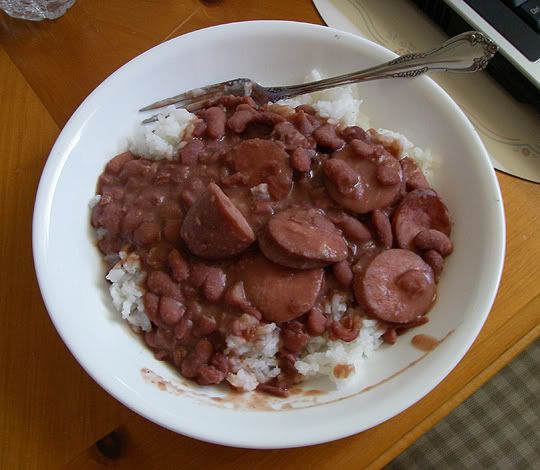 Mike's yummy beans and rice in Fort Collins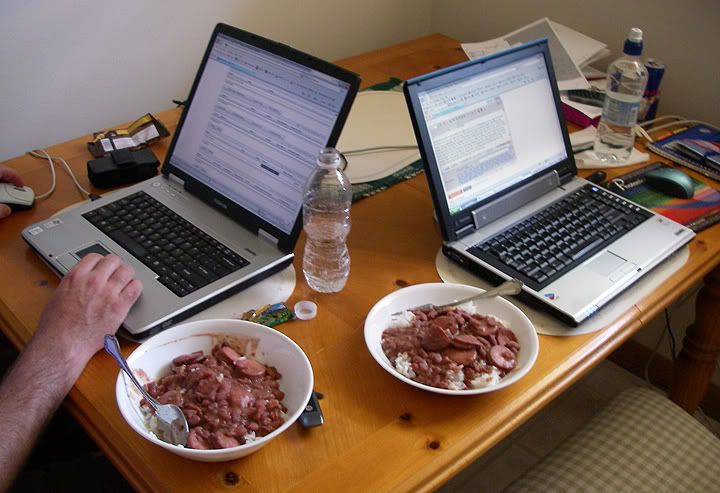 A good meal makes excellent leftovers for lunch
The one week we stayed in a motel we cooked in our room since we had a fridge and microwave in the room.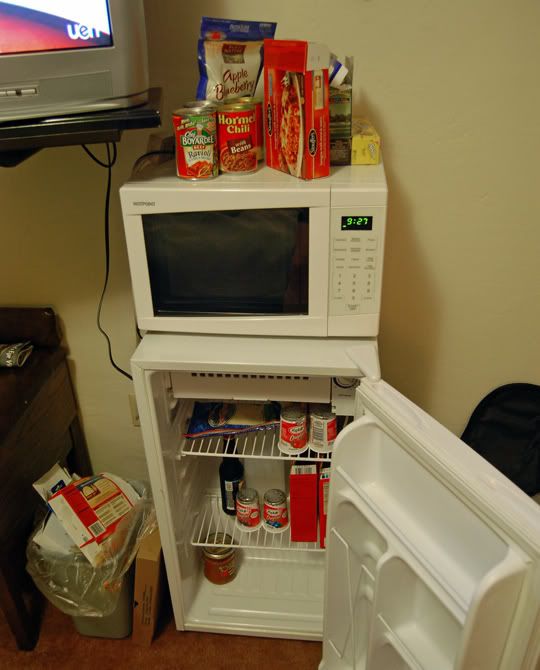 Our motel room at the National 9 Inn in Monticello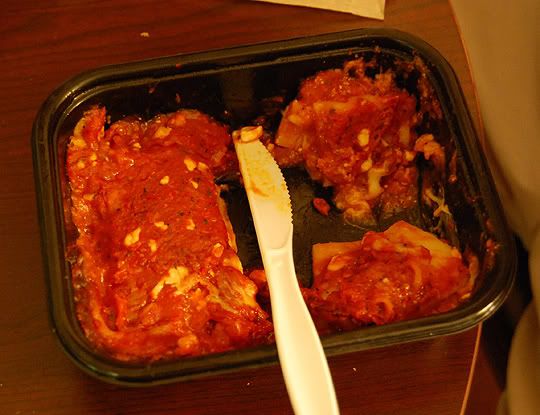 The meals we made in the motel room were not very fancy but way cheaper than going out to eat
Beer

Colorado is known as "The Napa Valley of the Beer World" so the one thing that I tried to do while on my trip was to drink beers brewed in Colorado.
Colorado Beers consumed on this trip: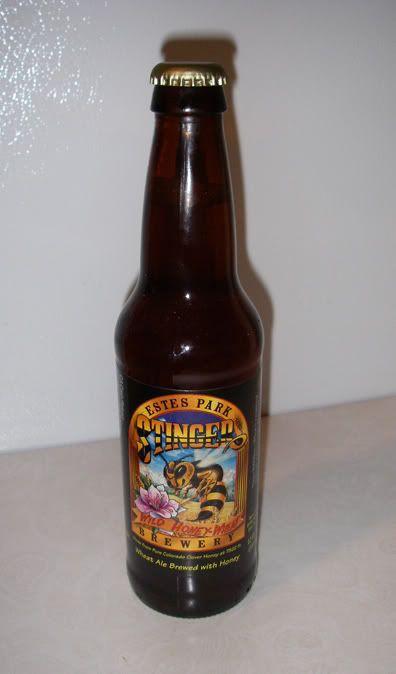 Estes Park Stinger Wild Honey Wheat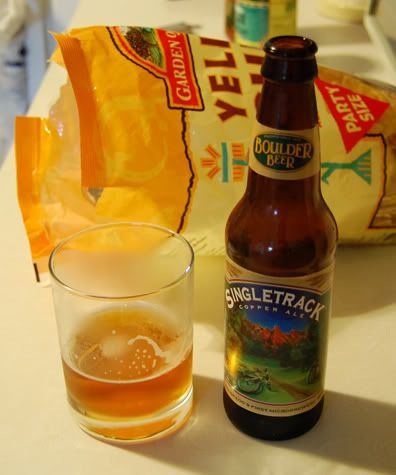 Boulder Beer Singletrack Copper Ale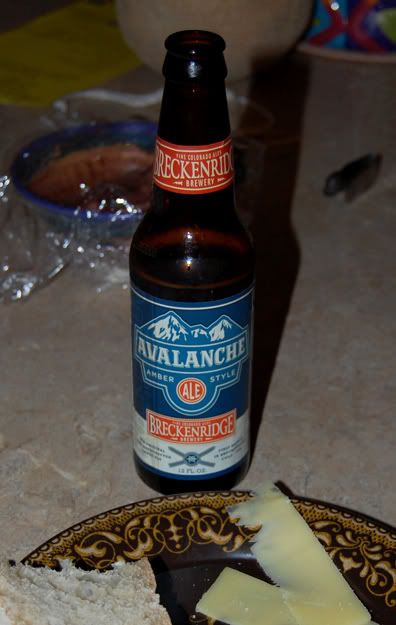 Breckenridge Avalanche Amber Ale
Odell (Fort Collins) Levity Amber Ale
Odell (Fort Collins) 90 Shilling Ale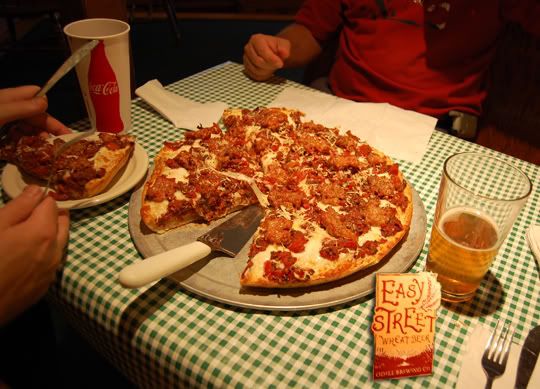 Odell (Fort Collins) Easy Street Wheat on tap and some Fort Collins pizza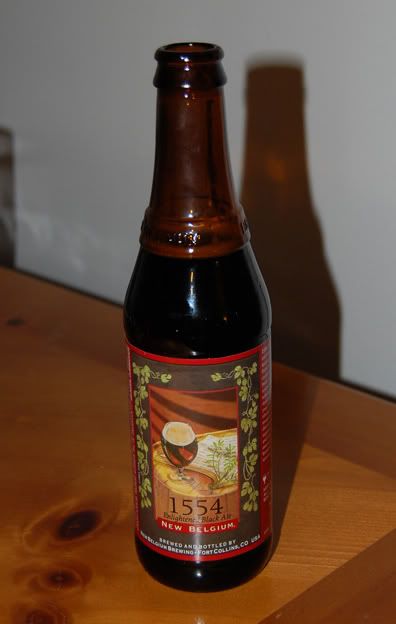 New Belgium (Fort Collins) 1554 Black Ale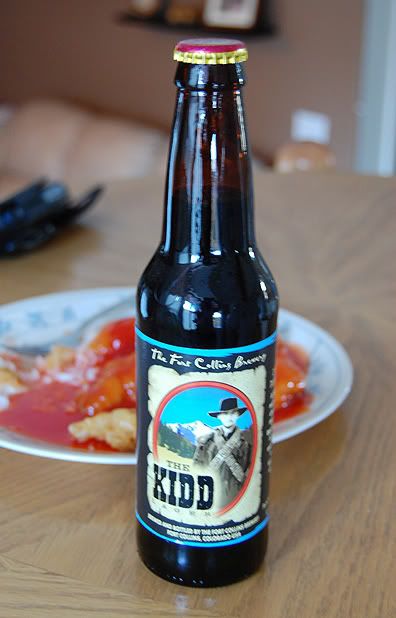 The Fort Collins Brewery The Kidd Lager
Parks
National Parks, Monuments and Recreational Areas Visited:
Grand Teton National Park, Wyoming
Rocky Mountain National Park, Colorado
Dinosaur National Monument, Colorado
Flaming Gorge Recreation Area, Utah
Curecanti National Recreational Area, Utah
Black Canyon of the Gunnison National Park (South Rim), Colorado
Mesa Verde National Park, Colorado
Canyonlands National Park (Needles and Island in the Sky), Utah
Arches National Park, Utah
We sure did visit a lot of parks on our trip. Even though each one was unique and worth a visit, some were better then others for particular activities and reasons.
Grand Teton
had absolutely amazing views but it was pretty crowded at the park and the roads weren't what I'd call good motorcycle roads. Too bad we didn't have enough time to do some hiking, I think it would have been great.
Rocky Mountain National Park
has beautiful views, great trails and amazing roads. But I thought the riding in
Mesa Verde
was even better, the road was much twistier and there was way less traffic than at the Rocky Mountain and the views were great also. But my favorite park for riding a motorcycle through is the
Flaming Gorge
. The road and views are out of this world, and the traffic is light also. Even though
Canyonlands
have spectacular views and the road is great, and there is hardly any traffic, the road isn't that twisty as at the above parks.
The parks that were not at all what I expected were
Black Canyon of the Gunnison
and
Arches
. The road through each of these parks wasn't all that great, but after all that is not a prerequisite for a national park. The scenery just wasn't as good as the other parks that I listed above. Although before I make a final conclusion about Black Canyon of the Gunnison I'd like to see the rest of the park. What I did see at the South Rim wasn't that impressive. As for Arches, there were just too many people there for me to enjoy the park, and this wasn't even a weekend. Too many tar snakes on the road and not enough spectacular scenery to be seen from the bike's seat makes this not the best park to ride through. I do think this would be a great place to explore on foot, since you have to hike to most of the arches.
Frustrations
Biggest frustrations of this trip for me was the soft luggage. Packing was very time consuming. Each week over the 6 weeks it just became a bigger pain especially when camping over the weekend with all our stuff. Packing the saddle bags off the bike actually is not that hard, but when the saddle bags are already on the bike it make it harder to pack them and of course to take them off the bike just to put them back on the bike is a lot of work also. That's why hard luggage is best for long trips or for people that tour frequently. That was the reason why after a couple of years of touring on the 954RR I ended buying the ST3. Instead of spending 45-60 minutes every time to pack the bike, with hard luggage it only takes about 20 minutes or less to pack. I'm sure it would have been easier if I had less stuff with me, but unfortunately I already brought only the necessities. Hard luggage rules!
Overall this was an amazing experience and as all good things, it went by way too fast. We met some great people and saw some spectacular scenery and rode some terrific roads. Too bad Mike had to work each week, but we decided before we left Illinois that even though the trip would be way more fun for me than for him, this was one of those unique times in our lives where we could pick up and go for an extended time on our bikes since I had no job and he was working from home. We wanted to do it and we don't regret the decision, the trip was great even though we still couldn't go and see everything we wanted to and rushed through some of the days like on our other trips.
We have what we were seeking on this trip - an idea of where we want to live. We liked the Denver area a lot, but it was just another big city with suburbs, not as big as Chicago but too big for us. Colorado Springs grew since I was last there in 2006, it was very built up and congested and also felt big. Fort Collins felt just right. It had that laid back small town atmosphere, but it's big enough to have all the big city amenities. And it's so close to nature - mountains and rivers all close by.
A rainbow over Fort Collins - we enjoyed our stay in Fort Collins so much we ended up staying an extra week there