The morning was chilly but it was warming up quick. Mike went to take a shower and partake in the all you can eat pancake breakfast. It was great to have warm breakfast food available at the park but he said it wasn't all that great and kind of expensive for just pancakes. I had breakfast at the campsite, a muffin I bought yesterday and a Red Bull.
Early morning at the Morefield Campground at Mesa Verde National Park
Breakfast

We didn't have to vacate our campsite until 11AM so we decided to leave our stuff there and go hiking this morning. There was a trail we could see from our campsite. It was the Prater Ridge Trail, 7.8 miles round-trip which begins on the west end of Morefield Campground.
We didn't have time to waste so we rode two up to the trail head
The beginning of the Prater Ridge Trail

There was a big fire here in 2000, a lot of the trees were burned
The trail climbs Prater Ridge and follows a loop around the top of the ridge some 500 feet above Morefield Campground, then returns via the same route. A cut-off trail can be taken which shortens the trail to five miles. We didn't have too much time, so we hiked all the way to the top of the ridge and then climbed down maybe 4 miles total.
Some elevation now
Still climbing

A switch back in the trail
Some pretty cool views from the trail

The hike was awesome. We gained elevation quickly as the trail made a few steep switch backs up the ridge. It also warmed up fast, half way through the trial we had to convert our pants in to shorts and even before that remove our other layers. Even though the nights and morning are cool, the area heats up very fast and before you know it it's in the upper 90's.
Mike at the top of the ridge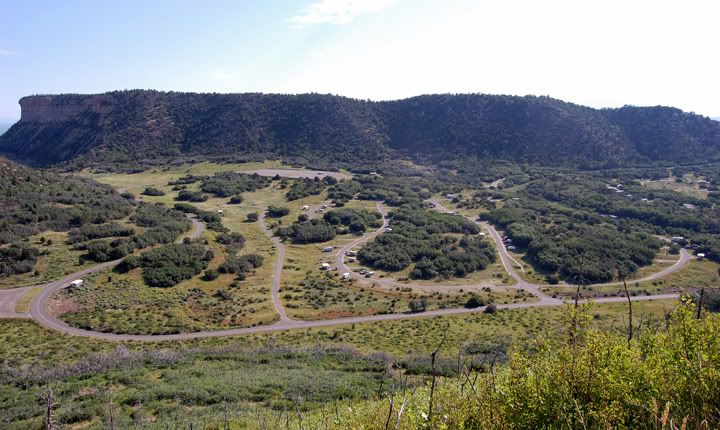 Views of the entire Morefield Campground from the top of the Prater Ridge Trail