Today was the first day that I slept in on my vacation. Alex drove over to fetch some coffee and food from Starbucks, then at around 10:30AM he dropped me, Peter and Vlado off at the strip. We did some sight seeing, I had a strawberry daiquiri and then we had lunch at some China buffet across from Caesars casino, which was actually pretty tasty.
Las Vegas strip, New York New York
The weather today was partly sunny and about 60 degrees, and it started out a bit windy too. But as the day progressed it became very gusty and some dark clouds started to roll in, it looked like rain in the distance. My festive jester hat almost got blown off a few times.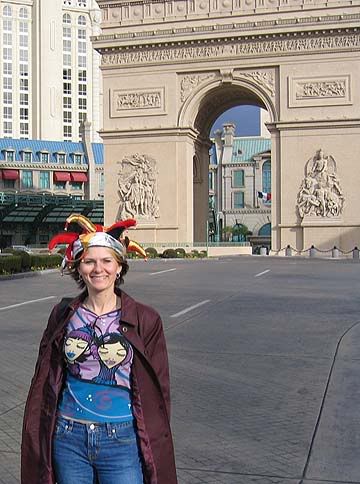 Las Vegas strip Paris
Whoopi and I

The strip was very crowded., it seemed like everyone was out walking around. After we finished walking most of the strip Alex swung by to pick us up at 4PM and we went back to the house for some relaxation before heading back out to the strip later on. We made it back home just before it started pouring rain.
Bellagio

We all took naps, grabbed some food at the house and went back out to the strip. Parking was tricky, but we managed to find a spot.
Las Vegas strip at night
The strip was closed off to traffic and it was filled up with people already, filling up even more as people were spilling out of their hotels right before midnight.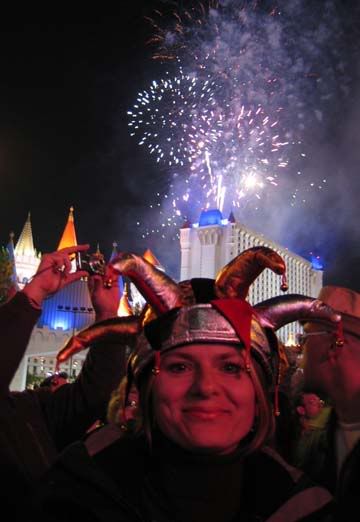 At midnight the most spectacular fireworks started, they were going off in a few places and went on for a long while. We went to Mandalay Bay arriving at the house at 3:30AM.
Fire works on the strip