I woke up to a sunny day. It was in the low 50's this morning, but the sun was warm. At 7:30AM I was picking up my econo-box at Enterprise and shortly after I was on my way towards California. My only two stops in Nevada were for gas and breakfast at Jack In The Box. The French toast sticks are really yummy and since we don't have Jack In The Box in Chicago I always eat here when I'm out west.
Mojave Desert
Once in California I stopped at a rest stop near Baker, CA in Mojave Desert. The temperatures now climbing in to 60's, not much colder than when I rode through here last March.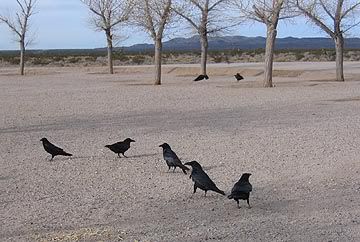 I arrived in Tehachapi, CA at noon and proceeded to find the house where Candice and Daniel live. I met Candice at femmoto in October and have known her for a while from a motorcycle message board I frequent.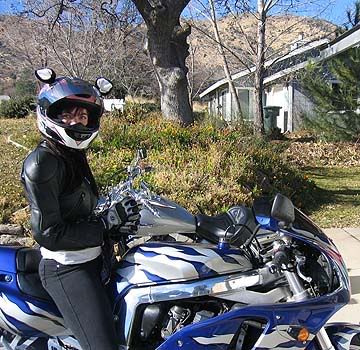 Candice on the gixxer
I dumped my luggage next door, where I was going to stay. It's Candice's parents weekend home. Then we geared up and took off. The temperature was in the low 70's, sunny with no wind. I overdressed and was sweating a bit. Daniel was riding his Honda cruiser, Candice the gixxer and I rode her Ninja 500 track bike that she just picked up yesterday.
Candice and Daniel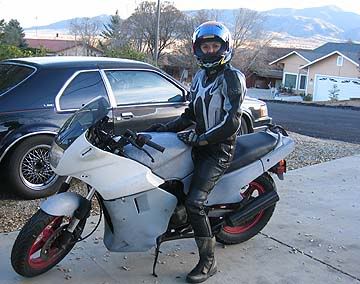 Riding Candice's track bike, Ninja 500
This here is a beautiful country, twisty roads and no traffic. We cruised on down to lunch at the Village Grille in downtown Tehachapi. What I love about California is the abundance of sandwiches served with avocado and sprouts. I ordered a tuna on wheat with avocado and sprouts with seasoned fries, the fries were especially good.
Candice and I at the lunch spot in town
Candice and Daniel
After lunch we rode a bit more, then back to the house. Daniel went to pick up Candice's YZF at the dealership, which was having some service done. I would be riding that bike tomorrow. Candice and I hung out until Daniel got back. We were watching the fog move in, a bizarre thing to see. You can actually see it moving, traveling fast and engulfing the entire area. By the time we were ready to go out to dinner, the whole area was fogged in. his fog happens here at times, but according to Candice and Daniel, this was the thickest fog they have ever seen here.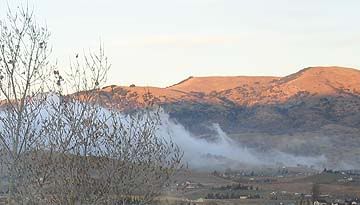 Fog rolling in
We pilled in to my econo-box and I got us safely down the mountain in to town. I could barely see the road. Since Kelcy's Restaurant is a historic type of a place, we went there. It was a diner, everything inside was original from the 50's. I ordered meatloaf, corn and mashed potatoes. The fog was gone by the time we got done with dinner.