I woke up at 5AM Arizona time. I wanted to be hiking the trails at sunrise. It was a crisp 31 degrees outside. When the sun appeared over the rocks, I was already hiking back to the car. It was hard to see the trail as I was blinded by the sun. As if someone switched on a heater, right away the temperature started raising. Now in search of some breakfast, I found the Desert Flour bakery on 179 and grabbed a egg and cheese on a croissant. I also grabbed a loaf of crusty jalapeño and cheese bread that I can snack on while hiking.
A chilly morning hike
I decided to eat my breakfast outside, it was at least 45 degrees now and it felt warm sitting in the sun, although the people inside the bakery were giving me funny looks though the windows. After breakfast I did some more exploring. I drove Chapel Road, at the top of the hill sits modern looking church.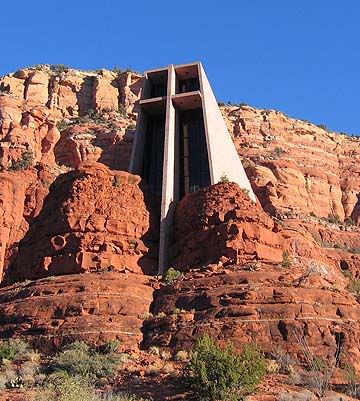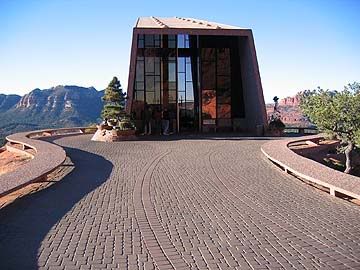 Church on top of a cliff
I went back to the motel to pack and check out. As I sat in the lobby using their free wireless, I overheard the front desk lady say that the whole town is booked up tonight though the 1st, I noticed way more traffic on the roads today, even though it was still early in the day.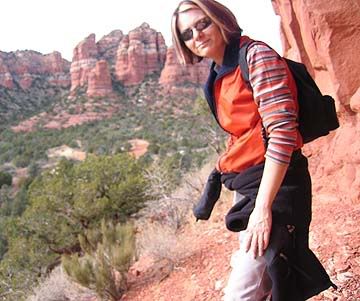 Climbing red rocks, almost at the top
Now it was noticeably warmer, although some thin clouds rolled in to the area and the sun wasn't giving off as much heat as it did yesterday. The trails were crowded today so I found me a big red rock and started climbing to the top, escaping the crowded trails. I got pretty high up there, at times the footing was difficult to find and the rocks hard to climb, I walked around the rock until I found another path to climb higher. At times my feet would slip on loose rock and I would slide back down but I was never in any danger of falling off the cliff. This was still less dangerous than riding a motorcycle on a public roadway.
I climbed this one
Walking the ledge
Hiking path below
Now I was way above the trails. I decided to climb around to the other side of the rock away from the hiking path. Pretty soon I realized that I might not be able to get down this way, the edge dropped off and it was smooth, I needed to find a set of rocks that I could climb down and climbing down is always harder than climbing up. It took a while but finally I got to the other side of the rock and I was able to climb down. That's the fun part, looking for a way to get up and a different way to get down safely.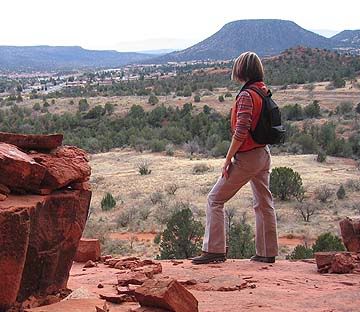 Looking down from the top
I went back to the car and had some bread and water. Then I realized that I had to get going if I was to arrive in Las Vegas before 10PM. It was sad to leave Sedona, there is so many things to see here, so many rocks to climb, paths to hike and roads to drive.
89A going to Flagstaff
I took 89A to Flagstaff. It was noticeably cooler now. This road is so amazing, great views and awesome turns, the hair pins are spectacular, but are also very wide so you can go fast though them.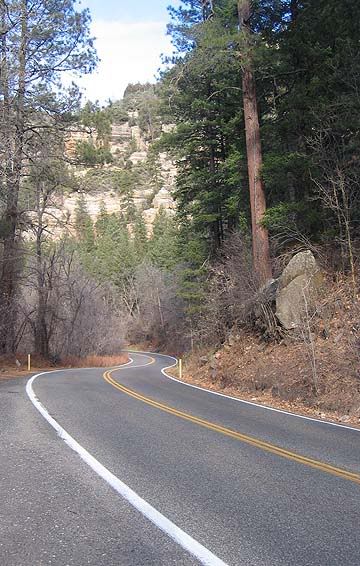 I noticed that in Flagstaff there was no snow in the mountains, it was actually warmer now than it was in March, when I rode though here.
It was getting late so I grabbed a quick dinner in Kingman, AZ at a Wendy's. The Hoover dam is under construction but there was no delay, I arrived in Las Vegas just after 8PM.