Our friend Rick was gracious enough to host our first (hopefully annual) sport-touring x-mas dinner at his house. There was just a hand full of us, many had prior commitments and couldn't make it so close to the holidays. But it was nice seeing the people that showed up, I haven't seen some of these people since the last bike ride. Talking about motorcycles and trips, over great food when it's zero degrees outside is almost therapeutic, Spring seems six months away right now.
And the food was wonderful since Rick is such a great cook. There was plenty wine to be had, I counted at least three different bottles to be sampled. We started off with brushetta, crab cakes and bacon covered scallops. Then moved to the dinning room for soup and salad (broccoli and cheese with bread on the side) and the main coarse, which if I have my Italian dishes correct was spinach and cheese manicotti in red vodka sauce, then we finished off with coffee and assorted cookies and chocolates.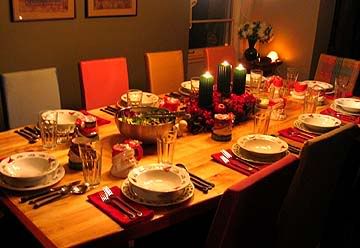 So if you happen to have missed this dinner, I think I've described it well enough to have you think you were actually there. But next time we rather if you come.
Thanks Rick and Diane!