Another beautiful sunny day. We pilled in to Alex's rental car, a Lincoln Town Car, grabbed some coffee and food at Starbucks and took off for Zion National Park in Utah, 2.5 hours away.
Our route

We took the exit for 14 and found Kolob Road, but it was closed due to ice and snow. We tired it anyway but less than a quarter mile in to it, it got very slippery and we turned around and took 14 to 89 to 9. 14 was an awesome road with beautiful scenery and really nice curves.
Utah sign, 3 Serbian guys and 1 Polish chick

14 North of Zion
14 up high in elevation with snow
We grabbed lunch at the corner of 89 and 9 at the Thunderbird Restaurant, the sign read "Home of the Ho-made pies". The food was good, I ordered a cheeseburger and fries.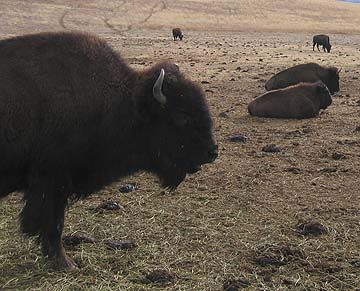 Buffalo on 89
After lunch we entered Zion National Park for the hefty fee of $20, but it was so worth it, the road was super curvy with spectacular views of rocks. There were a few tunnels, one was extremely long and curvy.
Climbing rocks in Zion
View from rock
9 through Zion N.P.
We climbed one rock, it looked easy but it was exhausting but the view from the top was great.
9 through Zion
Canyon Scenic Road through Zion
A lot of wild life in the park, many deer everywhere, we saw herds of them and wild turkeys and some cows standing in the middle of the road. These roads sure make you wish you had a bike here.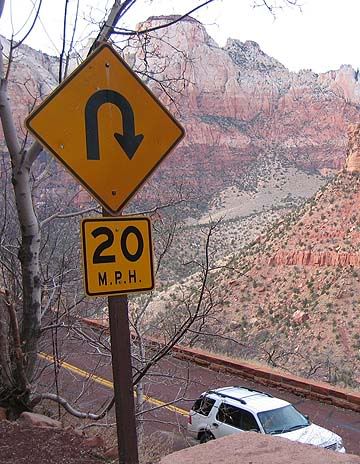 We crossed the whole park and tuned on to the Kolob Road, the road that we tried to get to from 14 but it was snowed over. We knew we couldn't drive it all the way, at 8,000 feet the snow and ice on the road would get too dangerous, so we drove it for a bit and turned around just before it got too dangerous. A lot of deer on this road. Also, there was a curve posted here at 5 MPH, really steep right hander if you were going North.
Kalob Road
What a great day and a great park, I'm so glad we could check it out since we were so close. And the weather was nice too, the sun was shining all day with some clouds here and there, temperatures in the 50's and 40's at higher elevations. The sun went down as we headed for the interstate on our way back to Las Vegas. Grabbed some snacks in the car and then ate some more at the house and called it a day.