Today was overcast and cold, high temperature of 59 degrees. Out here the warmth comes from the sun, even now at the end of December the sun feels very warm on the skin, even on a cool day, the sun keeps you very warm, but when it's overcast and the sun doesn't come out, it's cold. What a difference a few clouds make. I headed out to Lake Mead, they usually charge a $5 admission to enter the Lake Mead Recreational Area, but the station was closed.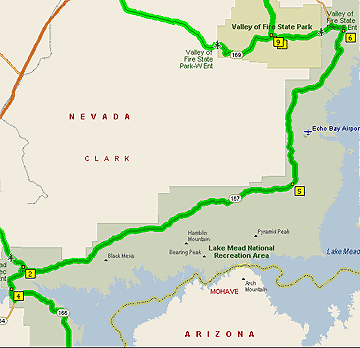 Exploring Lake Mead and Valley of Fire
Driving 166 near Lake Mead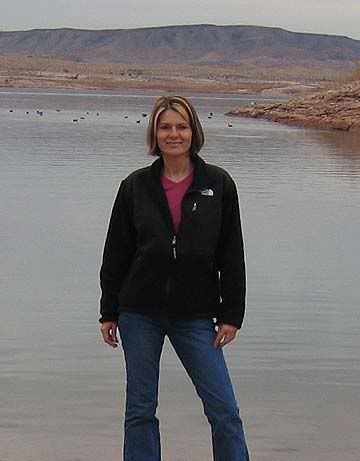 Lake Mead
This area is large and it took me a while to get thought it, first I drove south then I drove North, to make sure I saw it all. The scenery got more interesting as I traveled Northward, nice sweepers and some tighter turns too, beautiful mountains in the background. At times it reminded me of Death Valley.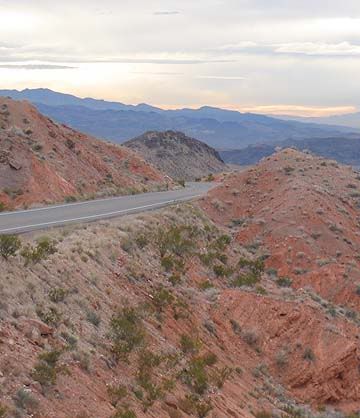 167 through Lake Mead Rec. Area
The only thing, I only had breakfast this morning, you guessed it, French toast sticks from Jack In The Box, and there was no where to get lunch out here. So I continued on but then I had to stop at these really cool red rocks and climb them. They were so easy to climb and so much fun. I could spend all day here climbing these rocks, but I had to get through this park so I continued North reaching Valley of Fire, another park right next door.
Rocks in Lake Mead Rec. Area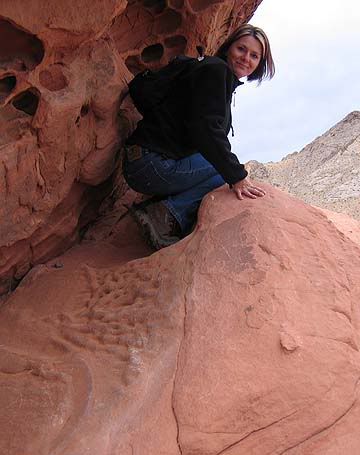 I see rocks, I climb rocks
Looking down from the top of the rock
Immediately the pavement changed from gray and broken up at times to black and pristine. The road is like a black silk ribbon that someone had laid over the rocks, twisting up and down and sideways across this amazing landscape.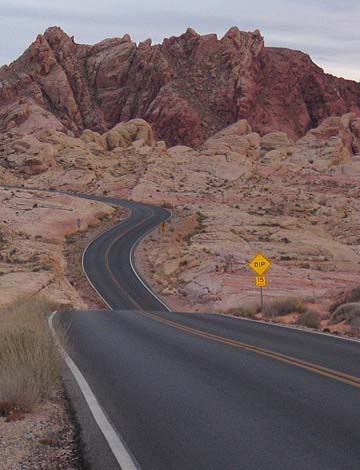 Twisty road past Mouse Tank in Valley of Fire
This is a place to bring a bike to, there were a few cruisers riding through, they all looked like they were freezing their asses. This road and scenery costs $6, but there were no people present to collect the money so the admission money was to be dropped in to an envelope. I was surprised to see so many more people here than at Lake Mead. The main road in the park was nice with the speed limit of 45 MPH but the road that went past Mouse Tank was spectacular and it was only 35 MPH. The sun was already setting, so I had to get moving. The curves continued outside of the park. The sun disappeared behind the horizon as got on the interstate. There was a lot of traffic coming in to Las Vegas, since I was starved, I stopped at Arby's and grabbed some food. It was still a while before I got to the house.
Valley of Fire twisties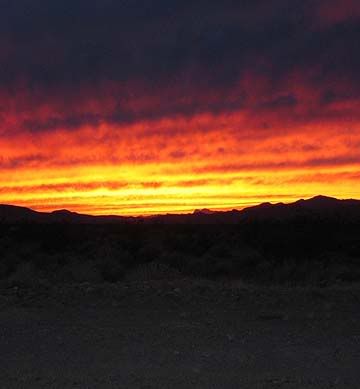 Sunset in Valley of Fire
Alex's flight was delayed and one of his friend's suitcase was run over by the luggage loading cart, most of the contents was lost or destroyed. They all arrived later than anticipated.